29 days. As a small business owner, you're likely faced with a number of recurring expenses in the next 29 days – employee payroll, vendor payments, loan payments, and much more. Yet, on average, 29 days is how long it takes for small business owners to get paid by customers. Leaving 32% of small business owners unable to pay themselves, employee payrolls, vendors, or loans. If this sounds all too familiar, there's a better way for you to get paid faster. How can you create better outcomes for your business? Allow customers to pay by text.
35% of customers want to pay by text message
66% of consumers would like to receive service notifications via text
60% of consumers say they read business text messages within 5 minutes of receiving it
Due to text messaging's popularity with consumers, offering your customers the option to pay by text can significantly increase your chances of getting paid on time.
Frequently asked questions about pay by text options
What is SMS payment?
The SMS (Short Messaging Service) payment system enables consumers to send a text message to pay for a product or service. This text message is sent to mobile payment providers. The provider clears the transaction between the purchaser and the vendor. By using payment by text, consumers can securely, quickly, and safely make payments, buy goods or services, and get refunds.
How do you pay by text?
Customers can handle an entire payment transaction directly in their SMS app which comes readily available on any mobile phone. That means businesses can text customers when payment is due and they can simply respond to the message to quickly pay their bill.


4 key benefits of pay by text for business
Over 90% of customers choose a business based on convenience and they expect convenience throughout the entire customer journey. From the moment they discover your business to the moment they spend money on your product and services; every interaction is an opportunity to delight your prospects and customers by delivering the convenience they expect.
Providing convenient ways for them to pay is a crucial part of their overall experience with your business. Offering customers the option to pay by text simplifies the billing process and allows them to manage everything from the device they use most, their mobile phone. Additionally, pay by text provides numerous benefits for your business:
Get paid on time
Pay by text message can help to accelerate your accounts receivables process by making it easier for customers to pay. Offer your customers to opt-in to SMS alerts when their bills are due. You can then easily send out automated payment reminders on their due date and provide instructions on how to pay by text.
Your customer can easily respond to that message to quickly pay their bill. This simplified transaction greatly reduces the chances of late payments. This allows your business to streamline the accounts receivable process and get paid faster.
Simple to setup
Pay by text uses cutting-edge technology that enables your business to offer a secure payment channel, but it's also incredibly easy to set up. The right SMS marketing platform can help you to manage your text subscribers and easily activate pay by text.
While every SMS platform is different, the ideal platform should allow you to set up pay by text in a couple of simple steps such as simply clicking a button and filling out bank details for receiving payments. The right platform should also be able to integrate with your billing or CRM software using APIs, making pay by text even easier to manage.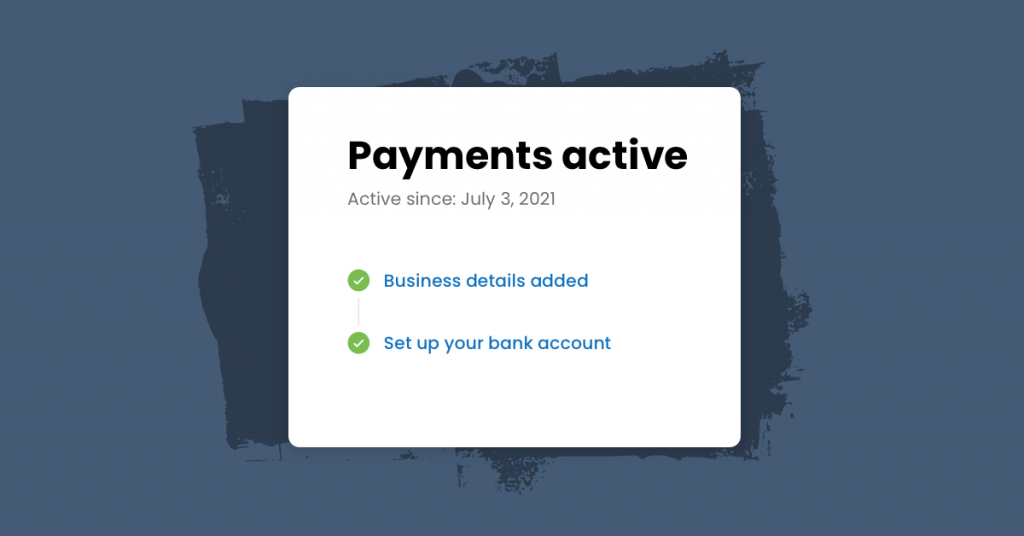 Pay by text is PCI compliant
Pay by text uses SMS encryption to ensure that customer payment information is processed securely. Business providers who offer pay by text are required to be PCI compliant and follow Payment Card Industry Data Security Standards (PCI-DSS) when handling any credit card or bank account information, giving both you and your customers peace of mind that this sensitive data is secure and protected.
Furthermore, since the entire transaction is handled directly via SMS, customers won't be redirected to a third-party site, further decreasing the risk of their payment information being compromised. Pay by text message benefits both you and your customers by providing a fast, convenient, and secure channel for invoicing and payments.
Send payment requests by text
The right SMS platform will allow you to easily send payment requests to your customers on their due date all within an ongoing conversation. With a comprehensive SMS marketing platform, your business will be equipped to manage the entire customer experience directly through text messages if needed.
Pro tip: Offer payments over social media messaging too
Over 800,000 people shop on Instagram each month. On Facebook, the number increases to 250 million shoppers each month! On both social media apps, customers use Direct Messaging to connect with businesses. Offering customers the convenience of paying directly through social media messaging can boost revenue, and give you a significant competitive edge over the competition. Birdeye Payments is the only product on the market that enables businesses to accept customer payments directly through Direct Messaging. Get an edge on the competition by offering your customers the option to pay over social media messaging and turn social media into an integral part of your revenue stream.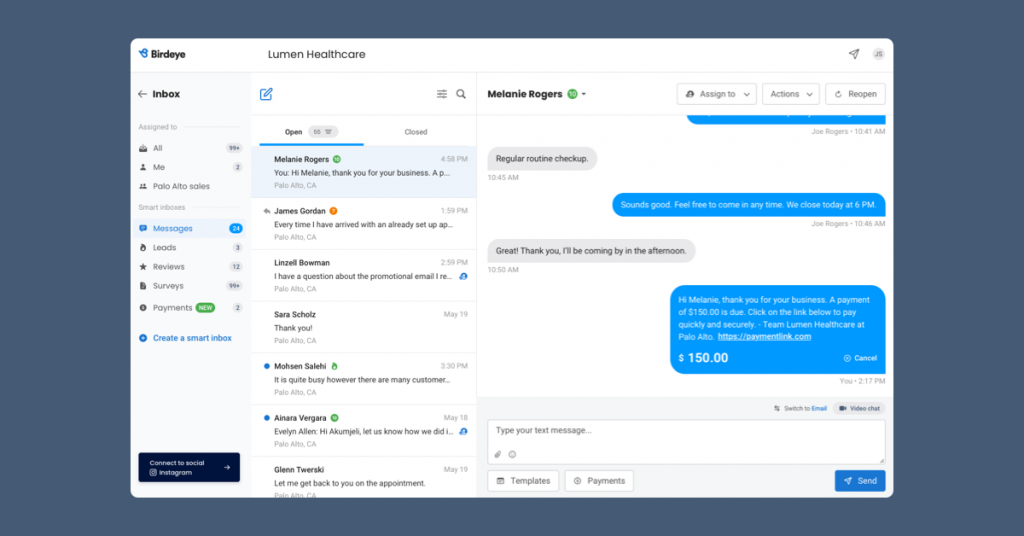 Get paid faster with text to pay
Birdeye Payments are sent via text for faster, safer, and more convenient transactions for you and your customers.
Make everyday payday with Birdeye
With Birdeye Payments, you can request payments in an ongoing conversation for higher, faster, and more consistent response rates, making it easier for your customers to pay, all while backed with full PCI compliance. Accept more ways to pay from your customer including, credit, debit, ACH, Apple, Amazon, and Google pay. No matter how they pay, Birdeye Payments ensures the transaction is convenient for both you and your customer.
Check out our free digital payments guide to learn more about payment options available to local businesses.

Originally published