Whether you're trying to determine inventory, define processes, make your employees more productive, or manage your supply chain, customer satisfaction surveys are crucial for success. Unfortunately, most businesses are not utilizing them to their fullest potential. Some managers just don't have time to conduct customer satisfaction surveys or analyze them for insights. But there is a way you can simplify the process. In this guide, we'll discuss how you can start sending surveys that can improve operations even with a busy schedule.
Why is customer satisfaction important?
To put it simply, customer satisfaction matters because it shows you that your customers approve of how you're running your business. By conducting customer satisfaction surveys, you can get direct insights into how customers feel about the way certain aspects of your business are being handled.
For example, you might run a customer satisfaction survey about your customer service in the restaurant industry. You might find that customers feel your waitstaff are very polite and treat them well, but they find the wait time to be too long. With this information, you know what you're doing right in your business, and you know what you need to work on.
Customer satisfaction is also directly linked to your business's reputation. The more satisfied customers you have, the better your reputation will be. You can conduct customer surveys to see what percentage of your customers would rate your business highly, and what percentage are less satisfied. All of this provides actionable information you can use to improve your business.
What is a customer satisfaction survey?
A customer satisfaction survey (also called CSAT survey) is a questionnaire designed to help businesses understand how customers feel about their overall experience with your organization's products, services, or experiences.

What is the objective of a customer satisfaction survey?
There are several reasons why businesses conduct customer satisfaction surveys. Here are some of the most common ones.

Set goals for improvement.
If you're in charge of ensuring smooth business operations and excellent customer experience, your ultimate goal is to make sure that customers are delighted. Unfortunately, measuring an emotion like "delight" in an objective manner is difficult. A customer satisfaction survey can help you accurately gauge sentiment.
Customers see that you care about their feedback.
From a consumer's perspective, dealing with a business that does not care for your opinion is frustrating. For multi-location businesses, the problem can be even worse. Since managers are often responsible for multiple locations, issues with customer experience that seem obvious for the average customer can go unnoticed. Offering a survey to customers sends a message that your team is working to overcome any issues.

Understand the target customer.
If your team wants to build relevant personas and better understand the target customer, customer satisfaction surveys are crucial. These surveys can help you understand the demographics, qualities, and pain points of your customers. This data helps create reliable buyer personas. By defining your buyer personas, you can tailor your marketing efforts towards these customer types and see better acquisition and retention.
Why do companies shy away from conducting customer satisfaction surveys?
CSAT surveys are a no-brainer to get regular customer feedback for the growth of the company. However, it's adoption is not universal. Here are some myths that prevent businesses from deploying them.
Customers don't want to take surveys.
It's true that some of your customers are busy and might not have the time to take a survey. But most people are happy to provide feedback. Of course, there are ways that you can encourage more customers to complete your surveys. To ensure completion and get better results, it's essential to make sure that your surveys aren't too long (more on this later).
Survey data may not be entirely reliable.
Look, there's never going to be a survey that's 100% perfect. You might have a few people who answer incorrectly to skew results. But most of your customers will give you honest feedback that you can improve your services in the future.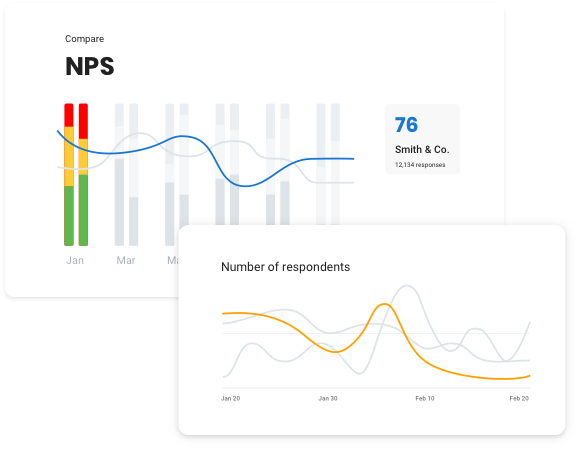 Surveys are challenging to execute.
Surveys may seem daunting, but the trick is starting small. Roll out a customer survey to a small audience and take a look at the initial results. Make changes to your questions if you are not getting the data you are looking to find. Once you have a survey that your team is happy with, roll it out to your entire customer base.

Manually conducting surveys is difficult. However, a survey software like Birdeye can make the process simple. Survey requests can automatically go to customers after specific triggers, such as when they have made a purchase.
How to conduct a customer satisfaction survey
Before you conduct a customer satisfaction survey, it's essential to think about your business's goals. These will help you get a better understanding of the kind of data that you should be collecting to help improve operations.

What is our ultimate goal in seeking this data? Are we trying to improve overall operations/ make marketing work more efficiently/ understand our promoters?
What kind of customers are we looking to target? Are they loyal customers or first-time customers?
Are there any specific areas of the customer experience that we wish to improve?
Check out our post on the benefits of surveys for realtors.
How often should I conduct a customer satisfaction survey?
There is no one correct answer to this question. Timing depends on your industry and the frequency of your interaction with customers. If your team sees customers only once a year, the best practice would be sending the customer satisfaction survey on an annual basis. However, if your business sees customers every month, you should consider sending out surveys more frequently.

Customer satisfaction survey template
An easy way that you can get started making your own customer surveys is by using a customer satisfaction survey template. Companies like SurveyMonkey can give you a good head start with a number of survey templates from customer service feedback, to website feedback survey templates and cover a wide range of categories like education, healthcare, nonprofit and more.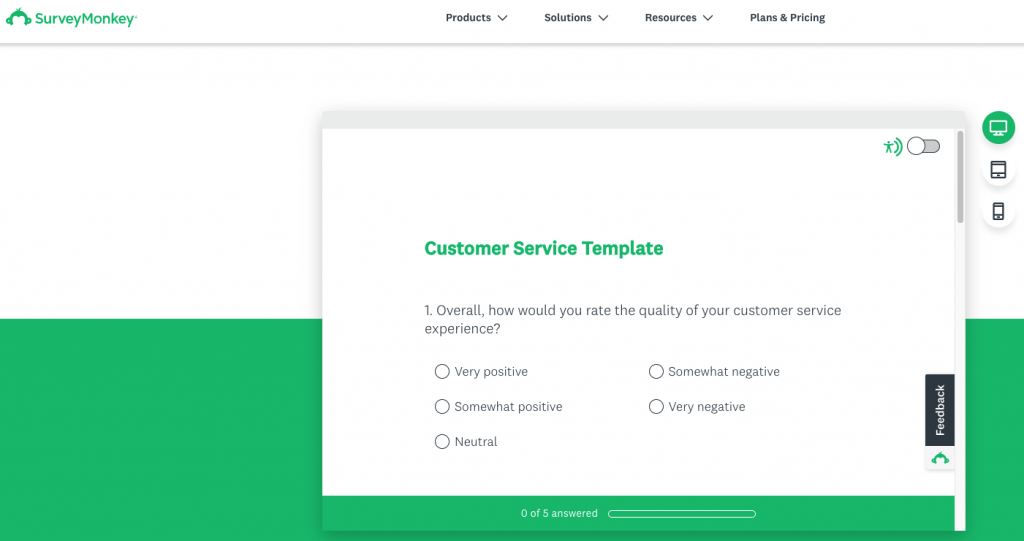 Once you have a template picked out, you can fill in all of the necessary fields and customize your questions directly for your customers. Templates make it fast and easy to get surveys out to your customers so that you can gain valuable information about how they perceive your business.
Types of customer satisfaction surveys
There are three types of customer satisfaction surveys that your team should consider sending.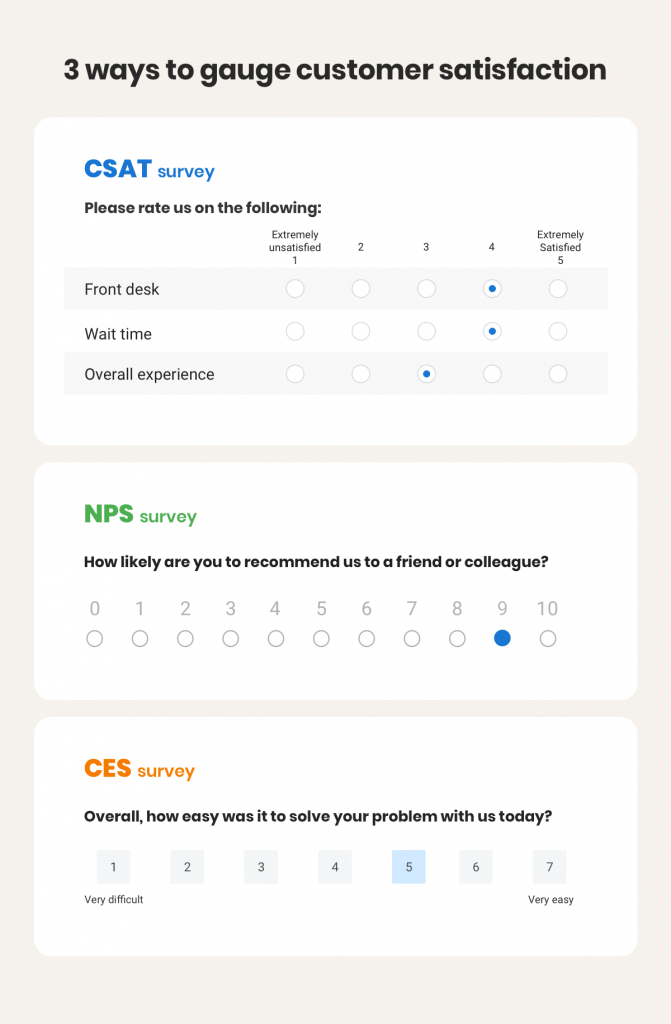 Customer satisfaction survey (CSAT)
A customer satisfaction survey directly asks customers how satisfied they are with your services on a scale from 1-5, with "5" being highly satisfied, and "1" being highly dissatisfied.
Net promoter score survey (NPS)
A net promoter score survey asks how likely customers are to recommend your business to family and friends on a scale from 0-10. Depending on how your customers answer, you break them into three categories: detractors, passives, and promoters.

0-6: Detractors who will actively steer people away from your business.
7-8: Passives who will neither steer people away nor promote your business.
9-10: Promoters who would be happy to refer you to family and friends.
Customer effort score survey (CES)
Customer effort score rates your business on a scale of 1-7 based on whether your product or service made it easy to deal with the problem they were experiencing.

Customer satisfaction survey questions you should consider including
Once you get data on overall satisfaction, you can ask follow-up questions to get more in-depth feedback about specific areas of your business. Here are some common follow-up ones.

Target customer questions
If you're interested in getting more data on your target customer, you can ask questions about demographic attributes. Of course, not every customer will feel comfortable answering questions like these. Most businesses choose to make these optional.

What is your age?
What is your gender?
What is your current marital status?
What is your current employment status?
What is your current household income?
Loyalty questions
If you're interested in getting a deeper understanding of the factors that drive overall retention, consider asking the following loyalty questions.

Was this your first time using our services?
How likely are you to use our services again?
How likely are you to purchase different solutions from us in the future?
How likely are you to renew your service contract?
Open-ended questions
Open-ended questions prompt customers to tell you in their own words the strengths and weaknesses of your operations. These questions can uncover issues that might go unnoticed with multiple-choice questions.

How could we improve your experience with (Business name)?
In your own words, describe how you feel about our business.
Why did you choose our business over competitors?
How would you feel if you couldn't go to (Business name) anymore?
If there is one thing you could change about (Business name), what would it be?
Best practices for customer satisfaction surveys
A survey is not helpful for your team if a customer does not complete it. Here are some best practices to ensure survey completion and accurate data collection.

Avoid leading questions.
Ensure that none of your survey questions are "leading." A leading question is one that suggests the answer within the question itself. An example would be, "Birdeye is the most comprehensive experience marketing platform on the market. How would you rate Birdeye relative to the competition?" Questions like these will lead to misleading answers and inaccurate data.

Ask one question at a time.
Do not ask customers multiple questions at a time. It can be tempting to have an immediate follow-up on a question to get more detail, such as, "Did you have a satisfactory experience last time you visited our business? Why or why not?" However, this can feel overwhelming for your customer to answer and may hurt the overall survey experience.
Make surveys accessible.
Different customers will use different devices to take surveys. Make your surveys optimized for both mobile and desktop.

Lead by asking for overall satisfaction.
Start the survey by asking for overall satisfaction metrics. Once this is taken care of, you can then ask open-ended questions to collect more detailed feedback. Doing this will prevent your customer from feeling overwhelmed with difficult questions from the start.

Keep length in mind.
The longer your surveys are, the lower the likelihood that customers will complete it. We recommend that your surveys are not more than 7-10 questions at most.
Respond promptly after receiving negative feedback.
If you receive negative feedback, ensure that a representative reaches out to the customer and attempts to resolve the issue. A quick response can show the customer that your brand is dedicated to customer satisfaction.
How to analyze customer satisfaction data
Once you've collected data on customer satisfaction, take time to analyze the results and build an effective plan of action. Here are two ways that you can effectively interpret this data.

Look at patterns across different segments.
If you've asked for demographic data like age and gender, look for trends across different segments. Different groups may have different opinions on your operations. For example, perhaps older customers find it more challenging to navigate your website than younger ones. Once you've uncovered this insight, you can create a plan to enhance website usability for your older customers.

Help your employees understand the importance of the metrics.
Ensure that your location managers understand the key metrics that you want to improve on. Once you have the data you're looking for, help them understand the key metrics you want to see improvement and why they matter. Once you get this buy-in, you will see better results when implementing your action plan.

Presenting an action plan on customer satisfaction data
Here are some steps that you can take to present an action plan to your team based on the data from customer satisfaction.

Determine the root cause.
When you find areas where your business operations can be improved, take time with your team to determine the root cause of each issue.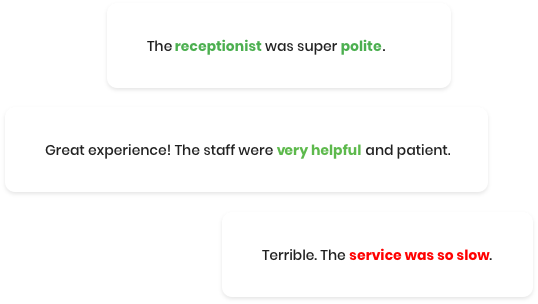 If you notice that customers often are frustrated because of 'wait time' when trying to reach your customer service team, try your best to understand the cause of this inefficiency. While it's easy for some managers to blame employees, the problem might be that your team is short-staffed.

Keep targets.
Set goals to hit specific customer satisfaction metrics. For example, if your NPS score was below your target range, set a goal that you would like to achieve. We recommend setting targets that are optimistic but still within the realm of possibility to motivate your team.
Measure progress towards your goal.
Effective management starts with effective measurement. Ensure that you're regularly sending surveys to your customers to keep track of customer satisfaction metrics.

Don't be discouraged if you see a dip in satisfaction. Improving customer experience doesn't happen in a straight line. There are always ups and downs. By regularly measuring the results that you're getting from surveys, you can stay on top of customer opinion and make sure that issues are repaired immediately.

Ensure different teams are involved.
Improving customer experience is not the sole responsibility of an Operations Manager. Still, the Operations Manager should ensure that every relevant team is involved. If customers complain about wait time, the front desk needs to be aware of feedback and implement an improved process. Meet regularly with relevant teams that no obstacles are stopping them from achieving the goal.
Communicate changes with customers.
If you've identified an issue with your operations, communicate with your customers that you are working to resolve it. This simple act can help customers understand that their feedback leads to real changes and that their voices are heard.

Get started collecting quality customer feedback
Want to check out how 100,000+ Birdeye customers used surveys to collect feedback in 2020? Check out our Survey report that also lists some critical best practices that can help you use surveys to help grow your business.


Originally published