Facebook business page – With over 2 billion active users, Facebook dominates the social market. It is the most popular social network, owning 77% of all social logins.
What can you accomplish with a strong Facebook business page? You can get more page visitors, engage with your audience, drive them to your business website and convert them into potential leads, to name a few. To do any of this, however, you need to have a comprehensive strategy in place.
In this blog post, we will cover some important steps you can take to make sure you are using your Facebook business page to your advantage.
Why Facebook is important for your business
Facebook is popular, of course, but exactly how popular? Here are some important stats:
68% of American adults use Facebook as compared to only 28% for Instagram, which is the second most popular social network in the US

Average time spent by an adult on Facebook is more than 25 minutes per day

96% of social media marketers report higher ROI from Facebook is than from all other social media networks
Creating a Facebook Business Page
If you haven't set up a Facebook page already, now is a perfect time. It's super easy — you can get the page ready in just a few clicks!
Follow the steps below to create a Facebook page for your business:
Using your personal Facebook account, click on the arrow on the top right side of the page, pick the option "create page" from the drop-down list.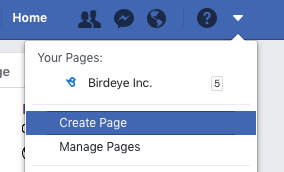 Select the relevant business category for your Facebook page.

Choose your industry and fill in your basic business details, including your contact information.

That's it! You're done! Now start optimizing the page to get traffic.
Click here to start creating your Facebook page.
11 Useful Facebook Business Page Tips
Using our own company Facebook page as an example, we'll walk you through some simple Facebook business page tips that will help you master the art of Facebook pages
1. Remember it is a business page, not a private profile
You may have come across entrepreneurs or professionals who've created a private profile for their brand instead of a Facebook business page. Not only is this not a great idea, it is actually disadvantageous. They miss out on a variety of content creation tools, paid promotional activities, and useful analytics that comes with a Facebook business page. Moreover, a private profile will require you to send separate friend requests and have them accepted in order to engage with customers.
2. Use a high-quality profile image and eye-catching cover photo
The first and most important thing after creating a Facebook business page is to upload a high-quality profile and cover pictures. Adhere to the Facebook's guidelines on size. These are the recommended sizes that you can use:
Profile picture: 170 x 170 pixels for desktop and 128 x 128 pixels for mobile devices

Cover photo: 820 x 312 pixels for desktop and 640 x 360 pixels for mobile devices

Post image: 1200 x 900 pixels

Post link image: 1200 x 628 pixels
Profile image
Choose a profile picture that is easy to recognize. It can be your company logo or anything that connects well with your brand. Being easily recognized is important for being found in a Facebook search.
Cover Photo
Use a cover image that captures the essence of your business, sparks interest for new visitors and encourages them to learn more about your services or products.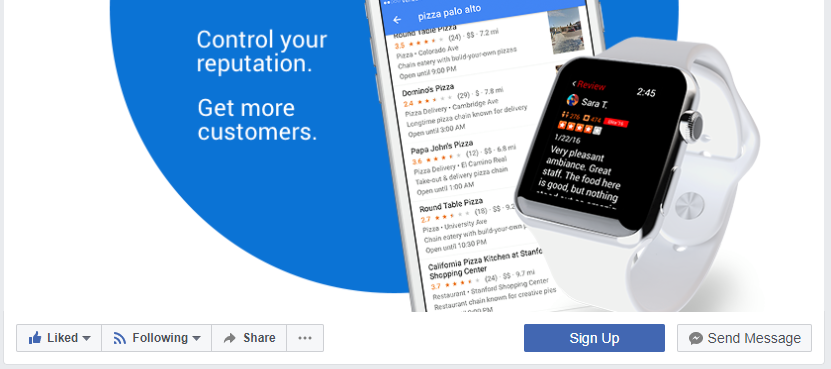 Here's an example of an engaging Facebook cover photo.
3. Optimize the "About Us" section
Your "About Us" section is the first space visitors will look when they land on your Facebook business page. Provide a short and crisp description of your business, locations, and services or products you offer. Use high-traffic keywords for your business in the description.
Mention your business hours clearly, complete the contact information section and provide a link to your business website.
4. Add a relevant "Call to Action" button
Facebook added a very useful feature in December 2014 – the call to action button. You can add it to your Facebook business page and direct customers to your website, a landing page, a contact form or a Youtube video.
You can pick from seven pre-designed custom call-to-action buttons such as "Sign Up", "Shop Now", "Contact Us", "Book Now", "Use App", "Play Game", or "Watch Video".

5. Post at the most ideal time for your audience
What is the most ideal time to post on Facebook? There is no perfect universal answer.
However, different days and times might generate more user engagement for different businesses. The best time depends on your target audience, the predominant time zones, the type of content you're posting, and your own business goals. Try out various posting schedules to identify the perfect time for your business.
Here's some data that talks about the best time to post on Facebook:
The most ideal time to post on Facebook is 3:00 PM on Wednesday. Other favorable timings are 12:00 to 1:00 PM on Saturdays and Sundays, and 1:00 to 4:00 PM on Thursdays and Fridays.

The engagement rates are greater on Thursdays and Fridays, as compared to the rest of the week.
6. Post informative and engaging blog content
Don't post just for the sake of posting. Content without substance comes across as spammy, and will only drive customers to your page to click "Unfollow". Instead, make sure the content you post on your Facebook business page contains helpful information that might enhance your target customer's day, answer a question, or make them want to know more. A safe place to start is by sharing your best blog posts and articles from industry throught leaders.
7. Post compelling visual content
Research shows that Facebook page with visual posts sees 2.3x more engagement than those without images. Therefore, posting content with images should be a part of your Facebook business page building strategy. A powerful strategy will include videos, images, infographics or screenshots. They will automatically get added to the photos and videos tabs which are a part of your Facebook page.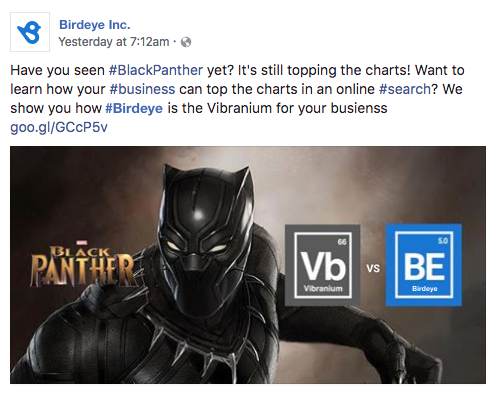 8. Leverage Facebook Insights
Facebook Insights is Facebook's in-house analytics tool that helps you estimate and analyze your Facebook presence. The toolkit presents Facebook page administrators with analytics data around their page visits and user engagement, which can help you learn which content works best for your fans. Using this link you can view your Facebook page insights.

9. Pick the right advertising tools
Facebook's advertising tool, the Ads Manager works well for most of the companies. Based on the size of your company and the number of ads you plan to create, you can create effective ad campaigns for your brand. With Facebook ads, you can target specific audiences and get more likes, shares, post boosts, news feed publicity and leads on your Facebook business page.
Launching a single campaign won't deliver all the results you need. In order to continuously attract new audiences, optimize your ads, and learn whether Facebook advertising is working at all for your business, you need to run multiple campaigns to test what resonates most.
Try testing 10-15 versions of a single ad campaign.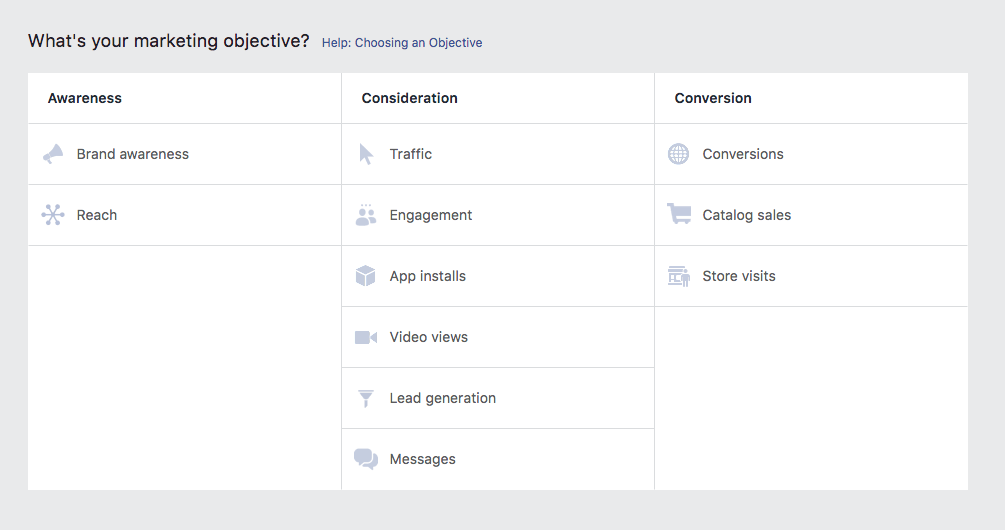 10. Make the most of Facebook Messenger
Did you know? You can easily connect Facebook Messenger to your Facebook business page and let your users make the most of it stay to connected with your business.
89% of users prefer to engage with a business using a messaging app.
This is how to add the Facebook Messenger tab to your Facebook business page:
Click on the "Settings" options on the top right of the Facebook page.

On the "General Tab", choose "Messages".

Check the box that says – Allow people to contact my Page privately by showing the message button.

Once you're done, save the changes.
As soon as the Facebook Messenger is connected to your Facebook page, create a smart strategy to combat the messages that come from your users. Have a full-proof plan in place to respond to all your customers.
11. Integrate Facebook reviews
Online reviews are a wonderful tool to gather feedback from your customers. They not only help you rank higher in search results, but also convince potential customers to choose your business. To start gathering reviews on your Facebook business page, here what you can do:
Click on the "Settings" options on the top right of the Facebook page.

From the left column, choose "Edit Page".

Find the "Add Tab" button and click on it.

Choose the "Reviews" tab and click on "Add Tab".
Remember that it is important to continuously monitor and respond to your business' Facebook reviews.
Effectively Manage Your Facebook Business Page with Birdeye
Managing your Facebook Business page requires a dedicated strategy, but it doesn't have to take up all your time. There are tools available that let you monitor all your social comments in one place, respond to them, and even schedule posts in advance to be auto-published later.
Using Birdeye's social publishing tool, from one place, you can take care of all your social media management and marketing tasks:
Auto-promote your best reviews to your Facebook business page

Schedule multiple Facebook posts days, weeks and months in advance

View and manage all your Facebook posts in one place

Store uploaded photos, videos, GIFs in the Asset Library

Track likes and shares

Respond to online reviews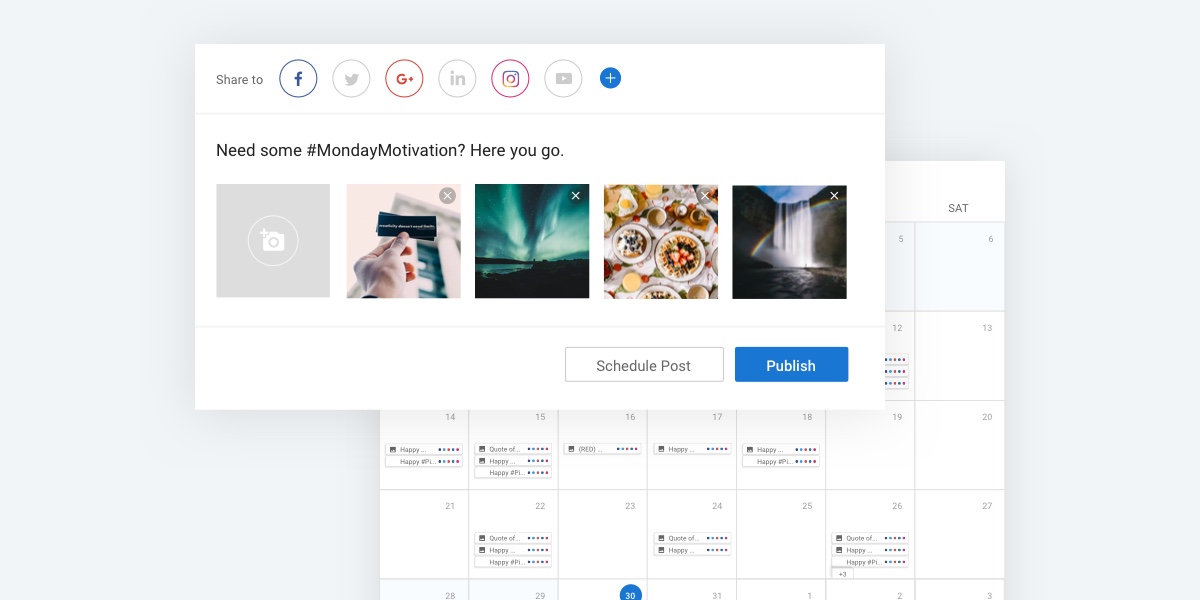 Originally published