Over the past few years, online shopping behavior has changed drastically and local searches have continued to dominate Google every year. Almost 90% of customers agree that they used the search engine to look for and evaluate local businesses in 2022. Your Google Business Profile, therefore, has the potential to be more than a listing. Local businesses must leverage this to convert Google users into potential leads and start meaningful conversations with Google Posts. 
If you are looking to get more out of your Google Business Profile and improve conversion rates, read on to learn everything you need about Google Posts.
Birdeye – One platform for Reviews, Reputation & Listings Management
Want to see the impact of Birdeye on your business? Watch the Free Demo Now.
What are Google Posts?
Google Posts is a Google Business Profile feature that allows businesses to publish important text and visual updates to their profile. The posts can help potential customers know more about the business and boost website traffic from the listing.
The posts can be about 100 – 300 words and include photos and links (to a website, social media, and e-commerce shops) with a call-to-action (CTA) function.
Google posts typically include updates regarding promotional corporate events, products, job vacancies, announcements, and other important information.
Why do we need Google Posts?
Creating content for your local business can be challenging. It is possible that you may already have a content strategy that includes email marketing, social media marketing, and other direct marketing formats.
But it is essential to include Google Posts into the mix because:
Search engines like Google are among the top three channels influencing research options for local businesses. If customers find your business via local searches, Google Posts can improve the likelihood of them becoming a lead with the information they discover here.
Google Business Posts improve conversion rates by providing necessary information to consumers, such as ongoing discount offers at the time of business discovery.
Google Posts are easy to create, and you can use existing social, email, and other marketing collateral by repurposing them.
Posting regular content on your Google Business Profile keeps the page active and encourages the search engine to display your business in the Google Local Map pack.
Where can you see Google Posts?
Google Posts are visible on the Google Business Profile along with other information such as contact details, reviews, service categories, hours of operation, etc.
Google users can view Google Posts on:
The "Updates" or "Overview" tabs of the Google My Business profile on mobile on Google Search and Maps
The "From the Owner" section of the Google my business profile on your desktop on Google Search and Maps.
How to create Google Posts?
Businesses with a verified Google Business Profile can create Google Posts from their dashboard. If you do not have a Google Business Profile yet, check our detailed blog post on how to create/claim and verify your business profile.
Once the Google Business Profile is all set, you can start creating Google Posts.
To create Google posts:
Sign in to your Google Business Profile with your professional Gmail business account from google.com/business.
You will gain access to your business dashboard.
Click on "Add Update"
Choose from the updates you can post on your Google Business Profile.
Proceed by adding the content. You can include text, photos, and links in your Google business posts.
Types of Google Posts
Google allows businesses to share four significant types of Google Posts to encourage potential customers to connect with them and provide necessary information to existing customers.
The four major types of Google posts are:
Events
Offers
Product posts
Announcements
Events
Businesses can use Google posts to promote an upcoming event they are organizing or participating in.
An event post will expire once the event is over. In an event post, you can include the following:
Photos or videos,
The name of the event,
The start and end date/time
Description in the "Add more details" section,
CTA button.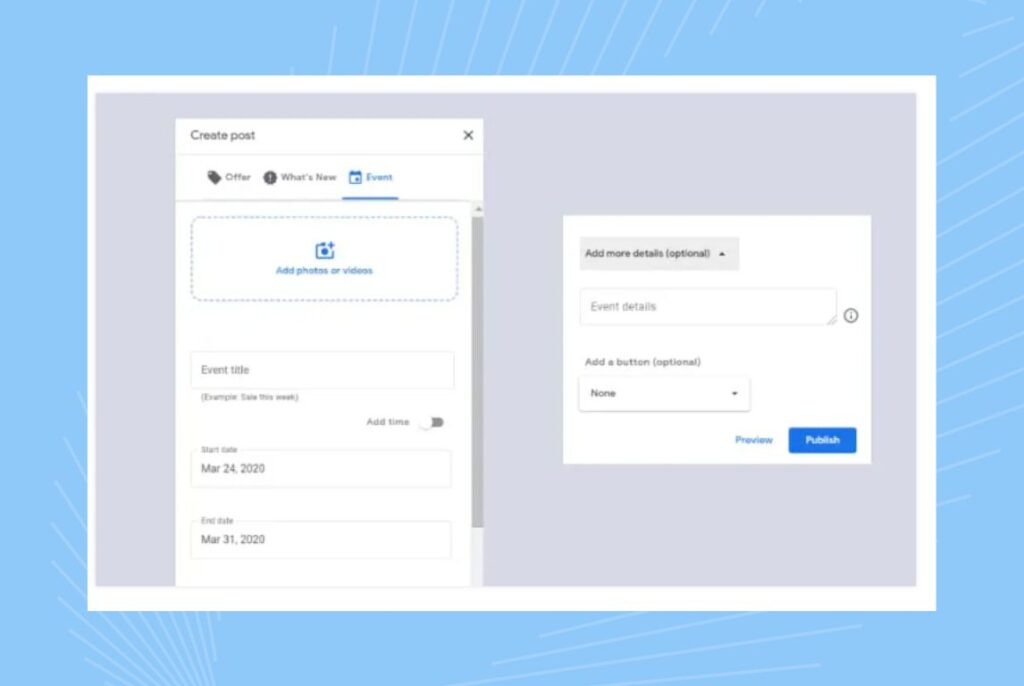 Customers can see the event posts on a desktop and their mobile devices
On a desktop, the event post will show in your Google business profile if you're in the valid date range.
On a mobile device, they will show on the Overview tab while the dates are current or in the Updates tab.
Offers
Businesses can leverage Google Posts to motivate customers to click on their website, schedule appointments, or visit their store by adding offers to their Google Business Profile.
Google posts containing offers can be anything:
It may include a discount on any products or services.
You can also promote a subscription service with limited-time signups
A free 15-minute consultation with a representative of your business can also help win over customers.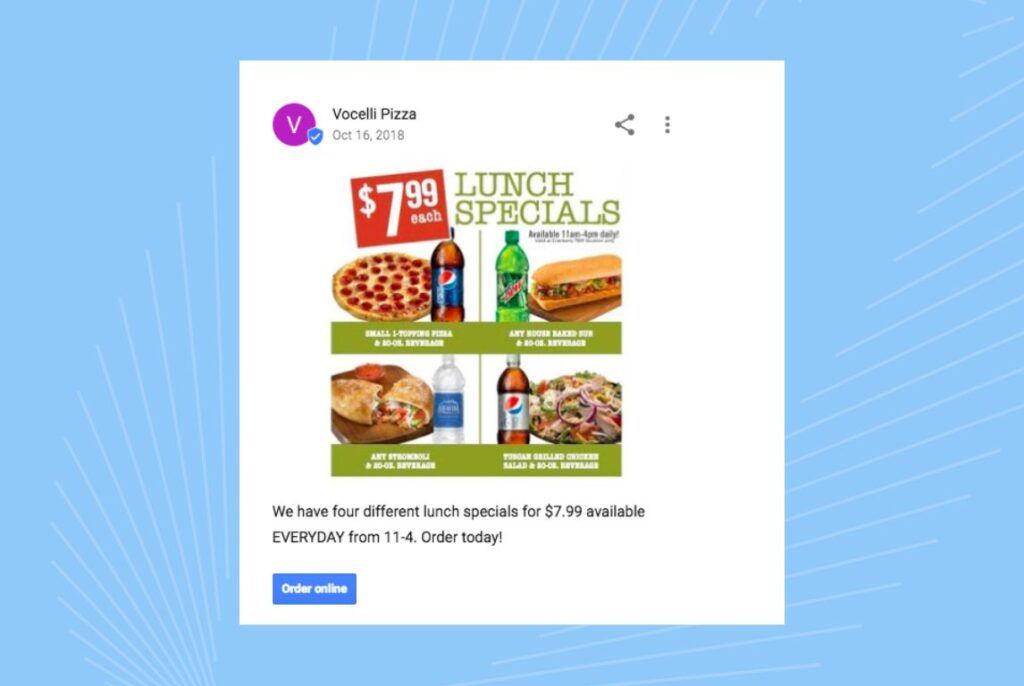 Offer posts on Google My Business should include
The start date and end date,
Offer description,
Any terms & conditions,
Relevant discount or coupon codes to the offer post.
Some consumers are likely to buy online from a business if they provide a starting discount or have any exclusive offers for their customers. You can convert these customers by posting on your Google Business page.
Products
If you run a retail store, you can post product information, new launches, and more on your Google Business Profile via Google Posts.
You can use the "Update" section to add product information. This is different from the Google Shopping feature that allows businesses to add product ads to gain visibility in search results.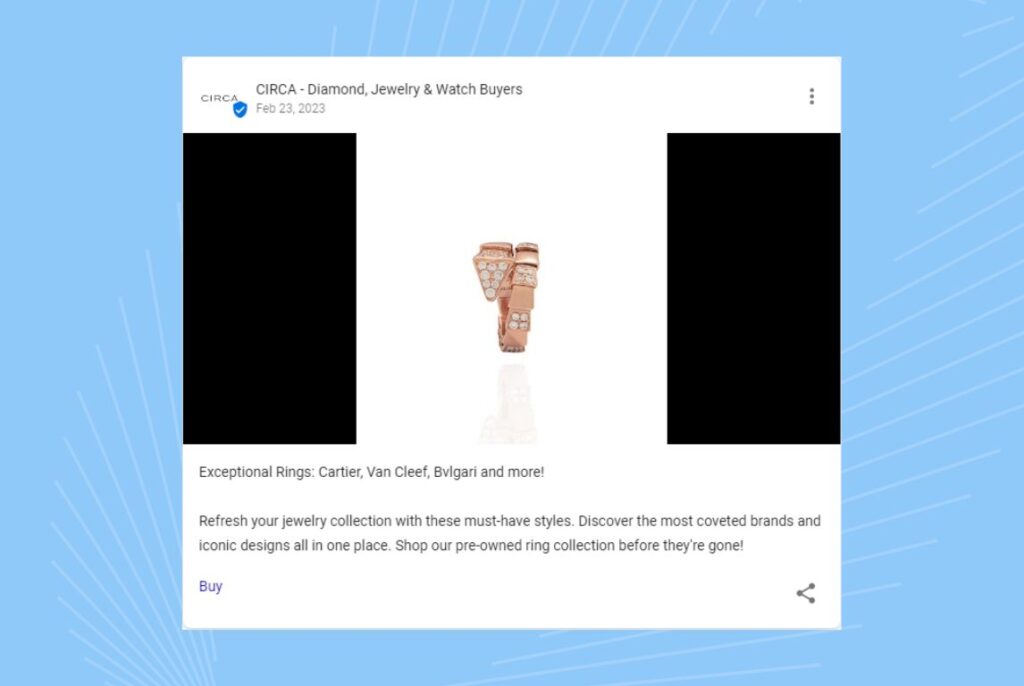 A product post will include a photo, product name, product type, product description, and a CTA button (such as 'order online'). You can also include the price range in the post.
Announcements
This type of GMB post can be general and relevant information to your business, such as
Business operational updates,
Announcement on hiring new staff,
A partnership or relationship you've developed with another business or organization.
You would include a photo, video, description, link, and a CTA button in an announcement post.
The announcement posts are available on the 'Overview' or 'Updates' tab on a mobile, and on a desktop, they will appear in the Posts section in your Google business profile.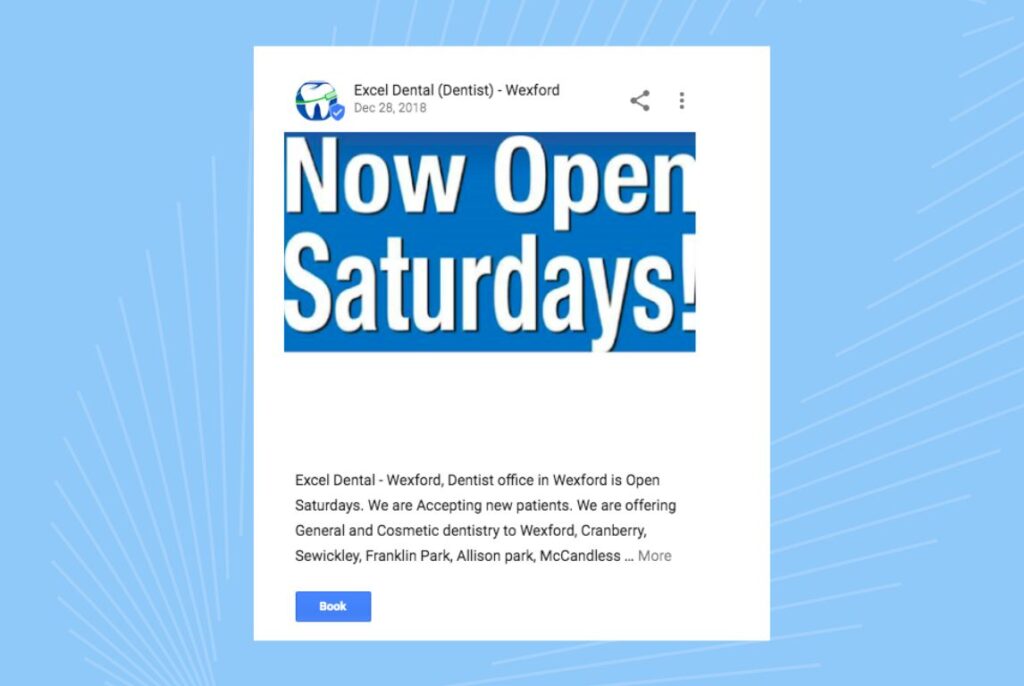 Best Practices for Google Posts
Google sees almost 8 billion searches per day. That's a lot of users searching for businesses, locations, how-to guides, and other related business posts.
So, you need your Google business profile and your Google posts to stand out as much as possible to help your business get ahead of the pack.
Below we provide our best practice tips for Google posts and your Google business profile in general.
Optimize your photos
This tip is number one on our list for a reason. The photo you use will be crucial to the success of your Google post and your Google business profile.
Your photos for the Google posts:
Must not only be relevant but also catch the eye of the Google user
Must be efficient enough that one image does the job without cluttering the post with too many photos
Fits the size requirement as per Google
Tells the customers everything they need about the product
Follow Google guidelines
There's nothing worse than having your post taken down for failing to adhere to Google's terms of service and its guidelines.
Google reviews all content before it goes live on your profile. Make sure your post meets all the guidelines and doesn't include inappropriate or offensive content right from the outset.
Know more about Google's guidelines here.
Use the right CTAs
The call to action button is one of the most important parts of your Google posts. It determines how the customer can continue interacting with your business. A wrong CTA means customers visit the wrong link, and your business will lose an important lead.
Businesses must choose the suitable CTA from 'Learn more,' 'Visit our website,' 'Subscribe to our newsletter,' 'Visit our social media pages, and so on.
Check out an example of an optimal CTA below.
In this example, Kama Bistro is advertising its services to cater events for up to 55 people. The CTA link takes the user straight to booking a space. It cuts out the need for any unnecessary navigations and allows the conversion to happen relatively instantly.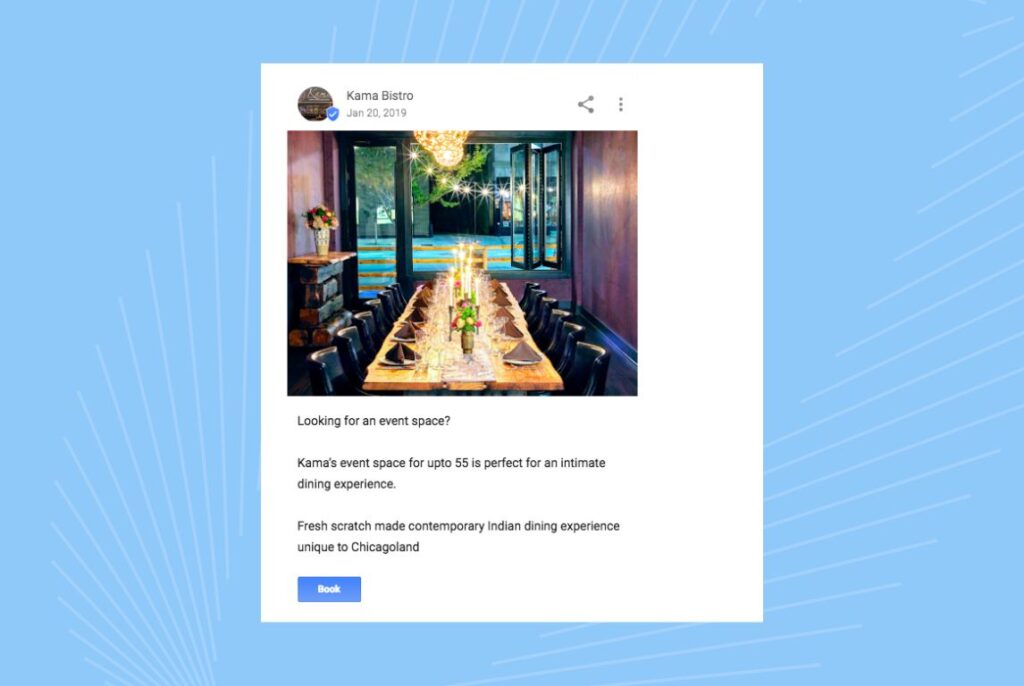 Optimize for SEO
Creating engaging and compelling Google posts is one thing, but ensuring people can see your Google business posts sometimes takes precedence.
This is where SEO comes in.
Your Google Posts must use the correct local keywords, include information about your store location, and be relevant to the local search query. This improves the clicks your profile receives and helps your business feature higher in local search results.
Choose the right frequency
Unlike certain social media strategies, spamming your Google Business Profile with multiple posts is unlikely to lead to any meaningful conversions for your business.
From a marketing perspective, it would make more sense to issue weekly updates, offers, or promotions.
Make sure that your Google my business post is relevant, engaging, and speaks to the needs of your audience, as opposed to publishing multiple posts that users are unlikely to see.
How to track Google Posts performance?
Unfortunately, Google discontinued Google Posts insights in Jan 2023 and only provides data on profile views, website clicks, requested directions, and total actions.
However, businesses can track the performance of their Google Posts by adding UTM parameters to their CTA links and tracking leads, clicks, and so on from there.
Supercharge Google Posts with Birdeye
For businesses managing multiple locations or looking to automate Google post publishing, Birdeye is a valuable resource. With Birdeye Social, businesses can create, schedule, and automate content from a single, easy-to-use dashboard.
You can also publish your social media content and Google posts with a single click at the same time. Save time and elevate your content strategy and distribution with Birdeye today!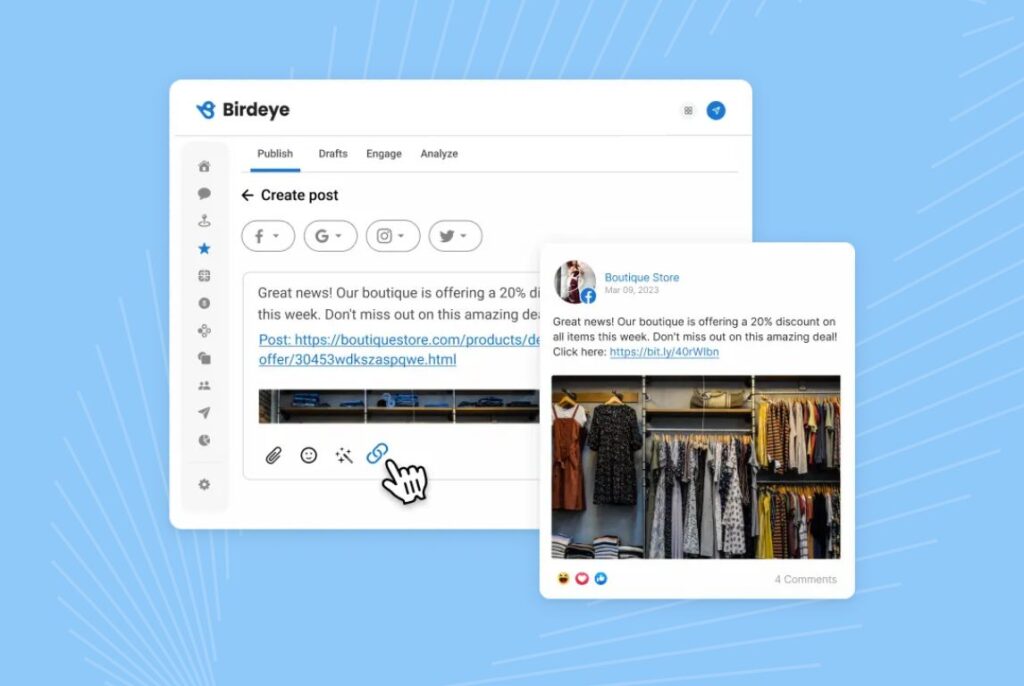 FAQs about Google posts
1. Are Google posts free?   
Yes, Google posts are free and relatively straightforward to use through your Google business profile.
2. How do I use Google Posts? 
You can use Google Posts to share relevant content about your business to Google users, such as updates, announcements, events, discounts, and so on. 
3. How long do Google posts last?
Google allows businesses to display Google Business Profile posts for up to six months unless a date range is specified.  For example, businesses can make sure an event post disappears when the event has ended.
4. Why was my Google post removed? 
Google may have removed your post if it violated its content policy. We recommend rechecking the Google content policy and re-uploading with edits. 
Leverage Google Posts with Birdeye
Google Business Profile can be a powerful lead-generating and lead-conversion tool for your business with Google Posts. Treat this essential customer touchpoint carefully by creating relevant, engaging, and essential content with Google Posts.
Birdeye can help you create, schedule, and publish Google posts across all locations from an easy-to-use dashboard in simple steps. Boost your conversion rate from Google with Birdeye.
Originally published