Google processes at least 8.5 billion searches per day. Almost half of those queries are around local information about businesses, services, and products to buy.
Whether or not all those online searches direct customers to your business depends on your visibility on Google. Having a local SEO strategy helps you make your business seen by those Google searches and maximize website traffic and interest in your brand.
This article deals with everything you need about local SEO and how to leverage it for your business.
What is local SEO?
Local SEO is a distinct type of search engine optimization (SEO) strategy that targets the local audience, ensuring your business appears in relevant search results on Google.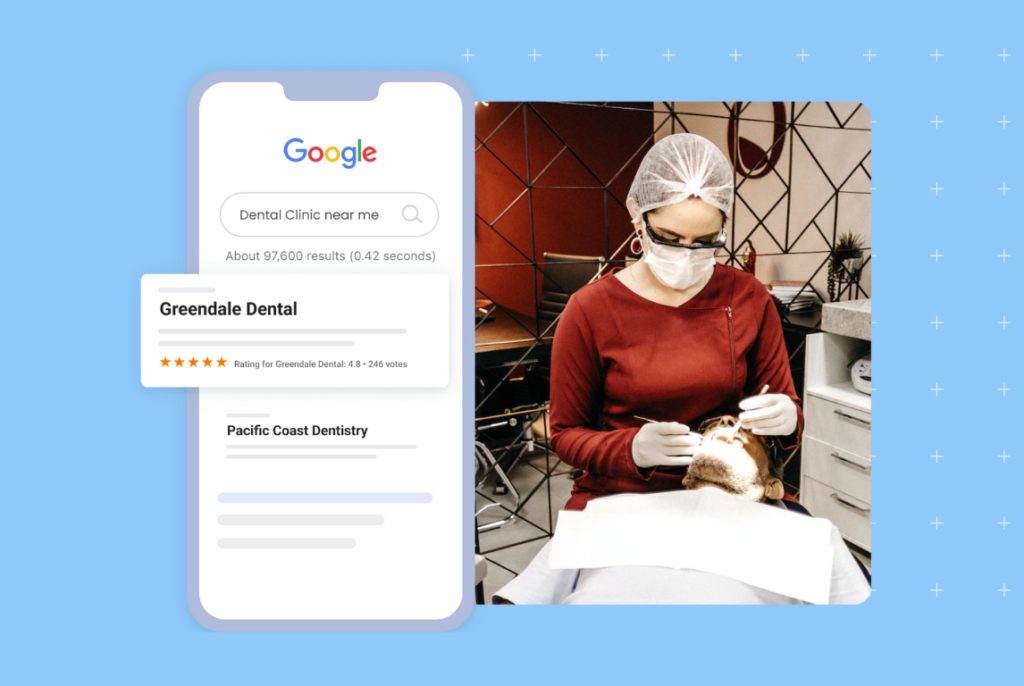 An effective local SEO strategy can help small to medium sized businesses compete against well-established businesses by targeting a particular local audience. This is especially effective if you have a physical location and provide services to a specific location.
What is the key difference between SEO and local SEO?
While SEO and local SEO function with the same objective of improving visibility on search engines, local SEO focuses more on the needs of a specific localized audience and bringing up results that cater to those needs.
Local SEO is vital mainly for local businesses, while SEO or global SEO can be leveraged by any business or individual to rank higher on Google.
SEO is tied to marketing goals such as increased website traffic, lead volume, clicks, etc. On the other hand, businesses leverage local SEO to achieve goals like increased store walk-ins, customer messages, phone calls, appointments, and service queries.
A quick comparison of SEO vs local SEO is tabulated below for your reference: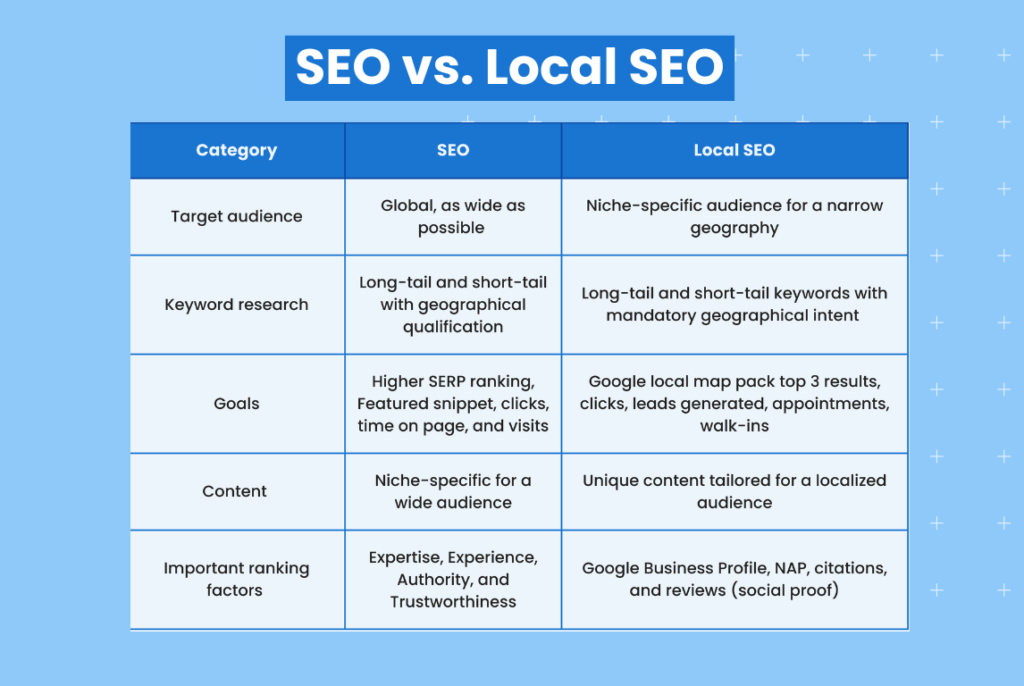 The importance of local SEO: Why does it matter?
Research suggests that 81% of consumers take the time to do an online search before physically entering a store. And it's the first page of search results they buy from the most. With 1.6 billion searches occurring with local intent, not optimizing for local SEO means missing out on those opportunities.
Local businesses saw increased online interest from their local audiences during and after the COVID-19 pandemic as everyone was forced to buy local and use the internet. Local SEO strategies make sure you outshine your competition within your location.
By focusing on local SEO strategies, you can:
Boost the growth of your business in a targeted location
Build a stronger brand that competes with a global business by catering to the unique needs of the local community
Optimize your marketing budget by focusing on an audience that is more likely to use your services. For example, investing in advertising for "coffee shops" is a long shot but "coffee shop in Nevada city" will have a higher impact.
How does local SEO work?
Local SEO uses location identifiers so that search engines know your business is relevant to people searching for services in the region or geographical location you work in.
When someone conducts a Google search, Google relies on patterns or ranking factors to determine how relevant your site is to the search query. Google determines which sites best relate to your particular search query. These algorithms sift through content from listings to identify precise keywords, text strings, and mentions that best answer the searcher's query.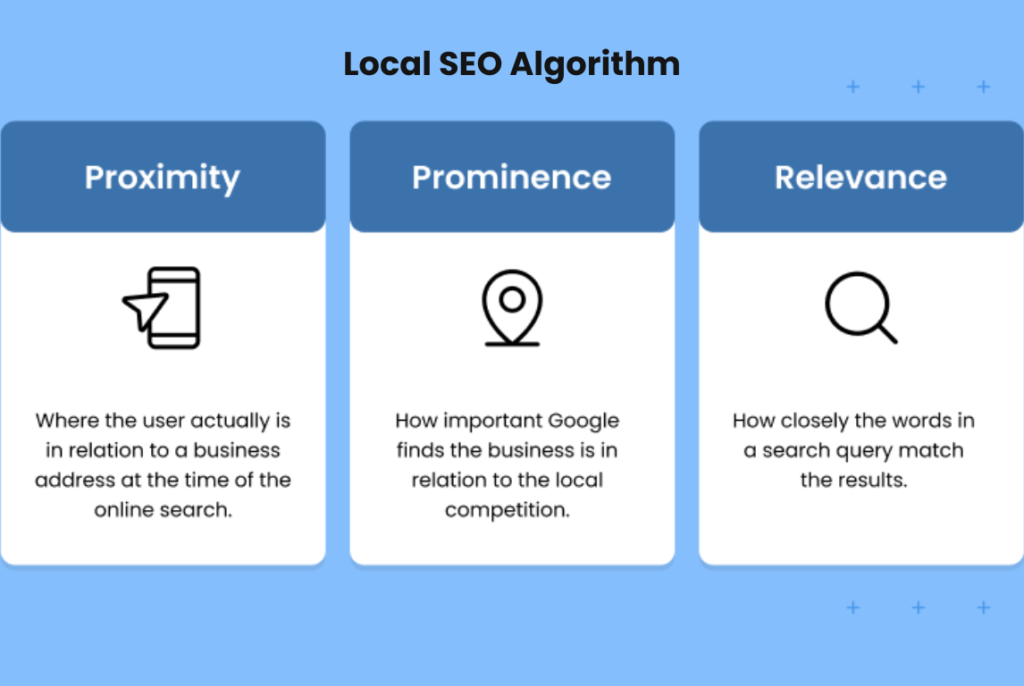 So, when customers search by specific location or use "near me" in their queries, Google can identify and direct them to region-specific results. Local SEO techniques make sure Google suggests your brand as a local provider in those searches.
Local SEO ranking factors
Google algorithms are constantly changing, which makes it challenging for businesses to know which tactics drive the best results. However, you can leverage a few pillar best practices, regardless of the search engine dynamics, that will help your business rank.
Despite trending changes, the most important local SEO ranking factors still remain reliable. To assist your efforts, we have compiled a list of the top five local SEO ranking factors to help you rank higher on those valuable local queries.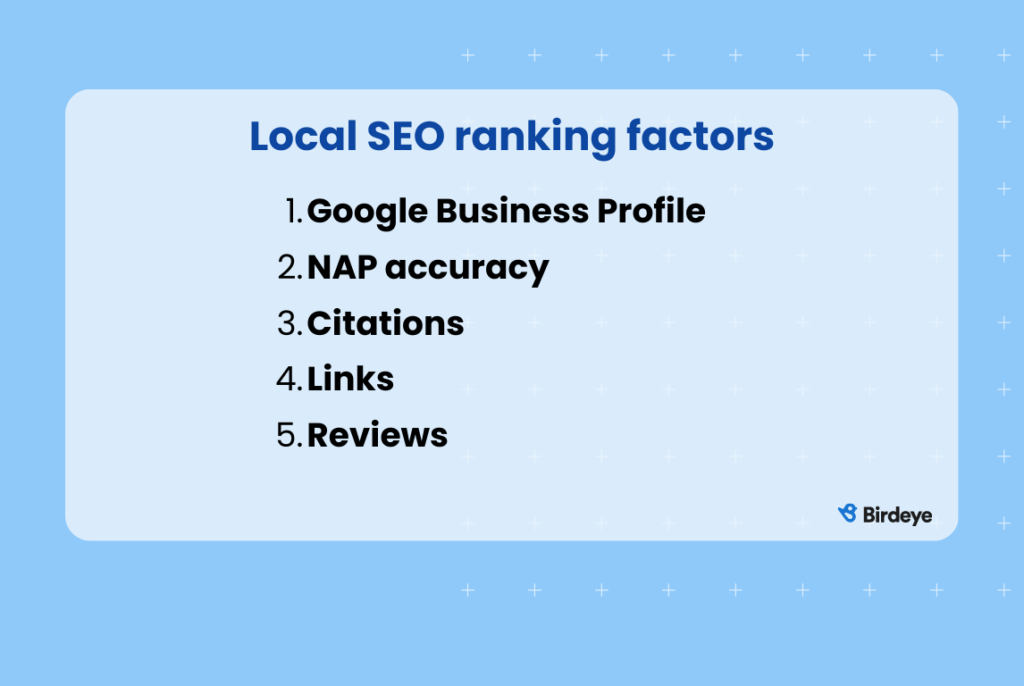 Google Business Profile
The first thing your local business will need to do is create a Google My Business Profile, a crucial digital marketing tool you need to utilize to boast local SEO success.
Your Google My Business Profile includes your name, address, phone number (your NAP information, discussed further below), and a description of your business services. Set up your Google My Business Profile as comprehensively as possible to ensure your brand has the absolute best chance of making it to the local search results page.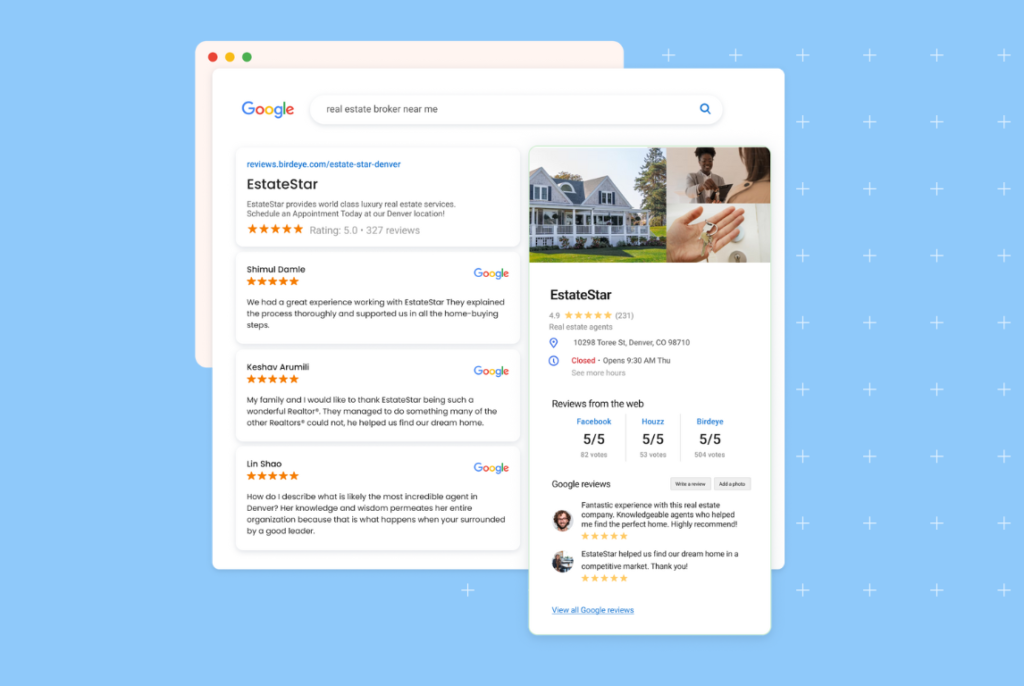 A completely updated Google Business Profile like the one in the picture above improves your chances of featuring in the local map pack results. Make sure to connect your social media profiles, collect reviews, and update operational hours to start with.
NAP accuracy
It is crucial that your NAP information is correct and follows the same format across all channels. Google uses NAPs to confirm if your business information is correct or not.
This may sound straightforward. However, even having your business listed as Example Ltd on one website/forum and Example Group Ltd on another could convince the algorithms (and your customers) that they are two completely separate businesses.
This same principle applies to the address. Sometimes your address may differ colloquially (or even legally) from what is listed on Google. Use the same address as what appears on Google Maps to avoid any confusion.
Lastly, make sure your phone number across your social media sites, the yellow pages, Google, and other listing forums is consistent.
Citations
A citation is an official mention of your NAP on another website, whether it be on their directory or even their blog posts, which will increase the visibility of your business.
It also confirms that your business is local and, most importantly, proves that it is credible.
Citations can be built manually or use a local citation builder instead.
Reviews
A study has found that 84% of consumers trust online reviews as much as personal recommendations. Your NAP information must be correct and follow tips to ensure you rank highly in local search results, as Google also relies on these reviews to inform its search results.
Links
Links are more or less an endorsement from other websites that give their approval for your business website. Search engines rely on these endorsements to help figure out which website to rank higher in its local search result.
This may require you to think creatively about incorporating links into your content. And it starts by creating significant value by releasing high-quality content on your website that people can rely on and feel comfortable endorsing.
Great backlinking (incorporating outside source links into your content) includes reputable and unbiased resources. Choose links representing recent data or stats within two to three years. And never link to broken URLs that display "not secure."
Local SEO keyword research
It is important for local small businesses to identify what their audiences are looking for online. Very few people conduct a Google search using a lengthy or substantive query. More often than not, users will rely on certain keywords, which is why it's so important you get these as accurate as possible at the outset.
Keywords are vital in optimizing a business's information or listing for local search queries. Regarding local SEO, the keyword research process differs slightly from organic/traditional SEO.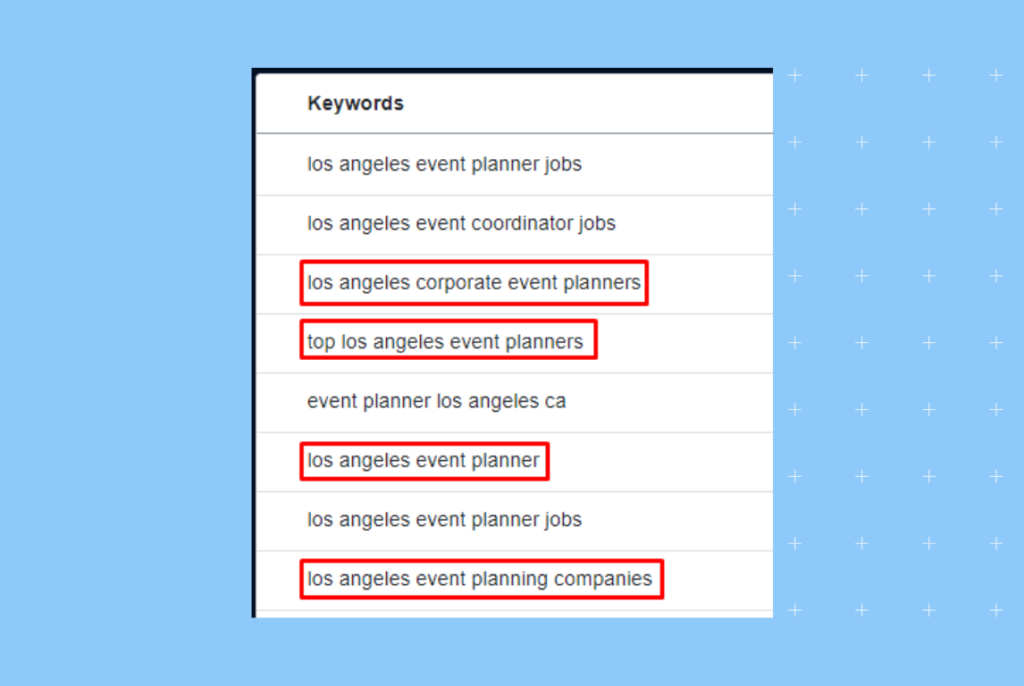 Let us take a look at how you can find the right keywords for your local business.
Finding keywords
One way of identifying the right keywords is to use the keywords previous customers have used in reviews about your business. Analyze your online reviews for insight into how the customers describe your service, product, and overall business.
For example, if customers constantly mention your business as the "best flower delivery service in Tampa", it is a better keyword to target than "florist in Tampa."
Since this keyword is already associated with your business and used in customer service, you can easily rank higher and outshine the competition.
The easiest way to determine these keywords is to analyze your reviews with a review management tool like Birdeye and identify the phrases mentioned often.
Search volume and difficulty
You also need to focus your energy on locating keywords with high search volume, such as keywords that enough people are searching for, to make an impact with your efforts. If not enough people are carrying out a Google search for the term you use, there simply won't be enough volume to bring traffic to your site.
SEO difficulty is another consideration your business will have to factor in. Essentially, this indicates the difficulty level of obtaining a local ranking for your chosen keyword.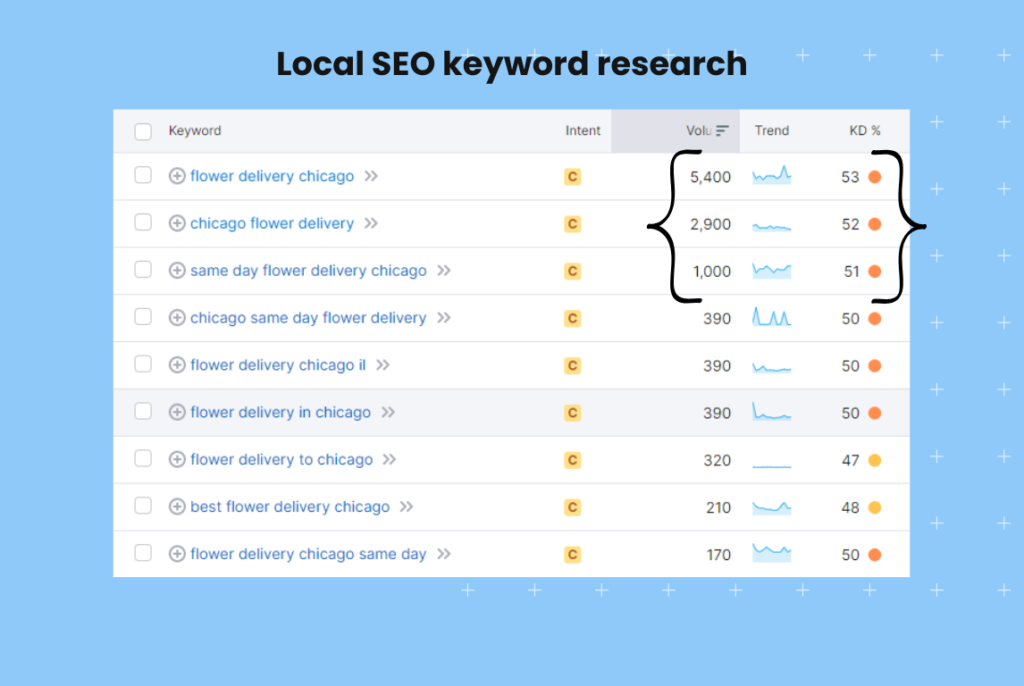 Our advice is to find a measured balance between search volume and difficulty. For example, as you can see in the image – the top three keywords have similar keyword difficulty (KD%) but the search volume varies drastically. Here, businesses will benefit by choosing the first keyword even if it has a slightly higher difficulty.
Intent match
Search intent in SEO describes the purpose of the online search or query. It's how your business can find out what keywords target customers use to search online.
The starting point is to research your specific audience's search intent, especially to identify if there is local intent. Conduct your own Google searches and see which competitors rank first and how they have optimized their listings.
You can do this by perusing your online reviews (as mentioned above,) scanning the Google search results page and conducting a survey with your audience.
If you can work out your audience's search intent, you can improve the relevance and ranking of your business.
Keywords to product match
Sometimes, the "best flower delivery service near me" could deliver results that are not entirely about this service. This may be because customers mention these phrases in reviews. You can capitalize on this opportunity by optimizing your listing for this phrase and ranking higher.
Another way to leverage the keyword-to-product match is to find auxiliary keywords around your main product and use them in your Google Business Profile.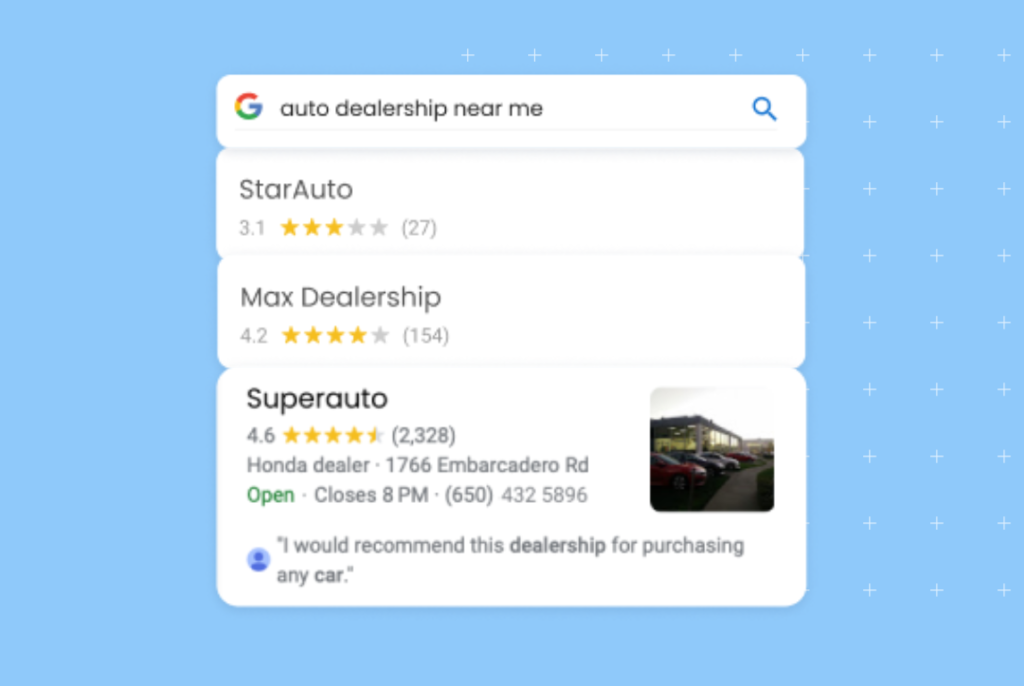 Take a look at the example above. The reviews for Superauto features the words "car dealership" and has helped the business featured in the top 3 results for a related keyword.
When you successfully align your keywords to your products, and Google identifies a product match, your business shows up in the Local map pack's top three results.
Local SEO tips and best practices
As you develop your local SEO strategy, along with the key factors mentioned above, there are other tips to consider. These best practices can serve as a guide and checklist. Follow these suggestions for improved local SEO results.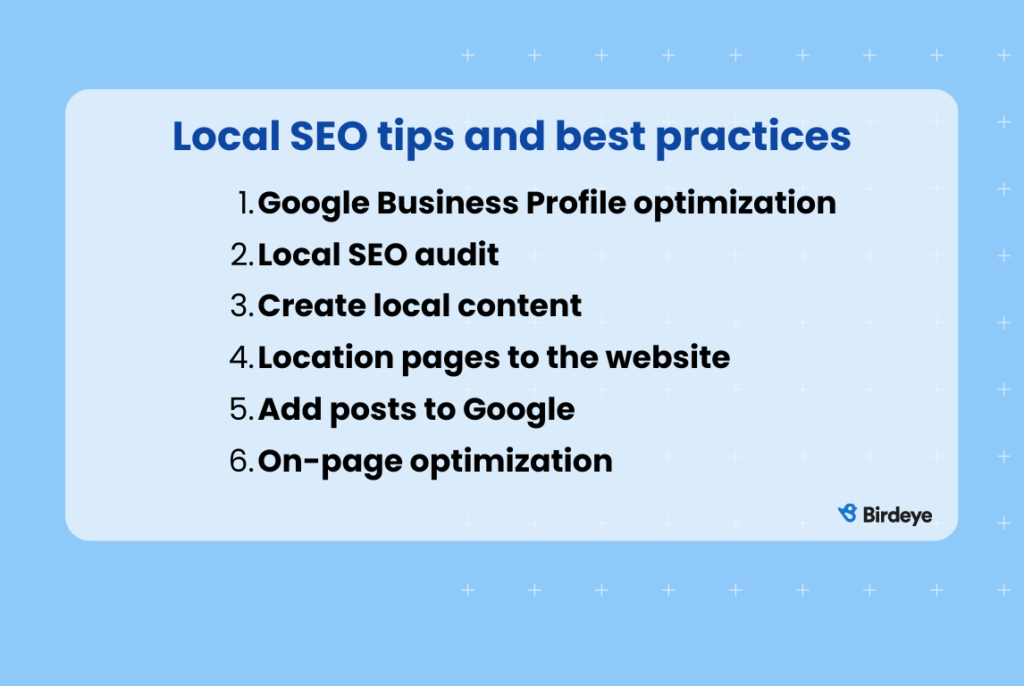 Google Business Profile optimization
Google My Business Profile is a free business listing that can provide customers with information about your business, including location, product/services, reviews, and other important updates.
It is one of the crucial ranking factors in local SEO and hence needs close attention. This is one of the primary places that Google scans to gather information about relevant businesses.
For a potential client running a Google search, the face of your business isn't your website or Facebook page. It is your Google Business Profile.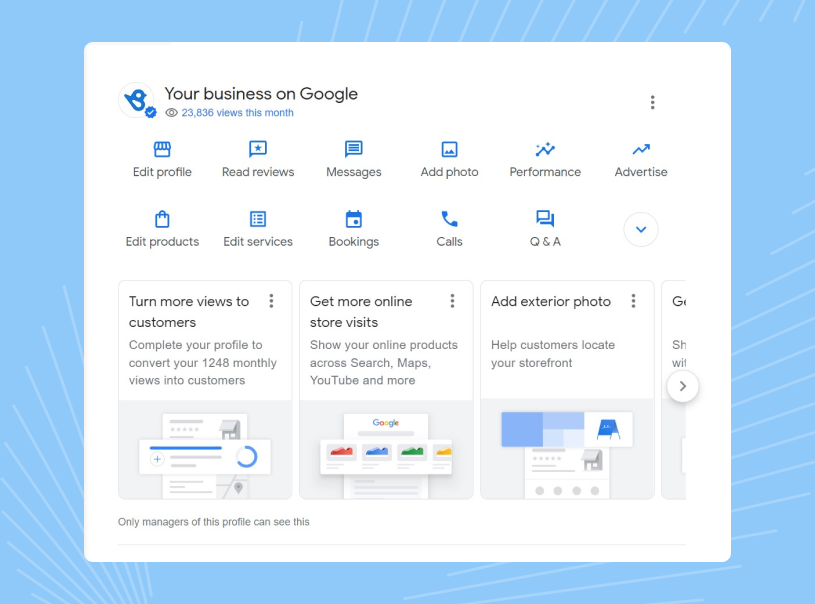 A few tips to ensure you stay ahead of the pack are:
Set detailed business hours, including for special days such as holidays, sale days, and weekends.
Be extremely accurate with your information, especially your contact details. Users can report if a listing carries outdated information, which can work against you.
Choose the correct categories.
Actively manage reviews on your Google Business Profile, including requesting reviews, responding to positive and negative reviews, and addressing complaints.
Monitor the Q&A section.
Enable the appointments and Google Business Messages features.
Related read: Google My Business – The complete 2023 Google Business Profile guide
Local SEO audit
Conduct regular local SEO audits to monitor your online visibility. These serve as pulse checks to gauge the continued effectiveness of your strategy. See what's working and which areas you can improve upon moving forward.
An in-depth audit could involve a review of your competition and using tracking metrics to see how your website is performing. Explore some available auditing tools and create checklists that include the following data points.
Keyword analysis
Competitor analysis
Technical analysis
Page level analysis
Content analysis
User experience analysis
Link analysis
Citation analysis
You can also develop a local SEO checklist to monitor your strategy.
Create local content
If you are a business with multiple locations, creating content with a local interest can truly level up your local SEO efforts.
Google scans its entire directories for locally-relevant results for each query. If you want to stack your chances in addition to the Google Business Profile, you can start by creating local content.
Local content can be in the form of blogs, product pages, event pages, and local review pages on your website. By optimizing this content for local keywords with the right search intent, you improve your chances of ranking for the right local search.
Location pages on the website
For multi-location businesses, it is important to add local pages to their business website. Even if you publish local content to your blog regularly, location-specific pages can drastically improve your web traffic.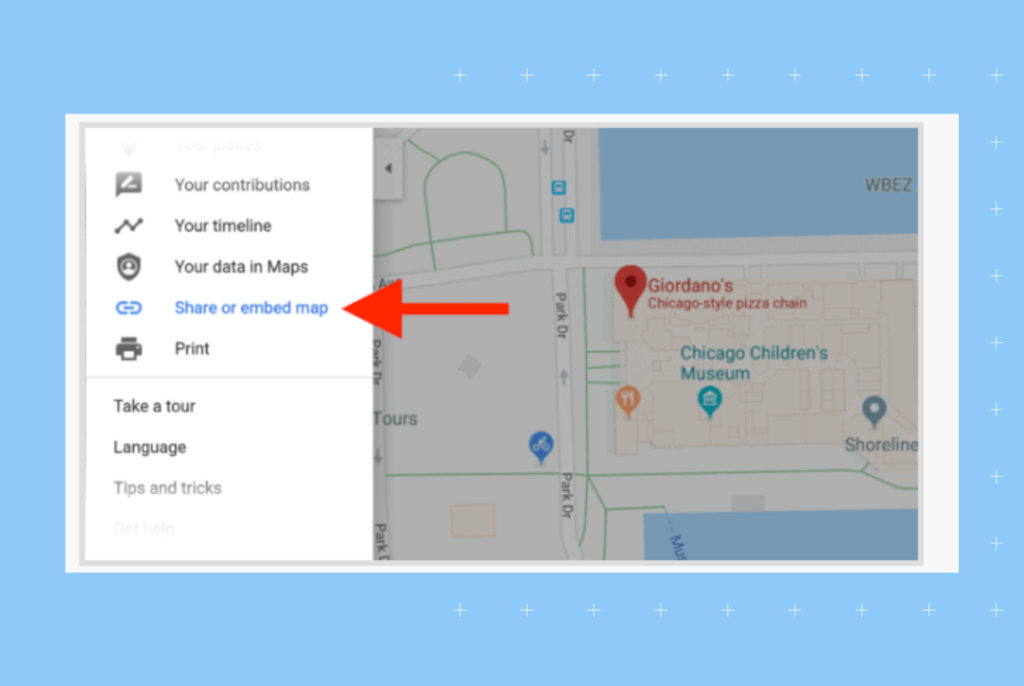 Location pages on your website serve as
An Additional verification source for Google for your NAP
A one-stop information source for customers to know all the details about your local store
A place to add local content and boost internal links
Showcase community-based initiatives of your business
You can embed these local pages to the Google Business Profile of each location and boost credibility as well.
Add posts to Google
A slightly lesser-known feature of Google My Business is Google Posts. With this feature, you can publish images, text, news, and information regarding a specific event.
Google posts can help increase your relevance and rankings, allowing potential consumers to find you more readily when searching for a product or service your business offers. And some of the most effective types of posts include the following:
Updates about your business, like holiday hours or sales
Testimonials or demonstrations of your past work or services
Introducing your team members or conducting employee spotlights
Share business milestones and anniversaries
Promote local community efforts or causes your business supports
Add Google Post efforts to your regular social media posting schedule to keep it fresh and relevant.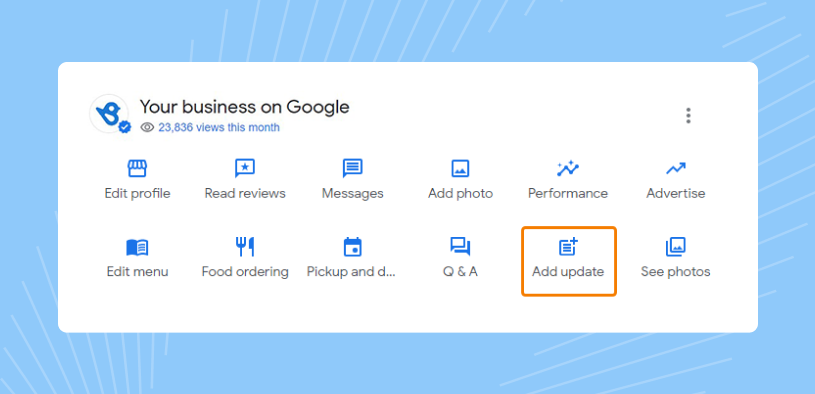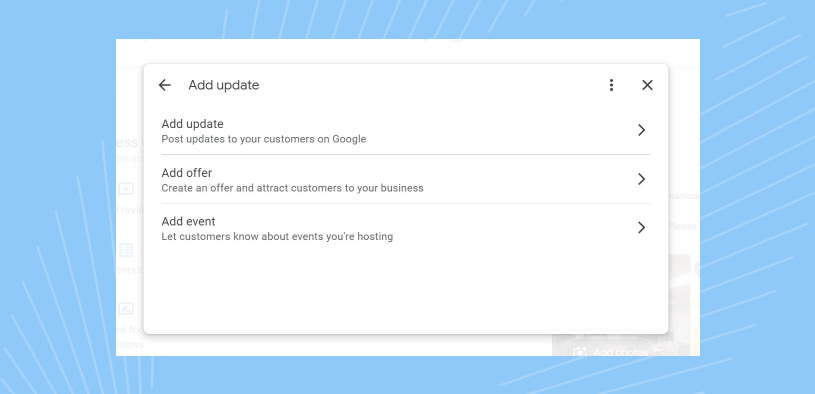 On-page optimization
If you're the type of business that requires an in-store experience, it goes without saying that most customers will research your website before taking the trip to your store.
And it's a norm for most consumers who expect their local businesses to have a functioning and optimized website. Their first impressions of your brand online will determine whether or not they set foot through your doorway.
Optimize your website for local traffic by:
Boosting page speed
Using high-quality visuals
Featuring reviews
Activating webchat features
Local SEO Tools
Why use local SEO tools?
Local SEO tools can help track your Google rankings and accurately determine the performance of your campaigns. Developing a local SEO strategy is only one part of the process. The tools you select will help you implement those SEO strategies, monitor progress, collect data, and track changes.
Top local SEO tools
Birdeye
Birdeye is the highest-rated all-in-one reputation and customer experience platform for local businesses and brands. The platform helps businesses manage their online reputation and local presence by optimizing reviews, listings, and more.
Birdeye also has a local SEO Audit tool that helps customers improve their local SEO performance by:
Providing an accurate representation of their online presence across popular listing sites
Analyzing how the business ranks in the local map pack/target location for specific keywords
Providing a snapshot of online reputation management by analyzing customer sentiment, review volume, and how their overall ratings fares against the industry average. 
If a business wants to holistically understand their standing in local SEO, they can do so with Birdeye's free local SEO Audit tool.
Whitespark
Whitespark can help you with your local search marketing as it is a local citation finder. As previously discussed, local citations are beneficial as they can help build that trust and rapport, particularly in the local market.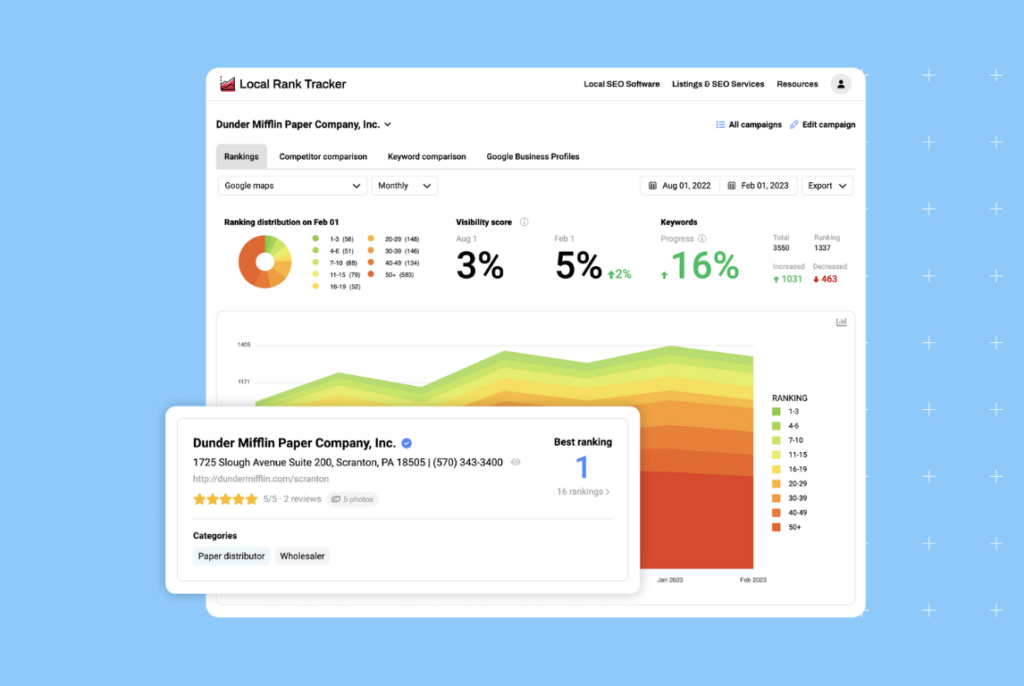 Whitespark offers businesses local listing management advice as to where to list, an analysis of the relevant competition, and can monitor your local citation growth over time.
Prices for Whitespark can range from $39 per month for a small business plan to $149 monthly for an enterprise plan.
Screaming Frog
Screaming Frog can analyze URLs, images, websites, and apps and provide a unique SEO analysis to reveal if your website has any significant flaws or areas requiring improvement.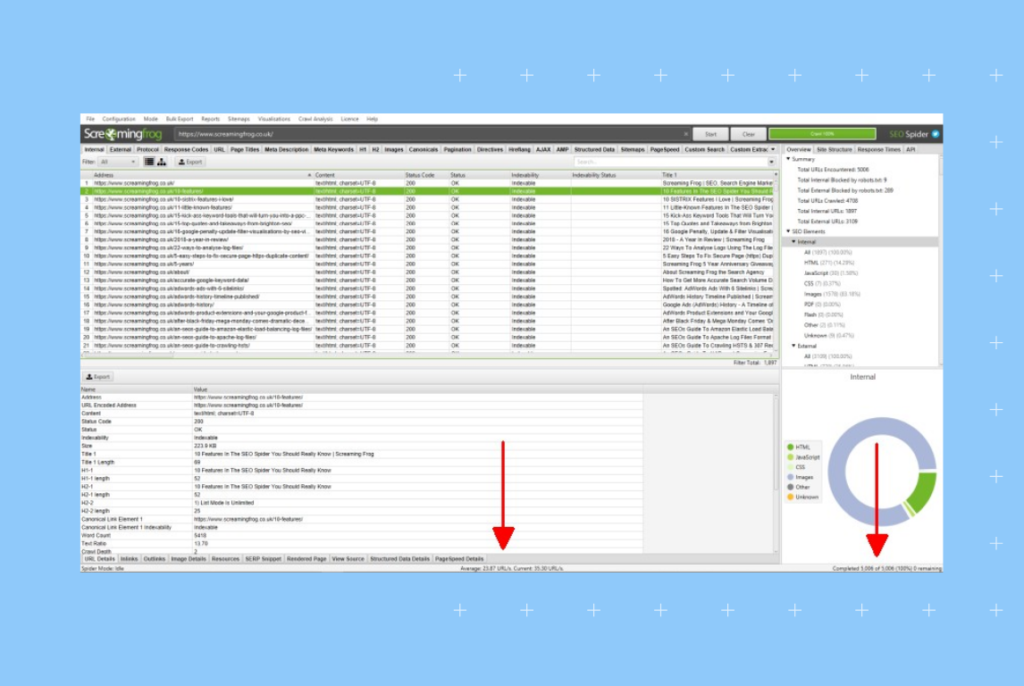 The tool has a free limited-features version or a paid option at just $239 per year.
Google search console
Google search console is a free SEO tool that allows you to monitor how Google perceives your website.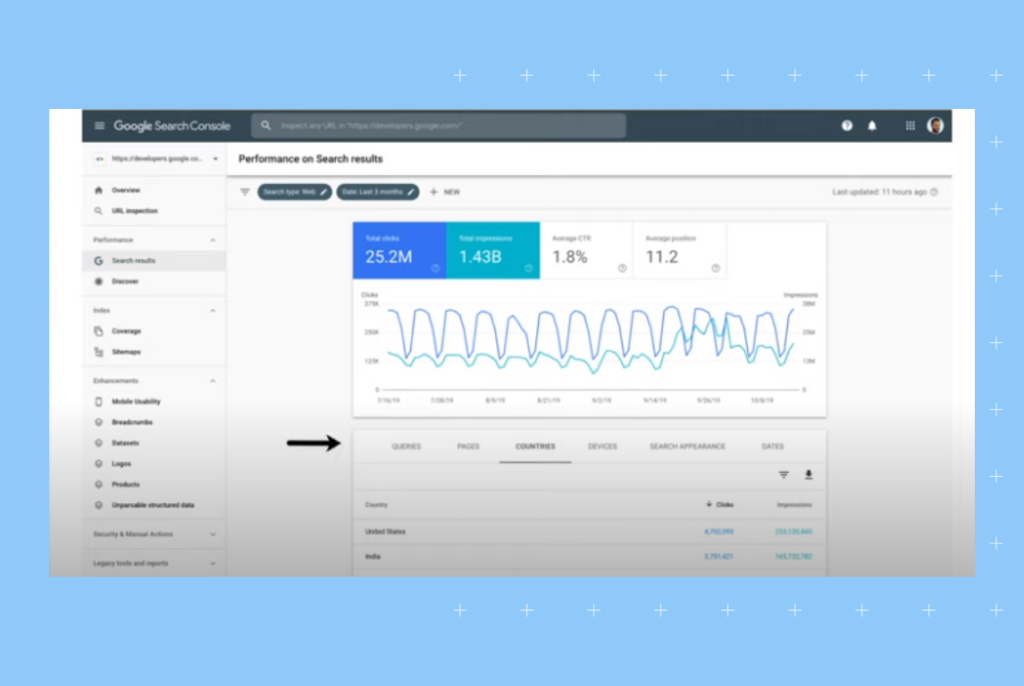 It provides access to confidential information about your website's performance with valuable insights regarding your website's performance, the number of clicks, and impressions. Small businesses can also identify the highest-ranking pages and a range of other Google analytics relevant to the local marketing strategy.
Google keyword planner
Google keyword planner is another free tool from Google that helps brands identify relevant keywords. It helps businesses to formulate a local search strategy and separate their business in the local pack.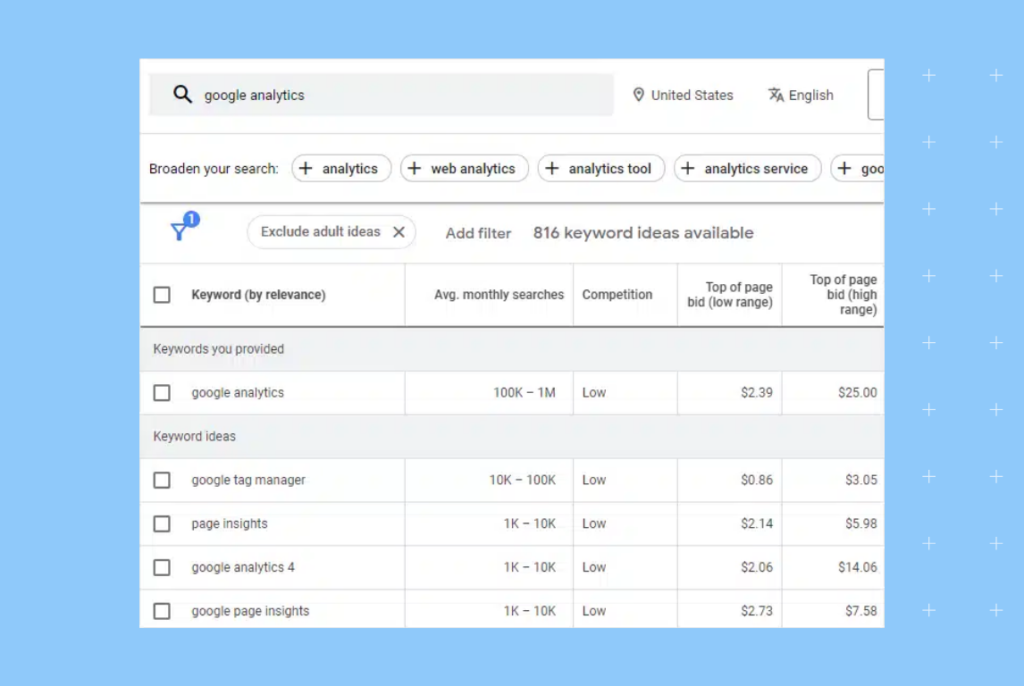 Google keyword planner helps you stay updated with the average monthly searches, your competition, and the amounts advertisers pay to obtain a top ranking.
Frequently asked questions about local SEO
Does adding photos in Google your business increase ranking?
Photos help build trust and credibility. According to Google, companies that add photos to their Google Business Profile receive as much as 42% more requests for directions on Google Maps and 35% more clicks.
How to start with local search engine optimization?
Claim your Google My Business page and optimize it for local searches. Localize your website's content to increase its ranking and local search relevance.

What local SEO techniques have produced great results for your business?
The best local SEO techniques are claiming and optimizing your Google Business Profile listing, ensuring NAP consistency, acquiring local citations, researching local keywords, and making your website mobile-friendly.
Can you get notifications of new Google reviews even when your GBP page is suspended?
Yes, though you may only sometimes receive notifications depending on their settings and circumstances. In our experience, Google Business Profile may still notify you that you have a customer review.
How would a business manage your GMB listings if they had two brands at the same location?
To address this issue, your business can create a single listing with only one of the brand names or, alternatively, a unique listing for each brand at the same location.
Conclusion
If you're operating a small to medium-sized business that services a particular geographical location, you need a local SEO strategy to compete with your rivals.
A successful local SEO campaign can build trust and credibility for your business in your local community. It can ensure your business will be more discoverable through relevant local search results and queries on Google.
Take the time to assemble an SEO checklist that you can regularly review and update, and acquire the right tools to stay on top of the ever-changing landscape of Google's search algorithms.
Leverage Birdeye's expertise to improve local rankings by managing reviews and optimizing listings on Google and other forums.

Originally published