There are some listing and review sites out there that can have a significant impact on your business. And if you're in the home improvement sector, Houzz reviews should definitely be on your priority list. Home professionals represented on Houzz with positive customer reviews tend to have more credibility with potential customers.
Moreover, developing a strategy to tap into the lead-generating power Houzz has to offer can boost your business in a big way. In this blog, you'll learn how Houzz works, the best ways to generate more reviews, and the benefits that come with more reviews.

What is Houzz?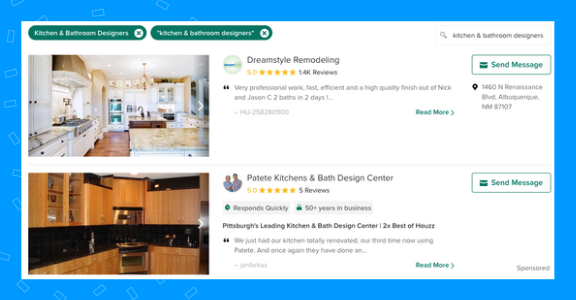 For anyone with a business in the home improvement industry, Houzz is a platform with which you'll want to be familiar. It is, at its core, a home improvement website, online community, and marketing tool. The company itself is based out of Palo Alto, California, and was founded by Adi Tatarko and Alon Cohen back in 2009. Today, the site has over 65 million users and is a go-to resource for home improvement-related businesses nationwide.
For its target audience, Houzz is a good place to explore home improvement design ideas. It's often a first stop for homeowners looking to shop for furniture and other home products. And it's a leading resource for finding local contractors and pros to help with home-based projects.
Tips to get more Houzz reviews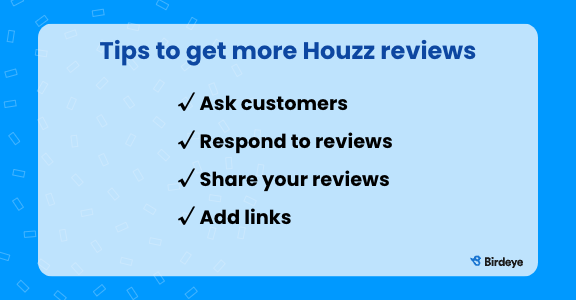 If you are a home improvement professional with a profile and business listing on Houzz, you're in a prime position to land more customers. Additionally, getting more Houzz reviews can improve your visibility to an audience of homeowners and boost your reputation. Here are a few ideas on how to get more Houzz website reviews to improve your listing and attract new customers.
Ask customers
Don't assume your customers will know or remember to leave positive reviews for you. And because there are so many review sites out there, it's best if you provide some direction for them.
Be sure to follow up and ask for a Houzz review immediately after you've performed the service while the positive experiences are still fresh in their minds. Make it easy by sharing a link to your Houzz profile via email, text, or social media. Also, don't forget to thank them for taking the time to share their experience.
Respond to reviews
For better or for worse, you'll receive both positive and negative reviews on Houzz. It's important that you respond to both types in a professional, timely manner. Customers feel appreciated when you respond to their feedback.
And sometimes, negative reviewers will even change their minds about you because of your professional and empathetic response. Overall, responding to comments can help you maintain your online reputation and entice people to post a review.
Having an online review management strategy in place allows you to efficiently track and manage reviews from various platforms, enabling you to respond promptly to customer feedback. Whether the review is positive or negative, addressing it professionally and empathetically shows that you value your customers' opinions and are dedicated to providing excellent service.
Share your reviews
Treat your reviews on Houzz as though they were high-profile coverage from major media outlets. If you were featured in People magazine, for instance, that's probably an accomplishment you would share with your audience for a long time to come because it's a major credibility boost.
Sharing your customers' positive experiences on social media or on your business website will help increase engagement, reinforce your brand reputation, and inspire even more reviews.
Add links
Houzz's popularity with homeowners and professionals is growing each year. But don't rely on them to do all the promotions for your business. Instead, create a strategy for sharing your Houzz profile and reviews on your other digital assets. This includes your website and social networks.
You can also share those positive experiences within your newsletters or email campaigns. This will drive more traffic to your profile and encourage customers to leave their honest feedback. The stronger your Houzz presence, the more potential customers will become aware of your business and excellent services. And when they do, they'll be sure to find all those positive reviews.

Is Houzz a legit service?
Yes, Houzz offers legitimate resources and insights for anyone looking for help with a home improvement or design project. Its primary audience includes homeowners, interior designers, and other professionals in the space. You can find a variety of reviews from customers who have used the site to find products and services.
For home improvement professionals, the platform also offers Houzz Pro+, a suite of tools designed specifically for pros to showcase their work, connect with potential customers, and receive feedback from users.
Frequently asked questions about Houzz reviews
Are Houzz reviews reliable?
Sitejabber says Houzz has a 4.75-star rating across 74,312 reviews. This score suggests that most of its customers are satisfied with the service. It also indicates Houzz's customer service reviews are reliable and authentic.
How do you leave a review on Houzz?
1. Go to Write a Review on Houzz.
2. Enter the name of the business or professional you want to review, including the location. 
3. Choose the business you want to review.
4. Provide a rating and complete the form with your feedback, name, project completion date, and email address.
Can Houzz reviews be removed?
Yes, reviews on Houzz are removable, but only by request. If you believe there is a less-than-stellar review (fewer than three stars) that is inauthentic or misleading, you can request the review be removed.
More reviews help your online reputation
The more positive reviews you have from your customers, the better. If you're sharing tons of reviews, the customer perception is that you must be busy. And it also suggests you're really good at what you do. Start tapping into the power of Houzz customer service reviews with your home improvement business and prepare for a boost in reputation, engagement, and leads.
Originally published