Research predicts that the number of people using social media will grow to about 5 billion in 2023. This year alone, 300 million more people are set to use social media than the previous year. With this dramatic growth, it only makes sense for companies to create and manage their social media pages on top platforms like Facebook, YouTube, Twitter, LinkedIn, and Pinterest.
In this article, we'll discuss the benefits of social media for business, provide tips on how to optimize your channels, and how to measure your social media success.
Challenges of managing social media for business
Whether you run a small retail store or a multi-location company, social media management can present challenges. The initial challenge for any business looking to create a social media presence is finding the time. Businesses also struggle with social media marketing questions such as:
What should we post?
How often should we post?
What type of content should we focus on?
How can we balance quality and quantity?
Social media managers must also be aware of the latest trends and find engaging content that resonates with their target audience. Some businesses may need to tailor content to different demographics – adults, millennials, females, etc. Targeting different audiences with fresh and relevant content is a big hurdle for businesses.
Another challenge includes getting executive or client approval for social media campaigns. This might require multiple conversations, proof of concepts, mockups, or A/B testing before moving forward with an idea.
Finally, the success or failure of a social media campaign is heavily reliant on analytics. Managers need to be able to interpret data from social media metrics such as impressions, reach, clicks, and engagement to amplify or adjust campaigns.

Why is social media important for your business?
Social media is a valuable resource for companies seeking to digitize their marketing efforts. From attracting new customers, to getting feedback, and building customer loyalty, social media can be the secret ingredient when looking for a competitive edge. In the next section, we'll look at the multiple benefits of social media for businesses.
Social media benefits for business
1. Increased reach and awareness
As we mentioned earlier, about 4.89 billion people use social media today. With this in mind, you can understand how vital social media can be for attracting and retaining customers. The vast reach of social media presents unique opportunities for marketers. They can access thousands of new users with relevant selling points and informative content — increasing brand awareness and reach.
2. Share engaging content
Social media can showcase your content to attract new followers. Using high-quality visuals like infographics, videos, and photos stands out more on a newsfeed and can grab users' attention faster.
For example, running a contest can encourage new users to follow your page, engage in conversation with others, or share your posts with their friends. Content that gets people to interact with your brand increases its exposure, resulting in a stronger organic reach and, hopefully, more followers.
3. Customer engagement and interactions
The purpose of social media marketing is to increase the visibility of your brand to attract followers and convert them into paying customers. With features like stories, sharing, and reposting, social media presents a good opportunity for businesses to interact and engage with their followers. Remember to be on the lookout because social media platforms constantly update features and create new ones geared toward increasing interactions and boosting engagement.
4. Enhanced customer insights and feedback
Social media enables businesses to collect meaningful insights via customer feedback. Comment and reply features let customers express their opinions and share their experiences with a brand. This information can be used to improve customer service, product quality, and overall customer satisfaction. Social media also makes it easy for businesses to find out what trends are important to customers. By using social listening, companies can get a glimpse into what features customers would like to see to improve their offerings.
5. Cost-effective marketing
Although it takes time to build your social media presence, signing up for an account is free. It's also free to post content and reply to follower comments. However, if you have a budget, you can hire a social media manager to take on this responsibility. You can also purchase social media software that will better manage multiple accounts or locations. Remember, unlike traditional marketing practices, social media marketing for small business presents far more cost-effective options for businesses.
6. Increased website traffic
Did you know your social media channels can direct more people to your business website to increase traffic? Even with this understanding, companies struggle with how to optimize their social networks to accomplish this. A good trick is to publish teasers or excerpts of content (blog, guides, etc.) and accompany it with a link to the site. The sneak peek incentivizes users to click on the link and redirects them to your business's website.
7. Competitor monitoring and analysis
Having social media accounts also lets you observe and follow what your competitors are doing on these platforms. For instance, if your competitors are introducing a new product, they will likely inform their customers on social media. Now, you can make a note of the content type they choose and gauge the public interest in their new offering.
Performing competitor monitoring and analysis gives you access to content patterns as well as customer behaviors so that you can see what's working and not working for the competition. These insights will build a more effective social media marketing strategy.
8. Increased revenue
Social media has helped many companies increase sales and revenue. From attracting new customers to optimizing conversion rates, social media can have a positive effect on your bottom line. For instance, you can use social media ads to target specific audiences and launch campaigns that convert followers into loyal customers. Social commerce is also another trend that businesses can take advantage of when selling products online. This is where customers can purchase products directly through a social platform like Instagram or Facebook. In fact, 37% of customers say that social media is their leading inspiration for purchasing.
All in all, social media for business can reach a wider audience, increase brand awareness and trust, engage with customers, measure performance, and drive sales. With such a broad range of benefits, it's worth taking the time to invest in social media for your business.

8 Critical social media for business tips
It's important to note that although social media helps to attract new customers and create opportunities for sales, not all businesses succeed with social media marketing. The main reason is that many companies jump into social media without a plan of action or set goals. Knowing what works and doesn't for your business is an important first step when implementing a social media strategy. Below are some social media marketing tips to get started:
1. Identify your target audience
Not everyone qualifies as your target audience. For instance, if you're selling children's merchandise, you'll likely target parents and grandparents. Alternatively, if you're selling orthopedic products, you will likely focus on senior care establishments, hospitals, clinics, and rehabilitation facilities. Knowing your audience is key when it comes to leveraging social media. Who you target relies on the product or service you are selling, so consider who might be interested and create a plan of action around that.
2. Choosing the right platform
If you're a political organization or advocacy group, Facebook might not be an ideal platform due to its strict regulations on elections and social issues. However, if your company specializes in photography, then being on platforms such as Pinterest and Instagram would make perfect sense, as these sites are heavily focused on visuals. Selecting the right channel to market your products and services can be the difference between success on social media or a surefire way of wasting your time and resources.
3. Creating a content strategy
Another tip for successful social media campaigns is to craft a thoughtful and compelling content strategy. Social media is all about connecting and engaging with people. And what better way to do so than to create a content strategy based on the interests and needs of your target audience that'll keep them coming back for more. Planning ahead using a social media calendar gives you the best chance to personalize posts and save time during the content creation process.
4. Post consistently
In order to gain an edge over your competitors, make sure to post consistently. Social media algorithms tend to favor accounts that are active and engaging with their audience on a regular basis. The best time to post on social media will depend on your industry and audience but get in the habit of planning out content ideas and scheduling posts. This keeps you from missing important opportunities that could result in more leads and sales for your business.
5. Respond to customer feedback
Social media can help or hurt your brand and online reputation, depending on how you manage your responses to customer comments and reviews. Keep in mind that social media is a two-way street, so make sure to take the time to respond to their posts. Social media is also one of the best ways to monitor customer service reviews and address any negative feedback.
If a customer has taken the time to write a review about your business, positive or negative, you should return the courtesy and reply back in a timely manner. This lets them know their feedback is appreciated and shows potential customers your business cares.
6. Build relationships with other brands
Social media can be a great way to connect with influencers and build relationships that will gain more exposure. By joining forces with like-minded brands, you can create unique content and experiences for all followers to enjoy and potentially expand your reach. Not only does it save resources on both sides, but if done right could result in more customer loyalty for everyone.
7. Find hashtags
Hashtags can be a powerful tool when it comes to social media campaigns. When used properly, they categorize content and make it easily discoverable by people looking for what you have to offer. Social media platforms such as Instagram and Twitter are great for discovering trending topics. A pro tip is to think of 2-5 relevant hashtags that you can use for each post – this will increase the likelihood of your content being seen.
8. Great visuals
People love visuals. It's part of why social media is so popular. When users see a great visual accompanying a post, not only does it elevate the presentation, but it also gives you a better chance of that person engaging with the post. Investing in a quality camera to capture images and video, as well as creating infographics and other colorful visuals will help your content stand out from the competition. Social media users respond well to visually appealing content, so think of creative ways to showcase your products or services using visuals.
At the end of the day, social media is an incredibly powerful tool when used strategically. If done right, it can boost brand awareness and sales for your business. Implementing these tips will give your social media campaign the best chance at success.
Social media for a multi-location business
Social media platforms like Instagram, Facebook, and Nextdoor have geared their business features toward more local searches. This is especially beneficial for multi-location businesses letting them create pages and content exclusive to each location. With features like location-based check-ins, local hashtags, and geo-fencing – multi-location businesses can make sure their content is reaching the right people in each area.
Measuring social media success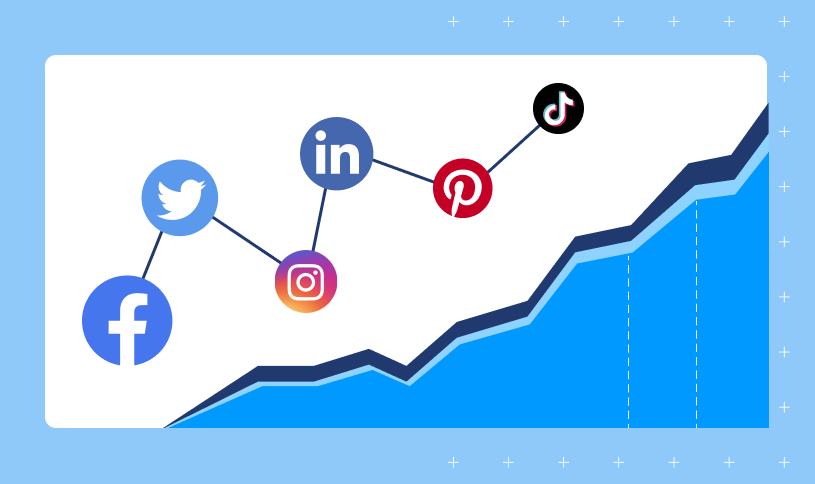 Social media analytics provide detailed information about your followers, click-through rates, conversion rates, and website traffic from social media sources. To measure your social media success, consider doing the following:
Setting goals and KPIs. Social media key performance indicators (KPIs) are measurable metrics that reflect the performance of predetermined goals to inform your return on investment (ROI).
Choosing the right metrics. Click-through and conversion rates are essential social media metrics. However, tracking and measuring them might be a waste of time if they aren't important to your goals. For example, if your goal is brand awareness, tracking metrics such as engagement rates, impressions, and follower growth rate would be a more appropriate measurement of success.
Using tracking and analysis tools. Most social media platforms come with some level of analytics tools built-in. But, if you manage multiple accounts, perhaps investing in social media management software to bring all your metrics into one place is the smarter move. Having all your social media data together lets you see the bigger picture to make better decisions for all your marketing campaigns.
Adjusting strategy based on results. If gathering social media data is step one, then using that data to adjust and optimize strategies is step two. Social media trends and customer behaviors are constantly changing. Having the information to make data-driven decisions will let you adjust quicker, and get to market sooner.
Measuring your social media success can help you design a scalable marketing plan that maximizes opportunities and eliminates risks in terms of cost, time, and energy spent on social media management.
Frequently asked questions about social media for business
Which social media is best for business?
Facebook has the largest user base, which makes it a popular choice for many businesses. However, picking the best social media platforms for your business will be based on your industry, goals, and target audience.
What is social media for small business?
Social media for small business is an effective way to reach and engage with potential customers, build brand awareness, improve customer service, and create meaningful relationships.
How does social media help businesses?
Social media helps businesses by letting them connect with their customers, build brand awareness, improve customer service, create meaningful relationships, advertise and market their products or services, and get feedback from followers. It also enables businesses to reach a larger audience and have more direct conversations with potential customers.
What are the 3 Cs for businesses using social media marketing?
The 3 Cs for businesses using social media are (1) create, which refers to the content you share, (2) connect, which deals with building relationships with followers; and (3) convert, which refers to the strategies businesses use to convert followers into customers.
How do I create social media for my business?
Creating social media for your business requires careful planning and execution. Start by researching the different platforms available and choose a few that align with your brand, target audience, and goals. Then create an account on each platform and start engaging with users by creating content that is relevant and compelling.
What are some social media for business examples?
Social media for business examples include creating content, engaging with followers, advertising and marketing products or services, sharing stories about your customers and their experiences with your business, and participating in industry-related conversations.
Get your business on the map with Birdeye Social
It's no secret that social media can help a business scale and grow. However, managing multiple social media profiles and accounts can be challenging. With Birdeye Social, you can connect your favorite social media platforms into a single dashboard. This will make monitoring and adjusting all your social media campaigns easier so your business doesn't miss a beat. Watch our free demo to learn more about Birdeye and our social media management software.


        

This blog post is part of our Social Media Management Guide 


      

            



Originally published