If you're in the home services industry, you know that a positive reputation can lead to new business. When your business provides high-quality services, you'll likely see positive reviews from your satisfied customers on your Google Business Profile and social media pages. But home services websites should also be a key focus as a source of positive reviews and a way to reach more leads.
In this blog, we'll explain why home services websites are valuable to your business. We'll also tell you why you need to get listed on multiple review sites and how to make sure your listings are accurate. Finally, we'll cover five of the best home services websites you can target for listing your business.
What are home services websites?
Home services websites are review sites specifically focused on home service businesses. They often offer a directory for nearby home services and have detailed business profiles that let customers leave ratings and reviews of the businesses they've purchased products or services from. They're a great way to increase your business's exposure to potential customers in your area.
Why are home services websites important?
Regardless of industry, customers are more likely than ever to look at reviews when buying a product or service and many will use at least one site for finding home services. A recent survey found that 86% of customers read reviews for local businesses before making a decision and read at least 10 reviews before trusting a business for the first time. Because home services rely heavily on getting business from local customers, reviews are critical to the success of a business in this industry.
While Google and other major search engines are primary places to get online reviews, review sites specializing in the home service industry are also great places to get feedback from your customers. The more listings you have on multiple review sites, the more reviews you can collect to boost your online reputation. Because the majority of customers find review sites to be helpful when choosing a business, you can be confident that listing your business on multiple home service review sites will be to your advantage.
How to list your businesses correctly on review sites
Getting listed on review sites can certainly help you get more reviews, but several factors come into play with multiple listings. Here's how to list your business the right way and use home services marketing to your advantage.
Make your listings appealing
If you want to be found online, you need to appeal to both your customers and Google. That means you'll need to create listings that are optimized for user experience and for Google search results. There are a few things you can do to create appealing listings on home service review sites.
You'll need to include as much useful information as possible for your customers.Write a detailed bio, add high-quality images and videos, and display honest customer reviews to make your profile approachable. The more information you include, the more personable you'll appear.
At the same time, you can appeal to Google in your written information. Using keywords throughout your listing that are related to your industry and location can help Google determine your relevancy to local search queries and rank you higher in their results. Tools like SEMRush can help you research the best keywords for your industry and see what your competitors are using to rank higher in Google's search results.
Listing accuracy
When you have listings on multiple sites, Google pays close attention. The more listings you have, the more search engines like Google will look at your business as reputable – but only if your information is accurate.. The more inaccuracies you have on your listings, the more likely Google is to think your business isn't trustworthy and rank your business lower in search results.
To avoid a lower ranking and missing out on more customers, you need to make sure that all of your listing information is completely accurate. Google mainly looks for your name, address, and phone number (NAP) to be identical wherever it's listed online. That, along with all your other business information, like hours of operation, should be perfectly accurate to make sure you're as visible as possible to your customers.
Managing reviews
Once you've listed accurate information on multiple review sites, you'll need the ability to monitor and respond to every review you get. You could try to manually keep up with all the reviews from all of your review sites, but it just isn't scalable or practical. Using a reputation management platform like Birdeye can help you monitor and manage all your online reviews in a single dashboard.
Simplifying your review management process means you can focus more time and energy on keeping your business successful. Rather than allocate time and resources to manually monitor and respond to each review you get by visiting each individual review site, Birdeye lets you see your reviews in one place and even automate responses specifically tailored to positive and negative reviews.
Birdeye can also help you get more reviews by automating review requests. Any time you have a satisfied customer, Birdeye will send them a review request directing them to any review site you want them to leave a review. This makes it easier than ever to grow your reviews and boost your online reputation.
Best home services websites to get listed on
Porch
Porch brings customer projects directly to you. With Porch, customers can enter all of the project needs they have, including pictures of the area of the home that is in need of renovation, the proposed budget, and details about the project. Businesses like yours will then be sent the information about the project, and you'll have the option to reach out with all of your information and a quote for the project. The customer then has the opportunity to decide which business is the right one for them after receiving multiple quotes and project offers. It's free to set up a Porch account, making it a convenient way to reach more customers and get more reviews.
Thumbtack
Similar to Porch, Thumbtack is a quick and easy way for customers to reach your business directly for their home improvement needs. Customers enter in the details of the project. Then, you will be notified of the job, giving you the opportunity to reach out with your business information, quotes, photos of previous jobs, and reviews from previous customers to see if you're the business that best fits their needs. You can create a business membership for $49 per year and get phone numbers on all your leads, one-on-one support, and more features that will help you reach more customers.
Pro Referral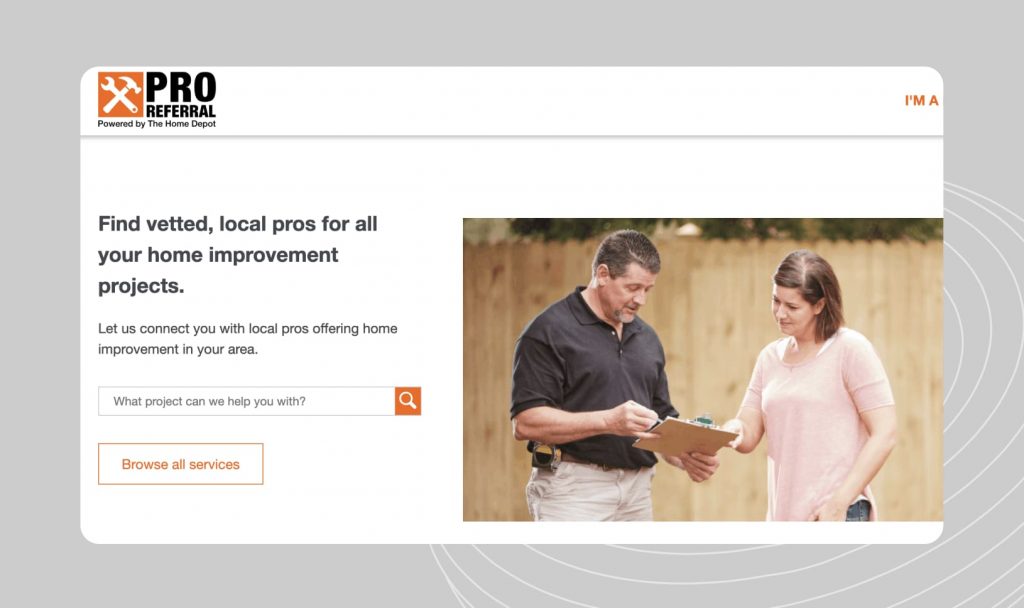 Pro Referral, owned by Home Depot, partners with contractors by incentivizing them with benefits when buying products and materials from Home Depot. Customers can easily browse businesses on the Pro Referral App and look at profiles, pictures, and reviews from past work to decide what business is right for their needs. The vetting process for Pro Referral is more stringent as it requires a twice-yearly background check fee and requires you have general liability insurance. When those requirements are met, your profile will be added to the site, where it will be visible to thousands of new customers.
Houzz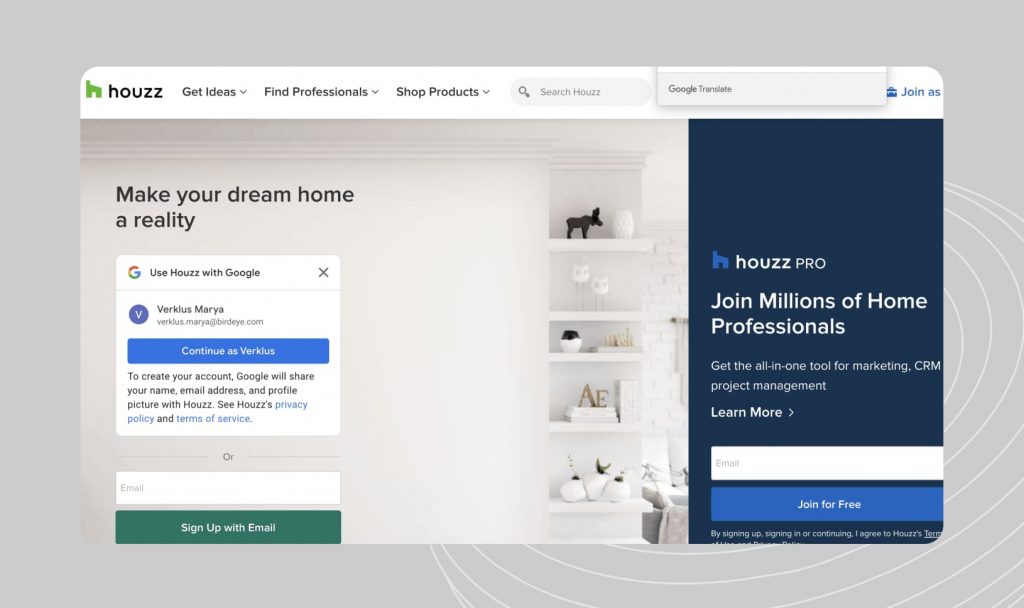 Houzz is one of the first sites people visit when looking for a contractor for home improvements. Whether it's for a plumber or home renovator, Houzz contains hundreds of detailed photos from previous jobs so potential customers can see the work they can expect before deciding who they're going to hire for their next home improvement project. Setting up your Houzz business profile is free and also provides you with tools like email and social communication, website building, and more.
HomeAdvisor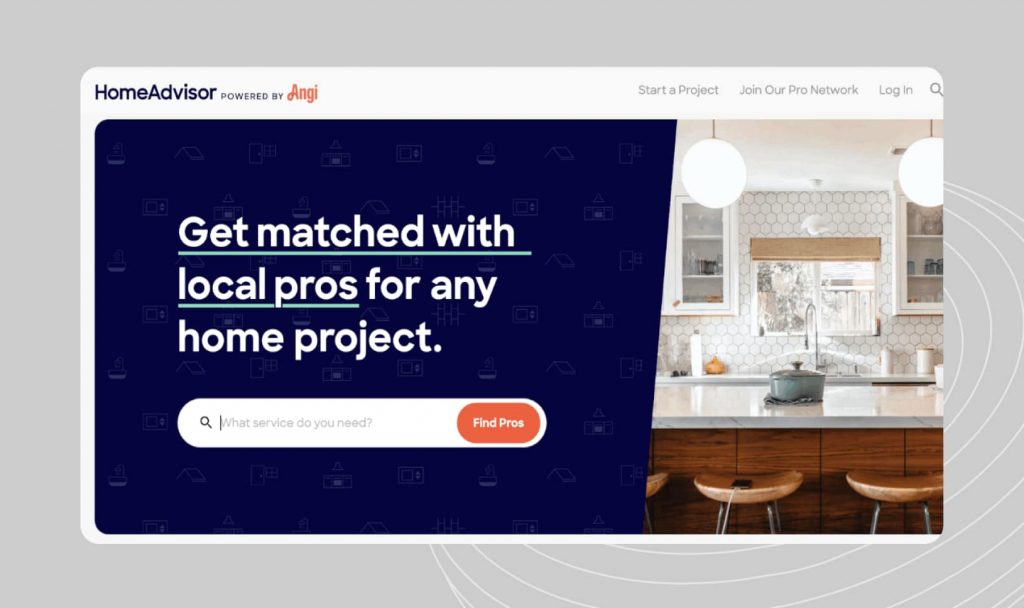 HomeAdvisor is often the first home services directory that comes to mind when looking for home improvement options. HomeAdvisor matches potential customers with up to four professionals that are willing and able to do the job that the customer is looking for. The customer can then look through the profiles, pictures, and reviews of the businesses they're matched with to choose the best one for them. All of the professionals on HomeAdvisor have background checks conducted before being listed — making it a reputable site to have your business on for potential customers to find.
Frequently asked questions about home services websites
Is HomeAdvisor and Angie's List the same?

Angie's List (now called Angi) and HomeAdvisor merged in 2017, however, they are two separate websites powered by Angi.com.


Is Thumbtack a reliable service?

Yes, Thumbtack and websites like it are reputable and trustworthy as they often make sure that the professionals listed are experienced and have conducted background checks.
Get listed on more review sites with Birdeye
If you want to get listed and reach as many customers as possible, Birdeye can help. Birdeye Listings can help you get listed on as many review sites as possible and make sure that all your listing information is accurate to boost SEO ranking. If you want to learn more about Birdeye listings, click the banner below.

Originally published