Are you a home service provider looking to get the most out of Angie's List reviews? Look no further. In this blog post, we'll cover everything you need to know about using Angie's List for your business. From registering, setting up a profile, and managing ratings, to understanding why Angie's List is important for growing your home services business. You'll also gain the knowledge needed to make the most of this powerful platform.
What is Angie's List?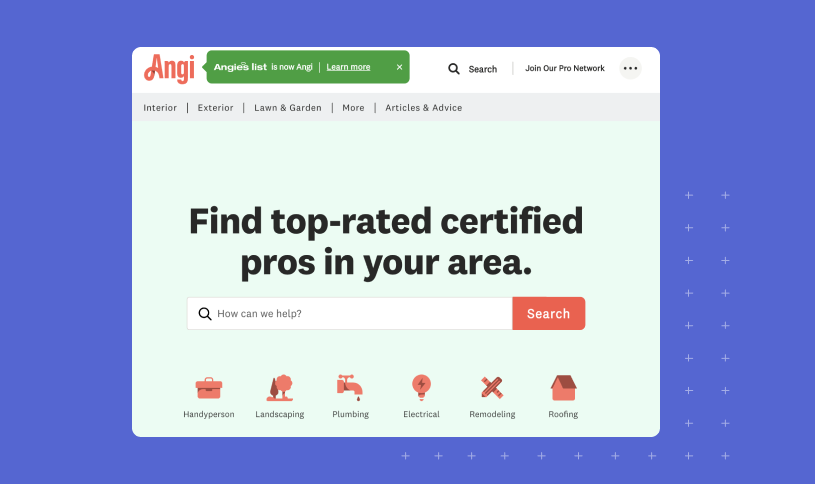 Angie's List (now called Angi) is a business listing and review site for service-oriented businesses such as plumbers, roofers, electricians, and more. Homeowners can use the platform to search for services in their area and read reviews from other customers who've used them in the past. Customers can also rate businesses based on their experience, giving a rating from one star to five stars.
Understanding Angie's List reviews
Before we dive into how Angie's List reviews can benefit your business, it's important first to understand how the platform works. All reviews found on Angi must be submitted by verified customers who have received service from a contractor that has been pre-screened by Angi. This means that the reviews on this platform are honest and reliable, providing an accurate description of what it's like to use that company's service.
Getting started with Angi
Create your free Angi account
The first step to getting started with Angi is setting up your free account. Creating an account is simple and straightforward — all you need to do is provide basic information about your business.
Let's walk through how to create your free Angi account:
To get started, visit Angie's Ads Business Center.
Enter the type of service your business provides and the zip code.
Add your contact information (first name, last name, business name, phone number, and zip).
Next, add your email address and create a strong password. Select the box agreeing to Angi's terms and conditions. After that, your account should be active.
Once you've created your account, you'll land on Angi's Ads Business Center welcome page.
Add your business description
Writing a detailed description of your company is a critical step. It gives you a chance to set yourself apart from competitors and make your business more attractive. Angi offers suggestions like detailing your services and specialties, how long you've been in business, plus avoiding any industry jargon that customers may not understand.
Choose your service categories
In this section, you can add other services in addition to the service category you selected when you created your account. For example, if you're a handyperson, you might have initially selected the electrical and plumbing categories because those are your main focus. However, you might also have skills in lawn maintenance and painting.
Select your service areas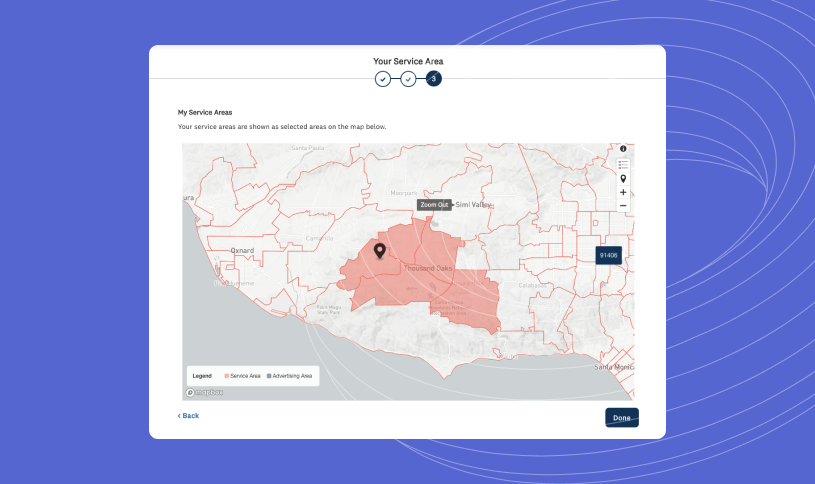 In this third and final step, you can choose the areas your business serves on the map. Your service area will help local customers find your company when doing a search. You'll find a pin on the map where your company is located. You can click the sections bordered in red to expand your service area outside your zip code.
After you choose your service areas, you'll have access to your Angi Ads Business Center dashboard. The dashboard is where you can see new deals, message customers, read your customer reviews, and see new requests for quotes on potential projects. You can also request reviews from your previous customers and message other Angi pros from this dashboard.
From the dashboard, you can also add Business Highlights which are different from your service categories. You can add Highlights showing your business is family-owned and operated, minority-owned and operated, emergency services offered, eco-friendly, and more.
Now, you'll be able to start collecting reviews from verified customers.
[Free Guide] The ultimate guide to online reviews
Download Now
How your customers can leave Angie's List reviews
Before you start asking your customers for reviews on Angi, it's important for you to know what the process looks like for them.
First, they'll log into their Angi account.
Next, customers will click "Add Review" in the upper right corner.
Then, they'll search for your company name.
Once they find your company, they can write a review and click submit.
Pro tip: Make it easier for your customers to leave you a review by providing a link directly to Angie's List.
5 Tips to get more customers with Angie's List reviews
The beauty of using Angie's List is that it provides an easy way for potential customers to find your business. When searching for home service providers in their area, users will be presented with businesses listed in order of the number of positive ratings — so the higher your ratings, the higher your business will show up in results. Here are a few tips and tricks to get more customers with Angie's List reviews.
Tip 1: Ask all your customers for feedback
One of the simplest ways to get more reviews is to ask your customers for them. More often than not, customers are more than willing to leave a positive review, but they may not think to do it at the time. In fact, studies have shown that roughly 72% of customers will write a review when asked to do so.
It's important to ask your customers for reviews at the moment of their great experience with your company. You can request reviews in-person at the end of your service call or in your confirmation emails and text messages. As we mentioned earlier, make the process as easy as possible to increase your chances of getting more reviews.
There are multiple ways you can ask for reviews on Angie's List. You can directly message your customers on your dashboard, write an email, give them a call, or even ask in person. Angi even provides a function within the dashboard that will automatically send a review request.
Tip 2: Respond to reviews promptly
Customers love when their voices are heard, so make sure you respond to reviews in a timely manner. Be sure to thank customers for their feedback, and always apologize if they had anything less than an exceptional experience.
Negative reviews can hurt your business's reputation, but they don't have to mean the end of your success. Responding quickly and positively shows potential customers that you take feedback seriously and are willing to put in the effort to make things right.
Tip 3: Monitor your reviews and ratings
Make sure you keep track of all the great feedback people are leaving about your product/service — it could help convince someone to choose yours over another option next time.
You can also use Angi as an opportunity to engage with existing and past customers. This can help build strong relationships with customers and create a sense of loyalty, which will, in turn, promote more positive reviews for your business.
Tip 4: Showcase positive reviews across your social media platforms
Positive reviews not only bring more traffic to your site, but they also demonstrate reliability and trustworthiness when others look at them. Share positive reviews from Angie's List across all of your social media channels in order to show potential customers what other people have experienced while working with you — this helps build trust between customers and strengthens relationships with existing ones. 
[Free Guide] The ultimate social media marketing guide for businesses
Download Now
Tip 5: Get Angi Approved or Angi Certified
Angi has helpful notations and badges which inform people if you're new to Angi or if your services are approved (Angi verifies you are well-ranked). Angi Certified is a distinguished certification that indicates your business passed a background check within two years, maintains an average rating of three stars or higher in customer reviews, and adheres to state licensing requirements.
Using Angie's List can be a great way to increase visibility for your business and gain valuable customer feedback. By setting up your profile and managing your ratings, you can benefit from the platform's reach and have more control over how potential customers perceive your business. This will help you develop relationships with existing customers, as well as attract new ones.
While you're here, check out our ultimate guide to home services marketing.
Frequently asked questions about Angie's List reviews
Why is it no longer Angie's List?
The change from Angie's List to Angi was made in 2017 to reflect the fact that the company owns other housing-related services like HomeAdvisor and Handy.
Is Angie's List reliable?
Yes, Angie's List is a reliable platform for customers to leave reviews and ratings about home services businesses. All responses are monitored to ensure their integrity. Customers can contact customer support if they have any questions or concerns about the services provided.
Is it worth joining Angie's List?
Yes, it is worth it for a home services business to join Angie's List. It helps businesses gain exposure and credibility by allowing customers to share their experiences with the services provided.
Does Angi charge a fee?
It's free to list your company on Angi. However, there is a fee for leads and advertisements, which will cost about $15 to $85+ per lead.
Are Angi reviews legit?
Yes, Angi reviews are legitimate. Customers can leave feedback about businesses and services they have used, which is validated by Angi's customer support team.
How do you see reviews on Angie's List?
To see reviews on Angi, all you need to do is visit your company profile and find the "Reviews" section. You can then see your reviews under your report card.
How do I get out of my Angi contract?
You can get out of your Angi contract by signing into your account, then go to the "Manage My Account" page and select "Cancel Auto-Renew." You can also cancel by email, mailing a letter, and over the phone.
Get more reviews and boost your online reputation with Birdeye
Registering your business on Angi is a great way to boost your online presence. With Birdeye Reviews, your business can easily generate, manage, and amplify your online reviews across 200+ review sites. Getting new reviews helps you rank higher, improve your online reputation, and attract more customers. Click on the banner below to learn more.

Originally published Feb 02, 2023, updated