Once you get a Facebook business page, you'll start getting customer reviews on your page. Oftentimes, these reviews can serve as great exposure for your business. But sometimes you might get reviews that seem unfair and might not even come from a real customer. You might want to even go so far as to turn off these reviews completely. Here's what you can do to delete your business's Facebook reviews.
Turn Off Your Facebook Reviews
Facebook gives businesses a unique option that most platforms don't: the ability to turn off reviews altogether. That means that a visitor to your page won't be able to see any of your reviews. Here's a five-step guide on how you can do this:
Login to the Facebook account linked to your business page.

     

2.

From your Facebook business page, click "Settings."
     3.  Select "Templates and Tabs."
     4. Find the tab labeled "Reviews" and click the "Settings" button next to it.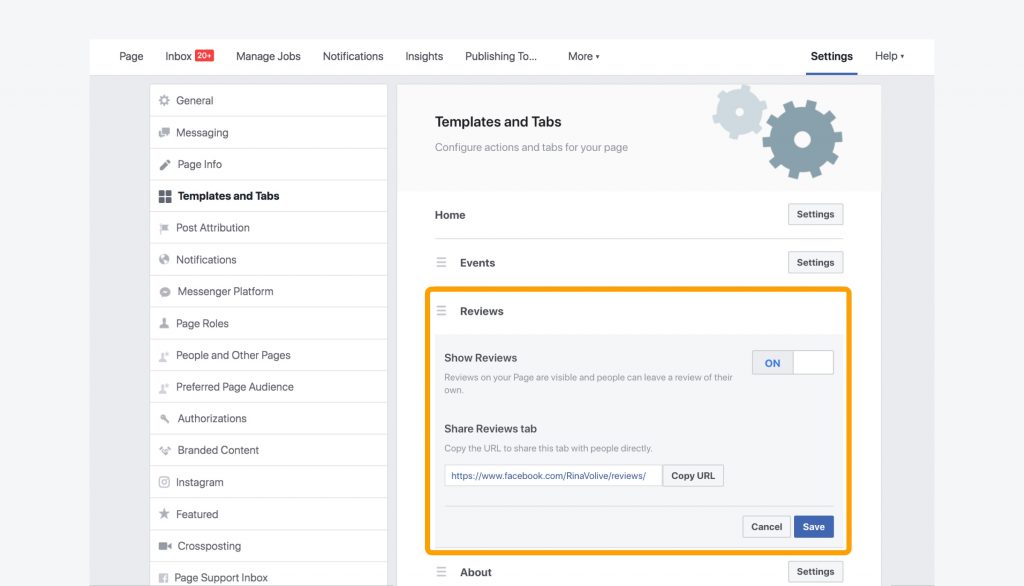 5.  Switch the "Show Reviews" button to off, then click "Save".

We do not recommend this option for any business. Remember: reviews are a valuable marketing opportunity for your business. Choosing to do this will delete your positive reviews as well as your negative ones. Since 92% of customers consult reviews before making a purchase decision, some customers might not feel like going to your business if it doesn't have public reviews.
That's not all. Once you delete your Facebook reviews, your customers will also no longer have the option of checking in to your business. This is valuable exposure that you would be missing out on, as check-ins are shared in the news feed for all to see.
If you're looking to take your profile off the Internet entirely, check out our guide to deleting your Facebook business page. 
If you choose to delete all of your reviews, you're losing the opportunity to highlight your quality services through authentic customer voices.  There are other actions you can take to make sure that you're not jeopardizing valuable business exposure. Let's talk about other steps you can take to deal with negative reviews.
Can I Delete an Individual Facebook Review?
If you're a business owner, the short answer is no. You don't have the power to delete individual Facebook reviews.
There is a reason for this. Facebook is trying to preserve an authentic review ecosystem. If the company gave businesses the ability to delete any review posted on its account, then chances are high that this feature would be abused and every negative review would get deleted.
You might be asking what you can do if you get a review that is completely fake and is not from one of your actual customers. If you get a review you believe violates Facebook's community standards, you have the option to report the review.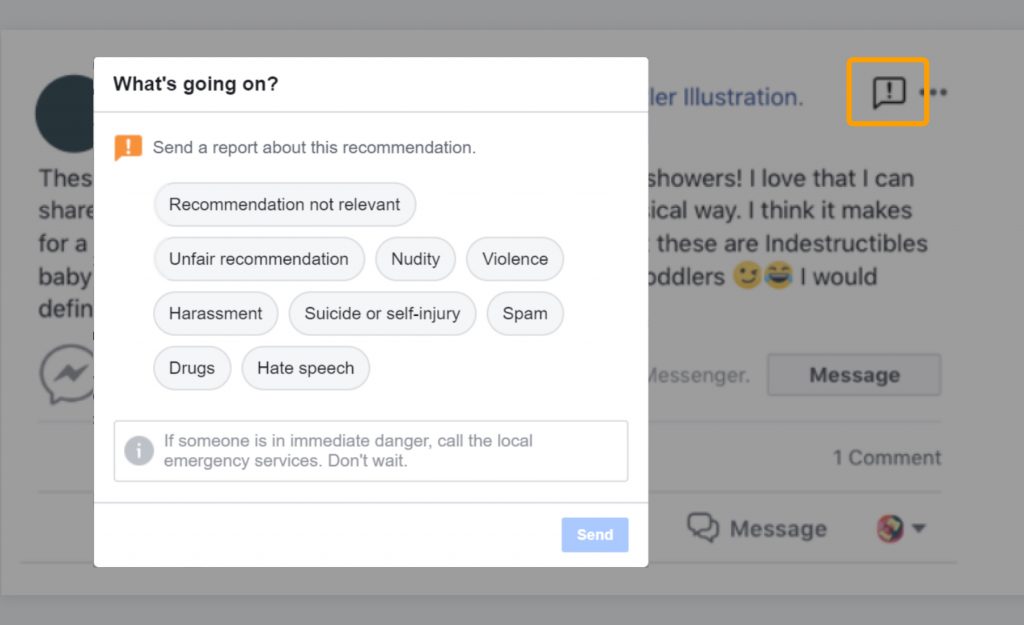 If you want to report a review posted on your Facebook business page, here's how you can do it:
Go to the review you want to flag and click the three dots on the top right corner.

Select Give feedback on this Recommendation.

Follow the on-screen instructions.
That doesn't mean that you're doomed if your business starts getting hit with a few negative reviews. Let's talk about what you can do to make sure that you're limiting the negative impact of bad reviews.
The Best Option: Responding to Reviews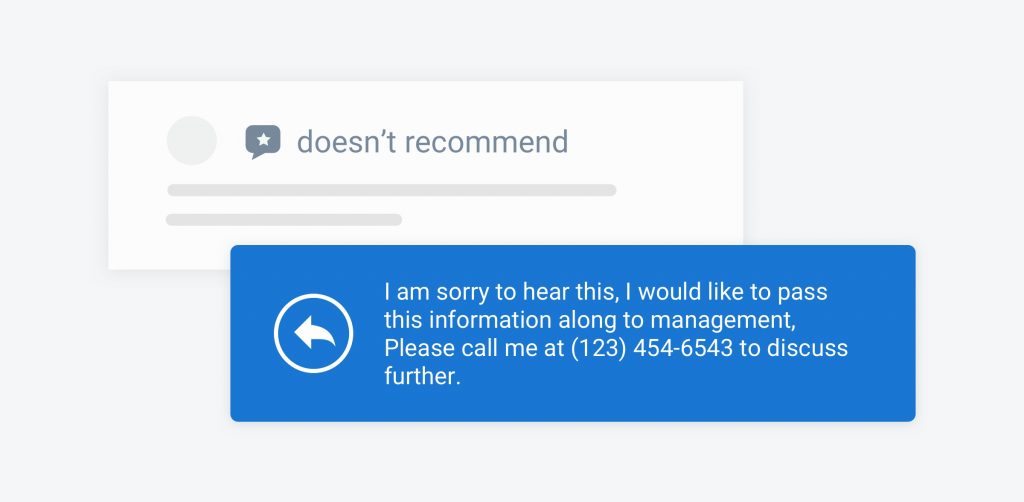 If your business is getting flooded by negative reviews, there is another route you can take: a quick and decisive review response.
There's a phenomenon called service recovery paradox. Basically, it states that a customer who had an initial bad experience at a business can become a loyal customer if their issue is solved. In fact, they will be more loyal than customers whose experience was right the first time. So how do you leverage the service recovery paradox? It's all about how your business responds. Here are some tips to help your business respond to every customer review.
Tips for responding to Negative Reviews
Respond in a Timely Manner
When you respond to a negative review, the first thing to keep in mind is timing. If you take too long to act, the customer's bad opinion of your business will be solidified. If you respond within the first 24 hours that the review is posted, you'll have a much better chance of changing customer opinion.
Be Polite
It's easy to take a negative review personally. Before you start writing a review response, make sure to take a deep breath. Remember, you want this customer to come back to your business. Be sure to apologize for the problem and make sure that you understand where the customer is coming from.
Try to Solve the Problem the Customer Experienced
Oftentimes, a negative review will come from an issue that the customer experienced. Maybe a customer will complain about "bad service" or "long wait time". By telling the customer the specific steps that you're undertaking to deal with these issues, you can show that you're dedicated to building fantastic customer experience.
Asking the Customer to Delete their Review
While you don't have the power to delete your Facebook reviews, there is someone who does: the customer who posted it. Once you've successfully dealt with the problem that the customer experienced, politely ask the customer to edit or change their review to reflect their new opinion of your service.
Here's a template you can use in this situation:
Hello (Customer),
Thank you for helping us to improve our customer experience. We regret that your initial experience with us turned out to be a negative one. Based on your feedback, we have taken steps to make sure that this issue will not happen again to you or any other customer. If there are any additional issues you would like to see resolved, let us know and we will work to quickly to fix them.
We do understand that your review of (Company) on Facebook was based on your initial experience. We hope that your opinion on (Company) has since changed. If that is the case, we would appreciate if you edited your review to more closely reflect your current opinion. We take all of our customer reviews seriously and we want to make sure that every review is an accurate reflection of real customer opinion.
Responding to Unfair Reviews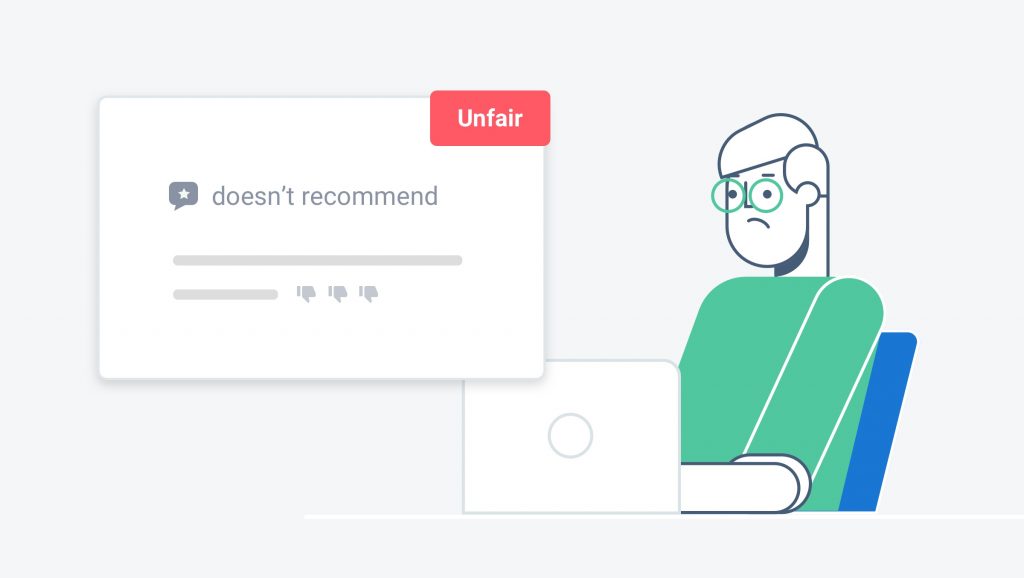 Occasionally, you might get reviews that are completely unfair and do not represent a real customer experience. It can be a patient who isn't on your patient list or a customer who's confused you with a competitor.
If you run into a situation like this, you should report the review. But that might not be enough. even if you do report a review to Facebook, there's no guarantee that Facebook will take action.
Luckily, there is something you can do to make sure that potential customers understand that these reviews aren't representative of your business. Make sure you have a response that does the following:
Shows why you think the review is fake.

Still shows a commitment to quality service.
Check out the example below to see a great example of a business leaving a response to a fake review.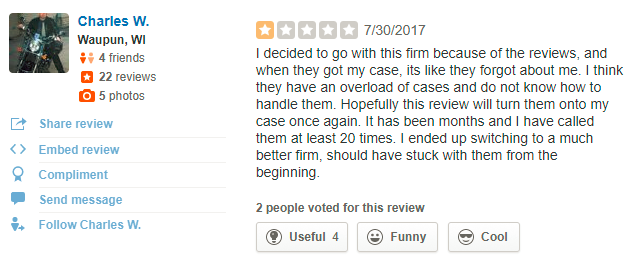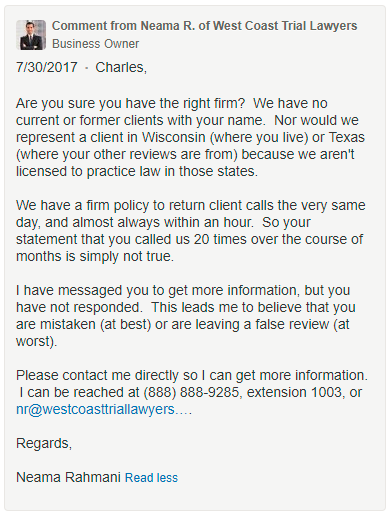 Stay On Top of Customer Reviews with Birdeye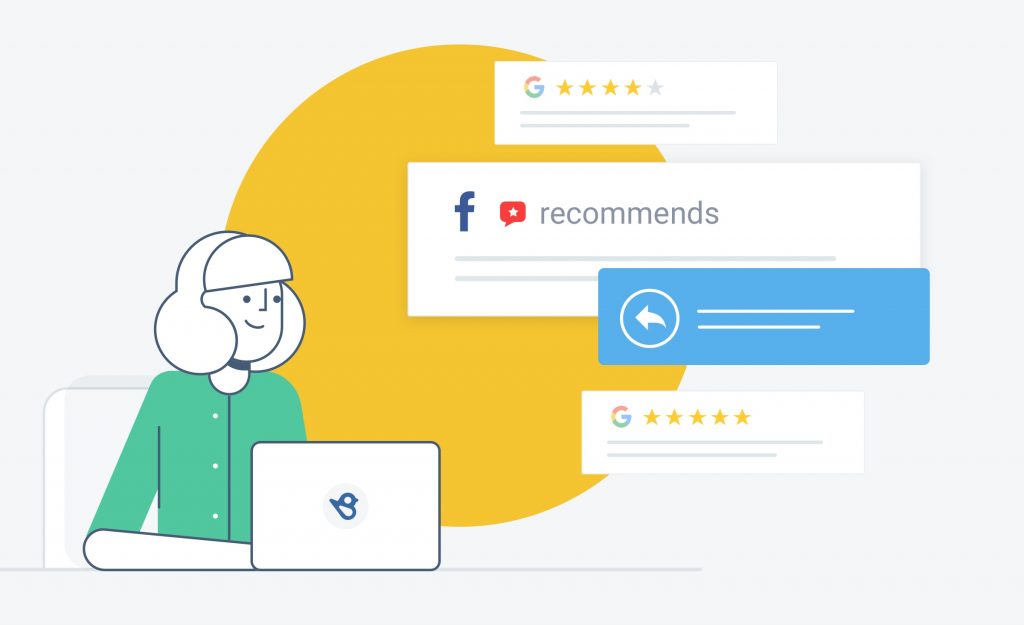 Staying on top of your customer reviews isn't easy. For your review responses to really be effective, they need to be quick. But Facebook isn't the only place where customers are reviewing your business. There are hundreds of review sites on the Internet, from giants like Google to smaller, industry-focused sites. With all the work that goes into running a business, it's hard to keep track of them all.
Luckily, with an online reputation management platform like Birdeye, you don't have to. Here's what Birdeye can do for your business.
Automatic Notifications
Birdeye gives you automatic notifications whenever you get a negative review. In the Birdeye dashboard, you have the ability to respond to reviews on over 150 sites. When you post a response, it will also be posted on the site where the review originally appeared.
Review Templates
Birdeye also allows you to automatically send response templates to your customers. The dashboard contains multiple templates meant to deal with both positive and negative reviews. Even if you don't have the time to attend to all of your reviews, you don't have to fall behind on your responses.
Ticketing
Some reviews require personal attention. With Birdeye's ticketing feature, you can "assign" the job of responding to a certain review to an employee. You'll be able to track your tickets, making it easier than ever to see how long it's taking to respond to employees.
Use Birdeye, the #1 Reviews Software
With Birdeye, you can stay on top of every aspect of customer feedback. Birdeye's all-in-one platform enables businesses to get new reviews, manage and respond to reviews from over 150 sites in a single dashboard, automatically share posts on social media, and receive actionable insights through Natural Language Processing.
Birdeye has been named the #1 company in the reputation management industry by G2Crowd. The Americans Business Awards recently gave Birdeye an award for "Most Innovative Tech Company."
Watch a demo to see why more than 100,000 businesses use Birdeye to drive growth.

Originally published