Why should you get started with a referral marketing program? Trust is at the foundation of all relationships – whether it is between people or between people and businesses. Even if a new competitor is priced lower or has more features, 8 in 10 consumers will continue to buy from their trusted brand. But what about those future customers who have never interacted or done business with you? How can you inspire trust in them and get them to become your customers? The key to overcoming this is word-of-mouth marketing. Leverage the trust of your current customers to get new ones through a strong customer referral program.
How to design a customer referral program
Before we get into the mechanics of designing a sound customer referral program, let's first talk about customer referral marketing. Referral marketing is a generally low-cost, high-reward marketing strategy that can bring you 25% higher profit margins. 
The foundation for successful referral marketing is a strong customer referral program. Here's how your business can get started.
Visualize success
What does a successful referral marketing program look like to you? What are you hoping to achieve from this referral program? Are you trying to grow your customer base? Increase your revenue? By what percentage are you hoping to see your customer base or revenue increase? The more specific you can be with your goals, the better you will be able to identify the effectiveness of your referral program. When your goals are clearly identified, you can course-correct if the program is not yielding the results that you desire.
It's important that your business see a return on the time, effort, and money you are investing into your referral program. Setting the right benchmarks goes hand in hand with visualizing your success. Design your own referral marketing funnel and monitor its progress.
Know your customers
It is crucial that you understand who your customers are in order to make an effective referral program for them. Ask yourself:
What do your customers value?
What brings them to your business?
Once you've answered these questions, you can start thinking about what incentives would pique your customer's interest.
Here is how Airbnb invites referrals using money as an incentive – both the referrer and the person who has been referred win.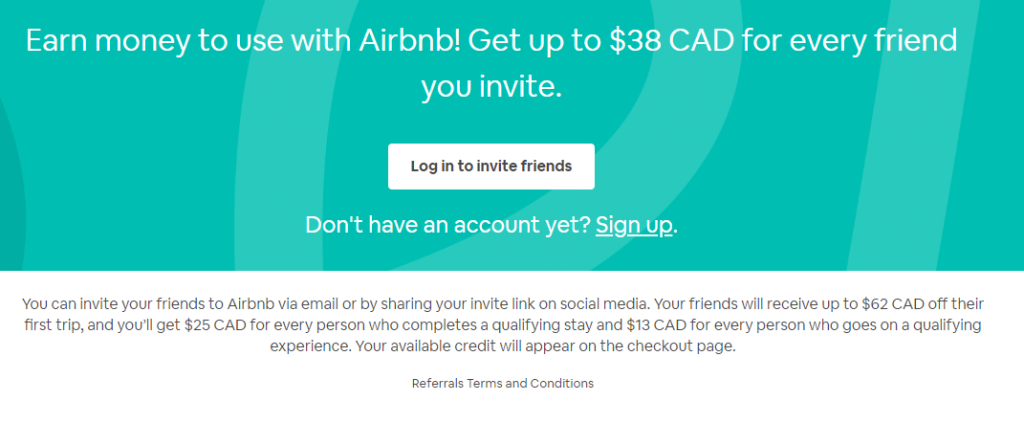 Identify your referral incentives
Not every business can (or should) offer the same incentives. Many industries use referral programs, and what works for one industry might not apply to your industry.
Here is how Costco, the wholesale giant, invites members to refer their friends to become Costco members, and both get cash cards.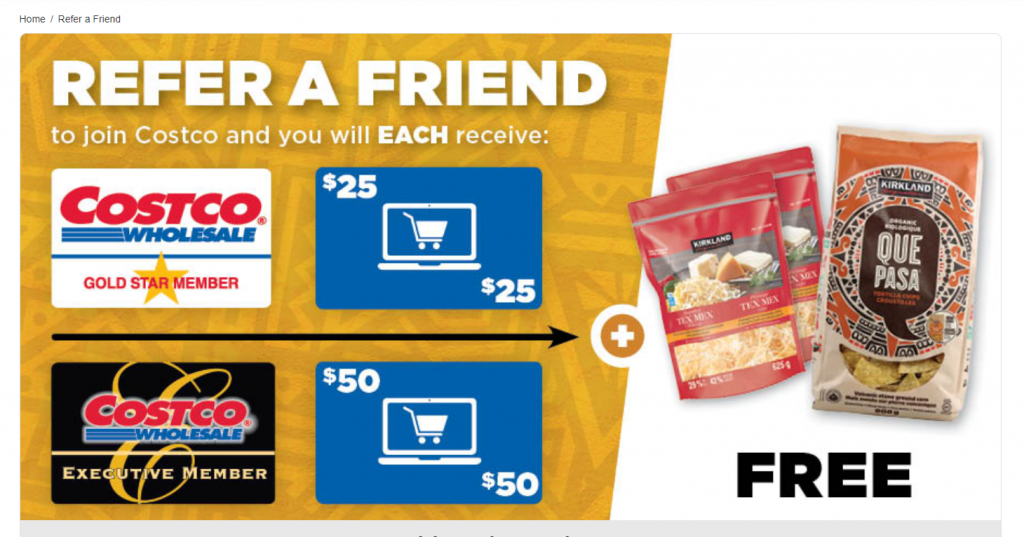 Source: Costco
But, what if the type of business you run doesn't have a lot of repeat business? For example, let's say you run a roofing business. Most of your customers will not need their roof replaced or their shingles repaired more than twice in their lifetime. Building a referral program that gives the customer credit would likely not be the best option in this scenario. Here is how United Roofing invites their satisfied customers to refer them.

Source: United Roofing
For businesses that do not have a continuous stream of repeat business, gift cards or cash incentives work well. This can be sent as a thank you to your customers after they've sent a referral. Keep in mind that the referral programs that yield the best results have incentives for both the customer who is sending the referral and the new customer who found your business through a referral.
Here is how Koodo Mobile gets a constant stream of referrals from their current customers: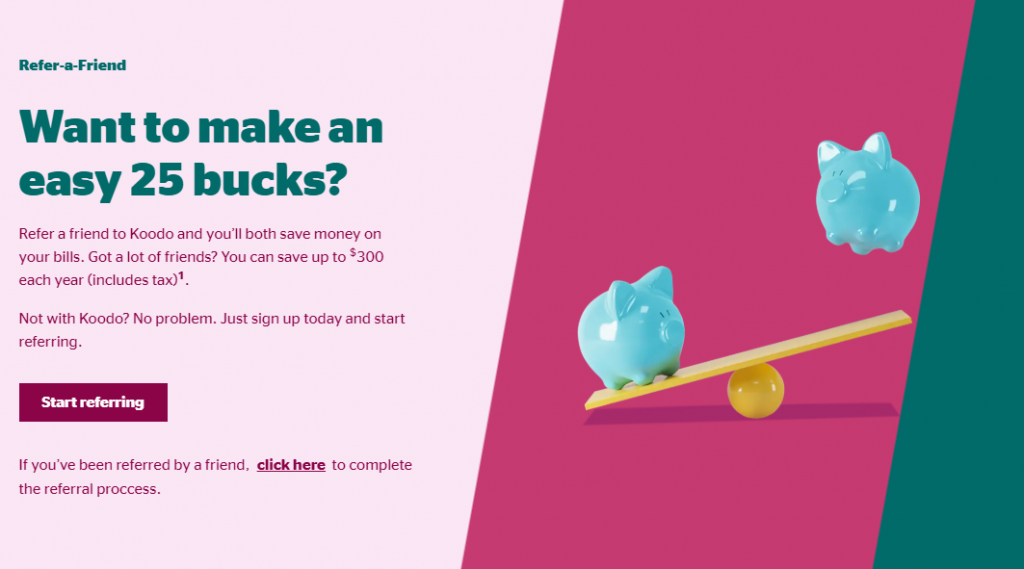 Source: Koodo
Spread the word
Your referral marketing program cannot be a success if nobody knows about it. Be sure to advertise this program across your website, emails, newsletters, and social media. Spread the word! If your referral program is new, it is especially important to include mentions of your referral program across your customer communications. Here are ways you can mention your customer referral program through platforms you are already using:
Add CTA (call to action) banners to your website
Include a pop-up CTA before a person leaves your website with a mention of the referral program. (Lead with money. If you are offering $50 off, put it in big bold letters. You want to grab the website visitor's attention to prevent them from going to a competitor.)
Include your referral program in your customer emails and newsletters
Always direct customers to your business's referral page after they've made a purchase. This is when they are happiest and most likely to spread the word about your business.
Once your program is up and running, you can cut back on the messaging. But you should always include messaging about your referral program on your website and direct each new customer to send a referral after they've made a purchase.

Monitor your program's effectiveness
Keep track of every participant in your customer referral program. It is just as important to track those who refer your business as those who are taking advantage of that referral. Important things to keep in mind when you are monitoring your customer referral program:
Who was the referrer?
Who was referred?
Did the referred customer take advantage of the program?
How long did it take for the customer to take advantage of the referral program?
How will your business touch base with both customers?
Sometimes customers take a while to use the referral. Perhaps they found the offer interesting, but they didn't feel a need for it at that moment in time, and instead felt they should save the offer for a rainy day. The longer you run your customer referral program, the more data you will have to understand the average amount of time between the customer getting the referral, and the customer using the referral.
If you notice over time that referred customers are not taking advantage of the referral program, it might be time to reassess. Are your incentives equally beneficial for both the referrer and the referred? Is your messaging adequate? Are you offering the right incentive, or should you rethink the reward you give your customers? Tracking this information will give you an idea of the effectiveness of your customer referral program.

Always thank your customer
Even if there is an incentive in place, customers are doing you a favor when they send referrals. Because of this, it's important to show your appreciation.
Send every customer who refers your business a heartfelt "Thank You" email. This will help them feel appreciated and improve their customer experience.
If the customer is owed a reward, send it to them immediately after they've sent a referral. But whether or not you are sending a reward to the customer, it is important to send an email thanking them for the referral. Send a separate email with no other advertisements or messaging. If you include mentions of your new products or offers, it may seem like you are trying to get them to spend more money right away. In this scenario, you will seem opportunistic, not grateful.
Start your referral program today!
Referral programs are a relatively low-cost form of marketing that can really excite your customers. If you know that you are offering a great customer experience, chances are your customers will be thrilled to refer you to friends and family. Turn your customers into your ambassadors with a strong customer referral program.

Originally published