Want to start getting more customers?
Here's a story of two restaurants. One opens up and spends a ton of money to have a huge opening night. More than a thousand people showing up and there are lines going out of the door. Unfortunately, nobody is really a fan of the food. Very few people come back and the restaurant goes out of business six months later.
Meanwhile, another restaurant spends some money advertising its opening night, but also spends time to make sure that they're delivering great service and great menu items. While they might not have as big of an opening night, many of the guests that do show up end up coming back for more. The result is a sustainable business.
If you're not building trust and delivering value with your customers, chances are that your customers are not going to stick around. While you might see profits in the short-term, you won't have a sustainable business model.
Studies show that it's significantly easier to sell to existing customers than to try to attract new ones. It's been estimated that the probability of selling to an existing customer is somewhere between 60-70%, while the probability of selling to a new customer is somewhere like 5-20%. Somebody who's already had a great experience with your brand will probably be more than happy to use your services again.
So, let's not talk about how you can make more sales. Instead, let's talk about how you attract great leads, build long-term relationships, and get customers that will stick. Here's what you'll find in this article.
Understand your ideal customer.
Let's face it, no business is going to appeal to everybody. The first step is to identify who your target customer is. Marketing folks call it – creating a buyer's persona – but it really is all about understanding what your customer looks like so you can figure out how to sell to that customer. Here are a few questions that can help you to determine your ideal customer.

What age group is my target customer in?
What education does my target customer have?
What problem is my target customer looking to solve?
What are my target customer's likes and dislikes?
How will my target customer discover my business?
Once you've got a decent idea of who your target customer is, you can think about how you can create a marketing plan that can efficiently reach them. Maybe you're a dental practice whose target demographic is families with children. You can emphasize in your marketing how much experience your practice has serving families. You can also start thinking about how you can deliver a quality patient experience that leaves the whole family happy. Even just putting toys in your waiting room can make your patients want to come back for more.
Of course, this isn't a strategy that only dental practices can benefit from. Regardless of your business, start by thinking about your ideal customer. Next, find out how you can deliver value for that ideal customer across every touchpoint.
Understand the customer experience.
In order to make sure that your customers are sticking around, it's important to understand how they feel about every touchpoint with your business from the moment of first discovery.
At Birdeye, we think of customer experience in four steps. While this is obviously a simplification, it's helpful to think about how you can improve your efforts in each one.

Be Found
The first step is to make sure that it's easy for customers to find you. Unfortunately, lots of businesses are not taking the right steps to be found. That includes but is not limited to having a business website that's mobile and voice-search friendly, and having accurate listings across the Internet.

Be Chosen
The process of selecting a new business can be time-consuming and maybe even a bit unnerving. Whenever customers are dealing with a brand that they're not already familiar with, there's always a fear that they're not going to get their money's worth. That's why it's important to provide social proof to your potential customers.

Be Connected
Once a customer has decided to choose your business, it needs to be easy for them to reach out to you. Make sure that accurate contact information is displayed on your website and business listings. Be sure that you're engaging with your current customers so that they come back for more.

Be the best
Remember, the aim should not be to make a sale. Instead, you should be aiming to create loyal customers for years to come. So how can you do that? The answer is to provide superior customer experiences. By delivering value on every touchpoint that your customer has with you, whether it's making a purchase or contacting customer support, you'll leave them with a positive perception of your brand.
That's why it's important to collect and closely monitor customer feedback. This feedback will allow you to understand in what areas your business is coming up short of customer expectations. With the right platform to manage your CX you can learn how to make changes in your business operations for maximum profit and efficiency.

How to get more customers
Want to start attracting more customers to your business? In this section, we'll share some steps that can help you through every touchpoint of the customer experience. Some of these tips will help you get discovered by potential customers, while others will make sure that you're building stronger relationships with your existing customers.
Build a great website
Every business, no matter what size they are, should have a website. That might seem obvious to some of you, but studies show that 40% of businesses don't have a website. While there are many paid options, you can easily create a free site on WordPress or Squarespace.
Nowadays, it's important to take two extra steps. First, make sure that your website is mobile-friendly. Studies show that the majority of online browsing is now done on mobile devices. Then, make sure that your website is optimized for search engines (more info on this in our next tip).
Optimize your website for search engines
Once you have a killer website, make sure that you've optimized it for search engines. The more visibility you have, the better chance you have of attracting customers.

While there are pages and pages that you could read about SEO (Backlinko is an awesome resource for this), we'll give you some quick tips. First, make sure that you're doing keyword research to find relevant keywords for your business. (Ubersuggest is a great free tool). Then, make sure that you have a page designed to rank for these keywords. These pages should have short, descriptive URLs and relevant meta-tags (the data you see in a Google search result).

Then, make sure that you've got tons of internal links to the pages that matter on your website. Internal links show search engines like Google how important certain pages are.

Next, make sure that your business is optimized for voice search. More and more customers are using voice assistants like Alexa and Siri to discover businesses. That means customers are often using more conversational search queries such as "Where can I find a barber in Palo Alto?" A great way to optimize for these searches is by having an FAQ page on your site for conversation keywords( ex. "Where can I get orthodontic surgery in Orange County, California?"). For more tips, check out our complete guide to optimizing for voice search.
Make the most out of your Google My Business profile
There's one factor that matters more than anything else when it comes to getting discovered on search engines: your Google My Business profile. It looks something like this.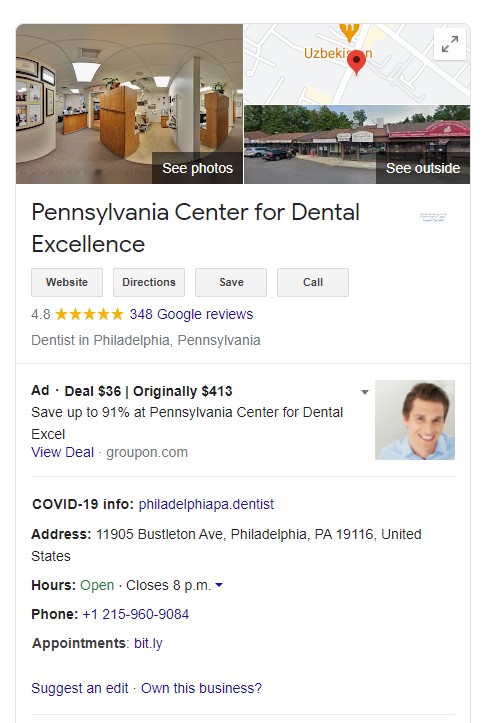 The first step is to claim your Google My Business profile. The process takes a couple of weeks, as Google may need to send you a postcard to verify that you are the owner of the business. Once you've received the postcard, you can verify your profile and start making changes.

Next, make sure that you've optimized your Google My Business listing. Make sure that you have high-definition photos that highlight your business's service. Make sure that all your contact information is correct so that it's easy for potential customers to find you. For more tips and tricks, check out our complete guide to Google My Business.
Make your business listings accurate
While your Google My Business profile might be your most visible listing, it's definitely not your only listing. Customers are also looking at your business's profile on sites like Google and the hundreds of industry-specific sites on the Internet.

Accurate listings will prevent customer confusion and make it more likely that your business ranks higher on search. Google checks to see if your information is accurate by looking at your listings on other authoritative sites. If your name, address, and phone number is accurate across the Internet, you have a better chance of ranking high in search.

Paid online advertising
While not every business can afford it, it's worth exploring online advertising. While there are tons of different sites on the Internet that offer paid advertising options, there are really two sites that stand far above the competition: Facebook and Google. It's been estimated that these two sites make up 70% of all digital ad spending. It makes sense. These two sites get enormous amounts of attention from consumers all over the world.

Make sure that your copy is short, to-the-point, and gives customers a reason to want your service. Then, use a visually-striking Facebook image. A great image can help make your ads more effective.

Google Ads work slightly differently. When a customer looks up something like "law firms in my area" they will see a few results. Chances are that some of them will be paid results. For more information on how to get more customers on paid search, check out our guide to Search Engine Marketing.

Online reviews
In addition, make sure that you're also encouraging your customers to leave reviews via text and email. This is an easy way to get feedback on what's working about your business. Studies show that 92% of customers consult reviews before making any purchase decision.

So how can you start winning more customers with online reviews? The first step is to start collecting more reviews. Your happy customers would be happy to leave you reviews if you just ask them. They just need to be pushed in the right direction. Start sending review requests via text and email that link to sites like Google and Facebook. This way, all your customers need to do is click the link and leave a review.

Consider using a platform to automatically collect reviews. Birdeye allows businesses to automatically send review requests to customers with a simple integration with existing business systems. We've seen that businesses that start collecting reviews automatically see an 8% increase in revenue in just six months.
Deliver valuable content
You've probably heard the saying, "Content is king." It's been repeated so much over the years that it barely registers, but it's the truth. Valuable content really does show great results. Whether it's through a blog, a podcast, or a YouTube channel, content that builds trust with customers and delivers value is a great way to leave a positive impression of your brand in the mind of potential customers.

Consider Mint, a personal finance app. The app was launched in 2006 and was acquired just three years later by Intuit for the price of $170 million. How can you explain such a rapid rise? Mint invested heavily into content, churning out customer success stories and practical tips. While it did take time, the company managed to build a dedicated audience. Many of these audience members later became happy customers.

The moral of this story is that content marketing is a slow grind. Do not expect great results right away. It takes time to build an audience. Just remember to stay consistent and release quality content regularly.

Use Micro-Influencers
One of the hottest terms in the marketing world right now is probably influencer marketing. If you're on Instagram, Facebook, or Twitter, chances are that you've probably seen one of the big accounts that you follow promote a product. Check out this recent example from kalesalad, a popular Instagram joke account promoting Mike Bloomberg's presidential campaign.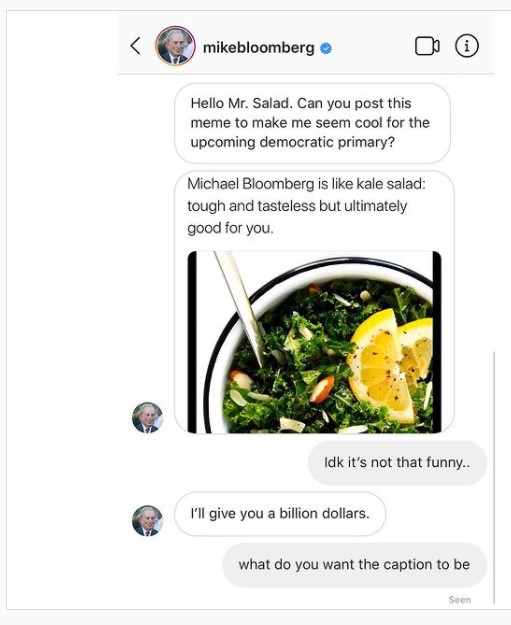 Luckily, you don't have to be a multi-billionaire like Mike Bloomberg to start reaching out to Instagram influencers. While trying to pay for huge influencers to make posts on Instagram is way out of the budget for most businesses, what you can do is target micro-influencers in your area. These are accounts with something like 1,000 to 10,000 followers. Instead of offering money, you can often get them to share content by offering free products and services.

Reach out to local influencers who have a big following with your target audience. Don't send a cold message right away asking them to promote your products and services. Chances are that you will be ignored. Instead, engage with their posts and build a relationship. You can ask if they'd be willing to promote your business once you've already established communication.

Customer testimonials
We can't stress it enough: customers care about the opinions of other customers. Studies show that customer testimonials on sales pages can increase conversion by as much as 34%.

Ask some of your happy customers if they'd be willing to participate in a video testimonial. Here, they can spend some time talking about how using your business benefited them. A great video testimonial really helps to highlight the strong points of your business and build a connection in the mind of the viewer.

If you don't have the time or the resources to get a video testimonial, you can instead try to get a quote from one of your happy customers to display on your website. Simply ask them to finish the sentence, "I recommend (Your Business Name) because…" and see what comes up.

Customer testimonials can also take the form of online reviews. For example, you can share your glowing reviews on both social media and your website.
Make it easy to reach out with webchat
A few months ago, I needed to see a specialist and called several different healthcare practices to see if they were in-network with my insurance provider. I called several different practices in my area. Sometimes I was on hold for several minutes until the line got disconnected. It was a frustrating experience and there is zero chance that I would ever go to any of the practices that I had trouble getting in touch with.

I think the whole situation could have been avoided if these practices had Webchat. I wouldn't have had to make a phone call. I could have just typed my insurance question into the chatbox and waited for a response.

In case you're not familiar with Webchat, here's what it looks like: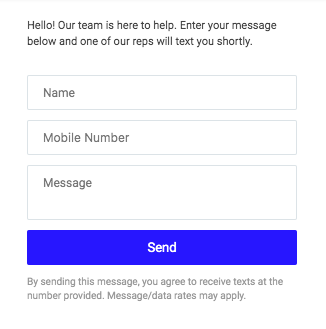 Unlike a phone or an email, Webchat makes it easy for website visitors to reach out. All the customer has to do is type out a short message and wait for a response. When the customer fills out the form, they'll get an automated message telling them the business will reach out to them shortly. It's convenient for you as well: you can respond to the message when you're available.

Use text message marketing
Make sure that your relationship with the customer doesn't end with the first purchase. Stay in contact with your customers over time. A great way to do this is with text message marketing. Studies show that text messages have a stunning 98% open rate.

It's important to make sure that your existing customers are engaged. When you have a new sale, promotion, or event coming up, be sure to text your existing customers.

A great way to make sure that your text messages are more effective is by adding text capabilities to your landline. That means that there's less of a chance that your customers will not recognize your number and ignore you. Read our article for more information on adding landline capabilities to text messages.
Use email marketing
It's true: email inboxes are stuffed. Right now, I have more than 20,000 emails in my personal Gmail inbox (I should probably stop using my email to sign up for so many different things). But there's a reason why companies are sending so many emails: it works.

So how can you send better emails? One key is to make sure that you're using compelling subject lines. A great subject line gives readers a reason to want to click.

Next, make sure that you're delivering valuable content. Everyone has a couple of emails that they want to open up every time they see them in your inbox. Think about how you can create short content that can make a big impact on your target customer.
Provide prompt customer service
Recently, I was searching for a new primary health provider. After I made a few phone calls, I found a provider who seemed perfect for me. I sent over my insurance information and they promised to get back to me within 24-48 hours.

Weeks passed and I heard nothing. I sent a follow-up email and still heard nothing. I grew frustrated. I sent an email that said that I was frustrated by the lack of responsiveness and told them I was no longer interested in becoming a patient.

Within a few hours, the practice's owner reached out to me with an email and a voicemail. She very politely apologized for the mistake and asked me to reach out through her personal cell phone. The quick and sincere apology made me change my mind. I decided to go with the practice after all.

Every so often, mistakes happen. Most reasonable people understand that. If your business is willing to respond quickly. That's why it's so important to stay on top of customer communications.

Of course, there's a good chance that frustrated customers like me won't send you an email. They might leave you a bad review on a platform like Facebook or Google.
Be responsive to customer complaints on review sites
Your profile on Google and Facebook will get reviews from satisfied customers, but every now and then you'll get a review from a frustrated or angry customer.

A customer complaint can feel awful. If you're working to provide great service, hearing someone trash your business isn't the best feeling in the world. But if you're not reaching out to help the customer with their problem, you're amplifying the issue. While positive word-of-mouth can bring customers into your business, negative word-of-mouth will only cause people to turn away.

Most of the time, these customers are just holding up their hand and asking for help on an issue. They don't want to hurt your business, they just want to make sure the problem they're experiencing is resolved. Make sure to reach out to them with a polite response. Try to take the conversation offline so that you can get to the bottom of the problem. If you manage to take care of the problem, you can then politely ask the customer to either edit or delete their original review.
Customer surveys
One thing that we recommend for all businesses is to keep a close eye on the data. Companies like Netflix use data to give you recommendations on what to watch next. Regular Netflix users often discover new shows from Netflix's recommendations. But that's not all. Netflix also uses data from its customers to find out what content to produce next. That leads to great results. Netflix original content makes 80% of content viewed on the platform.

So what can we learn from Netflix? Keeping a close eye on customer data is a great way to keep loyal customers. Not only will you get a great idea of what your customers want, but you can also start developing the services that they want to see. While you might not have the resources of a company like Netflix, you can get the data you need through customer surveys.

A great place to start is with a simple net promoter score survey. A net promoter score survey asks how likely customers are to recommend your business on a scale of 0-10. Not only is this survey easy for customers to answer, but it also gives you a clear idea of how satisfied customers are with your business.

You should also consider using transactional surveys. You can send a transactional survey after a customer has a specific interaction with your business, like a call with customer service. These surveys give you an idea of how you can improve customer experience touchpoints.

How Birdeye Can Help You Get More Customers
There's only one comprehensive customer experience tool on the market: Birdeye. Only Birdeye gives businesses all the tools they need to be found, be chosen, be connected, and be the best.

Birdeye allows businesses to collect and manage customer reviews, connect with customers through text and Messaging, and analyze customer feedback. No competitor on the market offers all of Birdeye's services in an all-in-one experience marketing platform.

Birdeye has won more awards than any other customer experience software. There's a reason why more than 100,000 businesses use Birdeye to be found, be chosen, and be the best in their area.


Originally published