If there is one marketing trend that you just can't afford to ignore, it is 'Voice Search'. More and more customers are using voice search to find local businesses. Let's break this down for you so you can see why there is so much fuss around 'Voice Search on Google'.

What is Voice Search?
If you have a Google Home device or have seen one in action – you may already know what 'Voice Search' is. It's a speech triggered internet search that allows you to get answers to questions like "How can I make an apple pie?" or "What are some restaurants near me?"

When you ask your device a question, it actually sifts through the internet and looks for the most appropriate answer to your query. What you get at the end of this search is Google's best answer to your question.


It was first introduced in 2010. As you would expect, it was basic and lacked all the sophistication that voice search now offers. Today it is fully compatible with dozens of products and applications. In fact, voice search is now an integral part of the Google experience.

Of course, voice search isn't just limited to devices like the Google Home. Google voice search can be used on both mobile and desktop. You might have noticed this little microphone icon on the right of the Google search bar.

If one of your customers is using an Android device, they can activate a Google voice search by saying "Ok, Google".

So why should voice search matter to you? More and more people are using voice search to get quick answers to the questions they have or the information they seek. That makes it important that local businesses rank higher for voice-related search queries.
Voice Search on Google: Some Stats
Not convinced that voice search is important for local businesses? Here are three stats that should convince you.

In 2020, online searches are projected to be 50% of all searches.
65% of 25-49-year-olds speak to their voice-enabled devices at least once a day.
22% of voice search queries are looking for nearby locations.
Voice Search SEO
Let's talk about how your business can start ranking higher in voice searches. Really, voice search SEO isn't too much different from SEO on a desktop on a mobile device. You'll find the same steps working for all of these different devices.
Claim your Google My Business profile
The very first thing you should do is claim your Google My Business profile. Your Google My Business profile is the #1 factor determining your local search ranking. Without this profile, it's going to be very difficult for your business to rank high in relevant voice searches. Any Google-connected device will use Google My Business to give your business's information.

Here's the result I got for my voice search "what are the best restaurants near me".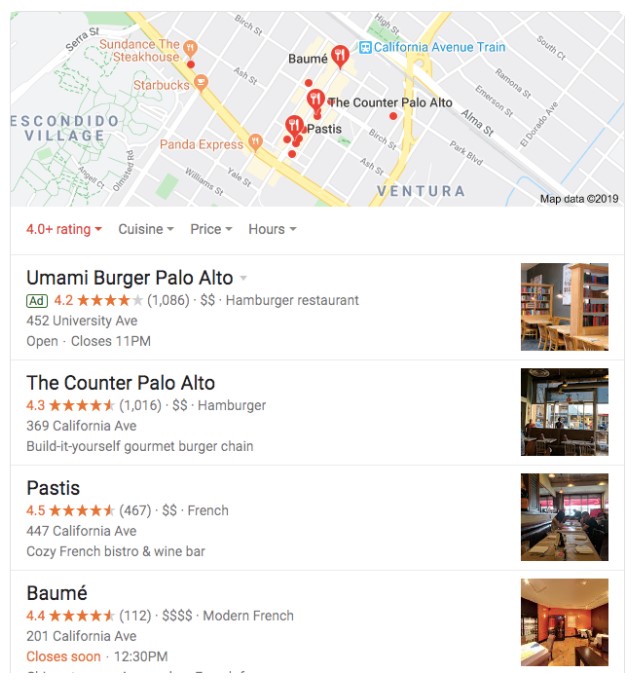 As you can see, Google pulls in data like name, address, phone number, business category, and hours of operation. All of this comes from Google My Business.

When a Google Assistant like Google Home, gives you the answer via speech the statement usually starts like this – "The top-rated restaurants in your area are….."

If you've already claimed your Google My Business profile, make sure to add information to make your listing more helpful to potential customers. Add high-definition photos, contact information, your business category, and make posts. This will help you both attract more customers and rank higher on search.

Get more reviews
As you can see in the above list of options I got from Google, the restaurant with the highest number of reviews shows up on the top. The more reviews your business has, the more authority you'll have in the eyes of search engines- including when a potential customer does a voice search.

As we said earlier, Google Home emphasizes 'Top-rated' restaurants. So Google, aside from matching me geographically to restaurants is also looking for restaurants with the highest review ratings. This, of course, is done so that I have a good experience and feel like I can rely on voice search in the future as well.

So here's what you can do to get more reviews from your customers.

Send review requests via text and email
Make the process simple for your customers. By sending review requests via text and email with a direct link to relevant review sites.

Customers are most likely to leave a review when they get a request the same day as the sale. The longer you wait, the less the customer will remember about your business. So remember: send your review requests the same day as the sale.

Send review requests to all of your customers
Don't be selective with your review requests. Be sure that you're sending review requests to all of your customers. The more Google reviews you have, the merrier. While it's possible that you might end up getting a few negative reviews, don't stress too hard about it. Most people understand that you can't make everyone happy.

Respond to reviews
Lots of business owners don't respond to reviews. This is a big mistake. Not only does responding to reviews allow you to engage with customers, but they also help you to rank higher on search. Google has confirmed that responding to reviews helps SEO.

When you get a positive review, try to keep things simple. Make sure to thank the customer and ask them to come back. Something like "Thanks for the review, hope to see you again soon." can leave a good impression with the customer.

When you get a negative review, make sure to be polite and to address the problem the customer experienced. With a great response, you can even convince the customer to edit and delete their original review.

Want some more examples on how to respond to reviews. Download our free guide
Fix your business listings
Your business listings are a major factor for showing up on "near me" searches (and also for 'voice searches'). Since near me searches show different results depending on the user's location, Google makes sure that they have the right address for your business by checking results on different websites.

Earlier, we talked about the importance of claiming your Google My Business profile. While it's important to remember that Google Voice gets its data from Google My Business, other devices get their information from different sources.

 Apple gets its data from Apple Maps, while also getting some of its information from third-party sites. Microsoft Cortona gets its data from Bing Local and third-party sites. If you want to optimize for voice search across all platforms, you need to make sure your business information is correct across all of these sites. 

Want to see how accurate your business's listings currently are? Click here for a free scan of your listings.
How Birdeye can help
Don't let your competitors dominate voice search in your area. Birdeye's all-in-one dashboard gives your business the tools to stay on top of rankings on mobile, desktop, and voice.
Originally published