Customers are becoming more comfortable than ever making purchases online — but they're still expecting the same fantastic experiences they receive in person. That means they're looking for customization, quick responses, and most importantly, the human touch. It's difficult to provide these experiences when your team never meets your customers in person, but it is possible.
We sat down with Jeremy Belland of Exclusive Furniture to find out how his team maintains the human touch, even when the entire customer journey is digital.

To start things off, can you tell us a little bit about Exclusive Furniture?
We are a community-owned furniture company headquartered in Texas, focused on delivering great products at affordable prices. We've been in business for 23 years and we currently have seven locations.
The first step of delivering a great experience online is ensuring that prospects see social proof from the moment of first discovery to get them started on the buyer's journey. How are you accomplishing this?
We know that our customers are looking at online reviews before they make a purchase, so we've implemented Birdeye to collect more social proof. The platform automatically sends review requests after every customer purchase. It helps our team easily collect social proof in the form of online reviews across each one of our locations.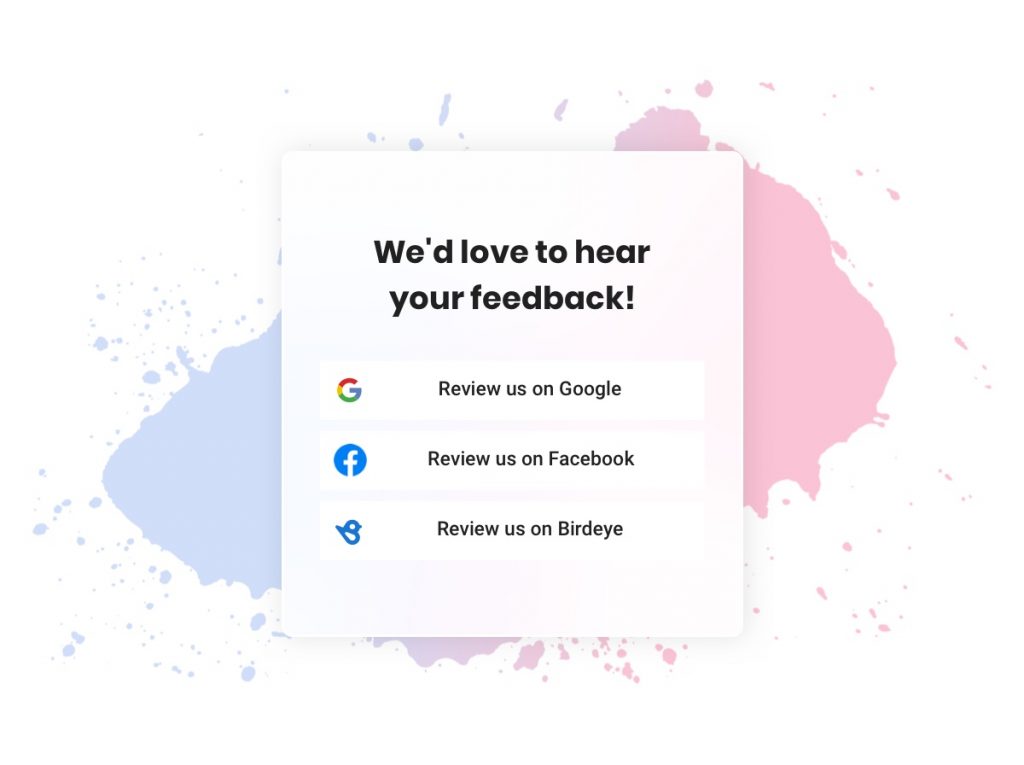 Staying on top of review responses is difficult when you're managing multiple locations, but Birdeye helps us manage our reviews conveniently. Now, we can see reviews from each of our locations in one place in the Birdeye dashboard, and we use Birdeye's automated response templates to ensure that we're responding to these reviews quickly.

One important aspect of delivering a great digital experience is making it easy for customers to get in touch with you. I know that you're currently using live chat and chatbot for this. Can you talk about why and how you set up live chat on your website?
Website chat is important for us because customers want to know that a real human being is there to help them solve their issues, not some robot. Buying things online doesn't need to feel like such an impersonal process where a customer just hits "Add to Cart" and then "Buy", and that's the end of the transaction. There's emotion that's involved with purchasing objects that are going to be in your home and part of your life, so it's important to give customers the human touch.
We were using a different chat provider previously, but we decided to switch to Birdeye.
Our team was looking for a streamlined, all-in-one solution that could help save time for our team. Birdeye fit the bill perfectly — it provides support for reviews, surveys, and mass text messaging.
The key difference I've seen with Birdeye compared to other platforms is the ease of use – both for our teams as well as for our customers. The product is easy to use for anyone in our organization. Plus, it's very easy to get in touch with Birdeye customer service if any issue does come up.
How does your team manage all the chats that come in from customers and prospects from your website?
Previously, when sales requests came in through website chat, it was hard to stay on top of them all. Birdeye helps us ensure that these requests come in at one central place within the Birdeye platform. From there, we are able to pass on the query to the right location or team so that the team is able to handle them in a timely manner. For example, if a prospect is trying to purchase a new item, we'll send the query to sales. However, if a customer has questions post-delivery, we'll send them to customer service.
We pride ourselves on delivering quick responses to customer questions. To this end, we ask every employee who logs into Birdeye to download the mobile app. That way, they get a notification on their phone every time a message comes in.
It must be tough to deal with such a large volume of customer messages.
It's definitely been a challenge in the past. Now that we switched to Birdeye, our team doesn't need to manually respond to every message that comes from the website. The platform gives us the ability to program automated answers to frequently asked questions. Meanwhile, Birdeye's Chatbot helps to provide answers to common queries to our website visitors.
We get messages from platforms like Facebook and text messaging as well. Birdeye allows us to manage all of these conversations in one place: the Unified Inbox. It's great because it eliminates the need for our team members to check each one of these platforms individually.
We've also been utilizing new messaging channels to deal with specific customer issues. For example, our customer service team recently used video chat to connect with a customer who said that their furniture was damaged during shipping and showed us the issue on camera. It would've been much harder to get this problem resolved via phone or email.
Let's talk a little bit about mass texting. Communicating with existing customers is a big part of an Experience Marketing strategy, and we know that you're currently running a few different campaigns. Can you talk about how this works?
We segment our mass texting campaign audiences into different groups. One campaign may go out to customers who had great experiences and one campaign may go out to customers who feel that they've had not-so-great experiences. We identify these different groups of customers by looking at our Google reviews. This kind of segmentation works well because both of these audiences respond to different CTAs. 
Another great example is an event we organized recently for our past customers. We invited customers who bought furniture from us 5 or 6 years back via a mass text campaign. We thought many of them would want to refresh their furniture. The campaign was really successful — we set up a red carpet event for these customers in-store.
So as you can see, Birdeye enables us to send out these mass texting campaigns, but it also helps us to segment our customer base and use customization to create great experiences. 
To build a successful Experience Marketing strategy, it's important to delight customers at every touchpoint. We know that you've just gotten started using Birdeye Surveys. How are you planning to use it to improve the overall experience?
We sent out our first survey a few days ago and we already got more than a hundred responses. Our team is working through all of those surveys and will reach out to customers immediately if there's any negative feedback. They'll find out if there's anything we can do to improve those experiences in the future.
Every week, we're going to try to send surveys to all of our new customers from the prior week. It's a great way to stay on top of experience issues before they escalate into bigger problems.
Want to get started with Experience Marketing?
Birdeye is the only platform on the market that enables businesses to handle reviews, interactions, surveys, and referrals in one easy-to-use platform. Watch the demo below to see why Exclusive Furniture and 100,000+ other businesses use Birdeye to delight customers, amplify positive testimonials, and automate processes.
Originally published