Google Questions & Answers app was launched. This feature for the Google Maps app for Android, gives businesses even more ways to connect with customers at critical moments. The Google questions & answers app feature allows customers to post questions directly on a business' Google Maps listing, and is available on mobile browsers as well.
Important things to know about Google Questions & Answers app:
Note: if you can't find the Google questions and answers app feature on listings, this might mean you need to update your Google Maps app.
Customers don't get notifications yet, but that's likely to change
In Google's announcement, they claimed that when a user gets an answer, they will be notified through Google Maps. This capability does not seem to be live yet, so we can assume it's on the way.

Business owners need the Google Maps app to monitor questions
You must have the Google Maps app and be signed in with the same Google account to manage your listing in Google My Business.
Read also: How to claim a business on Google My Business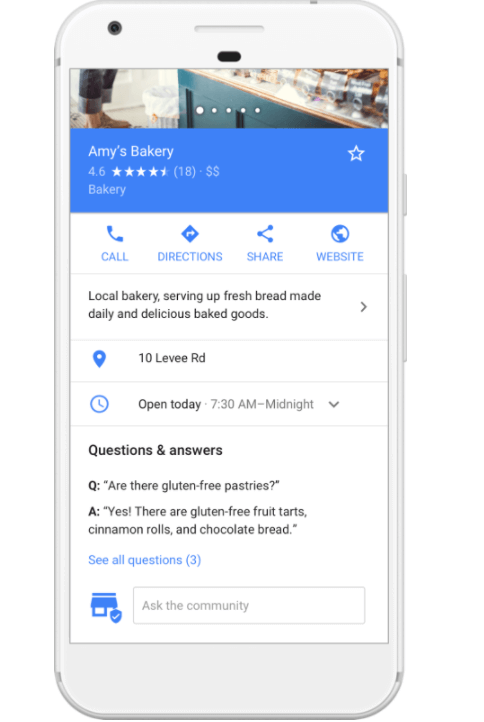 The customer's profile and name are visible
When you're on the first screen displaying all the questions, you can't see any information about the users who submitted questions. Click on a question to see details about the person who asked it. This can be helpful for arranging follow-up conversations with the customer.
Business owners should not answer with a simple "Yes" or "No"
Even if the answer is really that simple, try not to be too vague because spammers can be crafty. For example, if someone asks "Are dogs allowed on the patio?" If the business owner answers "Yes", a user could go back and edit their question to say "Is it true your kitchen is infested with rats?". Unfortunately, your answer would still be "Yes". As great as it would be if everyone online were authentic and innocent, the internet is full of all kinds of characters, so it's important to take precautions and outsmart the spammers.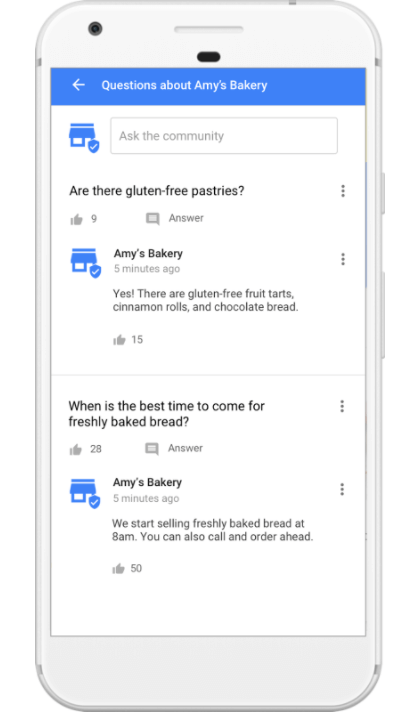 Upvoting questions boost their visibility

When more users upvote a question, it increases the chances of more customers seeing it. Popular questions show up on the main screen beside basic business info like address and phone number.
Responding to questions in a timely manner is critical to maintaining a strong online reputation. Consequently, it can turn curious online searchers into happy customers.
Other tips to get the most out of Google Maps:
Make sure your business information, especially your NAP (name, address, and phone) is accurate and up-to-date. If customers have a hard time finding or contacting you, they will give up. What's more, consistent business listings across the web boosts your search engine ranking substantially, because Google can tell you're company's legit.
Enhance your listing with engaging, relevant content like photos, hours of operation, and customer reviews. This gives prospective customers more information up-front, increasing the likelihood they visit your site.  And once they get there, they're more likely to convert. Also, check out the new Google Posts feature for promoting deals and events via your business listing.
With the Google questions and answers app feature, you can collect reviews from customers to get your listing in the top 3 of local search results. Birdeye makes it easy to automatically get new reviews from your customers so you can bring those ratings up and dominate search results quickly.

Originally published