If you don't have a Google knowledge panel, you may be hurting your brand's reputation and missing out on valuable opportunities to connect with customers. The knowledge panel is a box that displays information about your business when someone searches for it on Google. It's a great way to visually present your business in search results so that you avoid getting lost in the shuffle. In this article, we'll share information on how to get a Google knowledge panel, how it works, and provide tips on how to make the most of it for your business.
Related: For a comprehensive list of tips on how to generate more leads with Google My Business, check out this audio guide. It covers everything you need to know in less than 20 minutes.
What is a Google knowledge panel?
You've probably seen the Google knowledge panel before but just didn't know what it was called.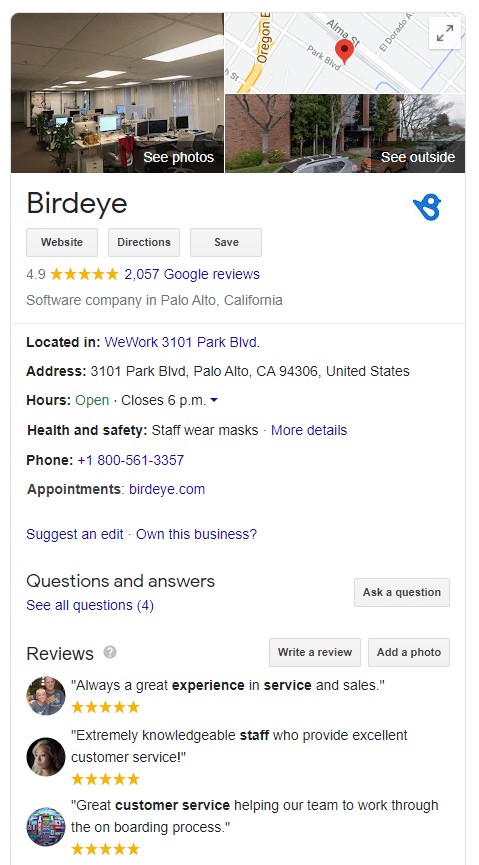 The knowledge panel is the section that shows up on the right of your screen when you're making Google searches on your desktop. On mobile, the knowledge panel will show up at the top of the results page. Google pulls the information from its Knowledge Graph (more on this in a bit) which gathers data from sources like Wikipedia, Google My Business, and other websites to display a comprehensive panel of information about your business.
The Google knowledge panel includes important data points such as:
Your business name
Logo or profile picture
Address
Phone number
Hours of operation
Reviews & ratings
Links to social media profiles
It can also feature other useful information such as booking appointments, making purchases and more.
[Free Guide] Optimizing Google My Business for business success
Download Now
Google's Knowledge Graph
Earlier we mentioned that knowledge panels are pulling their information from Google's Knowledge Graph. But what exactly is that? The Knowledge Graph is a large database filled with billions of facts about people, places, and things. These facts are pulled from various trusted online sources. The objective of the Knowledge Graph is to provide people with quick, factual answers to improve the user experience. The data supplied by this system is used to keep Google Search and knowledge panels up-to-date.
Types of Google knowledge panels
Google offers several types of knowledge panels that can be tailored to meet your specific needs. Let's take a look at the different knowledge panels you'll come across when making a search.
Local knowledge panels
Local knowledge panels display information about nearby businesses. They are especially important for businesses with a physical location or service area as they help customers easily find information from the ones closest to them.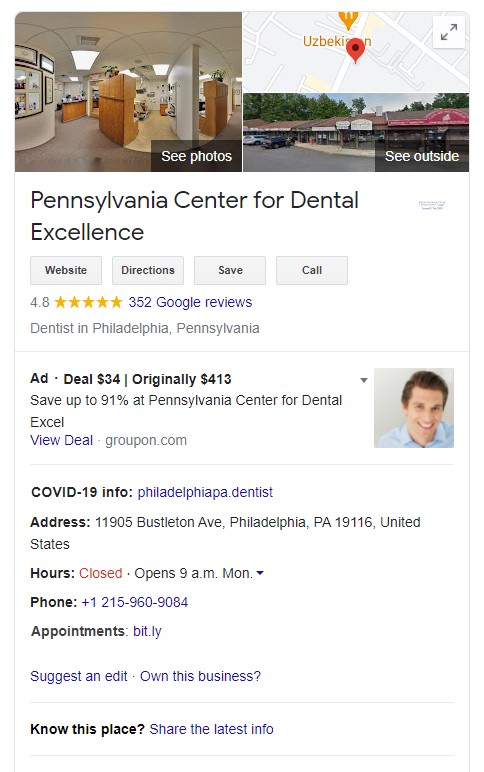 Branded knowledge panels
Bigger companies might have branded knowledge panels. Instead of showing information about an individual branch, these branded panels show detailed information about the organization such as headquarters location, stock information, and more.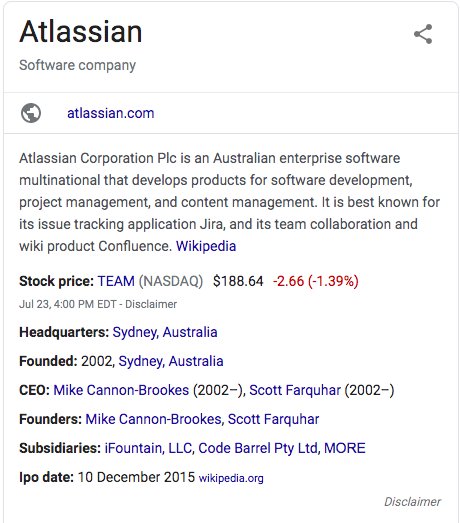 Personal knowledge panels
Celebrities and public figures might get their own personal knowledge panel. It's not exactly clear how Google determines whether a person is worthy of this distinction. However, people with high profiles typically have a robust online presence making it easy for Google to create a knowledge panel on their behalf.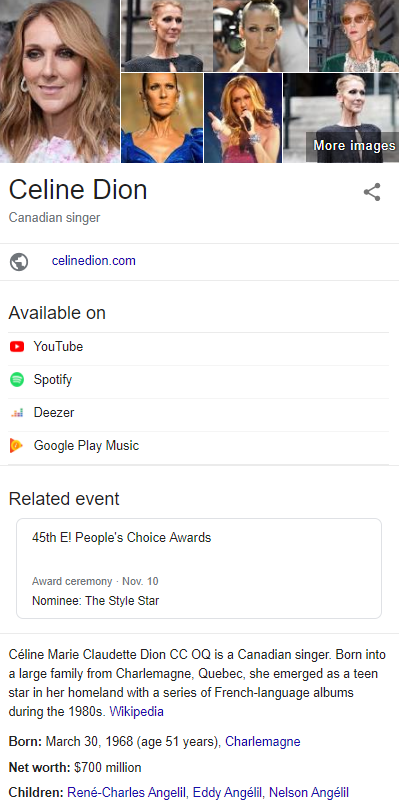 Knowledge panel: desktop vs. mobile
Knowledge panels are a great way to quickly access useful information about a business. However, depending on whether you're viewing the panel on a desktop or mobile, you'll notice some differences. For example, if you're viewing a panel from your desktop, it will contain additional tabs and sections, while the mobile version will have fewer options and less text.
Also, the images displayed in the panel may differ based on the device. On desktop, usually larger images appear while on mobile screens they will be thumbnails instead. It's important to note that mobile users can get access to the same type of information that desktop users can, but the panels for mobile devices are specifically crafted to best fit the device's small display size.
Benefits of a Google knowledge panel for your business
Having a properly set-up knowledge panel is crucial for many businesses today. It makes sure customers can quickly get the information they need to find and use your services. From contact info, store hours, and company website links to reviews and geographic location, businesses with an accurate and detailed knowledge panel have a much greater chance of being seen which can lead to more clicks.
Some other benefits can include:
Higher visibility – Knowledge panels have prominent placement toward the very top of a Google results page. This valuable piece of real estate will increase your visibility and lead to more people discovering your business.
Build trust faster – A knowledge panel also increases your credibility and legitimacy within your industry. This can indicate to consumers that you are both established and therefore reliable.
Deciding factor – For potential customers who might be aware of your brand but need more information, a knowledge panel can act as a deciding factor because it can provide further details which can help them with a buying decision.
Competitive edge – Having a knowledge panel can also set you apart from your competitors. By improving the customer experience, you are able to stand out amongst the crowd.
Ultimately, a strong knowledge panel demonstrates to potential customers that you understand their needs and want them to easily access all the information they require.
How to claim your Google knowledge panel
As a verified representative of a business listed on Google, you'll have the power to claim your knowledge panel. After completing the Google knowledge panel verification process, you'll be able to provide feedback directly to Google about suggested changes, like a preferred image.
Here's how you can get verified and claim your knowledge panel.
Log in to your Google account.
Search for your business and find your knowledge panel.
Click on 'Claim this knowledge panel' at the bottom of the panel.

For mobile devices: click on the three dots near the image and then 'Claim this knowledge panel.'

Review the information.
Next, sign in to a profile or account that is associated with your business. Some of the sites you can use to do this are:

Google Search Console
YouTube
Twitter
Facebook
How to edit your Google knowledge panel
Once you're approved as an official representative for your business, you can start editing the information on the knowledge panel. To do that:
Sign in to the Google account linked to your knowledge panel.
Search for your business on Google and locate the panel.
At the top of the panel, click 'Suggest an edit.'
For mobile, you'll need to tap the three dots in the upper right-hand corner and then you'll see the 'Suggest an edit' option.
In the next window, you'll have two choices: (1) Change name or other details or (2) Close or remove.
For the first option, proceed with revising the specific field(s) you'd like to edit. This is where you can adjust your address and how to add photos to your Google knowledge panel.

The 2nd option should only be used if the business has permanently closed or if it has changed location.

Once you've made all your edits click 'Submit.'
How to update and change your Google knowledge panel
Just like your products and services, business details require updating. Whether it's a new address, updated contact information, or store hours have changed, keeping your information up-to-date on Google lets customers find you with ease. To update your knowledge panel, you can follow these steps.
Head over to Google and sign in to the account that needs updating.
Make sure that your Web & App Activity is on.
Search for your business and look for your knowledge panel.
Above your business name, click 'Suggest edits.'
If you aren't seeing this option, (1) make sure you're signed into your account or (2) Confirm that Google has verified your account as an official representative for the business.
Edit the information that you want to change. For multiple edits, submit your edits for each one separately.
In the response box, add a short message detailing:

Your suggested change(s).
Your reasoning.
And if applicable, any links that confirm your suggested changes.

Then click 'Send.'
Keep in mind that Google won't accept your suggestions immediately. They will double-check them with the information it finds online. If Google still isn't able to authenticate your information, they'll follow up via email requesting additional details in order to verify your identity and make the changes live.
Five steps to increase your chances of showing up in a knowledge panel
The more Google understands about your business and the more authority your brand has, the better chance your business has of showing up on a knowledge panel. Here are five steps to help you get started.
Step 1: Create a Google My Business profile
Most of the time, Google will pull the information on the knowledge panel from your Google My Business account – also known as Google Business Profile. Because of this it's important that you claim your Business Profile and update it with accurate, current details about your business. If Google doesn't have enough information about your business, it's likely that your knowledge panel won't show up in the search results.
Step 2: Collect reviews about your business
Google uses reviews to get a better understanding of your offerings and the experience customers can expect to have with your business. After all, customers will often use keywords related to your business in their reviews. If you're not sure how to get started, remember that the best way to get more reviews is to ask all your customers for reviews and make the process easy for them. We recommend sending review requests via email and text that link directly to your review sites. That way, all customers have to do is click a button and leave a review.
Step 3: Be active on social media
It's essential that you are consistently sharing relevant content on your social media channels like Facebook, LinkedIn, and Instagram. Make sure the posts focus on your industry, products, and services in order to keep your target audiences engaged and informed. Google uses the information that you post to learn more about your business and will sometimes display your social media accounts on your knowledge panel.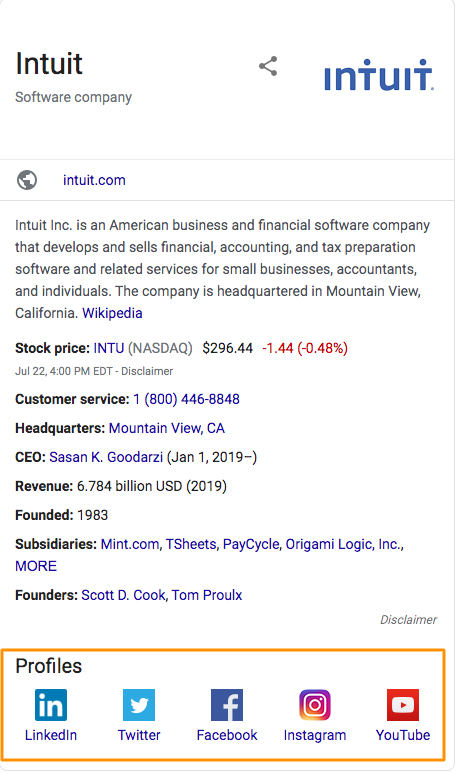 Step 4: Implement schema markup
As we mentioned earlier, the more that Google understands your business and what you offer, the better chance you have of showing up in a knowledge panel. That's why it's important to implement schema markup on your website. Schema markup is a type of code used to organize and structure content on web pages. It helps search engines understand the purpose and context of the content on the page, allowing them to display it more accurately in their search results. With schema markup on your website, you can help Google quickly identify you as local business and give more information about the specific products or services you offer.
Step 5: Create a business Wikipedia page
Google pulls in data from various online data sources including Wikipedia. Therefore, a good way to make sure you get a knowledge panel is by creating a Wikipedia page for your business.
Before you start this process, make sure that your business passes the notability requirement set by Wikipedia. This is a test to determine if your business warrants a Wikipedia page. Wikipedia does this to protect the integrity of the site. If you meet their criteria, move forward with creating a Wikipedia account. You can see the option to do this in the top-right corner of the main page.

After that, draft up your entire article and submit it for review. Allow time for Wikipedia's experienced editors to review and approve your page. Once approved, your page will be published. It's worth noting that if your Wikipedia page is pulled down for whatever reason, this can affect your knowledge panel to the point where it might be removed from Search.
Frequently asked questions about Google knowledge panels
How do I claim a Google knowledge panel?
Google knowledge panel can be accessed by claiming a Google My Business profile and updating it with accurate information about your business. You should also list your business on relevant review and listing websites. This will help Google get more of an understanding of your company and give you a better chance of showing up in the knowledge panel.
How much does a Google knowledge panel cost?
Google knowledge panel is a free service provided by Google. There are no costs associated with setting up and maintaining your Google My Business profile or having your information displayed in Google's search results.
Why do I have a Google knowledge panel?
Google automatically generates knowledge panels for businesses that are verified through Google My Business or based on publicly available information from trusted sources, such as websites and social media accounts. You can claim ownership of your Google My Business knowledge panel and start managing it by verifying your Google My Business profile.
What happens when you claim a Google knowledge panel?
When you claim a Google knowledge panel, you are to start managing it and make suggested edits. You do this by verifying your Google My Business profile and updating it with accurate information about your business.
How does Google decide who gets a knowledge panel?
Google decides who gets a knowledge panel by verifying businesses through Google My Business or based on information from trusted online sources. Google may also create a knowledge panel if they have sufficient data to show on it.
Should I claim my Google knowledge panel?
Yes, claim your Google knowledge panel. By claiming it, you can start updating it with up-to-date information about your business by suggesting edits. This will help Google understand more about your company and give you a better chance of showing up in the knowledge panel in search results.
How long does it take to get a Google knowledge panel?
It typically takes a few weeks for Google to accept or reject a Google knowledge panel request. If accepted, Google will create and show knowledge panels in search results. If rejected, Google will ask for information to confirm your request.
What is the difference between Google My Business and Google knowledge panel?
Google My Business is a free tool for businesses to manage their online presence by letting them create and update business listings that show up on Google Maps and Search. Google knowledge panel is a feature in Google search results that shows information about a business.
Why did my Google knowledge panel disappear?
Google knowledge panels may disappear if Google can no longer verify the business through Google My Business or if there is insufficient data to support showing it in search results.
Show your best side with Birdeye
Birdeye can help make sure that you're showing your best side with your Google knowledge panel. With Birdeye, you can collect more reviews from your customers with automatic email and text requests. In addition, you can connect with customers using Birdeye Social and Birdeye Surveys to help improve the customer experience. Watch our demo and learn why more than 100,000 businesses use Birdeye to be found, be chosen, and be the best.



        

This blog post is part of our Complete Google My Business Guide:


        

Google Business Profile


        

Google My Business Related Training


        

Originally published