If you don't have a Google knowledge panel, you may be hurting your brand. In today's hyper-visual world, if you are not standing out, your brand is lost in the crowd. A knowledge panel helps you visually present your business in search results. This panel also shows your prospects that your business has authority and is trustworthy right off the bat. Let's talk about what a Google knowledge panel is and how you can make the most of it.
Related: For a comprehensive list of tips on how to generate more leads with Google My Business, check out this audio guide. It covers everything you need to know in less than 20 minutes.
What is a Google knowledge panel?
You've probably seen the local knowledge panel before but just didn't know what to call it. The local knowledge panel is the section that shows up on the right of your screen when you're making Google searches on desktop. On mobile, the knowledge panel will show up high between other search results.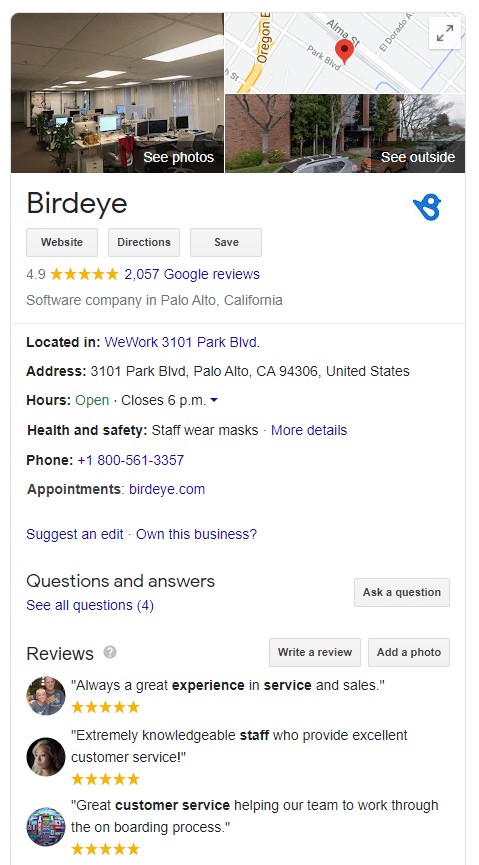 Different types of Google knowledge panels
Here are some of the different local knowledge panels that you will come across:

Local Google knowledge panels
Local knowledge panels display information about nearby businesses.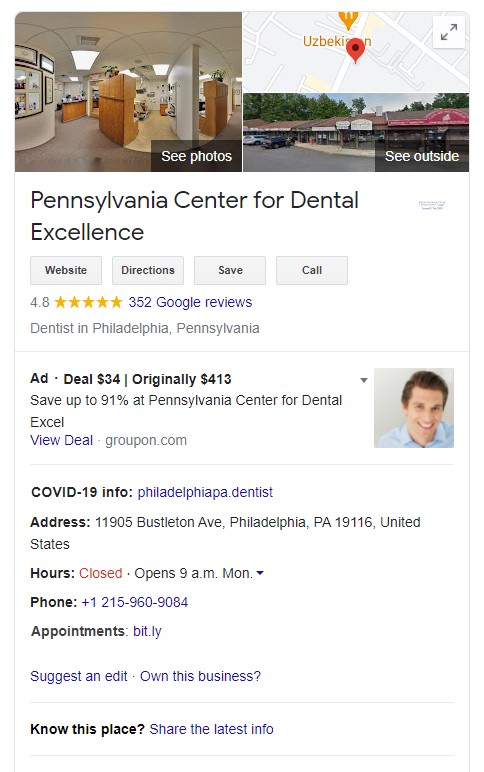 Branded Google knowledge panels
Bigger companies might have branded Google knowledge panels. Instead of showing information about a local branch, these branded panels show information about the company.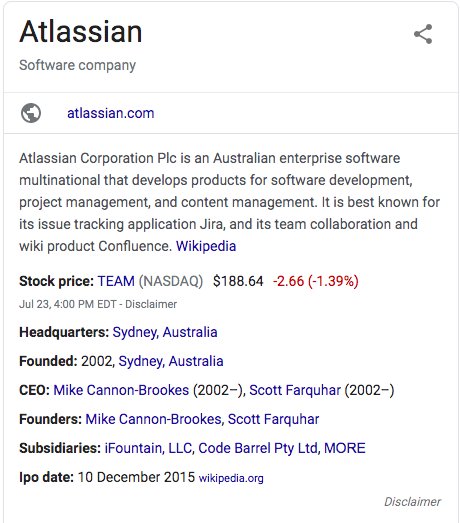 Personal Google knowledge panels
Celebrities and public figures might get their own personal Google knowledge panel.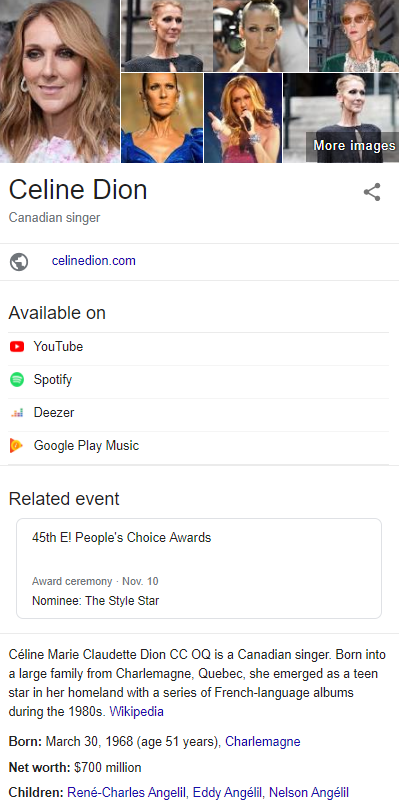 It's not exactly clear how Google determines whether a person is worthy of this distinction. People with Wikipedia pages often have these personal Google knowledge panels.
Why does the knowledge panel matter to your business?
The Google knowledge panel matters for businesses because it makes your business more visible on Google search. It gives all the information about your business that your prospect may be looking for. And because it helps you stand out in search results, there's a good chance that it will lead to more clicks.
Five steps to increase your chances of showing up in a knowledge panel
The more Google understands your business and the more authority your brand has, the better chance your business has of showing up on a Google knowledge panel. Here are five steps to help you get started.

Step 1: Create a business Wikipedia page
Most of the time, Google knowledge panels pull in data from Wikipedia. So the best way to make sure that your business has a presence on knowledge panels is by creating a Wikipedia page for your business.

First, be sure to create a Wikipedia account. You can see the option to do this on the top-right corner of the homepage.


Once you create an account, you won't be immediately able to create a page for your business. Wikipedia does have specific guidelines to prevent contributors from spamming pages. You will need to spend about a month editing old articles to build your credibility.
Step 2: Be active on social media
Make sure that your business is regularly posting content on social media. Google uses the information that you post to learn more about your products and/or services and will sometimes prominently display your accounts.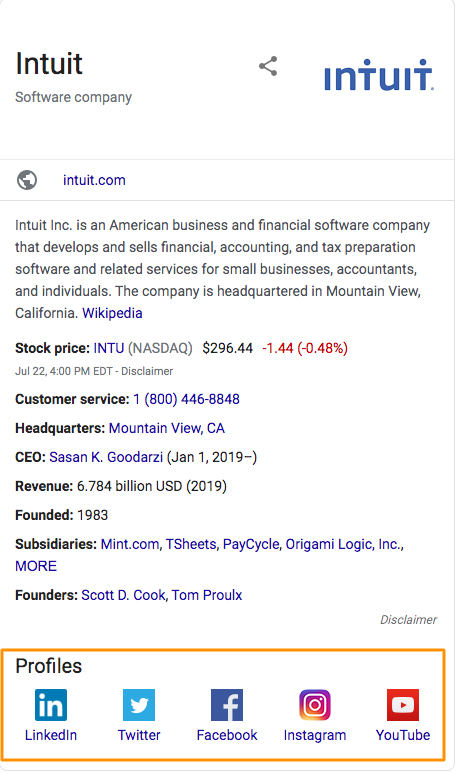 Step 3: Implement schema markup
The more that Google understands your business and what you offer, the better chance you have of showing up in a Google knowledge panel. That's why it's important to implement schema markup on your website. After all, schema was explicitly created by search engines to better understand the content of web pages. You can use Schema to tell Google that you are a Local Business and give more information about the specific service you offer. If you're interested in getting started with Schema, check out this handy guide. 

Step 4: Create a Google My Business profile
Most of the time, Google will pull the information on the Knowledge panel from your Google My Business profile. So make sure that you've claimed your Google My Business profile and updated it with relevant information. If you haven't done it already, here's a step-by-step guide to claiming your Google My Business profile.
Step 5: Collect user reviews
Last but not least, solicit reviews from your customers. Just like schema, Google uses reviews to understand more about what your business offers. After all, customers will often use keywords related to your business in their review text. If you're not sure how to get started, remember that the best way to get more reviews is to make the process easy for your customers. We recommend sending review requests via email and text that link directly to your profile on review sites. That way, all customers have to do is click a button and leave a review. 

How to claim and edit your local knowledge panel
Here's how you can claim your Google local knowledge panel.
Log in to your Google account.
Search for your business and find your knowledge panel.
Click on "Claim this knowledge panel" at the bottom of the panel.

4. Sign in to a business profile to verify that you're a representative of your business. Here are the sites you can use to do this:
YouTube
Search Console
Twitter
Facebook
Once you're verified, here's how you can edit the information on your Google knowledge panel.
Sign in to the Google Account linked to your knowledge panel.
Search for your business on Google and find the relevant panel.
At the top of the panel, click Suggest an edit (or Suggest edits on mobile)
Click the information that you want to change. If you're going to make multiple changes, you can submit feedback for each change separately.
In the response box that opens, write a short description that tells Google what you want to change, why you want this change to be made, and some URLs that can help confirm this information.
Click Send.
Google won't accept your suggestions immediately. The algorithm will doublecheck your suggestions with the information it finds online.
Show your best side with Birdeye
Birdeye can help make sure that you're showing your best side with your Google knowledge panel. With Birdeye, you can collect more reviews from your customers with automatic email and text requests. In addition, you can connect with customers via email and text, send surveys, and improve your overall operations. Check out why more than 100,000 businesses use Birdeye to be found, be chosen, and be the best.


Originally published Aug 07, 2020, updated