Did you know that 71% of fast-growing businesses create a business plan to start? A business plan can help you attract investors, find strategic partnerships, grow your workforce, and help you establish and realize your goals. Without one, your new business will be flying blind.
However, putting together a business plan can be daunting. In this article, we'll share strategies and tips on how to write a business plan that will help launch your new business in the right direction.
What is a business plan?
A business plan is a document that outlines the goals and objectives of a business, as well as the methods used to achieve them. It also details how the business will be financed, managed, and staffed. A business plan may address a specific need in a certain industry. It may also use inspiration from other existing businesses that have best practices already in place.
For example, the Texas economy began expanding in the 1960s making it important for people to travel throughout the state quickly and efficiently. However, rising oil prices and a lacking infrastructure made this type of transportation difficult.
Rollin King, a businessman in the airline industry, saw this need and recognized the success of another airline, Pacific Southwest Airlines. Rollin's business plan was to copy and paste the PSA operation into Texas. The result was Southwest Airlines.
An outline for a business plan can be simple. They can be complex. They may change over time. It depends on a number of factors, but just about every plan follows a similar formula and contains five key elements – business description, competition, marketing, people, and financial structure. Depending on the length and scope of the business plan, the document may expand and elaborate on the details of these key elements.

Why do business plans work?
Business plans are often created to generate investor interest to secure funding for a business. That said, there are other great reasons to learn how to draft a business plan:
Business plans have value as internal documents to help guide the operations and activities of the company.
They can help you clarify the scope of your business, activity, and resources required to get set up and maintain operations.
You will learn more about your customers and competitors.
You can explore and examine multiple ideas and find the most viable option.
With your vision established, you can begin attracting potential hires to your company.
A business plan can help you find strategic partners to collaborate with for growth.
It can help you secure other types of funding, whether investment capital, grants, loans, or other types of financing. Knowing how to write a business plan for a loan can help you secure your funds sooner.
Business plans work because they include detailed information about your company and the goals and solutions you aim to create. They demonstrate your values and vision, the viability of your company, financial forecasts, and the steps you'll be taking to make the vision a reality.
Business plan best practices
There are a few core elements that make a business plan work. Focusing on these helps you avoid common pitfalls. They also ensure you create a workable plan that will help you achieve desired results. Here are best practices and business plan tips that explain how to create a business plan.
Establish goals & objectives
A business plan should always include specific details about your goals and objectives. This information will keep you focused on what you must accomplish and how you'll get there. It's also important when seeking funding because your plan should clearly show how you plan to use investor resources to grow and scale your business. Remember, investors are interested in their return on investment (ROI), first and foremost.
Market analysis
If you don't know anything about your market, it's too early to start pitching your business to investors and banks. You want to uncover everything possible about your industry, including your target customer and their pain points, the biggest competition, barriers to entry, and more.
Investors will be able to recognize when you haven't done your homework. No matter how exceptional you might think your business idea is, no one will take your ideas seriously without a documented plan and complete market analysis.
Services and products offered
Describe the features and benefits of your products. Your investors will want to understand how your offerings compare to that of competitors and what makes them different.
How to write a business strategy
Your business plan should include processes and methods to achieve business goals. You'll want to outline how you plan to execute your strategy to achieve desired results.
Business development initiatives might include partnerships, software solutions, and team roles. But they'll also include detailed strategies for marketing and sales techniques, demonstrating how you'll attract customers, bring your ideas to market, and how to convert interested people into customers. These steps should be straightforward, specific, and measurable.
Financial analysis
Business is the ongoing management of cash flow. There's money coming in and out continuously. In your business plan, you want to show where your income is coming from, your expenses, and the profits you're making.
It's important to be as accurate and clear as possible in your financial analysis so that investors and lenders can evaluate the risk of investing in your business. This should also include projections for future profits and losses and an analysis of how you will manage cash flow to sustain operations.
How to write a successful business plan in 10 steps
1. Create an executive summary
2. Company description
3. Market analysis
4. Competitor analysis
5. Management and organizational hierarchy
6. Product and services description
7. Logistics and operations plan
8. Marketing and sales strategy
9. Financial planning
10. Include an appendix
A common question for aspiring entrepreneurs is, what does a business plan include? There are many details to cover but it's important to keep it concise and to the point. A traditional business plan should contain everything within 20 pages or less.
Here are ten steps to follow to make a business plan for a small business.
1. Create an executive summary
Every business plan should start with an executive summary. This part is meant to summarize everything the business plan will lay out. Make it compelling by highlighting goals, opportunities, and desired results. This will help entice stakeholders to read further. A good idea would be to write the executive summary last once all parts of the business plan have been finalized.
Writing an executive summary
Your executive summary will need to answer several key questions:
What does your business do?
What are your vision and goals?
What are you looking to achieve?
What are you selling?
How is it different from what's already out there?
Who are you selling your product to?
What is your sales and marketing strategy?
What are the financial requirements to be successful?
Who is on your team?
Now that you're clear on how to write an executive summary for a business plan, let's look at how to draft a company description.
2. Company description
There are different approaches to drafting a company description. Typically, it includes several key facts about your business, such as the business name, address, key employees, your business's structure, and your company's history. Generally, the more clarity you can offer, the better.
How to write a company description
Draft your company description like an elevator pitch, a concise but compelling description of what your company does. Use the answers to the questions listed above and keep them simple. Highlight problems your company solves and who it intends to help the most.
3. Market analysis
Readers of your business plan want to know that you've done your research. Your plan should demonstrate extensive knowledge and understanding of your target customer, the size of your potential market, as well as how the market will change in the future. Here are some areas to focus on with your market analysis.
Market size
Determine the total number of potential buyers for your product or service, as well as the revenue that could be generated from these sales. Also, include geographic regions or global audiences you plan to target.
Customer sentiment within the market
How do your prospects and customers feel about your brand? How do they feel about the other companies operating in the same space? Customer sentiment analysis can reveal customers' willingness to buy, their loyalty to specific companies or products, and factors affecting your company's future growth.
SWOT analysis
SWOT is an acronym for strengths, weaknesses, opportunities, and threats. A proper SWOT analysis requires a deep understanding of your customers, competitors, and market conditions. This will help you identify opportunities, as well as potential risks that you should take into consideration.
4. Competitor analysis
Investors will expect you to have a deep understanding of the competitors operating in your industry. Rarely, if ever, are there no competitors in your market, though entrepreneurs often like to believe their ideas are completely original. Your business plan should demonstrate a deep understanding of the competitive landscape.
For example, the real estate industry is highly competitive. It's an established profession. If you're entering the space and looking into how to write a real estate business plan, you will definitely want to spend extra time researching the existing agencies and understanding their services, pricing strategies, and marketing tactics.
Who are your competitors?
Identify the top competitors in your industry and uncover as much information as you can about them. Identify and describe their market share, product features, pricing, marketing strategy, differentiation, strengths, weaknesses, geographical factors, culture, and customer reviews.
There are many tools you can use to research your competitors. Initial research can be done using Google and social media. But you can also take advantage of tools like Similarweb and Market Explorer.
What's working for them, and what's not?
As you're researching your competitors, it'll become clear the specific strategies they are using and whether they are working. Customer reviews will reveal successes as well as failures. Make note of everything you find and summarize it in your business plan.
5. Management and organizational hierarchy
Highlight top stakeholders within your business as well as their roles and responsibilities. If you have a larger company, create an organizational chart to better understand who reports to whom.
If you're working with notable partners within your industry, focus on highlighting these individuals instead of worrying about listing off every employee you have on your team.
6. Product and services description
Your business plan should cover details about your product and service offerings. But it's still a good idea to create a dedicated section in your business plan covering their features and benefits.
Businesses with more products can offer summaries of each. If you only have a few products and services, go in-depth on each. Also, cover products you're in the process of developing, intellectual property, and how these assets will contribute to your profitability now or in the future.
7. Logistics and operations plan
Detail how you'll deliver your products and services to your customers. If you're creating a business plan for online business, focus on the technology you're using to fulfill orders.
If your business includes manufacturing and warehouses, then add details about your vendors and supplier relationships, production process and timelines, facilities, equipment, shipping and fulfillment, and inventory.
8. Marketing and sales strategy
Your ability to drive revenue for your business depends entirely on your sales and marketing plan. The more information you know about your customer, the easier it is to create these strategies because you'll know what publications they read, where they like to shop, what pain points and challenges they're looking to solve, and so on.
Generally, this is the most important and detailed part of any business plan. It should focus on the four P's:
Price
Product
Promotion
Place
There should be continuity between the customer demographic you've identified and the specific marketing channels you plan to use to promote and sell your products or services. If not, you are most likely wasting your time and effort.
9. Financial planning
Without steady cash flow, a business cannot maintain its activities. If you can't build a path to establish your company's financial health, you'll have a hard time finding willing investors.
There are three pieces to include in your financial plan, and they are as follows.
Income statement
Identify and describe all sources of revenue and expenses. It could be over the course of a quarter or a year. This information should give a clear idea of your gains and losses over a period of time.
Balance sheet
Your balance sheet shows both your business assets and liabilities. The calculation to figure this out is: Assets – Liabilities = Equity.
Investors may use this information to assess your overall financial position and stability. Generally, the more assets you have, the better, and the fewer the liabilities, the less chance your business will fail. Either way, transparency is encouraged, so investors can make an informed decision.
Cash flow statement
Your cash flow statement is like your income statement except that it shows when money comes in and goes out over a period of time. This information is used to assess your cash flow and whether you're coming out net positive on the balance.
Underestimating business costs
Business owners – especially new business owners – aren't always aware of the many costs associated with operating a business. The biggest issue with underestimating business costs is that it's difficult to generate the desired level of profit. A good rule of thumb is to be conservative in your estimates and always overestimate startup costs. That way, if your actual costs come in lower than budgeted, you'll still have plenty of breathing room.
10. Include an appendix
Your business plan, no matter how detailed, should be restricted to 20 pages of content. A great place to add additional research, helpful resources, and other relevant documents pertaining to your customers and business should be included in an appendix for convenient access. Doing this will make your business plan much easier to review and understand. A well-structured appendix can also provide credibility to your entire business plan and help investors feel confident in the value of your proposition.
Four business plan examples
There isn't just one type of business plan, and there isn't always one right way to put it together, either. There are different models suited to different types of businesses, and it's important to identify which is going to work best for your business.
1. Traditional business plan example
Traditional business plans typically include every facet of your company's operation, from your organizational hierarchy to financial forecasting. These types of plans serve as a roadmap for success and highlight specific aspects of your company that would make it attractive to investors.
Here's an example of a traditional business plan: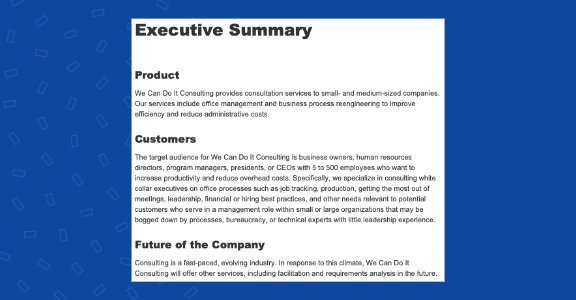 2. Lean business plan example
The lean business plan is often summarized in a few pages and can sometimes be a one-pager. The lean business plan is used when a significant, timely opportunity has been identified. It usually includes a business description, value proposition, partnerships, activities, resources, customer relationships, customer segments and channels, cost structure, and revenue streams.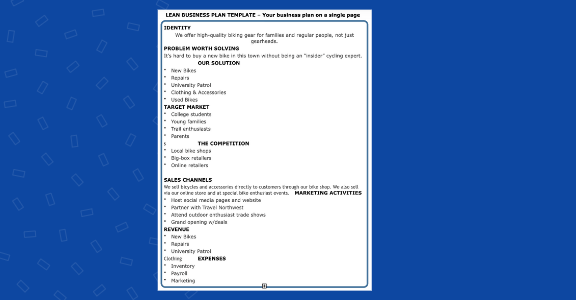 3. One-pager business plan example
A one-pager business plan focuses on the key details of a business, including its vision, objectives, customer segments, product or service, marketing strategy and sales goals, and financial projections.
For example, if you're starting a food truck and need help on how to write a restaurant business plan, this type of plan could be ideal.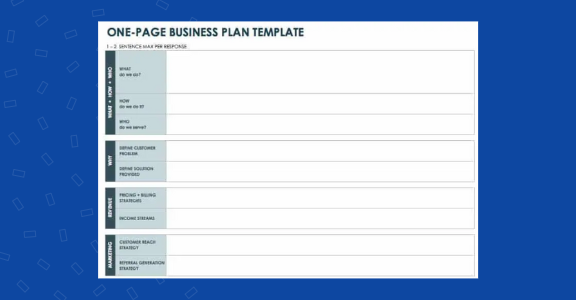 4. Business model canvas
The business model canvas is typically used to quickly organize your ideas around a new business venture. Business model canvases can later be leveraged to build out all types of business plans.
If you've been looking into how to make a business plan for a startup, this is an excellent place to start. The key sections to fill out are key partners, activities, resources, value propositions, customer relationships, channels, customer segments, cost structure, and revenue streams. Your business model canvas can either be used to build out a more detailed business plan or to communicate a timely idea using just the key facts.
Starting with a business plan template is a good idea
You don't have to use a template when developing your business plan, but creating a thorough and effective business plan from scratch is time-consuming. Instead, consider finding a free one online and customize it to your specific needs. Using a simple business plan template can:
Save time because you are following an itemized template.
Helps you avoid missing key elements needed for a successful plan.
Keep you organized with how to structure every aspect of your plan.
FAQs about how to write a business plan
How can I write my own business plan?
To write your own business plan, create an executive summary, company description, market analysis, competitor analysis, organizational hierarchy, product or service description, logistics and operations, marketing and sales strategy, financial planning, and an appendix.
How long does it take to write a business plan?
You can write a business plan in a week or less if you have detailed knowledge of your customers and competitors. It may take up to two months if you need to do more in-depth research.
What are the 4 types of business plans?
The four types of business plans are a traditional plan, a lean business plan, a one-page business plan, and a business model canvas.
What are the 3 C's of a business plan?
The three C's of a business plan are 1.) Concept, 2.) Customers/Clients, and 3.) Cashflow.
What's the biggest mistake you can make when preparing a business plan?
The biggest mistake when creating a business plan is not enough research. A lack of research into the financial projections, competition, and target market can lead to failure.
What five things should a business plan include?
The five things a business plan should include are an executive summary, product description, competitive analysis, sales and marketing strategy, and financial data.
Does Google Docs have a business plan template?
Google Docs don't specifically offer business plan templates. But you can find plenty of free third-party templates for Google Docs, Google Sheets, and Google Slides online.
Conclusion about creating your business plan
In conclusion, knowing how to write a business plan step by step is an important process for any entrepreneur or startup. It lets you map out your ideas, set goals, analyze potential risks and opportunities, and create a comprehensive financial plan. While the steps may seem daunting, breaking it down into smaller tasks can make it easier to complete. Ultimately, with research, dedication, and good planning, you'll be able to write a business plan that will help you launch your business successfully.

Originally published