You have a can't miss business idea, but you're racking your brain to come up with a name that does it justice. Don't sweat it – we've all been there. Nailing down the perfect name is crucial in building a rock-solid brand. It's a hurdle that trips up even the most seasoned entrepreneurs.
In this blog post, we'll share 150 business name ideas to help you hit the ground running. Whether you're launching a cutting-edge tech venture, opening the doors to a fashion-forward boutique, or brewing up something special in a charming café, our list of business name ideas is your ticket to finding a name that truly speaks to your target market and embodies your brand's unique vibe.
Naming your business – 7 tips
If you're struggling to come up with the right name for your business, don't worry you're not alone. Here are seven tips to keep in mind so that you come up with a name you're proud of and that helps you attract customers.
1. Reflects what the business stands for
Your business name should be a reflection of what your company stands for, including your mission and vision. Dig deep and think about your core values, mission, and unique selling points. Business name ideas that align with your brand's purpose will create a strong connection with your audience.
2. Memorable and easy to pronounce
You want a name that rolls off the tongue and sticks in people's minds like glue. Avoid complicated words or funky spellings that will leave your customers confused and scratching their heads. Instead, choose something memorable, pronounceable, and easy to share with their friends.
3. Short and simple
Strive to keep your company name ideas short and simple. A concise name is not only easy to remember but makes it a breeze for customers to type when they're searching for your business online. Also, it looks better when printed on marketing materials like business cards and flyers.
4. Future proof
Trends come and go, so avoid getting too attached to the flavor of the month. Pick a timeless name that'll remain relevant and stylish for years to come. This way, you won't have to concern yourself with rebranding your business if a trend suddenly fades away.

5. Tells a story
A great name has the power to tell a story that connects with your target audience. Think about the message, emotion, or concept you want to convey, and let that guide your decision. When your name tells a story, it becomes more than just a label — it becomes part of your brand's identity.
6. Availability
Before you settle on a name, make sure it's available. Check for existing copyrights, trademarks, and domain names to avoid legal headaches and confusion with other businesses. You might also consider reserving social media accounts with your business name just in case. Doing this due diligence at the onset can save you time, money, and heartache down the line.
7. Test it out
Once you have some potential company name ideas, it's time to put them to the test. Share them with focus groups, family, and friends, and gather their feedback. Use their insights to refine your selection and pick a name that resonates with your target audience.
Choosing the right name for your business takes some serious thought and creativity. But by keeping these tips in mind, you'll be able to craft a name that reflects your brand, captures attention, and sets you up for long-term success.
Types of business names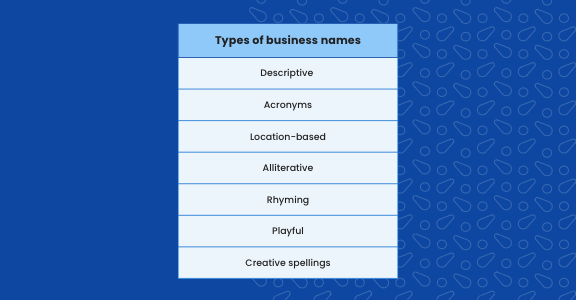 Choosing the best name for your business can be like searching for a needle in a haystack. The good news is that there are many different approaches you can take when selecting a name, and each type has unique benefits.
Descriptive
Who says you can't be literal? Descriptive business name ideas lay it all out on the table by telling potential customers exactly what you do. Take General Motors, for example — there's no mystery about what they manufacture.
Acronyms
Transforming the words of your business name into an acronym is a popular way to make your name easier to remember and pronounce. IBM stands for International Business Machines, but by switching this to an acronym, they created a brand name that is short and straight to the point. Other well-known examples include NASA and UPS.
Location-based
Nothing says "We're proud of our roots!" like a location-based name. Throw in a city or country, and you'll have customers feeling a connection to your business, especially in your local market. Southwest Airlines is a prime example. Can you guess where they fly the most?
Alliterative
Alliteration, when used correctly, can be like music to our ears. With alliterative business name ideas, you'll have customers singing your praises. Just look at Dunkin' Donuts, Best Buy, and Coca-Cola. The alliteration rhythm makes them very catchy.
Rhyming
It's hard to resist a good rhyme. That's why rhyming names can be just the ticket when you're hunting for unique business name ideas. Rhyming names have a way of sticking in your head, making it memorable. Take the grocery store chain Piggly Wiggly, with a name like that it's very difficult to forget.
Playful
Put a smile on your customers' faces with a playful business name. Google, the search engine giant, nails it with a name inspired by 'googol' — a term for a massive number. Another example is Hulu, a streaming service that references traditional Chinese stories. Playful names can go a long way in making your business stand out from competitors.
Creative spellings
Sometimes, bending the rules is exactly what you need. Get inventive with spellings and puns to make your business name ideas truly memorable. Check out Lyft, the ridesharing company with a name that's a twist on the word 'lift.'
There are endless possibilities for business name ideas. Whichever route you choose, just make sure it captures the heart and soul of your brand.
Registering your business name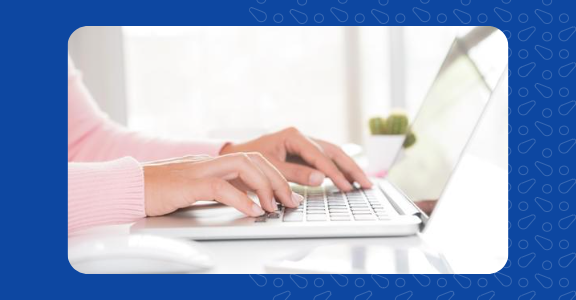 Once you've come up with a name for your business, the next step is to register your business. Every state will have different requirements, but you typically need to register your business name with the Secretary of State. This prevents other businesses from using the same or similar names and helps protect you from trademark infringement.
Below we'll walk you through the process.
The benefits of registering your business name
You might be thinking, "Hey, what's the big deal about registering my business name?" Well, it's more important than you think:
Legal armor: Registering your name gives you exclusive rights and keeps others from hijacking it. This will prevent people from profiting off of your creativity and hard work.
Credibility and trust: A registered name adds credibility and professionalism to your brand. This can help attract more clients, potential partners, and maybe even some fans.
Easy access to credit: With a registered name, it's easier to get approved for business loans, credit cards, and other forms of financing.
Registering your business name: The nitty-gritty
The registration process depends on your business structure and location. Here's a quick rundown:
Check name availability: Start by searching your local government's business registry website to make sure your chosen name isn't taken. In the U.S., you can search the United States Patent and Trademark Office (USPTO) database.
Trademark your business name: Speak of trademark, consider applying for one. This will keep others from using your business name and cashing in on it. File an application with the USPTO and pay the fee to secure your brand.
Pick your business structure: Figure out if you're going to be a sole proprietorship, partnership, corporation, or limited liability company (LLC). Each has its pros and cons, so chat with a legal or financial professional if you need help determining which one's for you.
Get your permits and licenses: Depending on your industry and location, you might need specific permits, licenses, or zoning approvals. Check with your local government for the lowdown.
Register for taxes: You'll need to register for taxes with your state and the federal government, so it's a good idea to brush up on different types of taxes (like sales tax, income tax, and employer taxes).​
Business name ideas by industry
To help inspire some ideas, here are some catchy business names, broken down by industry.
Retail name ideas
A great way to come up with catchy business name ideas is to create a business name list. Brainstorm a list of keywords that represent your retail brand and use them to come up with unique ideas as we've done here:
Hit the Shelf
Shop til You Drop
Stocked Up
Found on Shelves
Boutique Haven
Outfitters Paradise
Hall of Finds
Fetch it Now!
Favorites Galore
Wares Wonderland
Wardrobe Hub
All Things Attire
Guise Getaway
Shop Smartly
Sheer Choice
Finance name ideas
A great finance business name should evoke a sense of trust, reliability, and expertise. Incorporating your own name or initials can also create a personal connection with clients. Here's a quick list that may give you some ideas.
Money Spot
Cash Matters
Cash Flow Station
Financially Fit
Bank of Abundance
Wealthy Ways
Investors Alley
Millionaire's Corner
The Exchange Place
Safety in Savings
Fiscal Fortress
Save It Now!
Cash Wave Riders
Financial Formula
Cash Flow Express
Healthcare and dental name ideas
A great name for a healthcare business should reflect your values and mission while also conveying trust and expertise. Here are several ideas to get you started.
Smiles First
Dental Haven
Health Treasures
Your Wellness Spot
Feel Good Center
Healthy Finds
Body Boosters
Total Care Solutions
Medical Magic
Treatment Tiers
HealthCure Clinic
Rejuvenation Station
Rehab Hut
Get Fit Now!
Cure-All Centre
Home services name ideas
Your home services name should appeal to your target audience. Think about what you're bringing to the table — cleaning, repairs, or landscaping. Your name should shout your specialty loud and proud.
Home Handy Solutions
Home Care Services
Personal Comfort Solutions
Home Angels
Peekaboo Homecare
Friend of the Family
Housekeeping Heavens
Your Home Primed and Ready
All-Star Home Services
Dedicated Domesticity Services
Dealing with the Dirty Work Professional Cleaners
Domestic Delights Cleaning Service
The Graceful Maids
Happy Treatment Cleaning Services
House Doctor Caretaking Services
Real estate name ideas
Whether you're all about residential, commercial, or luxury properties, your name should wear your specialty like a badge of honor. You might also want to think about adding your location to your real estate so potential buyers get a sense of your expertise in the area.
Home Hunters
Real Estate Riches
Property Paradise
House Haven
Realtors' Row
Dream Dwellings
Landlord's Lounge
Golden Keys
Mortgage Masters
Domicile District
Houses Galore
Abode Advantages
Homeownership Hub
Buyers Boundary
Prime Properties
Restaurant name ideas
You've got the passion, the skills, and the menu to make taste buds sing. Let the type of cuisine you offer, whether it's Italian, Mexican, or fusion fare, guide your name. Consider incorporating elements of your restaurant's ambiance, like "cozy" or "chic," to give potential patrons a taste of what to expect.
The Grub House
Dine Inn Delights
The Dinner Stop
Cheerful Cuisine
Epic Eats
Yummy Yumsters
Grand Gourmet
Table Treats
Flavourful Fling
Restaurant Roundup
Bite Brigade
Grill Gang
Chomping Champions
Savory Slogans
Far East Feasts
Media company name ideas
Whether you specialize in entertainment, news, or advertising — your name should be a beacon that guides your audience to your niche. Consider using buzzwords that reflect your company's core values or mission when coming up with your media company name ideas.
Brilliant Broadcasters
Creative Collaborators
Digital Disruptors
Dynamic Designers
Exciting Editors
Innovative Ideas Lab
Message Masters
Nimble Networkers
Pioneering Producers
Savvy Socialites
Visual Visionaries
Winning Writers
Magnetic Media
Cutting-Edge Television
Multi-Platform Media Moguls
Security company name ideas
For the security industry, you want to convey a sense of safety to your audience. Whether you specialize in residential, commercial, or cybersecurity, be sure your name reflects protection as well as your expertise. Check out the following for some sample security company name ideas.
Defense Defenders
Barrier Breachers
Safety Sentinels
Lockdown Logistics
Reliable Rogues
Secure Solutions
Vigilant Vanguards
Encrypted Enforcers
Ironclad Intelligentsia
Robust Rescuers
Risk-Reducing Regulators
Astute Analysts
Shield Surgeons
Trusted Troopers
Cyber Security Commanders
Marketing company name ideas
Flex your creative muscles. Choose words that scream innovation, creativity, and results. After all, that's what marketing's all about, right? Think of marketing company name ideas that are bold and dare to be different.
Clever Communications
Outstanding Outreach
Promotional Pros
Brand Builders
Marketing Mavericks
Epic Engagements
Creative Creations
Buzz Buzzers
Reach-out Reapers
Influencer Invaders
Amazing Advertisers
Winning Wordsmiths
Social Superstars
Viral Visionaries
Conversion Commandos
Consulting company name ideas
Show off your smarts. When considering your consulting company name ideas, choose words that convey knowledge, experience, and strategic thinking. Also, think about putting the focus of your niche within your name.
The Consultatory
Mindful Mediators
Insightful Innovations
Problem-Solving Partners
Out-of-the-Box Thinkers
Resourceful Resolvers
Resolute Results
Cerebral Consultants
Engaging Executives
Analytical Advisors
Strategic Solutions
Accomplished Associates
Savvy Strategists
Comprehensive Consultancy
Wise Warriors
5 helpful business name generators
You've got the vision, the passion, and the drive to create an amazing brand, but there's one thing missing – the perfect name. That's where a business name generator could help.
They're online platforms that help you craft potential names for your brand based on your input, such as keywords, industry, and other preferences. And they're great for coming up with creative business name ideas, even if just for inspiration.
Let's explore five helpful business name generators.
A business name ideas generator can help you kickstart your brand's identity and find a name that captures your company's essence.
FAQs about business name ideas
How do I come up with a catchy business name?
To come up with catchy small business name ideas, first, hone in on your business's primary vision and goals. Next, mix and match keywords, play with alliteration, or incorporate your location. Just make sure it's memorable and stands out from the competition.
How do I choose a business name idea?
To choose a business name idea, start by making sure it mirrors your brand's personality, values, and ideal customers. Make it easy to say and primed for online success. And remember to check trademarks, domains, and social media handles for availability.
What are cool business names?
Cool business names are those that are memorable, one-of-a-kind, and in sync with your target customers. Use wordplay, alliteration, or rhyming, and you've got an innovative name that will attract excitement.
How do I name my small business?
To name your small business, be clear on your brand's unique traits, values, and offerings. Brainstorm keywords and experiment with combinations, ensuring the name is memorable and easy to pronounce. Lastly, remember to check your local government's business registry website before finalizing your choice.
What is a good LLC name?
A good LLC name incorporates your business's purpose, values, and target audience. Keep it memorable, easy to say, and unique from the competition. Also, remember to double-check your state's LLC naming rules and its availability for registration.
Final thoughts about business name ideas
If you're launching your own business, coming up with the perfect name is crucial. Smart business name ideas will help you attract customers, create a brand identity, and help you stand out from the competition.
Whatever your business type, following the tips and tricks we shared throughout this guide will help you create an impactful business name that will connect with your target audience.

Originally published