In 2023, AI has made significant developments, particularly in branding. It has helped marketers enhance and streamline the brand-building process by enabling personalization, automating content creation, and providing valuable customer insights. All of these elements collectively contribute to solid online reputation management.
This blog provides a comprehensive overview of a panel discussion that delves into how AI takes the busy work out of brand building and how Birdeye Social, with its amazing AI capabilities, makes managing the social media of multi-location businesses easy.
The panel discussion, hosted by Lauren Schwab, featured Anil Panguluri, Senior VP of Product Management, and Jody Mayers, Social Media Manager of Birdeye.
Key takeaways from the 'Birdeye Social: How AI takes the busy work out of brand building' session
Social media is essential for businesses to grow, but managing multiple accounts for multi-location businesses is challenging.
AI plays an integral role in simplifying and enhancing brand-building responsibilities.
Birdeye Social, with new AI capabilities, offers a unified platform to streamline businesses to manage their social presence effectively.
Manage all social accounts, create visually appealing content, schedule in bulk across locations, and share reviews.
Generate high-quality posts quickly, suggest images, improve spelling/grammar, add hashtags, provide post ideas for different industries/holidays, and refine posts.
Unified posting calendars, comment tracking, performance reporting, and audience growth analytics.
AI can significantly make brand building more effective for multi-location businesses.
Watch this interesting conversation here to learn more about how you can leverage AI for brand building.
Leveraging AI for brand building: Session transcript
Lauren Schwab (Birdeye): Well, hello and welcome to Birdeye Social session on 'How AI takes the busy work out of brand building.' We're super excited to have you guys joining us today and hope you've enjoyed BirdeyeView.
So today, we'll look closer at why Birdeye created Birdeye Social and how the features offer solutions for any size business. And then, we'll end the session with a quick demo. So you can see just how to use these features and some best practices.
But it's not just me that you'll be hearing from today.
I am joined by two very special guests, so I am pleased to introduce Anil Panguluri, who's Birdeye Senior VP of Product Management.
Anil oversees the product vision, strategy, roadmap, and execution for Birdeye products.
And then we also have Jody Mayers, who is Birdeye's social media marketing manager. Jody is responsible for designing and managing our social media strategy and daily user of Birdeye Social.
Can you start us off with why Birdeye created Social?
Anil: Sure, Lauren, so social media is an essential channel for businesses to grow their brand awareness, generate leads, and engage with customers. But managing social accounts is no easy feat, especially for businesses with lean teams.
Some teams don't have the means to hire a social media manager at all, while others might have just one person who manages multiple social media accounts for multiple locations.
So, no matter what the size of your business, managing these multiple accounts across Facebook, Instagram, Twitter, LinkedIn, YouTube, Google, and so on isn't possible with legacy social media software.
You need one place to keep all posts organized and keep up with the engagement.
But just the basics of managing your accounts. We are going a step further with our product. We also look at what is required to create inspiring and visually appealing content in just a few minutes that really showcases your brand and engages the local audiences; they want relevant content, and they'll keep scrolling if your content doesn't stand out or it doesn't pertain to their interests.
It isn't enough to post generic content that's just pushed out to all of your locations.

Anil Panguluri, Senior VP of Product Management, Birdeye
At the same time, it's very difficult to create new content. Always be creative day in and day out and stay ahead of the trends, and it's hard to figure out what your audience wants to see.
So we went a bit deeper with our Social product beyond the basics, and the result is that you have a product now with insights and ready-to-post content at your fingertips without having to juggle multiple accounts, multiple software, and the design resources.
Lauren: Yeah, that's so true. I think social media managers wear so many hats, and these are some real challenges that they face. I'm sure we actually have some social media managers in the audience nodding their heads right now.
I am ready to dive deeper into Social, so can you walk us through the current social features? Then, we'll unveil our exciting new capabilities.
Anil: Awesome, yeah; let's quickly run through the features like:
Unified platform – We put everything in one place for publishing, engaging users, and accessing reporting across brands and locations all in one place.
Visual editor – This editor is built to create beautiful, engaging posts just through our UI with all the tools like imaging, image editing, emojis, hashtags, links, and options to personalize the content for each location.
We even have a rich template library, and we ship with professional images and layouts, and you can use it to get a head start in creating good content.
Bulk posting capability – We designed the product specifically with multilocation businesses in mind, so you can use the feature to personalize and schedule these posts across multiple profiles, all in one shot.
Personalization tokens – Specifically, on the personalization front, you can add tags to the social posts. We'll fill in the relevant location-specific information before posting, so you just add the token, and we'll do the rest.
Review sharing – You get all these great reviews through our Birdeye Reviews product, so now we have made it super easy to create beautiful posts and amplify those reviews on your social channels.
So you get this five-star review, create a beautiful post, and send it to all the social channels. We can even automate it, or you can do it one at a time manually when you see something special.
Single social calendar for all the locations – We built it on a centralized social posting schedule for all accounts, so you just get that one view with all the options to filter by date, status, channel, location, region, you name it. You can dissect the calendar any way you would like.
Engaging on the go – When someone responds to the posts that you publish, you have one panel to track and respond to all the comments you're getting on your posts. The goal is for you to easily delight the customers through social engagement and making them feel heard.
Reporting – This is a critical element of the platform, and that is to measure the impact of everything. At the corporate level, at the local level, at a regional level, anywhere you are interested to see how your social is performing, your reporting is available.
The idea is to use the data to optimize your posting strategy, compare performance across locations across regions, take corrective action, and create your social schedule for the future.
Top performing content – To understand what's working with detailed performance metrics for impressions, reach, and results.
Audience growth reporting – We all are interested in enhancing our reach. The audience growth reporting measures the reach and audience engagement by channel so you can understand how everything is working.
Lauren: Yeah, well, thank you and Anil, and we know that Birdeye is continually innovating with our customers in mind. So, we're excited to announce the newest AI capabilities.
Anil: AI is so exciting, and we are embracing it for Social in a big way. Lauren, I wanted to harness the power of generative AI to help our customers create high-quality posts in just a few minutes, and this is an excellent use case.
It has made it effortless to refine and improve social posts that you may have already drafted, so it's about assisting you to get the job done quicker.
The second part is when you need some ideas to create a post, and to combat writer's block, we have user-prompted AI-generated content just to get you going.
The other part is to browse social content ideas by industries and social events and holidays. We built some of these common social events into the calendar so that you know whenever you log in, and you have something to start with.
All of this is aided or built on top of the BirdAI platform.
Now, you don't need any army of writers or designers to create engaging posts with all of these features. In the next few minutes, Jody will give you some prompting advice, but you can simply start with the prompt like, say, write a social media post about maintaining your lawn in summer or some other thing that comes to your mind and the generative AI will kick in and fill out the rest.
It will even include autogenerating hashtags to enhance your post. In just a few seconds, you have a post to get you going.
Now that you have a post, how about an image right? A post will not perform without an image, so I have you covered there. It will suggest images to add to your post from the library on our BirdAI platform.
There's another way to get you going – This library of social holidays I just mentioned each Labor Day. With one click, you can create a post for Labor Day or Thanksgiving.
Finally, the last couple of tools to take advantage of are the multiple tones and the length to modify the copy you've written or the copy AI generates for you.
Lauren: Awesome, well, we've covered all the capabilities. So, I will hand it over to Jody; you might use Social with your brand, and how easy it is to create these with our new AI capabilities.
Build a Strong Reputation by Leveraging AI for Brand Building
Want to see the impact of Birdeye on your business? Watch the Free Demo Now.
Jody: Great. I'm so excited to show everybody how these features work when you're trying to create that content. We all know the challenges involved, whether you're running one or 50 – it is not an easy job by any means, so we want to make that easier for you.
So right now, on the screen, you'll see that right here is our AI tool, so we'll go ahead and click on this.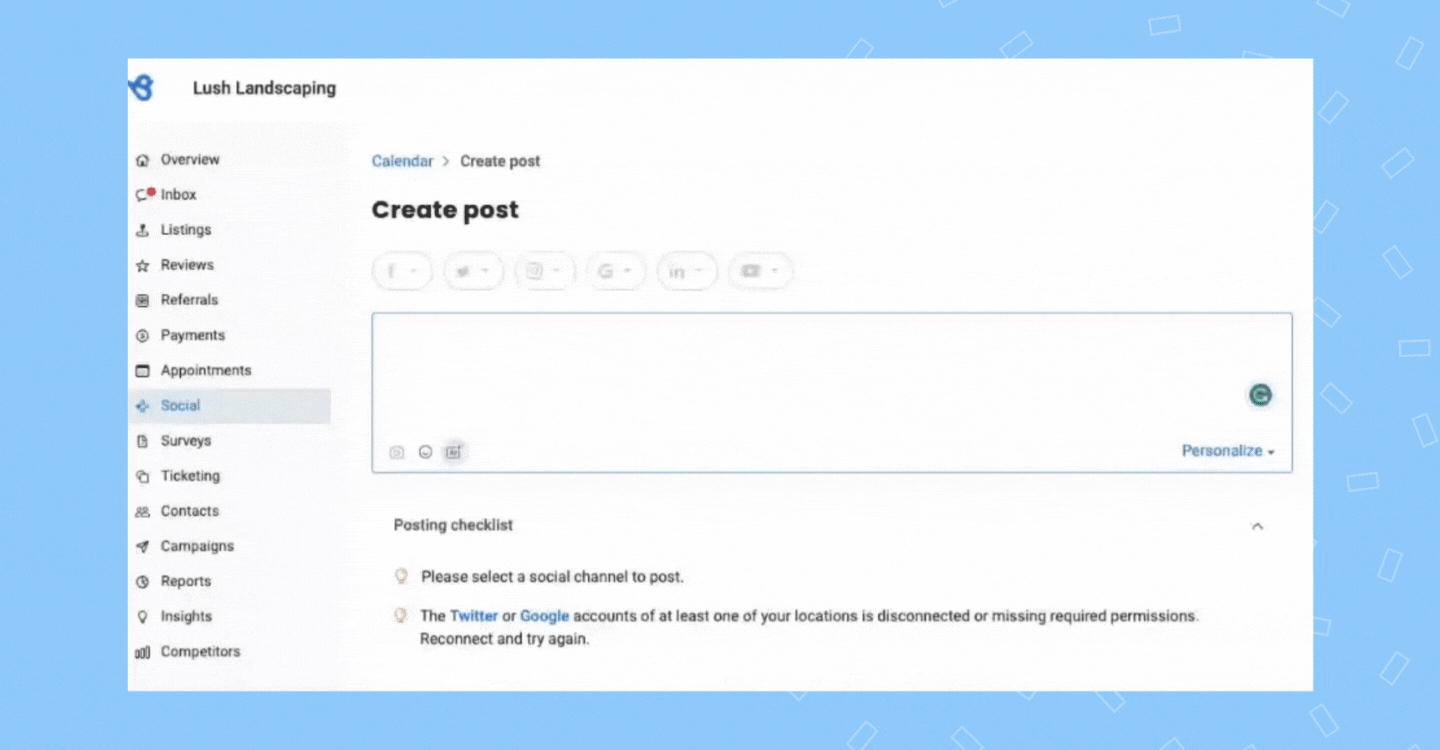 And then we're going to come over here for posts, and like Anil was sharing us right down here specific to whatever company or industry you're in, there's some already.
You can pick and choose from some designs right here if you're really stuck and need some content from start to finish. But we're going to go ahead and create an idea that we've been thinking of.
So we're in a landscape company here. We will:
Create a post on fall lawn tips
If you want to include emojis or hashtags for every location
We will click this, and it will start generating a post for us.
And this is looking great, and it's a little long. But I will show you how to shorten that in a minute with some of the other tools we have.
So, if we were going with this, we would simply hit that insert button. But let's say that we already have a post idea in mind. In this case, it's for a landscaping company, and we are promoting an event. So, as you can see, this is just an idea we have. We put it in here, and it has a lot of errors, so we're going to go in here.
In this AI tool, we'll clean up the grammar. Think BirdAI as a copilot. It's there to help you clean up your post and perfect it.
I don't know about you guys, but if you have a lot of posts going out, especially if you run multi-locations and you have content going out the door all the time, nine times out of ten, if you have a spelling error or make a mistake.
That is when people will call you out on it and bring it to your attention, and you don't want that.
So, we'll fix our spelling and grammar in this AI tool.
As you can see, it is cleaning up and ready to go as is; it's perfect, spelling-wise and grammatically.
But let's say we want to add some hashtags to these hashtags, which are great for discoverability. It's great for organizing your content and tracking performance. So, we will go ahead and add some hashtags to our post.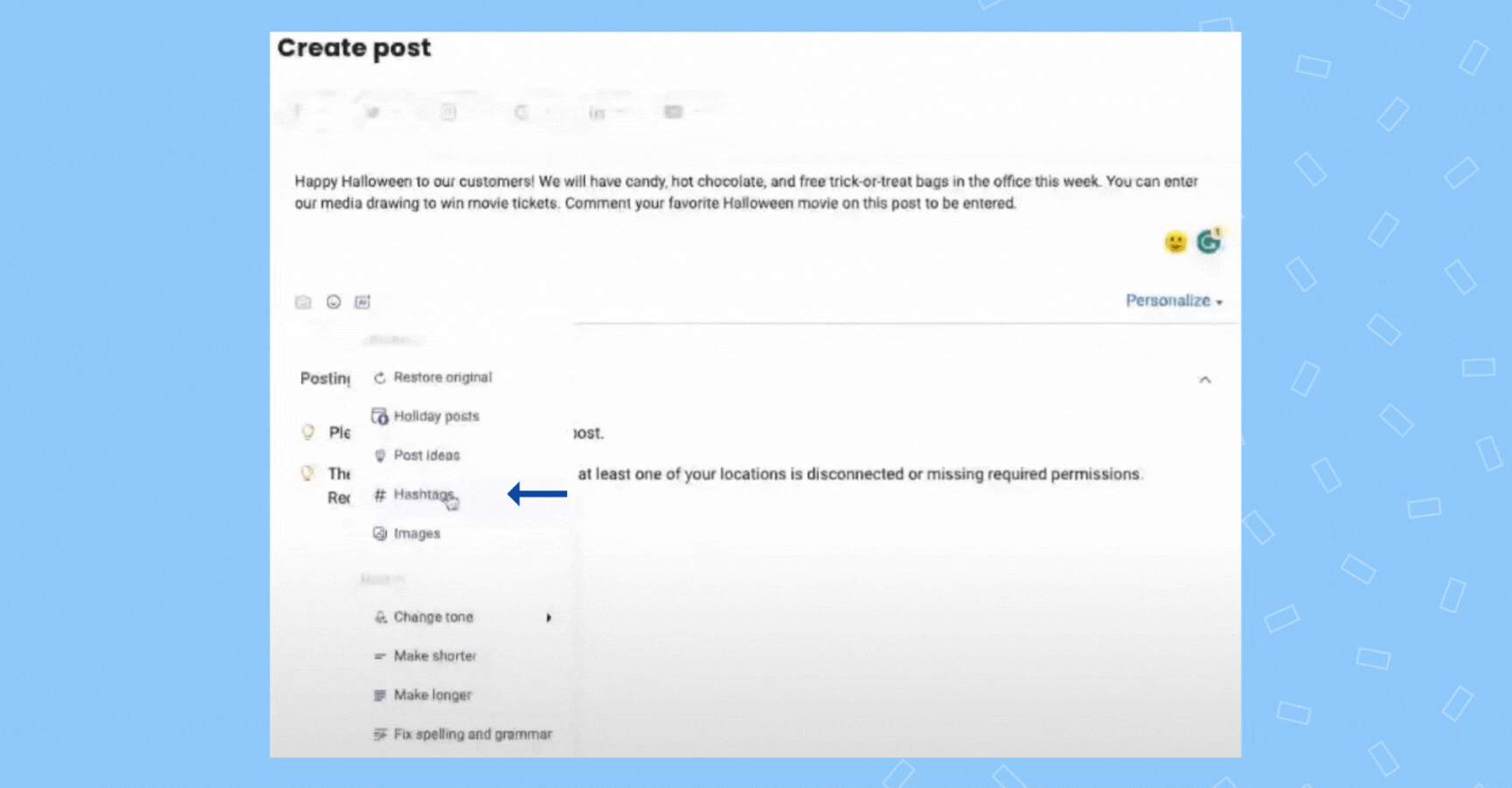 As Anil was saying, images speak volumes, right? If you have a post that's just text-heavy, people likely will just go right past it, so we're going to go ahead and add an image to our post to make it dynamic.
And so this is a Halloween event; we'll type in the keyword "Halloween" and see what our AI tool comes up with.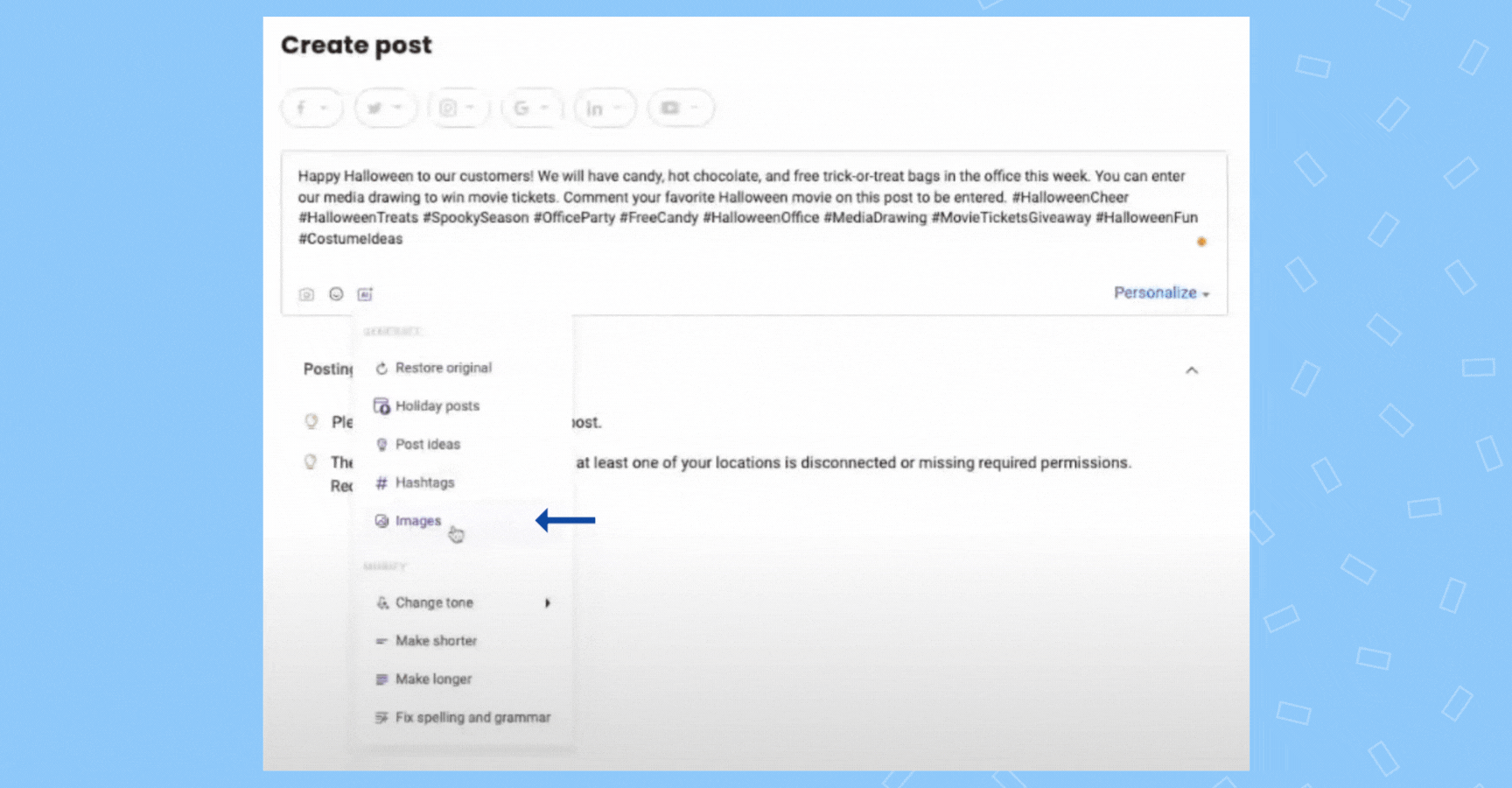 Okay, now that we have the chosen image, we will go ahead and insert that into our post.
Okay, now that we have our image, we are talking about multi-location businesses, right? So, let's say that one business has a fun, friendly, and casual tone.
But our next location uses a more formal and professional tone.
We will go into the BirdAI tool again, and you can see that we have options to make our posts friendly, witty, descriptive, informative, or formal. We will change it to friendly and see what the output is.
So, as you can see, it only takes seconds, and it's outputting this amazing post for us.
So, we have everything ready to go. We have our image, and now we can personalize the location name here and then choose Facebook for our post.
We're going to schedule this out. Let's say the event is on Wednesday. October 25., We're going to go ahead and schedule that out, and for this landscaping company, we find that we get the best audience around one o'clock PM. So we're going to go ahead and schedule that post out.
Calendar view
Now, it's going to take us right to our calendar view. So, as you can see, our post is right there, scheduled.
I wanted to give you a brief overview of some of our other amazing features.
Draft section
Right here, we have a draft section, so if you're running on multiple locations and you have several people involved with the approval process, this is a great way to organize all of your content and ensure that other people have access to it.
They can go into the draft
See what you have scheduled out as far as content
Go ahead and improve those for you
Failed post section
We have a failed post section, so this is where all your content lives that did not go out for some reason.
Engage
Engage is a great tool. You can look back, and you can see:
What your followers are saying about your content
They're liking it or commenting
Mentioning another business in your post
Taking a photo they happen to be in
Analyze
And then, of course, if you're a social media manager, engaging and analyzing are probably the two most important things you're doing throughout the day, but analyzing is where you can come in and look at those really important impressions, your reach, how many likes and shares your content got. And then this is just a great way to go.
In this tab, analyze what posts are performing the highest so you can duplicate that same thing the next month and form a strategy around your content.
What's performing well, what's not, and what do you need to tweak and make it right for the next month?
As far as the demo, that is all I have for today, but I just want to show you some amazing AI capabilities that Birdeye has developed. As you can see, you can generate amazing content within seconds, and it's a game changer.
Leveraging AI for brand building helps businesses create more personalized customer experiences that add brand recognition. Additionally, implementing dynamic pricing strategies with AI can optimize profitability.
Lauren: Well, thank you again. You know, I love seeing how the new tools work. It's also nice to see them in a real scenario that our social media managers might be doing every week. I could have used these tools; some past jobs would have saved me a lot of time.
Thank you, Jody and Anil. Before we hop off, is there anything you'd like to add before we finish things?
Anil: Sure, thanks, Lauren. I enjoyed talking about Social.
We built this platform specifically for local brands and local businesses. I would say think BirdAI and Birdeye Social like a wingman. It's that perfect tool that can help you create the best content to get your brand out there and exactly how you need to get it out there consistently.

– Anil Panguluri, Senior VP of Product Management, Birdeye
Lauren: We covered a lot of really great features. If you guys are interested in learning more about this product, make sure that you join our office hours or just reach out to us directly. That I have for you guys today.
The session is also recorded and will be available at the end of the conference. But it's been a pleasure, and we thank you all for joining us. Have a great rest of the day.
Watch Birdeye View to leverage AI for brand building
Birdeye's user conference – Birdeye View 2023, aims to help businesses understand customers and leverage AI tools for brand building and improving customer experience.
For more valuable conversations surrounding local businesses and technologies that can help them grow, tune into Birdeye View now.

Originally published