Today, reviews have become more than just words on a screen. They are a powerful tool for businesses to gain credibility, build trust, and promote their products and services.
Online reviews are a goldmine of insights. Positive reviews create a sense of social proof, making it more likely for others to buy, while negative reviews repel.
A good review creates a sense of urgency, driving customers to purchase so they don't feel they might miss the opportunity.
This blog post offers an in-depth overview of a panel discussion that delves into the significance of reviews and how they influence both C-suite decisions and customer choices.
The panel discussion, hosted by Lauren Schwab, featured Nicole Woody, Owner and Founder of Orange Fish Consulting, and Zach Chambers, Channel Sales Director at Birdeye.
Key takeaways from the 'Selling the value of reviews' session
For eight years, Nicole Woody from Orange Fish Consulting has been a Birdeye customer and partner.
She started using it for online reputation management in multifamily housing.
Reviews are critical, so integrating consistent reviews with systems like property management software with the Birdeye platform makes the process easy.
AI-generated review responses help Orange Fish's clients by saving time responding to reviews.
Translating review responses into different languages is valuable as international clients will increase.
When selling to C-suites and executives, the focus is on educating them on the value of reviews and how Birdeye can get consistent reviews at scale while saving time and money on paid media.
Advice for resellers is to listen first to client needs, explain the benefits of an integrated review solution, and position it as foundational for long-term online reputation versus a short-term paid advertising fix.
Watch this interesting conversation here to learn more about how you can sell the value of reviews.
Selling the value of reviews: Session transcript
Lauren Schwab (Birdeye): Hello and welcome to the 'Selling the value of reviews' session. I will be your Birdeye guide during this session. So today, you'll be hearing from Nicole Woody, owner of Orange Fish Consulting in long-term Birdeye Partner, and Zach Chambers, Birdeye's Channel Sales Director. Welcome guys.
Nicole Woody: Hey, thanks, guys. I'm excited to be here and talk about Birdeye.
Zach: Yeah, thanks, Lauren and Nicole. I'm super excited to have this session with you. I can't wait to start.
Lauren: Awesome, well, thank you, folks. I'm going to hand it over to you and Nicole for a while.
Zach: As Lauren mentioned, Nicole has been working with Birdeye in one capacity or another over the past eight years. You know what we're going to focus on today is reviews. We'll talk about some of the new AI features we're rolling out and some that you might have already been using, as most of you know that are here at Birdeye View.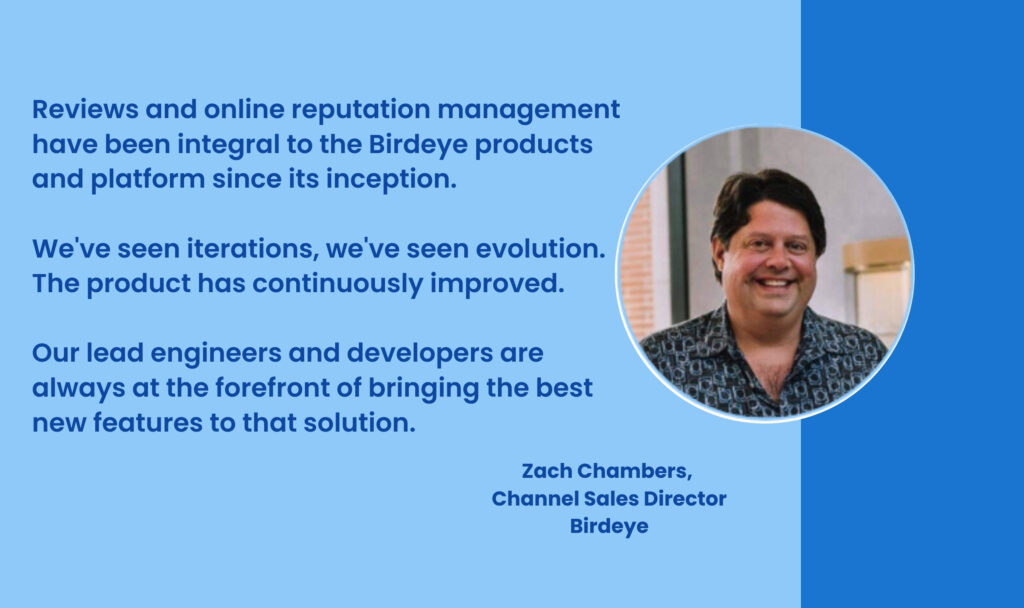 And now we're about to exponentially change the face of reviews as some of us have already rolled out one AI solution inside that product called 'Generative Review Response.' That's now a button that you can see on the platform already.
That allows you to click it and then watch AI generative create a response to the review that was left about the business. We're about to roll out several other new features, and we will talk about those a little bit in this session today.
Those will allow partners and clients to look at the whole body of reviews and pull out intelligent things about their business, health practice, or law practice.
We're going to be able to help people respond and translate things in different languages and then also be able to respond to make it a shorter response with a light mood or a happy mood and a medium length response or things of that nature.
So we'll get a little bit deeper into all of that. But I just wanted to give you a little sneak peek at the outset of this session.
Now that we've laid the groundwork for that and what we will discuss, we want to focus on Nicole and how she's interacted with Birdeye over the years.
Nicole, give us a background. I know of tease that you worked with Birdeye for eight years. Tell us how Birdeye helps you solve client problems and what led you to partner with Birdeye.
Nicole: Yeah, thanks, Zach, so I'm excited. I've been a Birdeye partner since 2019, but I've been a customer for four years before that. So I started with the platform in 2015, which is just crazy to think that it's been that long ago, but really as a solution in the multi-family space.
Everyone knows that reviews are important and that you've got to respond to their reviews, and I started at the site level at an apartment community. It was like,
'Go get responses, get reviews, and make sure that you're responding to those reviews, and I was like,
'I don't have time for that.
I can barely remember my email password.
What are you talking about?
I have to do all this for my company, Orange Fish Consulting.'
We've been consulting in the multi-family space, primarily with on and off posts.
Our off-post-military, on-campus student, off-campus student multi-family is a little bit of a mix of all of it.
It's really how you create the solution to make it easy for the end user who needs the reviews; they know they need the reviews as business owners. You know you want your teams to get those reviews, but how do you manage it all and make it right?
So that was where we came in, and we say, don't worry, we have a solution for you, and it's easy. And Birdeye is our preferred partner in that.
I love it as a customer. So that's what we offer as a baseline for all of our customers, and it's just getting easier and easier.
It started as a solution for online reputation management. Here's the solution that works. Here's an integration that works with the CMS that everyone's using now. And like you said, AI is changing the game and doing it quickly.
So it's not like Birdeye waited until everybody else was using AI. They're at the forefront of it. I've rolled it out to my customers; it's making their lives easier, and I'm pumped about where Birdeye is taking it and not increasing the cost. So thank you so much for that. That's making everyone's life easier.

Nicole Woody, Owner and Founder, Orange Fish Consulting
Zach: Well, that's great, Nicole. Thank you for being part of the platform for eight years. It allows you to see how things have transformed and evolved. So thank you for so long for noticing and being a client and a partner.
In terms of your clients, the fact that you were a client before you started reselling it has how that plays out, and has that helped you when you're selling the product?
Nicole: So I was Director of Marketing for a portfolio of eight properties, and we were using paper click and an ORM solution. I didn't love it. You couldn't respond on the platform. We were spending a lot of money, and I didn't feel we had great results.
So, as a case study, we switched to Birdeye as a fully integrated solution and cut all of our paper clicks within six months. That was six and a half years ago, and I can tell you we haven't returned. We haven't needed to go back. It's a much better solution. We perform better. So that's been something that I've replicated over and over and over again.
I would say 99 percent of our cases have been able to take people completely off of their paper clicks within six months and keep them on the platform by educating them and ensuring they understand how to play the game the right way.
Google makes the rules, and Birdeye makes it easy to play within those rules.
So, just setting up that system has become more than just reviews. We are using Birdeye as the complete local SEO and integration solution.
It's just been a huge component; we use it with our customers nationwide.
It's not just one market that it works in when relying on success with that all over. So I think that starting as a customer, everything was like, 'Wow, this thing does work.
Let's take it everywhere.'

Nicole Woody, Owner and Founder, Orange Fish Consulting
Zach: Thanks for bringing that up, Nicole; it was my next question. Obviously, Reviews were critical, and the flagship product, Listings, is a must for all brick-and-clicks businesses.
You must have all of your information to keep your digital house to ensure that when somebody searches for you, they get the correct information.
You initially started selling Reviews and Listing to your multi-location clients. Tell me how that relationship with reviews and local search has changed.
Nicole: Yeah, so, anything that's new construction, even some home service, doesn't matter how small or big you are–You've got to make sure that the internet is saying the same thing about you everywhere, so it used to be great.
We decided that our ORM was going to be Birdeye. Then we used Listing, and it was like, 'We've got to clean things up. Okay, now we have to go over here and do this, and honestly, Bideye continues to listen as they've everything in one place.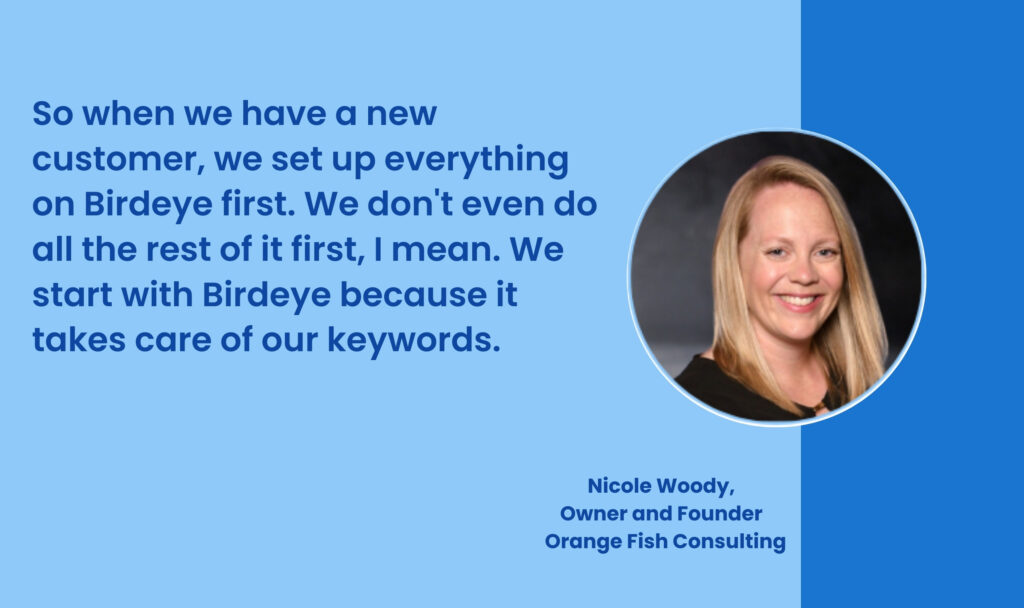 It takes care of our listings, and we can control everything from Google Business Profile to Facebook.
One thing that I do think has changed, especially for the last four years, is when we first started with this, it was like, great, let's set up Birdeye, let's go over and get nerdy in Google, and let's figure out what's going on what can we track, and how much traffic.
Reporting has come a long way with Birdeye, and AI is making that even easier. Now we can go in and see what's happening in any kind of market, you know, we make it a gut feeling of, oh my gosh, our customers have slowed down what's going on. We can jump into Birdeye quickly and:
✔ See here all the keywords
✔ Here's what's going on on Google
✔ Here's what's going on
I love that because it continues to build value in Birdeye. As you know, your operations people, marketing people, CEOs, and the C-Suite don't have to go anywhere else; all those answers are there. They're on the platform, and it's pulling everything together, which I love.

Nicole Woody, Owner and Founder, Orange Fish Consulting
The reviews summaries that AI is now going to be able to take, and it's going to take all those reviews and things that are coming in that people are saying and boil it down to you. I can't tell you how much time that saved from a reporting perspective, and I think anybody has to do it that has an owner, or if you are an owner you want to know quickly, give me the bullet points.
I don't have time to spend all this time in here digging through it. I think AI is making this so easy for us, and I couldn't be more excited that the platform is continuing to evolve and something that makes sense that makes it easy.
Selling the Value of Reviews: The Path to Brand Excellence
Want to see the impact of Birdeye on your business? Watch the Free Demo Now.
Zach: Yeah, that's a great point, and you kind of led me right into my next topic, which is to talk a little bit more about some of these new features. Nicole mentioned that already her clients are using the generative response, and we made that feature available, I think, in March as soon as ChatGPT came out.
Our product leadership was all over it, and we've been working in AI and natural language processors in the platform, and we've taken all this stuff seriously.
All these are done to help businesses leverage AI for brand building.
So, once it did become available to the masses, many tech platforms could incorporate them into their systems. Birdeye was, if not the first, one of the very first in the markets with that solution, and now here we go; we're about to roll out three more tools inside the Reviews module, which Nicole already hinted about, and I'm going to get a little bit deeper on it. Then I'm going to tell you about a couple of others.
Recommended read: Why implement AI for reputation management?

Generative response
The first one is a generative response available for a few months. Everyone's loved it, and it's being used very often.
Generative review summary
The next one that Nicole mentioned was a generative review summary. It will help the C-suite, and the heads of departments that want to know.
How is this region doing
How is this location doing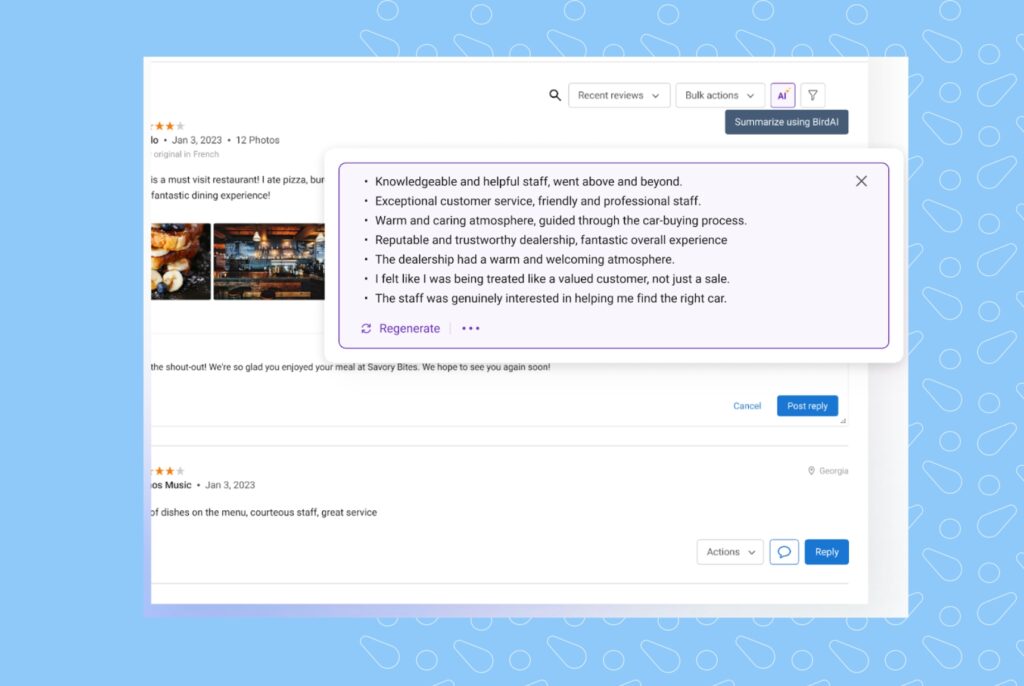 Instead of reading 77 reviews they got in the past quarter, we'll be able to say:
Highlight key topics in those 77 reviews
Understand customer sentiments over the past quarter
Look at that from a lot of different periods
Send out those insights to the person who's responsible for the reporting
Quickly share those reports in the departments for everyone's accountability
Response rephrasing
Response rephrasing is another one that we're excited about rolling out.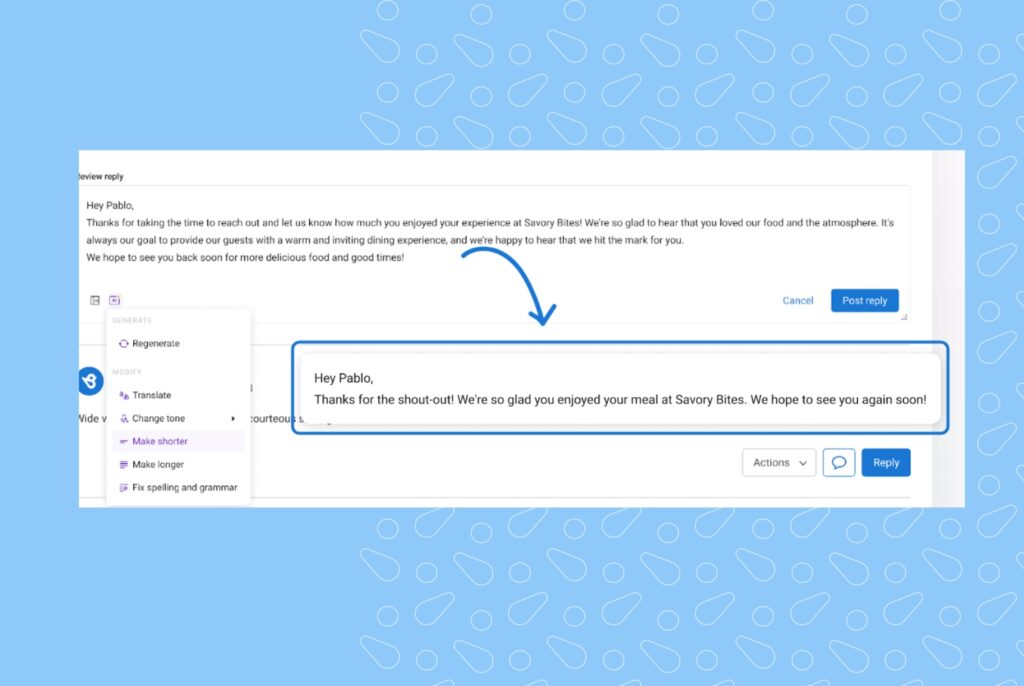 So we've got the generative response: what if you don't like that? What if that response is a bit wordy, or maybe the tone is robotic?
With this, we're available to select, shorten, lengthen, or change the tone to be friendly, happy, serious, or whatever the case may be. So, there will be a cool way to control that voice on the review responses and ensure it comes out exactly like the business would like it to.
Multilingual
You will be able to translate to and from any language, and you'll be able to respond to reviews in the native language that the review came in; it's accelerating the global-ness of platforms.
If you have a review in Portuguese, you can now push a button, and a response will come back in Portuguese.
So it's almost amazing to think of all these capabilities of AI to improve customer experience.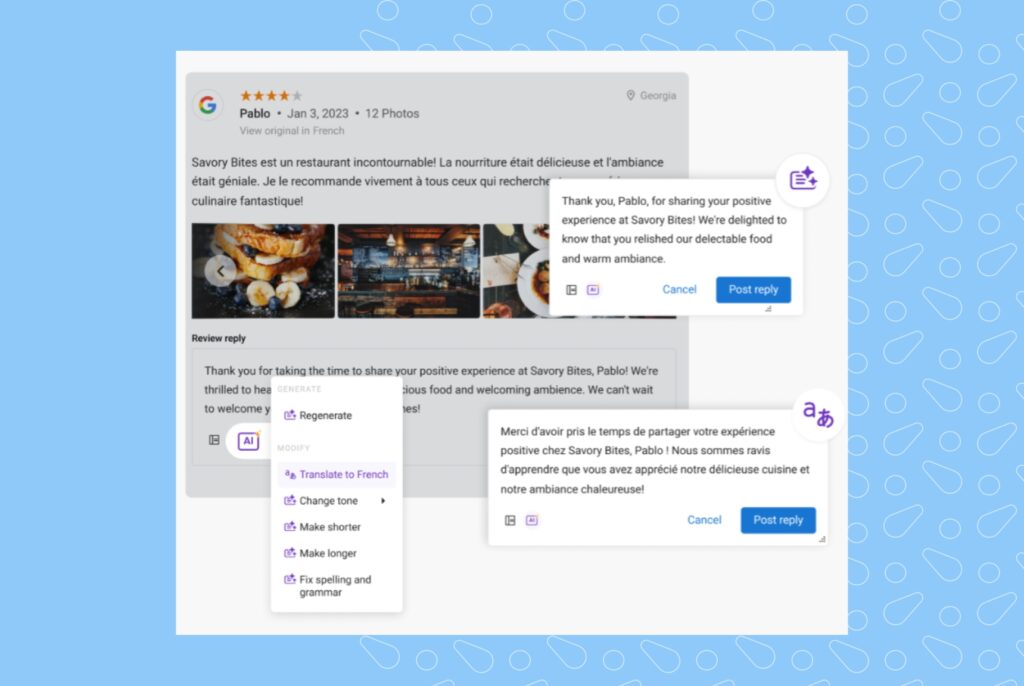 Over to you, Nicole. I know you're using the generative response, but which one excites you the most out of the other three?
Nicole: I think that we forget sometimes about having the different languages and things like that, and it's just going to become more and more common. I can't think of a market right now where we don't have some people who are bilingual or speak another language.
I think people started leaning into technology at the same time that we started seeing a halt in the international population coming in, especially in our student housing areas, around our universities, and our military bases. But now we're kind of getting back to it, and I think that in a time when technology is so prevalent, it's not acceptable anymore to say, 'Sorry, we speak only English.'
So, I'm excited about allowing our customers to do that in a way that makes sense. No more pasting on Google Translate, then you're like, 'What in the world did that person just say?
So I think that one will be great for many of our customers who have ignored that and left it to the wayside.
Zach: Excellent, Nicole, you sell to the C-suites all the time; I'm sure almost every deal that you know Orange Fish closes, you're dealing with someone, a chief marketing officer, a chief executive officer, someone who plays one of those roles. How do you work through their objections when you bring Birdeye to the table, and what themes or concerns do you hear from them that you must overcome?
Nicole: I think that is probably the number one thing. I mean, it's going to be money; it starts with money and comes back to the topic of this conversation about selling the value, and you are creating value in the sales. So, I think for us, one of the while on why reviews are still important.
Pricing is intricately tied to selling the value of reviews. As positive feedback justifies your product or service's cost and empowers you to set premium prices, it must reflect the trust and quality your business offers.

Everybody knows you must have reviews, but I think that ensuring people understand that Birdeye creates the solution for 'I need reviews, but I need reviews consistently.'
I just saw an ad about this on Instagram this morning where a company is selling, 'You can get 29 Google reviews in one day, just swipe, swipe, swipe.' But they are not playing the game correctly, and you'll have to spend so much more money.
People and the internet have to be saying the same thing about you.
You have to ensure, 'Are your customers talking about you, and are they talking about you consistently?
So that's where integrations come in. You have to answer, 'Are we integrating with your customer experience management platform in a way that is a high touch frequency?
For us in the multi-family sector, it's after someone's moved in. They're most likely to have an opinion about their experience after completing a service request. That's a good time to touch base with them, so it creates more consistency with the reviews coming in.
The next thing that I think people have always fallen off with is the response,
'Are we responding to reviews promptly?'
The solution from Birdeye in the past has been, oh my gosh! We've got these great review response templates we can circle through. You can digest and respond meaningfully, and to your point, Zach, being able to put sentiment behind it is something that we've never seen before.
And it's great when dealing with C-suites as you no longer do you have to worry about:
Is it grammatically correct?
Did I have the correct sentiment?
Did I respond?
You know, all that's being taken care of in a compelling way. And I think that's the value piece. And that's how we get it across the bar. And all of a sudden, you know. Oh my gosh, I don't know if I need it. That's taken care of like, you're gonna save so much money by going with the platform. That's doing things the right way and playing by the rules of Google, Bing, and the internet.
It makes everything easy when you're trying to sell reviews as of value and get it across to those people who matter and are saying yes on the dotted line right.
Zach: Exactly. It's more like, 'Hey, I'll save you money on your paid media. So when you talk to that CFO, and you say with a little investment with Birdeye, we've got your house in order. We'll get reviews consistently coming in. In month six, I can save you 1,500 dollars a month off of your paid media budget.'
I'm sure they like to hear that as well.
Nicole: Yeah, and you know it's not just the reviews; the reviews are like the core, right, where we start. But I mean, honestly, you know, listings and website chatbot.
With so many use cases of AI for small businesses, it will be big as you can adapt based on the business plan.
You don't have to only say, 'Here's this little piece of business; now let's take you somewhere else for another solution.' It's all wrapped up into one, and you can customize that based on the business needs. I love that, yeah.
Zach: That's a great point. We're hearing that a lot in the market. Nicole, agencies, and businesses are a little tired of logging into 20 different platforms or software providers. And when a firm like Birdeye can come in and bring many of those into one place, it sure does help.
Now, the final question I have here for you, Nicole, is what advice would you have for other resellers who want to partner with Birdeye, those who want to sell reviews, Listings, Chabot, Inbox, social – All of those things,
What's the secret sauce?
Nicole: I think it's just like any other sales first. You know what they are looking to achieve and then open up their eyes with questions like:
Have you thought about how much time it will save your teams?
Do you understand the difference between playing the game correctly and paying to play?
My biggest tip for resellers is to understand that you can get rid of many of these extra paid services if you start cleaning up your digital house. So, Zach, I think Birdeye is just the perfect partner.
Understanding that reviews can be simple and consistent.
You can integrate completely within your everyday tasks.
You don't have to do the heavy lift of you, what about this and that –
A million things are on our plates daily, but this becomes easy with the appropriate integration and setup. It can be working behind the scenes for you in your business and growing in a meaningful way that doesn't just stop. It's not like something like Adwords or PPC where you have to keep it going, or it's just gone. This is the most important thing to take away and to share when you're trying to set up with your clients and build your partnerships so that people understand that this is foundational groundwork, forever and ever and ever.

Nicole Woody, Owner and Founder, Orange Fish Consulting
This is you putting out there what needs to go out there so that it helps your clients and customers build their businesses.
Lauren: Yeah, that's fantastic. Well, thank you so much, Nicole and Zach. I'm gonna actually wrap it up here because we're at time.
If you have any questions or want to learn more about the product we mentioned today, join us for office hours. It's a great way to get to know this product and see them in action.
Watch Birdeye View to know how selling the value of reviews helps your business grow
Birdeye's user conference – Birdeye View 2023, aims to help businesses understand how selling the value of reviews helps.
For more valuable conversations surrounding local businesses and technologies, watch the Birdeye View session on-demand now.

Originally published