If you're a mortgage broker or a loan officer, generating mortgage leads is your top priority. A steady stream of purchase-intent leads is vital for your businesses and you're always seeking to fill your leads pipeline for the next quarter.
But the process of generating these leads can be challenging, especially in the competitive real estate and mortgage industry. Thankfully, there are a number of resources you can tap into to generate mortgage leads.
This article covers the most effective ways to generate leads for your mortgage business to keep it afloat.
Top 8 ways to generate mortgage leads
While buying mortgage leads can help your business, there are better strategies for reaching modern home buyers. Buying mortgage leads is expensive and comes without any guarantee that it consists of high-intent customers from your target market.
Instead, you can explore other organic channels to find potential customers. Let's explore the top ways to generate leads for your mortgage business that gives you qualified, high-intent, and fast-converting prospects.
Harness the power of social media
57% of your potential home buyers are known to use social media to find real estate related information. It is important for mortgage businesses to find and connect with customers on their preferred social networks.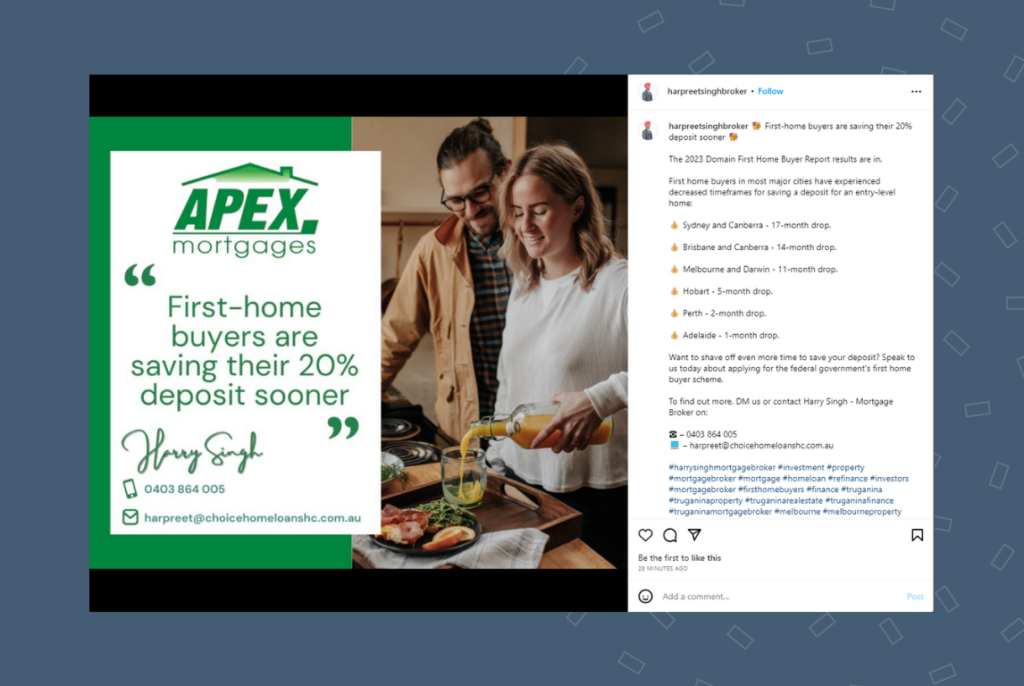 Businesses must develop a solid presence across social media channels such as Instagram, LinkedIn, and Twitter. You can create educational content, promote your business offerings, and post exciting offers to generate leads.
Social media ads can also be an excellent source of generating high-quality leads. You can set up alerts on various channels to notify you when someone in your locality is looking for mortgage services. If you're new to social media, consider using a social media management tool like Birdeye to help you post across your various social media profiles, monitor comments, and activate social listening from a single dashboard.

Online reviews
Online reviews have a significant impact on your search results ranking, boosting your website traffic and lead generation efforts. When prospective customers see that others have had a good experience, they are much more likely to connect with you.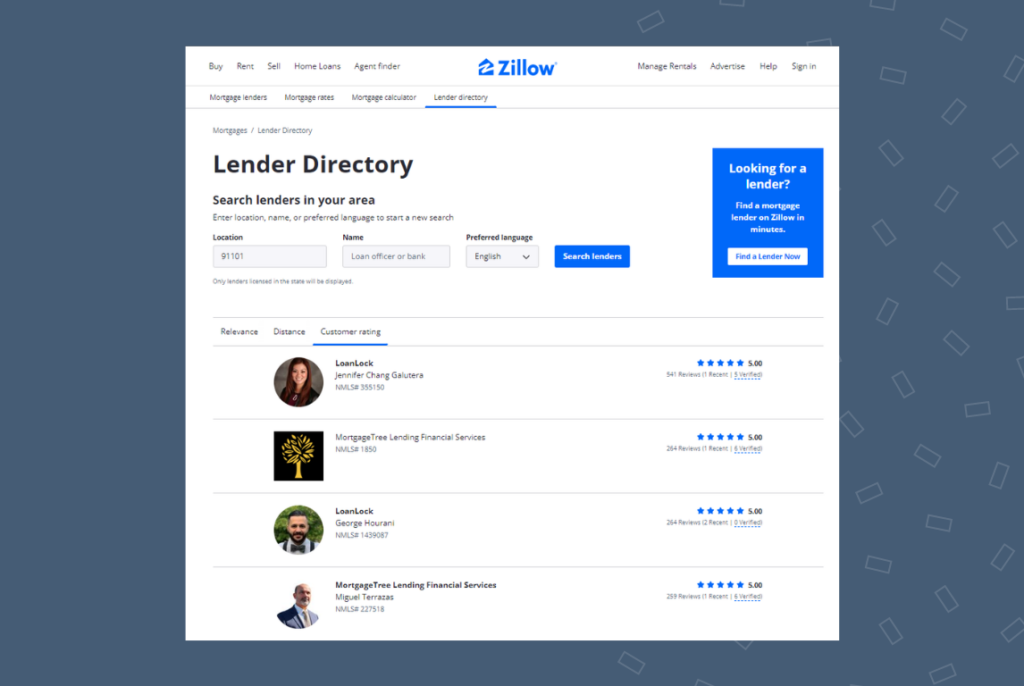 Build a presence on online review sites for your industry, as customers often visit these before making a decision.
Reach out to your mortgage clients via email, text, or social media to leave reviews about your mortgage lending service on popular online review platforms such as Google. You can also incentivize your clients by offering them a gift card or discount.
To simplify this process, you can use tools like Birdeye to automate review processes such as sending requests, responding to customer reviews, and review monitoring. It is important to respond to all reviews across platforms -both positive and negative.
Related read: Review response SEO: The direct impact of responding to reviews
Master local SEO
House hunting has become easier than before thanks to technology. In fact, 97% of homebuyers use the internet for their home search, highlighting the need for optimizing your website for local SEO. is crucial for mortgage lead generation.
Local SEO helps improve your visibility in local search results, making it easier for prospective clients to find you. So if someone searches "Louisville mortgage broker," this indicates to Google that they're searching for a mortgage broker in a specific location. This means that if you can optimize your website for local searches, you're likely to acquire traffic and leads overall.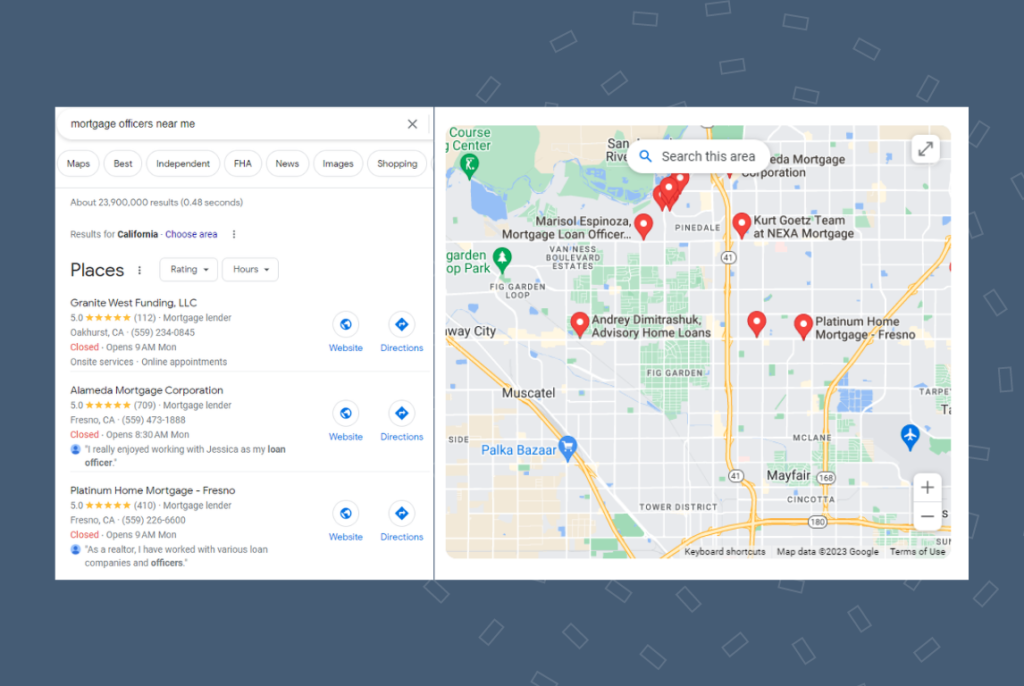 Here are quick tips to help you improve local SEO and outshine your competitors:
Consistently display your Name, Address, and Phone Number (NAP) on your website so potential clients can find you online.
Enhance on-page content with details such as the services you provide to clients in your region. Include street names, landmarks and other relevant local information to improve customer experience.
Optimize your service pages with local-based keywords to increase your visibility and attract more leads. Choose locally-relevant keywords to target and optimize title tag, headings, body copy, and meta description accordingly.
Get listed in local directories to increase your chances of being discovered by potential clients. Also, claim and optimize your Google Business Profile to drive more local traffic to your business.
Leverage content marketing
If you're a mortgage broker looking to generate leads, it may be interesting to know that 44% of consumers typically consume three to five pieces of content before engaging with your business offerings.
Content marketing focuses on creating unique content your potential clients find valuable. This can help position your company as a thought leader in mortgage finance, allowing you to build trustworthy relationships with prospects.
You should also incorporate SEO to drive prospective clients to your website. Here are a few tips to help you optimize your website for SEO:
Conduct keywords search: Understand which keywords to target and optimize your website and content to rank for those terms.
Create high quality content: Publish relevant and informative content that addresses the needs and interests of your target audience.
Build high quality backlinks: Reach out to other websites in your industry and promote your high quality content to gain backlinks.
Optimize images and videos: Use descriptive file names and alt tags to optimize images and videos. Also, compressing images help reduce page load speed.
Build strategic partnerships
One of the biggest challenges that mortgage officers face is building trust when they meet new clients. Using referral as a source of leads can help overcome that hurdle.
Mortgage loan officers can develop relationships with:
Real estate agents
Local builders
Life insurance agents
CPAs
Attorneys
Local banks or credit units without an in-house mortgage officer
These professionals have regular access to customers that may require your service and have a pre-existing relationship that you can leverage to close deals faster.
Activate Google Business Messages on your Google Business Profile
Research suggests that 38% of consumers are more likely to buy from a company that offers live chat support. Moreover, the same report shows that 41% of clients prefer to use chat for support, compared to phone, email, or social media.
Google Business Messages is a free live chat service that lets potential clients contact you directly via your Google Business Profile (formerly Google My Business) and Google Maps.
When you activate your Google Business Messages, customers can call the business, visit the website, get directions, or message the business. The message button allows potential clients to chat with you directly and ask questions. Birdeye offers a business messaging feature that allows you to chat with clients across text, social and webchat to increase conversion.

Add web chat to your website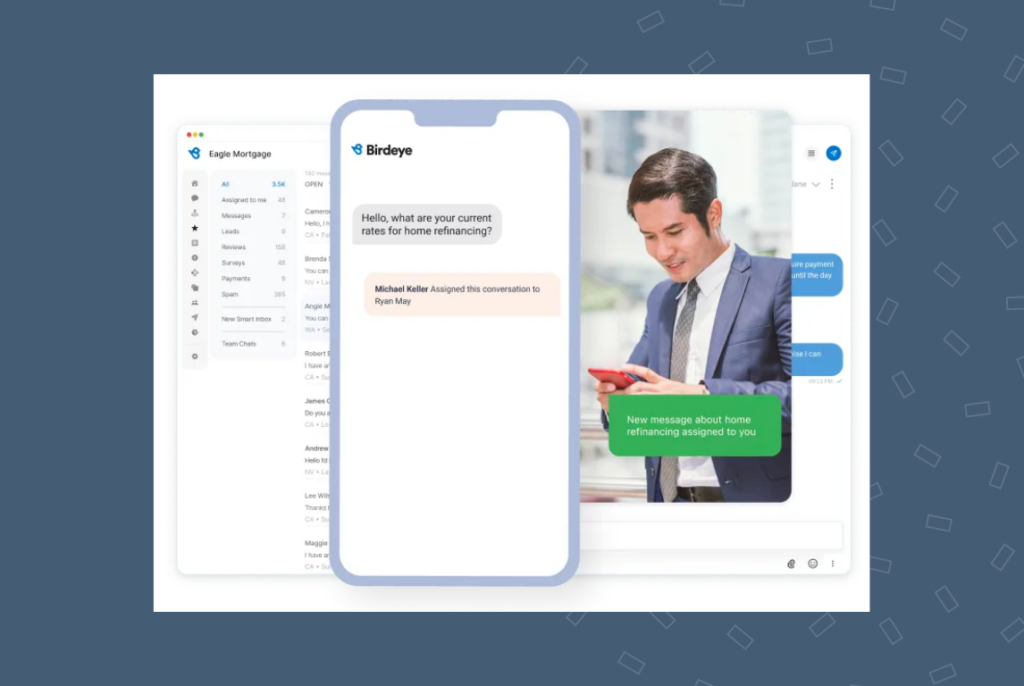 Integrating web chat (or live chat) into your website can help you quickly and efficiently respond to potential clients seeking to learn more about your mortgage lending business. Not only does that immediacy simplify the journey for prospective clients, but it can also help convince them to make a decision. You can even create welcome messages to help start the dialogue with leads.
Host webinars and workshops
Webinars and workshops provide great opportunities for collecting free mortgage leads because you attract a community interested in your business. You can use a webinar as a lead magnet by offering your target audience free educational content on a topic of interest, such as mortgage qualification, fees, types of mortgages, etc.
You can connect with them later to see if they are impressed with the business and would be interested in using your services.
Tracking and measuring your mortgage lead generation efforts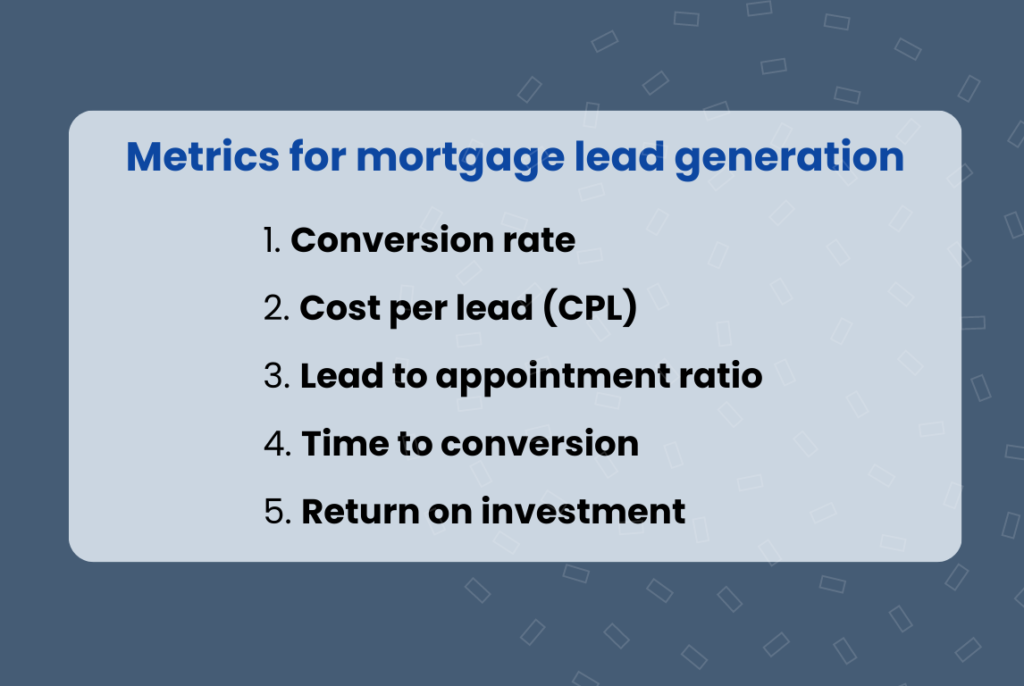 It is important to keep a close eye on your lead generation efforts for the mortgage business. Since you may have to leverage more than one marketing channel, work with tools with robust analytics, reporting, and tracking features.
Some of the metrics that every mortgage business must track to know the effectiveness of their lead generation efforts are listed below.
Conversion rate
A conversion rate is the percentage of website visitors who came to your site and completed the conversion action you defined. This could be visitors who provide their email address,phone number, fill a form, or book a call so you can contact them directly.
For example, 1000 Total Clicks on your call-to-action (CTA) may translate into 50 loan applications. That gives you a conversion rate of 0.05%.
Cost per lead (CPL)
For anyone running a marketing campaign on Google or social media, cost per lead (CPL) is an important metric.
CPL is what it costs to get one mortgage lead. So, if you invest $2,000 on an ad and you secure 20 new leads, your CPL is $100. Knowing your CPL can help determine whether your lead-generation tactic is effective and set the right budget.
Lead-to-appointment ratio
The lead-to-appointment (LTA) ratio is one of the most important metrics in mortgage lending.
LTA is the total leads received divided by the number of clients who actually schedule an appointment to close a loan. For instance, if you get 10 mortgage application appointments from 200 leads, your lead-to-appointment ratio is (10/200) x 100% = 5%.
Time to conversion
Time to conversion measures how efficiently your mortgage lead generation efforts help conversions. It is calculated by taking the total time spent by visitors on your website and then dividing it by the total number of leads received. The lower this number, the quicker it took to convert a visitor into a lead.
Return on investment (ROI)
Return on investment (ROI) denotes the value an investment provides. That is, the return you gain relative to the price of the initial investment.
In lead generation, ROI metrics include lead volume, lead quality, lead conversion rate, and closed business. A higher ROI for your mortgage lead generation means closing more loan applications over time by attracting higher-quality leads.
Frequently asked questions about mortgage leads
How do mortgage agents get leads?
Mortgage agents usually buy mortgage leads from real estate lead generation companies such as BoldLeads and Zillow Premier. If you don't want to buy leads, consider building a strong online presence to attract potential home buyers.
How much does it cost to get a lead for a mortgage?
Companies that sell mortgage leads charge a monthly fee of a few hundred dollars for their services. Additional costs include advertising and payments when you convert a lead.
How do I get more leads as a mortgage loan officer?
The best mortgage leads for loan officers come from creating valuable content. It serves as a lead magnet, attracting your best-fit clients. Examples of lead magnets include webinars, checklists, newsletters, and eBooks.
Where can mortgage brokers get leads?
Mortgage brokers can find leads from referrals, paid ads, social media, webinars, lead-buying companies, and Google Business page.
How can I be a successful mortgage broker?
Start by understanding interest rate fluctuations and lending trends, especially in your market. Hone your skills in other areas, too, like digital marketing, customer service, emerging technologies, etc.
Conclusion
Mortgage lenders tend to rely on purchased leads lists to close deals. While this tactic may work sometimes, these other lead-generating methods may be better for your lending business in the long run.
Consider building an online presence and improving your lead generation potential with these insights and proven strategies. Experiment with various lead generation methods and develop a strategy to double down on those that work best for you.

Originally published