As a business owner, you know how important it is to respond to customer reviews. But did you know that responding to reviews can also affect your SEO and boost your website's ranking? In this blog post, we explore how reviewing responses can improve your search engine optimization (SEO) efforts and positively impact your online visibility.
Before we get into the review responses and SEO, let's take a closer look at the impact of reviews on SEO. In this 8-minute audio guide, you'll learn why reviews are crucial for getting your business locations discovered in search results and how to refine the way that you manage them to boost your ranking. People trust customer feedback more than marketing messages; as a result, Google prioritized businesses with many good reviews higher up in their rankings.
Effortlessly Manage your Customer reviews from one inbox with Birdeye Review Management
Want to see the impact of Birdeye on your business? Watch the Free Demo Now.
Responding to reviews is necessary for every business. After all, many customers form their initial impressions of your business based on your review page. When a business takes the time to thank happy customers and apologize to unhappy customers and attempt to fix the problems they experienced, they show that they are dedicated to customer service, which is very important for its online reputation management.
The statistics show how important review responses are. Studies have shown that 53% of customers expect a business to reply to them on review sites.
But that's not all. Responding to reviews increases the number of customers that will recommend businesses to your friends and family. Research shows businesses experience a 16% boost in customer advocacy after dealing with negative reviews. By responding to reviews, you are helping to get new customers and boost your business.
Your review responses boost SEO
What helps you with customers also helps you with search engines. Google wants to give customers the best results for their queries. So the factors that it relies upon to provide reliable search results are often the same factors that customers use to determine if a business is trustworthy.
Review diversity, review recency, and review quantity are all signals that are taken into account by Google's search algorithm. You can make sure that your business is being discovered by paying attention to how your business is performing in regard to these factors.
But those aren't the only review factors that Google takes into account. Remember, reviews help you appear more trustworthy to customers. So it naturally follows that they also help you with search engines.
Google has confirmed that responding to reviews helps your business's search ranking. Google's support page for Google Business Profile explicitly tells businesses "interact with customers by responding to reviews that they leave about your business. Responding to reviews shows that you value your customers and the feedback that they leave about your business."
When you take the time to respond to reviews, your business will improve its Local SEO. That means you have a higher chance of showing up in the local pack results: the first three businesses that show up in Google search queries. That means more customers and, ultimately, more revenue.
Reviews can be difficult to tackle. Giving a personalized response to every review is something that can take up a lot of time. With all the work that goes into running a business, responding to reviews is something that employees can easily fall behind on.
Responding to reviews is even harder because you're dealing with a time limit. Research shows most customers expect customers to respond to reviews within 24 hours. Once that timeframe is over, it's often too late to change a negative reviewer's mind about your services.
Luckily, there are tools that business owners can use to help them stay on top of customer reviews. Using these tools, businesses can improve brand perception and attract new customers.
Tools to help your business stay on top of review responses
Responding to reviews on large platforms like Google and Facebook is difficult enough. But business owners have a lot of other websites to worry about. There are hundreds of different review sites on the Internet.
Staying on top of customer reviews is important to manage brand perception and help your business rank higher on Google and other search engines. Here are some tools to help you respond quickly and effectively to every customer review.
Automatic review notifications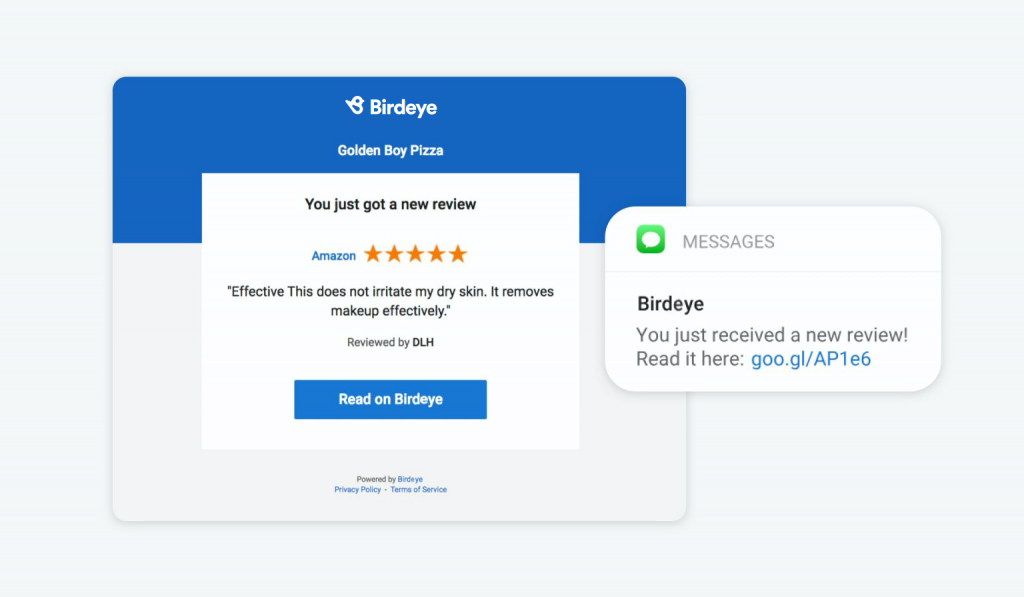 With so many reviews being posted about your business all around the Internet, it can be hard to keep track of all of them. Just paying attention to Google and Facebook is hard enough, but you also have to make sure you're responding to reviews from the hundreds of smaller review sites where customers may be posting about your business.
For negative reviews, it's crucial to give customers a response as quickly as possible. If you wait too long, it might be too late, and the customer might have a bad opinion of your business that cannot be changed. However, if you do get to the customer in time, you can turn their negative experience into a positive one. That means you need to know the second a bad review is posted.
Birdeye's online review management platform gives businesses automatic review notifications when reviews are posted. In your business's dashboard, you can monitor more than 150 sites. You can choose the sites that are most important to you, then have the ability to respond automatically. You can also choose specific situations to get notifications.
With automatic review notifications, you can make sure that you are responding to reviews within 24 hours. While it's easy to miss reviews, automatic notifications ensure that every single review you want to see is brought to your attention.
Review templates and automated responses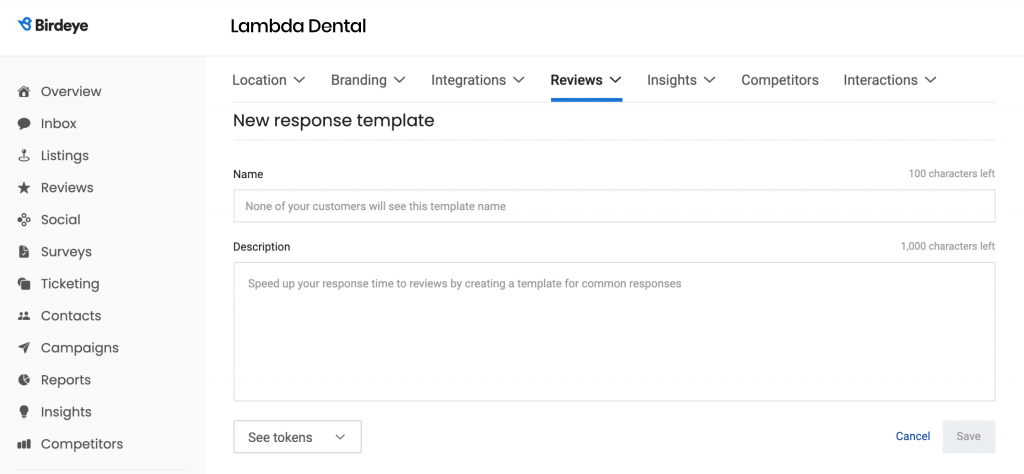 You and your employees are busy with all the work it takes to run a business. You don't have time to respond to every review. With response templates, you don't need to.
Birdeye has review response templates that you can use as soon as you are alerted of a review. We've built a variety of positive and negative response templates to lessen the work businesses need to do.
Some people worry that templates might quickly get repetitive. Birdeye gets around this problem by offering lots of different templates and the ability to create your own. You can also set rules so that the same template is not used for consecutive reviews.
You also have the option of automating the review response process entirely. You can set auto-response rules to stay focused on your business operations while promptly responding to every review. With automated responses, you can automatically respond to certain customer reviews with templates.
Of course, response templates and automated responses don't work great for every situation, as we'll discuss in more detail in the next section. We allow business owners to set auto-response criteria so that they can choose which reviews to respond to personally.
Review ticketing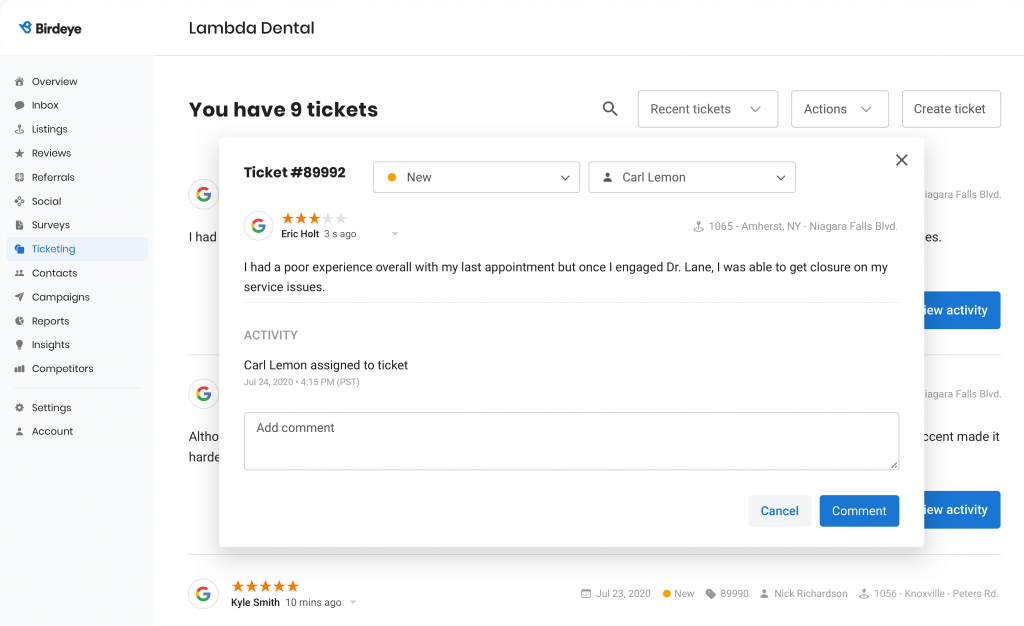 Response templates can help your business respond to some feedback. Unfortunately, they don't work all the time. Typically, we only recommend businesses use review responses when they receive 1-star and 5-star reviews.
Response templates work great when a customer is uncritically praising your business. In situations like these, you usually just need to give a polite "Thank You" message. When a customer leaves a 1-star review, you typically need to apologize and direct them to an offline forum to handle the complaint.
Unfortunately, automated responses don't work in more ambiguous situations. For example, think about 3-star reviews. A lot of the time, the reviews praise some aspects of your business's service and criticize others. A restaurant might receive a 3-star review that says, "Although the food was great, the wait was long, and the service was awful."
Reviews like these typically can't be solved with templates since they are partially a compliment and partially a complaint. A personalized review response must thank the customer for the compliment while also apologizing and promising to fix the problem the customer was upset about.
Because you're dealing with ambiguity when you have 2-star, 3-star, or 4-star reviews, automated review responses aren't going to cut it. Most of the time, personalized review responses are necessary for these situations.
Still, it's easy to fall behind on these responses when you and your employees are busy with your usual tasks. Even if you assign the responsibility of responding to reviews to an employee, it's hard to track how often and how quickly responses are coming. That's where review ticketing can help your business stay on top of customer feedback.
Birdeye also offers a ticketing management feature. With review tickets, you can assign the task of responding to reviews to specific employees. When the response has been finished, and the problem has been dealt with, employees will be able to close the ticket.
The dashboard also allows you to view the status of your tickets. You can see how many tickets are open and how long it has taken for employees to close tickets. You'll be able to track employee performance when it comes to sending personalized review responses.
There's no one tool that can magically solve the problem of responding to reviews. But by using several tools together, you can make the process easier for you and your employees. With automatic notifications, automatic responses, and review ticketing, businesses can effectively manage customer perception and increase search ranking.
Frequently asked questions about review response SEO
Why does responding to reviews help SEO? 
Responding to reviews can help your SEO by showing search engines that you are active. Engagement metrics are taken into account when search engines decide how to rank websites and pages, so actively responding with customer feedback can help make your website more visible and attractive.
What is a good response to a review?
When responding to reviews, be sure to thank the reviewer for taking the time to review your business and use personalized, friendly language. Highlight what is being done right to make customers happy, ask relevant questions to encourage further engagement, and invite customers to reach out if they need help.

For example, "Thank you for your review, [Name]. We are glad to hear that you enjoyed our services and are always looking for ways to improve. Please let us know if there is anything else we can do to make your experience better."
How do you respond to a 5-star review example?
An example of responding to a 5-star review is "Thank you for your 5-star review! We are so pleased to hear that you enjoyed our services, and we appreciate you taking the time to share your positive experience with us."
How do you respond to a 4-star review?
Customers leaving four-star reviews are generally satisfied, but there might be some minor issues that could be improved. Respond in a friendly and gracious manner to acknowledge their review and inquire about how to make the customer experience better.

For example, "Thank you for your 4-star review! We appreciate your feedback and are constantly striving to improve. Please do not hesitate to let us know if there is anything else we can do to improve your experience."
How do I write a response to a Google review?
To write a reply to a Google review, go to Google Maps or use Google Search and on the top right, select your Google Business Profile. Select Reviews. Next to the review you'd like to reply to, select Reply. Type your reply and submit.
Birdeye can help you be the best in the business
With Birdeye, you can use automation and ticketing to respond to every customer review that comes your way. But that's not all we do.
Birdeye's all-in-one platform allows businesses to handle all areas of customer feedback. With Birdeye, customers can get new reviews, send surveys to customers, track reviews from more than 200 websites, and receive actionable insights. Our product is designed to help businesses at every step of the journey, from reviews to revenue.
Watch a demo to find out why more than 100,000 businesses use Birdeye to drive growth and get new customers.
Originally published