If you own a business in the restaurant industry, you already know how important review sites are. Most customers will visit review sites to decide where they should dine next. That's why it's important to make sure your business is listed on as many review sites as possible.
In this blog post, we'll talk about restaurant review sites and explain why they can help restaurants bring in more customers. We'll also tell you about five restaurant review sites you need to know about and how to get your business listed.
How do restaurants benefit from reviews?
Reviews are a standard in the restaurant industry. In fact, restaurants were one of the first industries to be heavily influenced by online reviews.
For many diners, reading reviews before going to a new restaurant is the norm, not the exception. Having plenty of positive reviews can mean the difference between customers filling your tables or a nearly empty dining room.
Why you need your restaurant listed on review sites
If you're not convinced that you need to list your restaurant on restaurant review sites, check out these statistics.
Research shows reviews are critical to customers when choosing a business — especially restaurants.
Best practices for listing your restaurant
Now that you know why it's important to list your restaurant on restaurant review sites, let's go over some best practices.
The most important thing to remember when listing your business anywhere online is accuracy. Make sure your name, address, phone number, and other information related to your business are correct. There are a couple of reasons why accurate listings are important to your business.
First, your customers need accurate information to choose and visit your restaurant. When your address or phone number is inaccurate, potential customers might have trouble visiting your restaurant. They might even decide that finding the correct information isn't worth the trouble and visit one of your competitors instead.
Google also pays close attention to your listing information, and that can affect your ranking and online visibility. When you list your business on multiple review sites, the accuracy of your information shows Google that you are a reputable business. The more inaccuracies you have, the more Google lowers your relevancy to local search results. If you have accurate information, you'll be considered more relevant to Google and rank higher, giving you more opportunities to show up in local search results and reach more customers.
Managing your reviews
After listing your business on multiple review sites, you'll need to collect, monitor, and manage the reviews you receive. Actively interacting with your customers' reviews can help you build an impeccable online reputation. To do this, you'll need to know when you received a review, what site it came from, whether it was positive or negative and how to respond.
First, you need to collect your reviews. Manually visiting every review site and checking for new reviews isn't practical – and you'd probably have to dedicate an employee just to monitoring, managing, and responding to your reviews. . That's why using a reputation management platform like Birdeye can help. 
Online review management software like Birdeye lets you collect, monitor, and respond to your reviews from any review site from one centralized location. This makes the review process much easier and more streamlined, no matter the size of your business. With a reputation management platform like Birdeye, you can easily manage your reviews without taking time away from running your business.
5 restaurant review sites you should know
1. Grubhub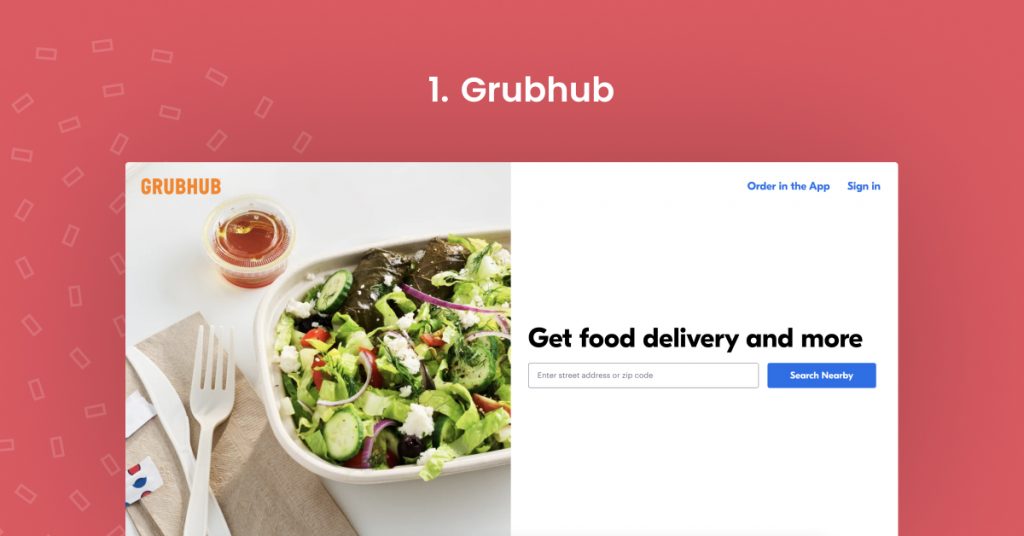 Grubhub is one of the best restaurant review sites in the industry. It's a food delivery service that connects local restaurants with customers looking to get food delivered. Grubhub covers more than 30,000 restaurants in 1,500 cities in the United States, making it one of the largest restaurant review sites out there. Customers can rate and review restaurants they order from using a five-star rating system and written reviews. You can try Grubhub for 30 days before customizing your rate to have your business listed on the site.
2. HappyCow
HappyCow is a restaurant review site focused entirely on vegan and vegetarian restaurants worldwide. Plant-based customers can use HappyCow to find the top-rated restaurants in their area. The website uses a five-star rating system and lets customers write reviews. Plus, Happycow gives important information like operating hours, average pricing, and whether restaurants have vegetarian or vegan options. Listing your business is free, and easy and can help get more customers through your doors if you specialize in vegetarian and vegan food. You can register your restaurant for free.
3. AllergyEats
Finding the right restaurant can be difficult for customers with specific food allergies. AllergyEats is a restaurant review site that helps customers find and review restaurants that accommodate their allergies and identifies the restaurants that don't. Customers can enter their specific allergies to help them narrow their choices to see nearby restaurants that will accommodate their needs. Then, they can look at star ratings and written reviews to pick the best restaurant for them. You can list your restaurant on AllergyEats by filling out a form. Their team will contact you when it is ready to be reviewed.
4. Active Diner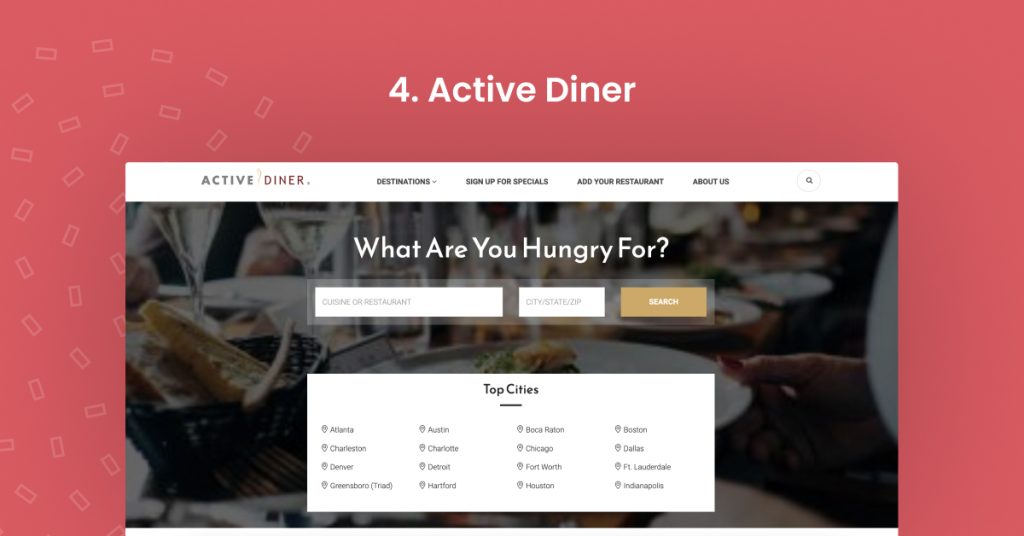 Active Diner is a review site catering to the biggest cities in the United States. Customers can enter what they're in the mood to eat and then read star ratings and written reviews. Active Diner also offers deals and coupons to help customers save money on their meals. You can list your restaurant with a basic listing or pay for an enhanced listing to reach more customers.
5. Beanhunter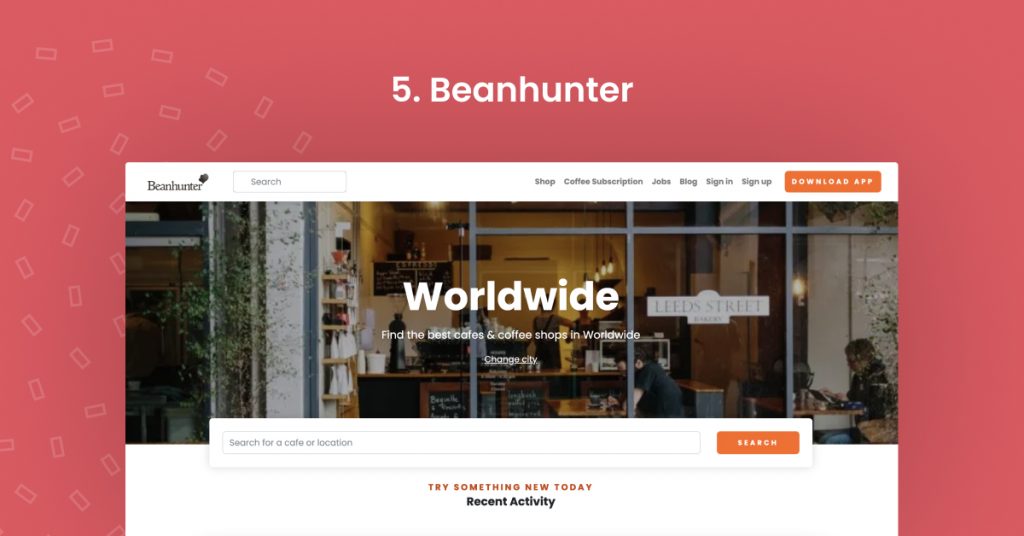 If you own a cafe, Beanhunter is the website for you. Beanhunter focuses exclusively on listing the best-rated cafe and coffee shops around the world. Customers can enter their location and read reviews and ratings of the coffee shops near them. They can also enter the exact shop they want to visit to see how they rank. You can even read reviews and articles from coffee critics to see where the top connoisseurs are visiting. If your cafe is listed, you can claim your profile quickly and easily. If you haven't already, you can create a new listing for free.
Frequently asked questions about restaurant review sites
Which company has the most recognized rating system for restaurants?
Michelin is one of the oldest and highest-regarded companies in the world for rating restaurants. They rate restaurants on a one to three-star scale, and just one Michelin star is very hard to achieve.
Manage all your listings with Birdeye
Getting your business listed on a few review sites is great for reaching more customers, but managing your listings isn't always easy. Birdeye Listings can help you monitor and manage your listings in one place, make sure your listings are accurate and get you listed on more review sites than ever. To learn more about Birdeye, click the banner below.

Originally published