SEO for small businesses in 2022 – According to research, 9 out of 10 Americans read online reviews of a business or product before they make a purchase decision. Search engines too care about these reviews. Online reviews actually account for 9.8% of Google's search ranking factors. Why are online reviews (especially Google reviews) so important for online reputation?
Before we get into SEO for small businesses, let's take a closer look at the impact of reviews on SEO. In this 8-minute audio guide, you'll learn why reviews are crucial for getting your business locations discovered in search results, and how to refine the way that you manage them to boost your ranking. People trust customer feedback more than marketing messages; as a result, Google prioritized businesses with many good reviews higher up in their rankings.
SEO for small business 2022 – Get those reviews rolling in
Here are some of the ways reviews can get you to page 1 of search results:
They're organic user-generated content (UGC)
Search engine algorithms love fresh and regularly updated content. While blogging is a great starting point, it should not be a standalone strategy. You can create hundreds of articles about your products and services, but customers often view these as biased and sales-oriented, making your messages less effective. Customer reviews, on the other hand, provide fresh, organic, highly relevant content for your business. They show search engines that your web page is active and give customers social proof that your business is the real deal.
They're full of relevant keywords
If you were to write search engine-optimized content for your business or product, you'd start by searching for the most relevant keywords for your business and then you'd incorporate them into your content to make it discoverable. When writing reviews, your customers are likely to describe your products and services with the very same keywords and phrases. This means you're getting free, relevant content that's already optimized for search engines — and you don't have to do any work! SEO for small business 2022 – We call this Customer-Driven Marketing, and you can see why.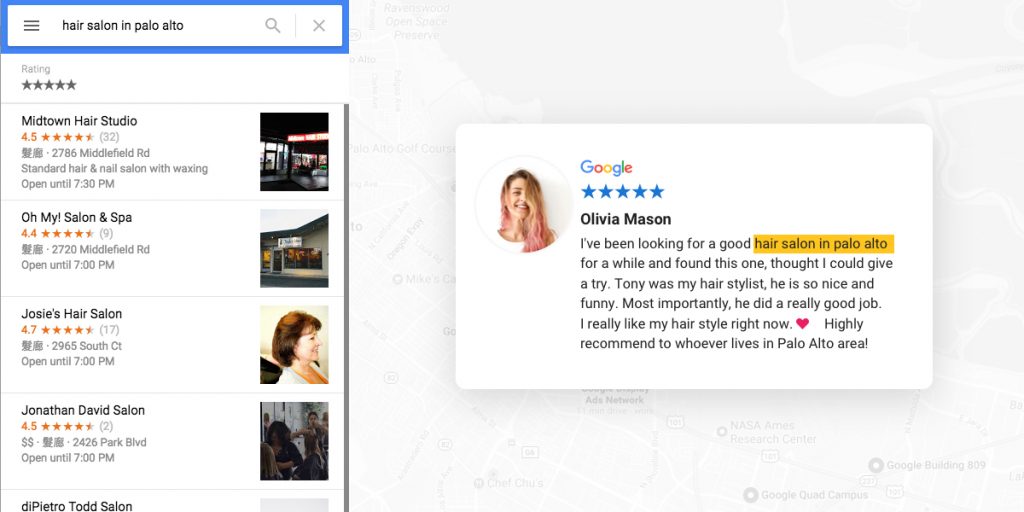 They spice up your Google My Business listing
Google My Business listings are extremely important for businesses that aim to drive more people to their offices through Google Maps. When a customer searches for businesses offering a service, Google My Business gets prominence on the search engine result page, and businesses that have an average 3.5-star rating and more will show up along with their contact details. This makes it easy for your customers to find you on the top pages of Google, and your business' ratings and reviews make you a compelling choice.
You can also check out our article on how to claim a business on Google.

They make your Google ads sparkle
Customers are bombarded with countless options when searching for a product or service — how can you get them to choose you over competitors? Google relies on third-party websites and its review platform to fetch relevant information about the quality of services that your business offers, the overall sentiment of your past customers, and how well you have interacted with them to decide your search rank. That's why if you have lots of great reviews, Google rewards you generously. If you're running Google Adwords campaigns, you can leverage Google Seller Ratings to make your ads stand out with star ratings from all your great reviews. Google Seller Ratings are visible in search results for sellers who have an average rating of at least 3.5 stars, as well as over 150 unique reviews added in the past 12 months.
High star ratings = high search ranking
Search engine algorithms rank businesses according to the quality of services they offer or the products they sell. One way these algorithms understand the quality of your services is by looking at your average star rating from customer reviews. The higher your customers rate you — and the more sites they rate you on — the closer you are to that top spot in search results.
Read also: Reviews & Ratings: 5 stars just won't cut it
Social media engagement
Positive customer testimonials are some of the most powerful advertisements. A great way to maximize the power of happy customer voices is by sharing the best reviews on your social media profiles. Not only will this grow your following and generate more leads; social media is an important SEO signal for search engines, and all mentions that your brand gets on social media from shared reviews can give your business a lot of traction.
SEO for small business 2022 – Customer reviews play a vital role in ranking your business high on Google. The more positive reviews that your business has, the higher you'll rank in search results. If getting your customers to write reviews for your business sounds like a daunting task, sign up for a free Birdeye trial account to see how easy it can be to get new reviews and promote them across the web to get new customers.

Originally published