The COVID-19 pandemic has caused businesses all over the world to shut down. While some states are starting to reopen, many businesses are unable to safely reopen at this time.. If you find yourself in this boat, we're not going to sugarcoat things; closing your physical location and offering online services is not an easy change to make. But, there are some businesses who've managed to navigate through this difficult transition.
We spoke to a few different business owners about how they adapted to become a great online business during this uncertain time. Based on what they told us, we put together this guide to help businesses make the transition from a brick and mortar to an online business.
Communicate changes with your existing customers
The first step is making sure that all of your customers are aware of what's changing with your business. Be sure to send out an announcement to customers that details what your business is going through. Most of the business owners we spoke to communicated the fact they were closing their locations with customers via email and social media.
Other business owners used text to communicate with their customers. Text does have one big advantage over email: a significantly higher open rate. However, it's important to remember that you can't use text the same way that you use email. Text messaging is meant for messages that are short and sweet.


Here's an example of a text message that you can send to customers.
Update your business listings with changes in operations
If a potential customer looks you up on Google, it's important to make sure that they're aware of the new services that you're providing. Consider updating your business's description on Google Business Profile and other listing sites with information about your business's changes in operations. 
For example, a business that has moved online in response to COVID-19 can put in a new business description that looks like this: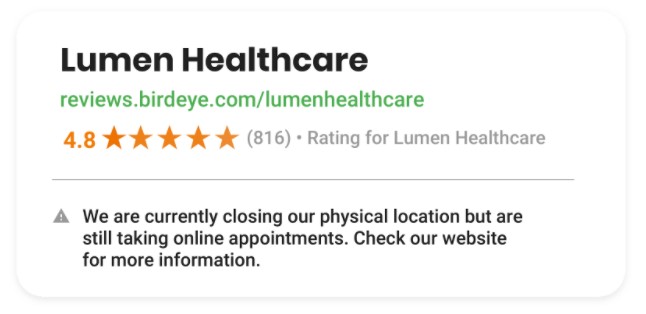 Not sure how accurate your current business listings are? Check it out with our free Scan Your Business tool and check out our article on how to increase your online presence with this free Scan-Your-Business tool.
Communicate with your team
A transition to online services is a big change for everyone. So it's important that you're regularly checking in with your team members to understand some of the challenges they might be facing. It's also a great way to bring your team closer together in a time when many people are feeling overwhelmed and alone.
Be the Change Yoga & Wellness, a yoga studio based in San Jose, decided to start doing weekly calls with all of their instructors. Team members discuss strategies they found effective for teaching their members via video and update each other about what's going on in their lives. It was a great way to keep the sense of community that they had prior to the COVID-19 pandemic.
Other companies found it useful to have a collaboration software where they could assign each other tasks. Popular options include Monday.com, Asana, and Atlassian. 

Utilize the power of social media
Many businesses rely on events in order to attract more customers. Unfortunately, the If you're shifting to an online model, consider putting more of an emphasis on social media.
You don't need to post regularly on TikTok, Twitter, Snapchat, Facebook, Instagram, and LinkedIn, especially if you're working with a nimble team. Try focusing on one platform where you can put your best foot forward. If you have an online community, these Facebook group engagement posts can be a great way to engage your audience. 
Even then, you still might not have enough time to worry about social media. There is a way you can make sure that your entire team gets involved. Be the Change Yoga & Wellness Studio allows individual instructors to "take over" the business's Instagram for a day. This way, the small team is able to keep up an online presence, making sure that members feel a close connection with the instructors, even when they must be physically distant.
Social media is also an opportunity for your business to reach out to potential customers and micro-influencers. After the COVID-19 pandemic started, Academy of Ballet & Etiquette owner Sara Vizcarrondo found that this was a successful practice to spread awareness. Here's what Sara told us.
"My favorite practice is finding librarians on Instagram and offering their communities free classes as part of their virtual storytime events. I'm doing one for Fairfield Connecticut's library next week."
Create a winning website
While having a great website is always important, it becomes even more important when your services are 100% online. When you're a fully-online business (even temporarily), your website becomes your introduction to your customers. So make sure that the initial introduction is a great one.


Make sure that your site has information about your current situation and gives your customers clear options about where to go if they have any questions. That means making sure that your phone and email is displayed prominently. You should also consider offering a website chat solution which allows you to answer customer questions in real-time.

Don't have the resources to answer chats in real-time? Consider using a chatbot that can answer customer questions with automated responses. We've also seen some businesses set up FAQ sections of their website that are specifically meant to answer questions about COVID-19. 
Try offering services via video conferencing
Simple Life Insure, an insurance business based in San Diego, had to make a big change in their operations because of COVID-19. Here's what CEO & President Ty Stewart had to say:
"First and foremost, we had to switch to virtual consultations with both prospects and customers alike. This came with pros and cons, increasing scheduling flexibility and convenience but losing that more human connection you really foster in-person. In our field of life insurance, we're so often discussing personal decisions alongside quite technical terms, all of which is easier to do in a face-to-face meeting. Agents have to embrace virtual touchpoints, though, and still provide the same level of empathy and education via video and phone calls."
While phone calls are a great option, there's a lot that can get lost in translation when you can't see the customer. That's where video calls can help. This can give them the "one-to-one" feeling that they might be missing if they're unable to see you in-person. 
Not every business can use video services. But we've seen that it's been very helpful for businesses who offer classes or 1-on-1 consultations. If you think video chat might be right for you, take a look at video chat services like Google Hangouts, Zoom, and Birdeye.

Reevaluate your pricing
For certain industries, customers might not be willing to pay the same amount as they would for in-person services. For example, a customer might not be willing to pay as much for a class that's done via Zoom then they would for a class that's conducted in-person. So before you get started, think hard if you want to reduce your prices for customers.

Create a great online store
If you're planning to sell products online, it's important to think about how you can make sure that your products are getting delivered to customers.
If you're planning to deliver products to your customers, you have two options: shipping your own products or dropshipping. As you might expect, shipping your own products is somewhat time-consuming and may be outside of your area of expertise. However, it does give you full control over the fulfilment process.
Dropshipping means that a third-party provider takes care of your fulfillment. This might be helpful if you don't have the resources to do this yourself. However, dropshipping comes with its own risks. If the third-party provider has some kind of a service failure, the customer will blame your brand.
There's no one right answer for any business. Consider the pros and cons of both approaches and your own unique situation before making a decision.
Make sure you have a clear payment process
If you don't have this already, you will need an online payment process. Since customers won't have the ability to swipe their card in-person, they will need an easy, straightforward way to pay you online. Check out this guide to payment processing systems if you want to find an option that works for you.

Collect feedback from your customers
When you're making such a momentous change in a short span of time, it's quite possible that there might be areas in business operations that could be improved. To make sure that you can identify these blind spots, make sure that you're collecting feedback from your customers through regular surveys.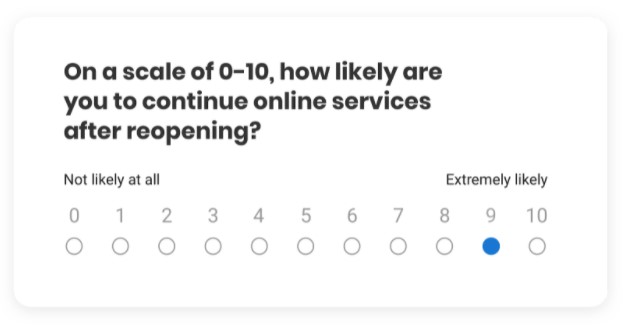 You might even be surprised at what you discover. Be the Change Yoga found while surveying customers that many of them actually wanted to continue online classes after a full reopening.

Form a plan for reopening your business
When you're in them, bad times seem like they're going to last forever. But remember: we'll get through this eventually. It's important that you can come up with a plan for what to do when this is all over.
If you do decide to reopen your physical location at some point, think about whether you would want to offer any types of online services. If you see great results, continue to do things like offer virtual consultations and engage with customers on social media. It's all about seeing what your customers are engaging with and making decisions based on what they're responding to.
Want more marketing tips?
If you're interested in reading about more marketing tips that can help your business beyond COVID-19, check out our free eBook.

Originally published