Scan Your Business Tool allows businesses to track and increase online presence, reputation, and competitive ranking on Google
Increase online presence – Want to know how your business appears online? We're excited to announce the launch of our new free Scan Your Business tool, available for everyone to access. This helpful new feature provides businesses with one straightforward dashboard to track and improve:
Online Presence: How your business appears on 100+ sites
Reviews & Ratings: Number of reviews and ratings across all review sites included
Competitive Ranking: Which of your competitors are ranking higher than you, beating you
Website SEO: Google page speed score and SEO for your website
From there, businesses can delve even deeper — they can discover if they're listed on top sites accurately, monitor their reviews and ratings by source, see which sites their customers are most active on, identify their primary competitors, and see how effectively search engines locate them.

Actionable Insights
Most importantly, these insights are actionable: listed beside all errors are their solutions, so businesses can proactively address them. Businesses can fix their listings to boost SEO and harness customer feedback scores to improve their online presence and reputation; this way, they are found in relevant searches and stand out amongst competitors.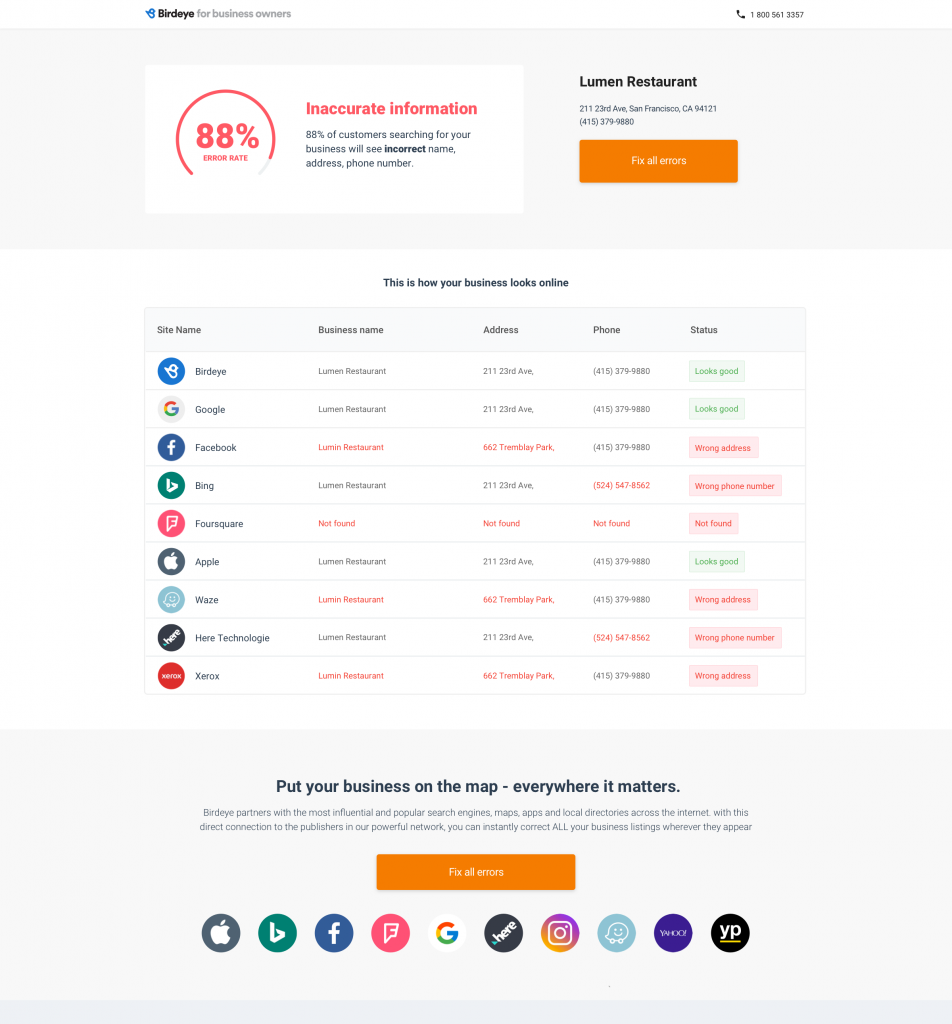 Birdeye not only provides information on presence or site performance–it integrates this data with customer sentiment scores from top review sites. The Scan Your Business tool covers all the bases to present one dashboard of holistic insight. By leveraging this unique multi-dimensional perspective, businesses can boost their performance from every angle.
"The ultimate goal of this tool is to help businesses acquire new customers. Now, business owners don't have to check 100 different places to understand the health of their business," says Neeraj Gupta, COO at Birdeye. "We've created a seamless avenue for businesses to hear their customers everywhere online, discover all weak points, and use streamlined solutions to fix each issue. A positive online presence and reputation is the most critical determinant of consumer decisions throughout the customer journey."
If you're wondering how Birdeye could help your business and increase online presence, this new tool a great way to detect areas in need of improvement. To see how your own business looks online, scan it now.
Increasing your online presence is absolutely crucial to the success of your business. Everyone knows the value of social media and search engine optimization, but few people know the tips and tricks that make some campaigns succeed and others fail. Regardless of your industry, all businesses should be doing the same thing to improve online presence.
Making your business known to improve your business online presence is a vital part of attracting new customers, no matter the industry in which your small business operates. In the past, there were two primary methods for accomplishing this, either through direct advertising or through word of mouth referrals.
Constant improvements to your online store have become the standard survival tactic for improving the performance of your online business. But creating an eye-catching storefront to improve online presence and publishing engaging content is merely the tip of the iceberg; eventually, the Web becomes saturated with trite strategies.
---
About Birdeye
With Birdeye, it's easier than ever to get new authentic customer reviews, building trust that leads to more sales. In today's reputation economy, Birdeye provides the eyes, ears and algorithms necessary to create great customer experiences that keep your business at the top.

Originally published