Airbnb has taken the world of online travel by storm. In just a few years, the platform has gotten more than 260 million guests to stay at its properties all around the world. If you're a host on Airbnb, it's important to take note of one of the platform's most important features: Airbnb reviews. Here's what we'll cover in the article.

How do Airbnb Reviews Work?
We're living in the age of the trust economy. That means something very simple: customers care about reviews. Studies show that 92% of customers consult reviews before making a purchase decision.

Airbnb is no exception.  While the idea of staying at a stranger's house might sound off-putting at first, it works when you see 5-star reviews posted by people like you. Guests trust online reviews posted by fellow guests and see reviews as an indication of the quality of the property. 

When you have quality Airbnb reviews, you'll naturally get the trust of potential guests. Just like in other industries, quality reviews mean a higher demand for your services.

To ensure everyone has a good experience, Airbnb allows both guests and hosts to leave reviews about each other. After the guest's stay has ended, Airbnb sends review requests through the app or email to both the host and the guest. Both parties have fourteen days to leave a review.
Airbnb Review Examples
Here are some examples of host reviews.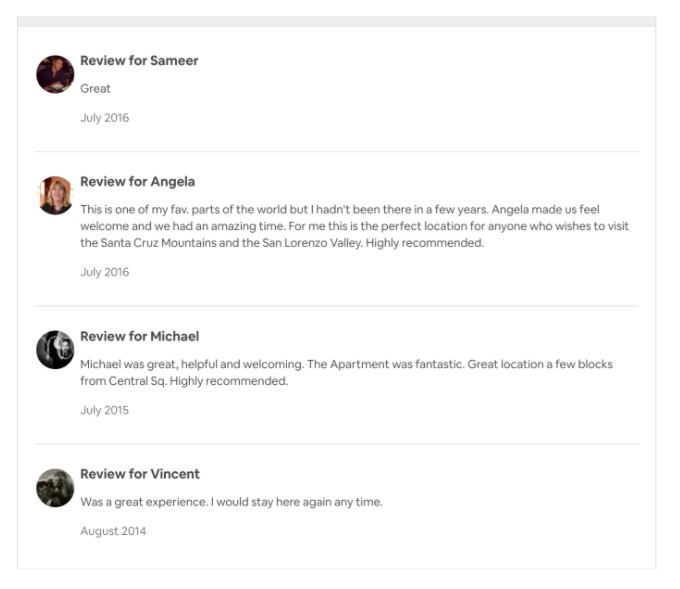 Here are a few examples of guest reviews.

Airbnb Host Reviews Explained
Let's answer a few frequently asked questions about Airbnb host reviews.

When Are Airbnb Reviews Posted?
The reviews posted by your guests will not be visible to you during this initial 14-day period, and the reviews you've posted for your guests will not be visible either.
How Can I Get More Airbnb Reviews?
Airbnb reviews can help make your listing look more attractive to potential guests, which makes it important to collect more reviews. Here are a couple of steps you can take to get more reviews on Airbnb.
Leave a Review for your Guest
When you leave a review for your guest, they will get an email from Airbnb notifying them that their host has left a review. This will motivate your guest to leave you a review.
Provide a Great Experience
If your guests have any questions, make sure that you can point them in the right direction. Keep maps or guides that can show them some of the best locations in the city. A quality experience makes it more likely for guests to leave a review.
Ask for feedback in a check-out message
When your guests are leaving, send a message thanking them for their stay. While you're at it, ask if they can leave a review. Here's a template you can use for check-out messages.

"Thanks so much for staying with us. We loved having you. We hope you have safe travels home. Please provide us with feedback to let us know how we did so we can improve in the future."
It's important to note that Airbnb restricts incentivizing reviews, whether it's by providing payment or offering a discount.
How do I Avoid a Bad Review on Airbnb?
While every host gets a bad review here and there, too many bad reviews can turn guests away from your listing. Here are a few steps that you can take in order to provide a great guest experience.
Pay Attention to Guest Feedback
Remember, feedback is the key to improvement. So pay close attention to what each one of your guests are saying about you. Your guest reviews can help you build on your strengths and improve on your weaknesses.
Make Sure that your Listing is Accurate
Misleading information can lead to bad guest reviews.


Inaccurate information can leave a sour taste in your guests' mouths. Make sure that your photographs and listing information accurately represent the experience that your guests are going to get.
Remember, a good first impression can make all the difference. Leave a welcome note for your guests when they arrive to make sure that they think about you positively from the very first moment. Even a simple message can do the trick, something like- "Welcome! I hope you enjoy your stay here. If you have any questions, please let me know."

How to Respond to an Airbnb Review
To respond to reviews, simply login to your Airbnb host account, click on "Reviews", then go to "Reviews about you". Then find the specific review that you want to respond to.

Remember to be on top of your review responses. Airbnb gives you 14 days to respond to a review. If you don't respond within this deadline, you will not be able to post a response. 

Be sure to say thanks to guests who leave a positive review. Tell them they're welcome to stay again. When you get a negative review, state your case clearly. If there were any factors that influenced the stay that were out of your control, put this in your response. Avoid being too hostile or defensive. Remember, these responses help future guests understand the type of experience that you'll provide.
How Can I Get Airbnb Superhost Status?
A superhost is an Airbnb host that goes above and beyond when it comes to delivering superior customer experiences. If you do become a superhost, you'll get a badge in your listings that will help your profile stand out.

Here's what you need to do to qualify as a superhost from Airbnb's website.

Complete at least 10 trips OR completed 3 reservations that total at least 100 nights
Maintained a 90% response rate or higher
Maintained a 1% percent cancellation rate (1 cancellation per 100 reservations) or lower, with exceptions made for those that fall under our Extenuating Circumstances policy
Maintained a 4.8 overall rating (this rating looks at the past 365 days of reviews, based on the date the guest left a review, not the date the guest checked out)
Studies show that the biggest differentiators between superhosts and nonhosts are two factors: cleanliness and value. That means that keeping your guest room clean and your price reasonable are the two factors that can help you stand out from other listings.

The payoff is worth it. The same study shows that superhosts globally receive 60% more revenue per available day.

Dealing with Airbnb Complaints 
So what happens when you get a complaint from one of your guests. Here's how you deal with different types of Airbnb complaints.

Dig Deeper 
Look at the user's profile to see what other kinds of reviews they have written. It's possible that you're dealing with a chronic complainer. Maybe you're dealing with someone who has written positive reviews in the past. This will give you good information to reaching out to guests.

Be Polite 
While a negative review can feel like an attack, remember to take a deep breath. The way that you interact with your guest can influence how potential guests can see your listing. It's important to remember that no matter how hard you try, you can't please everybody.

Contact the Guest Directly 
By contacting the guest directly and talking about the situation, you can often turn your guest's opinion around. Airbnb does give guests the option to edit reviews 48 hours after the review is posted.

Post A Response
Remember, future guests look at your guests to see what kind of experience you provide. Posting a public apology can show your future guests that you make a sincere effort to fix every problem.
Make Improvements 
A negative review can help you improve your experience with future guests. See if there's anything that you can take away from a bad review that can help you make other guests more satisfied.

Airbnb Reviews Policy Explained 
Airbnb only deletes reviews when they violate its content policy. Airbnb's policy restricts spam, profanity, illegal content, and blatant marketing. Reviews will be deleted if they are not representative of the guest's actual experience. Proving that something in a guest's review is false is difficult and there is no guarantee that these reviews will get removed.

Does Airbnb Delete Negative Reviews? 
Airbnb does not typically delete reviews. According to their website , "To promote in our community, we won't delete reviews unless they violate our content policy."

If you get a review that you feel is unfair, your best option is to try and respond to the review. In your response, you can call out any false claims. Just remember that future guests are reading your responses so that you should always stay polite.

Airbnb Reviews for Guests 
Leaving an Airbnb review for one of your guests is a great way to ensure that they will leave one as well. Here's a couple of tips for leaving reviews for your guests.

Should I Leave a Negative Review for a Bad Guest? 
If you had a bad experience with a guest, don't be afraid to leave a negative review. Airbnb reviews aren't visible to your guests until they've already left a review for you.

Airbnb functions on trust, so it's important to always be honest in your feedback. A bad review can help a future host avoid a similar experience to yours. While your bad guest probably won't come back or recommend your listing to friends, if the experience you had was actually bad, chances are you don't want to have this person or their friends over.

Generic Guest Review Template 
Not sure what to write for one of your Airbnb guests? Here's a generic template that you can use. Be sure to modify based on your actual experiences.

(Guest name) was an awesome guest. (Guest name) left everything clean, communicated smoothly, and was great to talk to. I would recommend (guest name) to any host.

Try Birdeye to Improve Your Experience 
Don't fall behind on your guest reviews on Airbnb or anywhere else. Birdeye allows you to monitor reviews on Airbnb, Google, and hundreds of other sites.

Originally published