Did you know that in 2023, about 62% of Americans are planning to spend more on travel? Because of this, travel review sites have become go-to resources for people seeking authentic feedback and recommendations from fellow travelers. These platforms enable users to share their travel experiences as online reviews.
Let's explore 13 top travel review sites that can get you higher travel ratings, more user-generated reviews, valuable insights, and recommendations in 2023.
Looking for tips on how to manage your online reputation? Check out our comprehensive audio guide. It covers everything you need to know about the subject in less than 15 minutes.
1. Google
Travel and hospitality companies with a Google Business Profile are a winner because Google is one of the most preferred review sites.
Its navigation service, Google Maps, incorporates user reviews and ratings for various businesses, including hotels, restaurants, and landmarks.
Travelers can read reviews directly on the map and get insights about a specific location.
Here's what popped up when I typed "hotels in Copenhagen."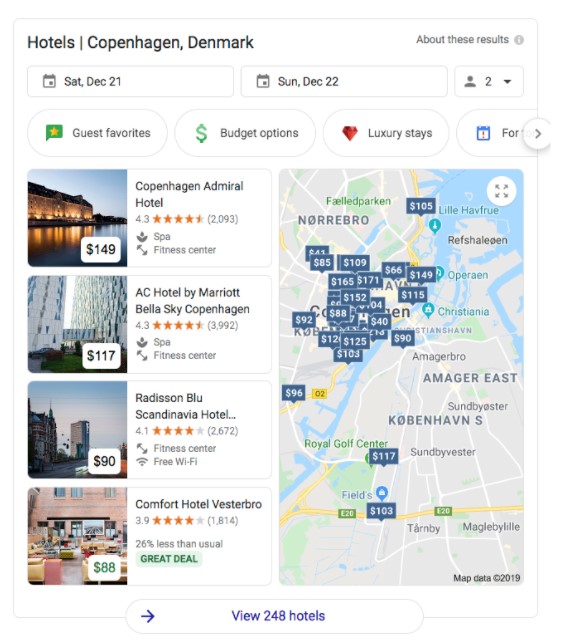 Because of the visibility of these search results, your business must look great on Google. A good way to elevate your profile is to get more Google reviews.
2. Facebook
Surprised to find Facebook as one of the best travel review sites? Well, don't be. The social media giant has evolved into a platform where users can find and share travel reviews.
While it's not a typical travel review site, Facebook's vast user base and interconnected community make it a significant player in the travel review space.
What makes Facebook more popular than review sites for travel?
Many travelers turn to Facebook because it's more accessible to:
Seek recommendations
Users can tap into their network and receive personalized travel suggestions and advice from their friends, family, and acquaintances by posting a status or question on Facebook. This feature is a valuable resource as its reviews are more authentic.
Know about niche/popular travel groups and page
These communities focus on specific destinations, travel styles, or interests, letting travelers connect with like-minded individuals and gain valuable insights.
Businesses get personal and can demonstrate their reputation
Hotels, restaurants, and travel agencies with Facebook profiles can provide information directly and allow users to leave reviews. This helps travelers read firsthand experiences and make an overall assessment of them.
Pro tip: Though Facebook doesn't feature travel ratings, like the traditional 5, 4, or 3-star rating format, users can "Recommend" or "Not Recommend" your business.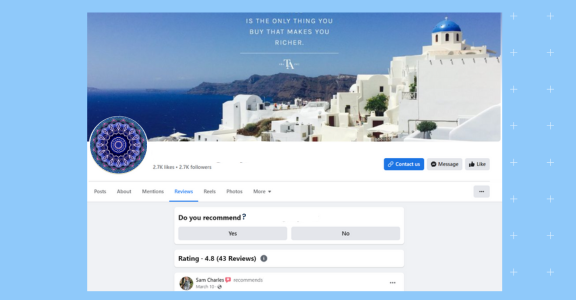 Keep in mind that many travel sites don't allow video reviews, so Facebook is a great place to see a business or destination before committing.
3-6. Expedia (Orbitz, Hotels.com, Travelocity)
The Expedia Group includes sites like Orbitz, Hotels.com, and Travelocity. These sites together represent a large chunk of the travel review ecosystem. To get your business listed on these sites, visit the Expedia Group's Partner Services page.
7. Priceline
With 188 million average monthly pageviews, Priceline is one of the largest travel review sites on the internet. It's a great place to list your business.
8-10. Bookings (Booking.com, Kayak, and HotelsCombined)
If you're a property owner looking for bookings, Booking.com is one place where you need to get listed. Booking.com boasts over 29 million listings, including hotels, apartments, and vacation homes.
Booking.com also owns Kayak and HotelsCombined, two more travel sites that allow travelers to leave their reviews and compare rates of different hotels and find options for transportation.
11. Airbnb
While Airbnb is primarily a booking platform, it also contains guest reviews. If you have a listing on Airbnb, it's important to keep track of what your guests are saying on this platform. Check out our guide to Airbnb reviews.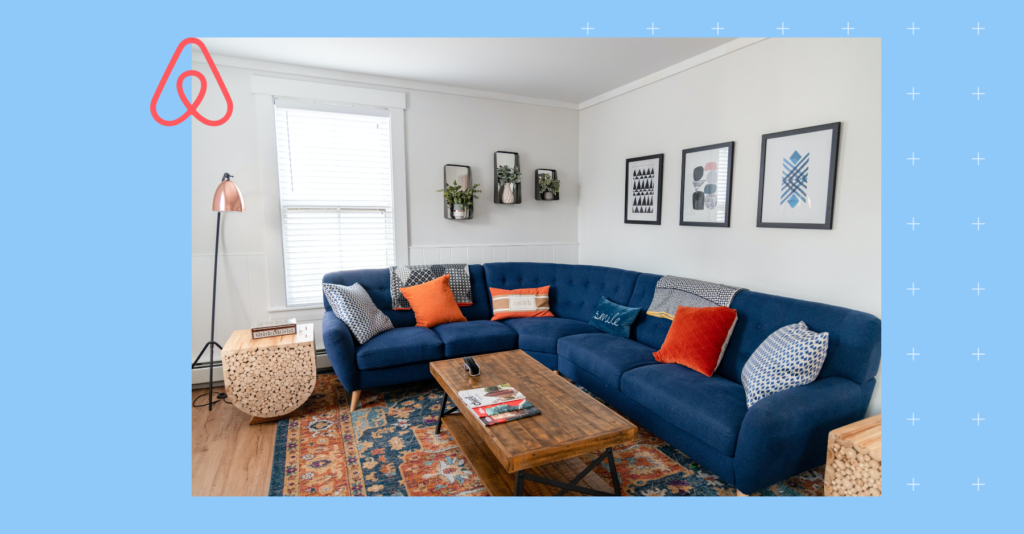 12. Hostelworld
As you might guess from the name, Hostelworld allows travelers to find and book hostels, hotels, and bed & breakfasts all over the world.
Although not primarily a review site, it features user-generated reviews and ratings for deals and experiences. List your business on Hostelworld to start getting bookings from more travelers worldwide.
13. Foursquare
While Foursquare started as an app where customers could check in to businesses, it's now one of the most popular review sites on the Internet. Foursquare has more than 50 million monthly active users.
Best tips to get more customers from travel review sites
So now that you know the most important travel review sites, what can you do to attract more customers to your business?
Here are some best practices that'll help you take full advantage of each one of these sites:
Send customers review requests
Ensure you've created a detailed and attractive profile on travel review sites before asking customers to leave you a review. It makes your business look more professional and upbeat. Include:
Accurate contact information
High-quality images
Compelling description of your services and amenities
While collecting reviews across these travel review sites is tough, a tool like Birdeye can make it easy. Birdeye online review management allows you to request your guests for reviews on multiple sites so the reviewers can leave their reviews on the site of their choice. 
Moreover, you can even respond to reviews from within the Birdeye dashboard.
Monitor your reviews
Reviews act as social proof and can attract more potential customers, so:
Encourage positive reviews
Provide exceptional customer service and ask satisfied customers to leave reviews on your preferred travel review sites.
Engage with negative reviews and resolve quickly
Usually, only customers who feel that they had strongly negative experiences are motivated to leave a review. Show appreciation for the feedback and address any concerns or issues raised in a timely manner.
Engage with the travel community
Participate in travel-related forums, discussions, and groups on these review sites. Do it from your business's social media profile and
Contribute valuable insights
Answer questions
This will humanize your business as a knowledgeable and trustworthy resource and attract new customers.
While it's tough to monitor reviews across all of these different travel review sites, a tool like Birdeye can make it easy. In the Birdeye dashboard, you can see reviews from 150+ sites.
There's no need to go to individual sites one by one. You can even leave responses within the dashboard and watch your response show up on the site where the review was originally posted.
Promote your reviews
When you get a great review, don't just leave it there. Share it with the world. Nobody can sell your business quite like your customer. A great review can be a valuable way of marketing.
Showcase your uniqueness
Emphasize unique features, special offers, or outstanding experiences that make your business attractive to travelers.
Collaborate with influencers
Partner with influential travel bloggers, vloggers, or social media personalities who can review your business and share their experiences with their audience.
With Birdeye, you can automatically share your 5-star reviews on your social media profiles. Birdeye's review widget allows you to share a live feed of your reviews on your website, so all of your website visitors can see the opinions of your happy customers.
FAQs about travel review sites
Which travel site has the best reviews?
Here are some of the best travel review sites: 
1. Facebook
2. Google Maps 
3. Expedia
4. Lonely Planet
Where can I post travel reviews?
You can post travel reviews on most travel sites – especially the popular ones. These sites all feature customer reviews and ratings that help travelers get a better idea of what to expect when traveling to a destination. In order to post on a travel site, you'll most likely need to create an account on that site.
What websites do you look at for vacation reviews?
When looking for vacation reviews, travel sites are a great resource because traveler reviews give you a better understanding of what to expect and recommendations of where to visit. This information will help you make informed decisions about your vacation plans.
Where can I find trustworthy travel reviews?
You can find trustworthy travel reviews by searching on Google or visiting popular travel sites like Expedia. These resources offer authentic reviews from people who have actually visited the destination and can offer travel tips and recommendations.
Are travel review sites trustworthy?
Yes, all the travel review sites mentioned in this article are free. However, some may offer premium features or additional services at a cost.
Can I trust Expedia?
Yes, you can trust Expedia as it is one of the largest and most well-known travel review sites, with millions of user-generated reviews and ratings.
Are Expedia reviews trustworthy?
Yes, Expedia's reviews are trustworthy. Here are a few things to watch out for: 
Look for a balance between positive and negative reviews. 
Check for recent updates and ensure that the information you rely on is current.
Consider the context of the reviews, the reviewer's background, and their specific requirements. 
What are tourist reviews sites?
Tourist review sites allow travelers to share their experiences, opinions, and recommendations about tourist destinations, accommodations, restaurants, attractions, and activities. 
Are Expedia or Google reviews better?
Deciding whether Expedia or Google reviews are better depends on several factors and personal preferences:
1. Expedia may be a better option if you are looking for a dedicated travel platform with a comprehensive database and a strong travel community.
2. Google reviews may be more suitable if you prefer seamless integration with mapping services and a broader user base.
Collect and monitor reviews with Birdeye
Don't fall behind on a single travel review site. Birdeye allows you to monitor reviews on 150+ sites like Google, Facebook, and Expedia. Find out why more than 100,000 businesses use Birdeye to be found and chosen across the Internet.
Originally published