If you're in the travel industry, it's important to pay attention to travel review sites. More and more customers are turning to online reviews for every purchase decision, whether it's finding a flight, a restaurant to try in a new city, or a hotel to stay at. Here are the travel review sites that you need to know in 2022.
Looking for tips on how to manage your online reputation? Check out our comprehensive audio guide. It covers everything you need to know about the subject in less than 15 minutes.
1. Google
While Google is known first and foremost as a search engine, it's also one of the biggest travel companies in the world.
Google search gives customers in-depth information about hotels including pricing, location, and customer reviews. Here's what popped up when I typed in "hotels in Copenhagen".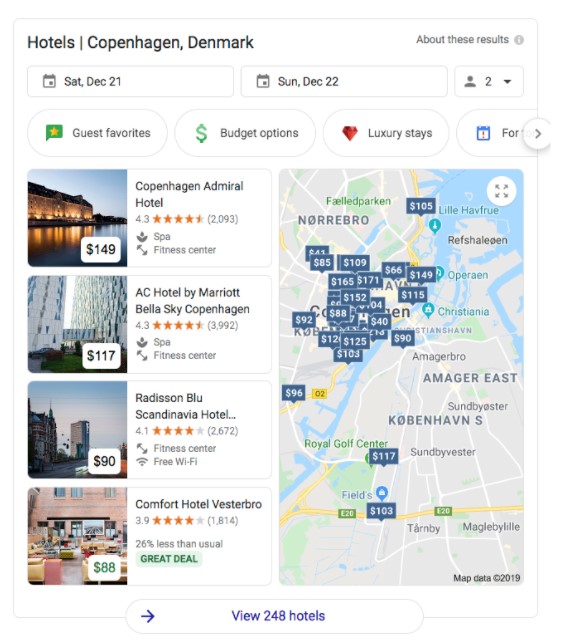 Because of the visibility of these search results, it's important that your business looks great on Google. Here's how you can start collecting more Google reviews.
2. Facebook
Facebook is the biggest social media site in the world. It's also the second-biggest review site behind Google. Make sure that your business has a Facebook profile so you can start getting more visibility from Facebook's more than 2 billion users.
Facebook is unique amongst review sites because it does not have a 5-star rating system. Instead, customers get the option to "Recommend" or "Not Recommend" your business.
3-6. Expedia (Orbitz, Hotels.com, Travelocity)
The Expedia Group includes sites like Orbitz, Hotels.com, and Travelocity. These sites together represent a large chunk of the travel review ecosystem. To get your business listed on these sites, visit the Expedia Group's Partner Services page.
7. Priceline
With 188 million average monthly pageviews, Priceline, is one of the largest travel review sites on the internet. It's a great place to list your business.
8-10. Bookings (Booking.com, Kayak, and HotelsCombined)
If you're a property owner looking for bookings- Booking.com is one place where you need to get listed. Booking.com boasts over 29 million listings, including hotels, apartments, and vacation homes.
Booking.com also owns Kayak and HotelsCombined, two more travel sites that allow travelers to compare rates of different hotels and find options for transportation.
11. Airbnb
While Airbnb is primarily a booking platform, it also contains guest reviews. If you have a listing on Airbnb, it's important to keep track of what your guests are saying on this platform. Check out our guide to Airbnb reviews.

12. Hostelworld
As you might guess from the name, Hostelworld allows travelers to find and book hostels, hotels, and bed & breakfasts all over the world. Start listing your business on Hostelworld to start getting bookings from more travelers all around the world.
13. Foursquare
While Foursquare started as an app where customers could check in to businesses, it's now one of the most popular review sites on the Internet. Foursquare has more than 50 million monthly active users.
Best practices for review sites
So now that you know the most important travel review sites, what can you do to attract more customers to your business? Here are some best practices that will help you take full advantage of each one of these sites.
Send customers review requests (when you can)
Remember, the more feedback that you get, the better. Sites like Google and Facebook encourage businesses to send review requests to customers. After all, encouraging your customers to leave reviews can lead to more balanced feedback. Usually, only customers who feel that they had strongly negative experiences are motivated to leave a review.
Sending review requests for a site like Airbnb doesn't make much sense since Airbnb already sends review requests after the guest's stay has ended.
Monitor your reviews
It's important to keep a close eye on your reviews. A bad review, if left untouched, can dissuade customers from trying your business. So be sure that you're actively monitoring and responding to these reviews.
While it's tough to monitor reviews across all of these different travel review sites, a tool like Birdeye can make it easy. In the Birdeye dashboard, you can see reviews from 150+ sites. There's no need to go to individual sites one by one. You can even leave responses within the dashboard and watch your response show up on the site where the review was originally posted.
Promote your reviews
When you get a great review, don't just leave it there. Share it with the world. Because nobody can sell your business quite like your customer, a great review can be a fantastic piece of marketing.
With Birdeye, you can automatically share your 5-star reviews on your social media profiles. Birdeye's review widget allows you to share a live feed of your reviews on your website, so all of your website visitors can see the opinions of your happy customers.
FAQs about travel review sites
Which travel site has the best reviews?
Some of the top-rated travel sites include TripAdvisor, Expedia, Orbitz, and Booking.com. Each site offers customer reviews and ratings on hotels, flights, and services offered.
Where can I post travel reviews?
You can post travel reviews on most travel sites – especially the popular ones. These sites all feature customer reviews and ratings that help travelers get a better idea of what to expect when traveling to a destination. In order to post on a travel site, you'll most likely need to create an account on that site.
What websites do you look at for vacation reviews?
When looking for vacation reviews, travel sites are a great resource because traveler reviews give you a better understanding of what to expect and recommendations of where to visit. This information will help you make informed decisions about your vacation plans.
What travel site has the best deals?
The travel site with the best deals will depend on the type of deal you're looking for. Some travel sites offer deals when you bundle airfare, hotel, and car rentals together. Other deals are based on availability and the season. In all cases, you can compare prices and services to find the best deals for your desired trip.
Where can I find trustworthy travel reviews?
You can find trustworthy travel reviews by searching on Google or visiting popular travel sites like TripAdvisor. These resources offer authentic reviews from people who have actually visited the destination and can offer travel tips and recommendations.
Collect and monitor reviews with Birdeye
Don't fall behind on a single travel review site. Birdeye allows you to monitor reviews on 150+ sites like Google, Facebook, and TripAdvisor. Find out why more than 100,000 businesses use Birdeye to be found and chosen across the Internet.
Originally published Dec 06, 2019, updated