Recently, we celebrated International Women's Day, and many companies took action to celebrate diversity and acknowledge their female consumers and employees. We reflected on the history of Birdeye and the impact made by our first employee, Sarah Bennett.
Sarah joined Birdeye in 2013. Our founders, Naveen and Neeraj Gupta had only just finished building the product and needed someone to sell it. Sarah accepted the challenge and, over the past five years, has grown her career while growing Birdeye to 25,000+ customers. Today, Sarah is our Head of SMB Sales, managing 100+ sales reps in a swanky 11,000 square feet office in Dallas, TX.
I sat down with Sarah to chat about her journey with Birdeye.
From being the first employee to today, take us through your journey with Birdeye
"After ten years at a large corporation, I wanted to be at a place where I could make an impact. That's when I found Birdeye! Naveen and Neeraj's idea of enabling businesses to use customer feedback to drive revenue was great, but it was a big transition for me. I went from selling for a well-known brand like AT&T to truly forging my own way with a new product, all out of my home. It was a high-risk, high-reward strategy that worked really well, Birdeye has grown over 100% year-over-year, and I have gone from my home office to our amazing 11,000-square-foot Dallas office at Cypress Waters!"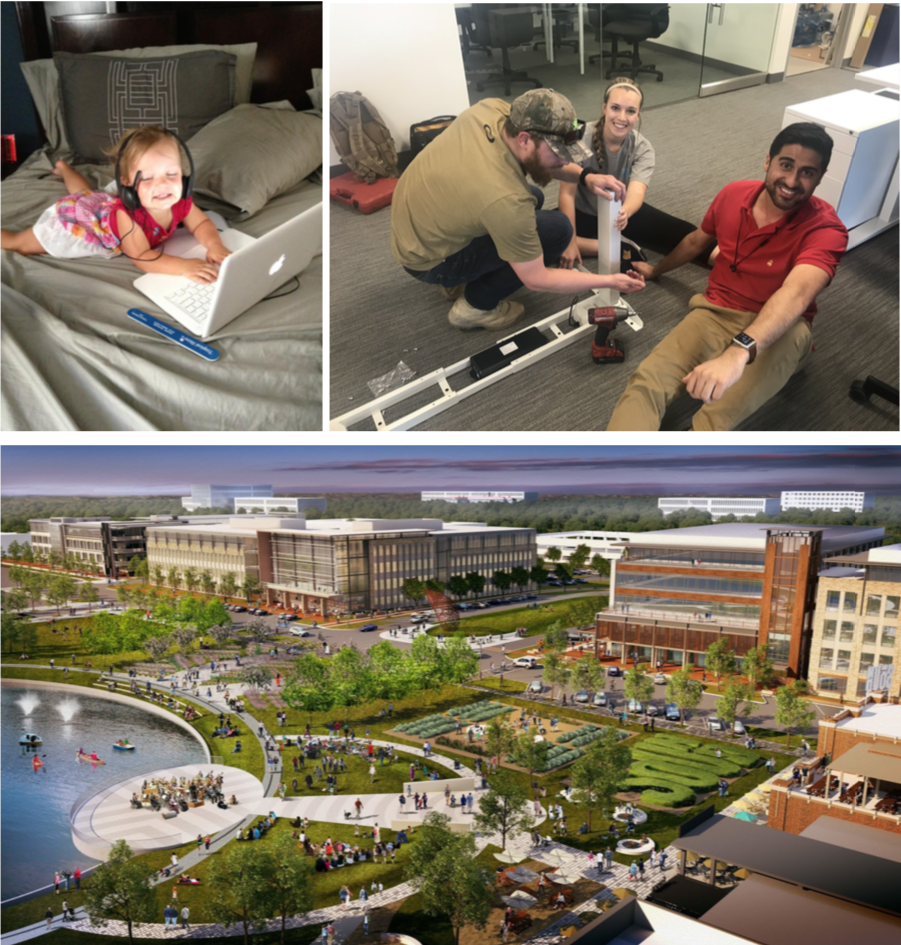 (Top Left: Sarah's daughter enjoying the home office. Top Right: Moving into the Dallas office. Bottom: Cypress Waters Campus.)
From a personal growth perspective, what opportunities has Birdeye given you?
"As the first employee at Birdeye, I was selling without any leads, marketing collateral, or sales enablement. Despite that, my quota during my first month was 10 deals. I sold 7, which not only impressed Naveen and Neeraj, but I really surprised myself! Looking back at that first goal at Birdeye, and think it is Birdeye's secret to hyper-growth, the constant challenge that propels both the company and employees forward.
I started out as an individual contributor, and as the company grew, the sales team grew. Birdeye has given me the opportunity to continuously take on more responsibility and leadership, growing from a sales team lead to a sales manager and now leading the entire SMB division. 5 years ago, when I joined, I would not have believed this would be my journey, but Birdeye has provided the tools and support to drive my career."
Many companies, including Birdeye, celebrated their women leadership and employees in March. How have you seen diversity take shape as a value at Birdeye?
"One of the core values at Birdeye is taking ownership. For us, it doesn't matter what package you come in, what matters is what you bring to the table and what you take on. It is refreshing to be able to come to the table on day one and know that feedback is not only welcome but it is also expected. As the team has grown, the most successful employees have been people who take ownership and go above and beyond. Here are some examples:"
"Heather Tommasi joined the team, and within the first month, she broke every record in SMB, and that was just the beginning. Heather is probably one of the few people at Birdeye that I would struggle to beat. Her passion for the customer and energy has created such a contagious environment of enthusiasm for Birdeye, and today, I manage her as she leads one of our sales teams."
"As Birdeye grew, we needed more leaders. I worked with Chelsea Sullivan at AT&T and knew that she would be a great manager for our second sales team. She is a master at collaboration. Our two teams stress the value of family spirit and leverage a fun, competitive spirit while truly working together as a whole to break records."
"Jessica Erven came into Birdeye and revolutionized the sales onboarding process. Acting as the bridge between marketing, sales, and operations. She exceeded all expectations when she came in and developed a formal curriculum for when we onboard new sales reps, which has helped us increase deal sizes by 30%."
What values are important to Birdeye? How have they influenced your leadership style?
"For me as a leader, ownership, customer obsession, family spirit, and highest standards are key. The leadership style we practice at Birdeye is 'radical candor' (radical candor = care personally + challenge directly). Like many high-growth companies, we have a pretty flat structure as we collaborate cross-functionally. Outside of the office, we enjoy time with one another. On Saturdays, for example, we have Softball games! We genuinely care about one another and place great value in team bonding across management levels and between teams.
At the same time, the expectations at Birdeye are high! Every goal set in front of me over the past five years has been a similar theme: my first reaction is, 'that's too aggressive!' but then my determination kicks in, and I get into strategy mode, asking, ' okay, how is my team going to make this happen?'. Without fail, we take ownership, pull together like a family unit, crush those goals, and the feeling is indescribable. As a leader, I value straightforward feedback to help my team grow. That is where the highest standard value comes in, we are a performance-driven company growing fast. We want our employees to succeed and think transparency is the most efficient way to make sure our teams are supported and crushing their goals."
You mentioned customer obsession. What does that mean to you?
"I think what sets Birdeye apart is that we have been 'drinking our own punch' since day one. We constantly request feedback from our customers and use that data to drive our initiatives. I love that when my customers request new features, our product team listens and turns their requests into product features quickly. It's thrilling to be able to identify areas of opportunity, have customer opinions valued, and see changes made. At the end of the day, when you want to be a hyper-growth company, you have to be adaptable and embrace different ideas."
Any other fun stories you would like to share?
"A story that I will never forget is in 2013 when Naveen and Neeraj put me directly in front of a VC while we were raising our first round of funding. Although I had sales experience, this was a completely new world for me. I didn't even know who a VC was. The VC asked me, "Sarah, what is your sales playbook?" and I answered, "I don't have one." Now, that might make me cringe today, but the VC really liked how we were honest and genuine. They decided to move forward with funding Birdeye, and while I'd like to take full credit, I think that Birdeye has proven to be a truly genuine company, powered by diversity, from product to customer support, to career growth and beyond."
Wrapping it up with Laura on the Product Marketing team
These insights from Sarah are valuable for anyone looking to make an impact at Birdeye. Women's leadership and diversity have been integral to the Birdeye story, which continues to grow today. When I look around, I see leadership and growth across every team at Birdeye. In fact, my team (#humblebrag), the product marketing team, is comprised of 77% women! With a little more digging, I discovered that 50% of our finance team are women, and 44% of our leadership positions are held by women, including a 60% representation in our sales leadership team – which, by the way, is growing rapidly, and we are hiring!
Originally published