The majority of home buyers start their home buying journey using online search – and according to the National Association of Realtors, 81% of buyers don't even contact a real estate agent until they're ready to buy. As a realtor in a hyper-competitive market, how can you make sure that buyers turn to you when they're prepared to make an offer? The answer is simple: you need to be active online and show prospective clients you're the best choice.
In this article, we'll explain how Zillow for realtors can build agents' online presence, boost their online reputation and connect with more prospective clients.
Zillow is the leading real estate website in the United States. The site provides home buyers with all the resources they need to start their search, including a comprehensive list of homes for sale and contact information for real estate agents in their area.

Claim your profile to build your online presence
One of the easiest ways to connect with future home buyers and sellers is to have a robust agent profile on Zillow. If you haven't done so already, you should claim your free agent profile on Zillow to help you get top placement on your listing detail page. If you're unable to find your profile on Zillow, go ahead and create one.
How to create your Zillow free agent profile:
Add your profile photo
Add your professional information
Promote your brand in the "About Me" section
Add your past sales
Request reviews
Connect your listings
How to build a robust agent profile on Zillow:
If you have a Zillow profile but haven't claimed it yet, make sure you do that as soon as possible. Once you've claimed your profile, you'll need to make sure it has all the information your prospective clients need.
Think of your agent profile as your online business card. Be sure to include the following:
Your professional, high-resolution headshot
A brief bio (keep it professional but with your personality, and don't forget to spell check)
Reviews from your past clients – the more, the better
Past sales
Service specialties (i.e., relocations, investment properties, eco-friendly homes, luxury homes, etc.)
Profile accuracy and consistency
Profile accuracy and consistency will impact your search ranking. Make sure your information is consistent across all profiles on general sites like Google and Facebook, as well as real estate sites (i.e., Zillow, Trulia, Realtor.com, Compass, etc.). When your profile information is consistent across the internet, it sends a relevancy signal to search engines. Search engines like Google use this data to place you or your brokerage's business listing in "Near Me" and location-based searches (i.e., "Homes in Palo Alto, CA").
Making sure your profile is consistent can seem like a manual, tedious task – especially when you're dedicating most of your time to providing a premium client experience. Fortunately, there are solutions that can help to streamline this process.
With Birdeye Listings, you can manage, update, and track all your business listing management needs with the ease of a single dashboard, and be found everywhere your clients and prospective clients search — Google, Facebook, Maps, Alexa, and beyond.
Build your online reputation on Zillow
After you've created a detailed Zillow profile, you'll be able to switch your focus to stand out from other realtors in your area. One way you can do this is with client reviews management. Showcasing testimonials from past clients can help you attract even more potential leads.
Collecting client reviews is a lot easier than you think. Simply incorporate the review request in your closing process and request a review for every client once you close a sale.
How can my client write a review on Zillow?
A client will need their own Zillow profile to write a review, so the platform knows the review is authentic. They'll be prompted to create a Zillow account when trying to write Zillow realtor reviews.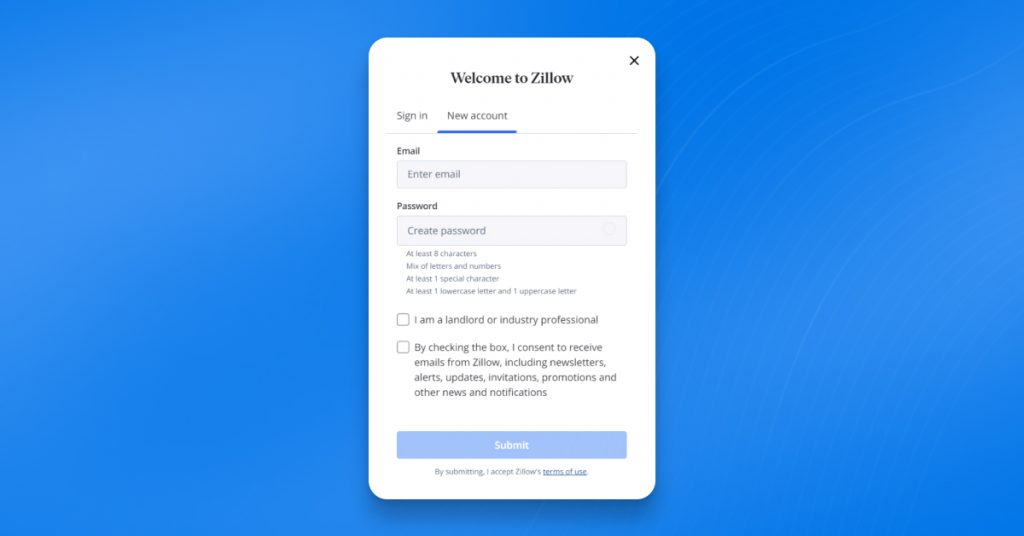 How can I get reviews from my clients on Zillow?
Your clients can write a review by finding your Zillow profile and clicking on the reviews underneath your name. Once they're on the page that lists all your reviews, they can click the 'Write a review' button on the right side of the screen and submit their review.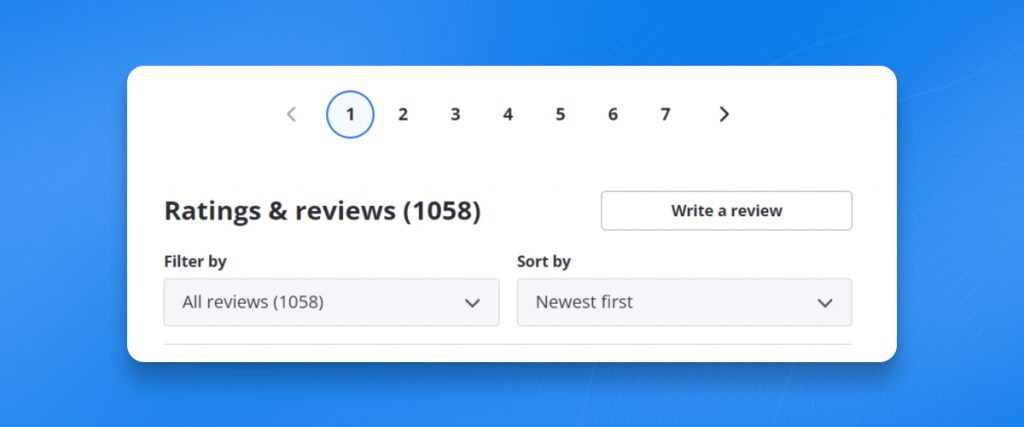 You're more likely to receive reviews if you make it easy for clients to write them. To streamline the process, send your clients a direct link to your Zillow profile via email or text so they won't have to spend time searching.
We've found that text review requests have a 32% click-through rate, while emails have a 22% click-through rate. We recommend sending both an email and a text message asking for review requests for the best results.
It's important to send review requests to all of your clients if you want to see your review volume grow quickly. Only asking happy clients to write reviews will slow down the process and hurt your business in the long run. You should instead make it a point also to ask unhappy customers for feedback. This will help you improve your business and make it more efficient. It will also give you a chance to show your customers that you care about their satisfaction.
In theory, manually requesting reviews from each client after closing sounds doable. However, we've seen business owners become distracted by more immediate tasks and forget to ask clients for reviews. Automating review requests with a platform like Birdeye can help you make sure every client receives a review request every time.
Pro tip: Send review requests within one or two days of closing on the property for a better response. The experience will still be fresh in your client's minds, and they'll be more likely to write an accurate, detailed review.
Customer reviews are not only helpful for potential clients who are considering you as their agent. They also help with search engine optimization (SEO). Google and other search engines factor in the number and quality of customer reviews when determining where to rank your business in search results.
The more customer reviews you have, and the higher the realtor rating those reviews give your business, the better chance you have of ranking high in search results. That means more prospective clients will be able to find you. 
For more information on this topic, check out our article on the importance of reviews for real estate agents.
Ways to connect with more consumers on Zillow
Having an attractive profile on Zillow can give you more visibility, but it might not be enough. Paid lead generation solutions like Zillow Premier Agent can help realtors looking for even more exposure and engagement.
How Zillow leads work
Buyers search for listings in a particular area.
Zillow Premier Agents appear on all listings in the zip codes they purchase.
"Premier Agent" will be displayed next to your name, which can help boost your credibility as a local market expert.
Zillow's paid lead solution includes resources like an immediate lead response, confirmation of the lead's intent to purchase a property, and a live phone introduction to the Zillow Premier Agent.
Responsiveness impacts conversion rates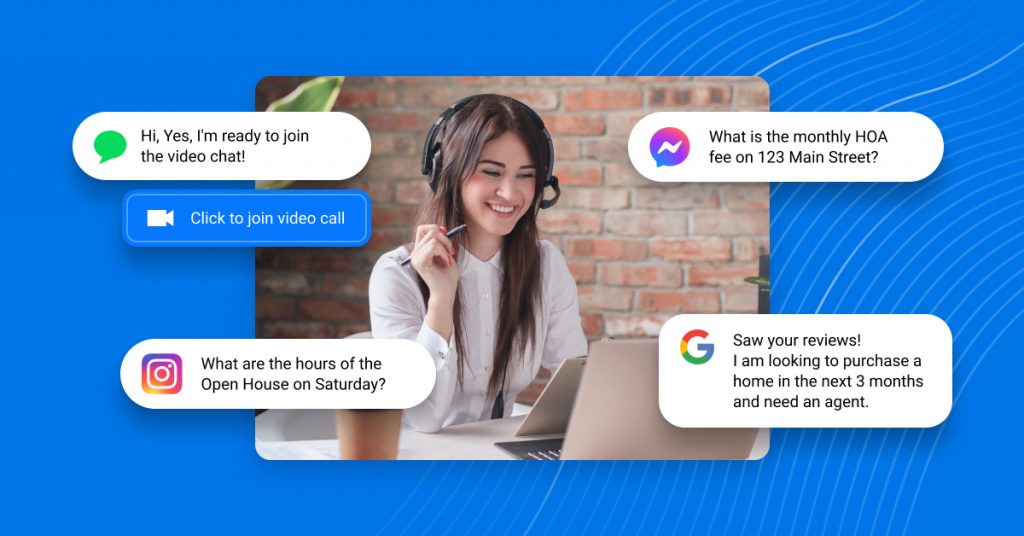 Prospective buyers want to connect and engage with you right away. How soon you respond to these leads will determine whether or not you can convert that lead into a client. Studies show that conversion rates drop significantly after five minutes. Top real estate agents know this and respond within minutes.
With Birdeye Messaging, you can immediately engage with your leads regardless of where they're coming from. Every client interaction from Facebook, Instagram, Google, and other direct-messaging platforms will appear in a single inbox, ready for you to respond to. Tools like Messaging, Webchat, and Video Chat make communicating with your clients on their terms easy.
Frequently asked questions about Zillow for realtors
What is better, Realtor or Zillow?
Both Realtor.com and Zillow.com are leading real estate listing websites. Realtor.com is more accurate because of its affiliation with the National Association of REALTORS and has direct connections to over 580 MLSs. However, Zillow is the most-visited website for real estate. There is more exposure on Zillow than on Realtor.com.
Is it worth it to be a Zillow agent?
Location, market competition, and budget determine Zillow Premier Agent's effectiveness. You can make a decision based on that.
Is a Zillow account free?
Yes, real estate agents and brokers can create a free profile to start building their brand on Zillow. With an active Zillow profile, you'll be displayed if you are the listing agent. Zillow Premier Agent is a paid lead generation solution, and pricing will vary depending on metro markets. Zillow Premier Agents will appear on all listings in their purchased zip code, gaining even more exposure.
How Birdeye can help real estate agents
Birdeye partners with thousands of real estate businesses to enhance their client experiences. With Birdeye, real estate agents can seamlessly send out automated review, referral, and survey requests at any point in the buying or selling process.
Birdeye can easily connect with existing cloud-based or legacy systems through a range of integration options. We provide out-of-the-box integrations to Yardi, Appfolio, Buildium, Dotloop, and Follow Up Boss, along with 3,000+ other systems, open APIs, SFTP, and bulk upload capabilities.

Originally published