A whopping 67.5% of Americans don't trust real estate agents according to a survey by Choice Home Warranty. Given the lack of trust home buyers have for agents, it's not surprising that a study by ZipRealty found that 62% of home buyers choose a realtor based on online reviews and ratings. Just as the housing market dramatically shifted in the last year, the best methods for attracting new clients have changed significantly for real estate agents. Unlike the days of printed ads, property books, or "For Sale" signs, home buyers and sellers look to real estate agent reviews to find the most trustworthy agent. If you're not actively requesting reviews you're losing potential new customers to competitors that do.
Given that purchasing or selling a home is one of the biggest financial transactions a consumer will make in their lifetime, prospects will want to make sure that your real estate business is trustworthy, knowledgeable, and dependable. Reviews can help build a strong online reputation that hits all the marks. In this post, we'll explore all the ways in which real estate agent reviews help drive growth in today's market.
How do reviews benefit real estate agents?
Reviews are a pivotal part of your real estate customer experience marketing efforts. They help establish your credibility as a real estate agent and build up your online reputation. A strong online reputation and proven track record in helping clients either buy or sell property will help to show prospects that you're the right choice.
1. Your client reviews bring more business
70% of people say that good reviews would make them more likely to use a local business. This reflects how influential reviews are in attracting new clients. Reviews validate your business and help home buyers and sellers feel more confident in working with you.
Prospects will seek out reviews on general sites such as Google and Facebook. They'll also seek out industry-specific sites such as Zillow, Realtor, and Trulia.
2. Reviews increase search ranking
Reviews heavily influence local search ranking for real estate agents. It comes down to trust. Ask yourself, whom would a consumer trust more – an agent telling them that your agency is the best or a past customer who says the same? We tend to trust what others say about a business more than what a business says about itself, and so does Google. Google's algorithm measures how trustworthy your company is by "reading" what customers are saying about it.
When lots of users mention your name online, search engine algorithms take that into account when they're ranking sites. If you're interested in learning more about how reviews impact your search ranking, listen to the quick 8-minute audio guide below – otherwise, read on.
When someone Googles 'real estate agents near me,' local real estate agents who have a high number of online reviews will appear more highly on the search engine results page (SERP) than agencies with fewer or no reviews.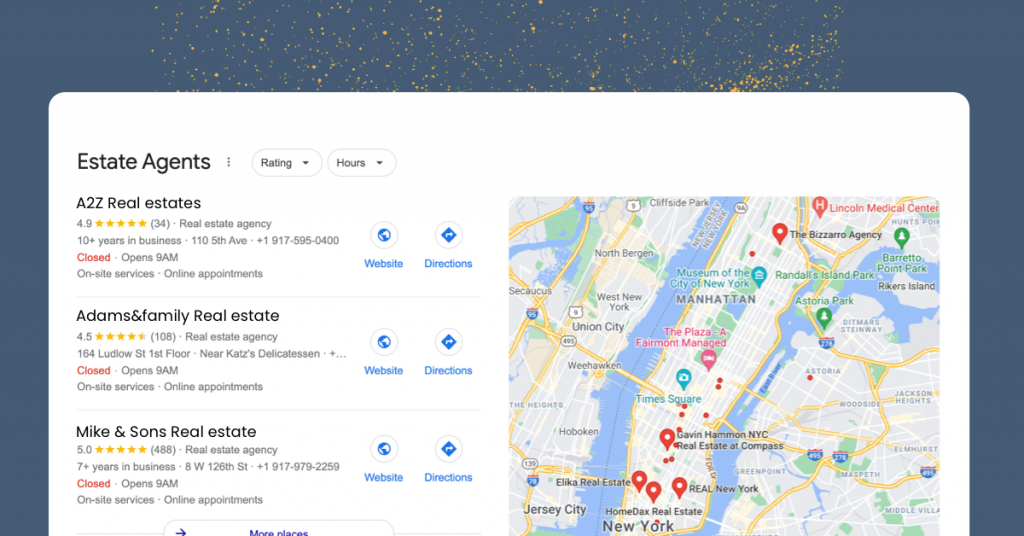 3. Reviews provide social proof
Real estate agent reviews act as powerful social proof for your business. People read online reviews to get authentic opinions and recommendations from your customers.
Chances are you practice this in your own life. For example, when you're looking for a restaurant, a hotel, or any other local business, you search online and choose a local business based on which has the most amount of reviews with a high star rating.
You're not alone, 68% of consumers stated positive online reviews make them trust a business. Reviews validate your business and help consumers feel comfortable. In real estate, it's important to establish your agency as trustworthy. Having a plethora of recent reviews helps establish credibility with prospective customers.
Which review sites are important for real estate agents?
General review sites
Birdeye's 2021 State of Online Reviews found that Google, and Facebook, are the top mainstream sites where customers write reviews for all types of businesses – real estate agents included. However, Google was the clear frontrunner by a large margin – 67% of all reviews in 2020 were written on Google. This makes it the top site for prospects to look at when searching for a trustworthy agency.
Real estate agent review sites
Homebuyers and sellers looking for industry-specific reviews are likely to check out niche sites like Zillow, Realtor.com, and Trulia. As an agent, you'll need to create a profile for yourself on these review and listing sites. If you're a broker, you should create a profile for yourself and your brokerage on these sites.
For a more in-depth look at relevant real estate agent review sites, check our blog, Realtor ratings – The most important sites.
Reviews on your own website
When prospects are close to committing to choosing an agent, they will conduct deeper research. They will scour social media pages, websites, personal agent pages to read reviews on a specific agent.
Reviews that appear on either a business site or an agent's personal page have an indirect SEO benefit. Posting reviews on your website will cause prospects to spend more time on your website to read reviews. This can indirectly help with search ranking by increasing time on the page, reducing bounce rates, and influencing similar metrics.
Additionally, because customer reviews typically have keywords within them that talk about your services, it adds more content to your website. Google highly values content to understand the context of your company in relation to search queries. Therefore, displaying reviews on your website can also help SEO by providing Google context.
Let's look at a real-world example of how a real estate agency increased its search ranking and grew its business by getting more reviews.
Case study: Owen & Co., LLC Real Estate
Sherry Owen, owner, and licensed real estate broker had almost no evidence of her company's decades of successful sales. They ranked below other local realtors in relevant search results, and only a handful of clients had shared reviews on sites such as Facebook, Zillow, and Realtor.com — no one had left reviews on Google, the most popular review site.
Owen needed a way to stand out from the local competition and build trust with prospective clients. For a small business with limited staff, there was simply no time in the day to manually collect reviews from each client after a transaction.
The solution: Automating review collection and promotion
With Birdeye, Owen & Co. was able to automatically send SMS and email review requests to every client instantly after a transaction. Reaching every client at the right moment with the right message, 35% of their email requests and 16% of their SMS messages are converted into reviews on third-party sites.
Birdeye also scanned all of Owen & Co.'s listings across 70+ consumer sites and business directories and fixed all inconsistencies in real time. Additionally, Owen used Birdeye's Review Marketing tool to automatically promote her best reviews to their pages on Google, Facebook, and Twitter. They also embedded a review feed on their company website powered by Birdeye, so visitors could easily scroll through recent testimonials from happy clients.
The results

Owen & Co. doubled their overall review volume in just one year with Birdeye's automated review generation campaigns. After another year, the company tripled its overall review volume, generating 33x more Google reviews and 4x more Facebook reviews. The majority of these reviews were 4 or 5 stars, boosting ratings to a 4.8 average rating.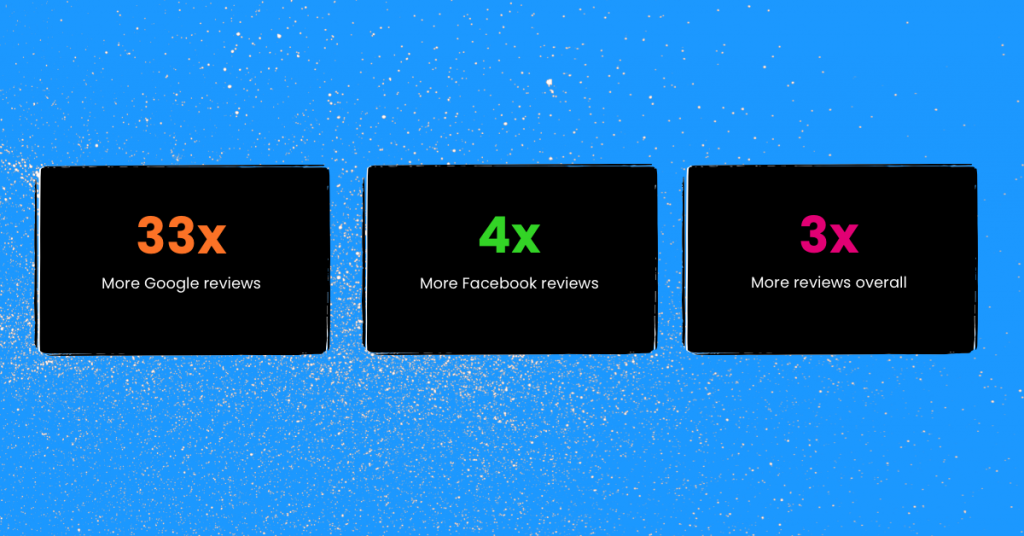 Consistent business listings, a fresh stream of new reviews, and an SEO-optimized review microsite worked wonders for Owen & Co.'s search ranking. When someone searches "real estate agency gulfport," Owen & Co. ranks at the top of the local 3-pack. Their improved Google ranking, business profile, and cross-posting reviews to social channels have driven 25K visitors to their site since joining Birdeye.
While you're here, check out our article on real estate agent tips on how to stand out from your competition.
Frequently asked questions about reviews for real estate agents
What is reputation management for real estate agents?
Reputation management for real estate agents is the process of actively influencing online reviews and promoting positive user-generated content (UGC) to create a positive reputation for your brokerage.
What does reputation management include?
Reputation management includes generating customer reviews, monitoring feedback, addressing feedback that improves customer experience, and using strategies to prevent and solve problems that could damage your agency's reputation.
How Birdeye can help
Here at Birdeye, we know online reviews, and we have the tools like online review management that you need to be successful in growing your brokerage through happy customers. Whether you need help getting new reviews, managing reviews, or monitoring reviews, Birdeye has you covered. Our streamlined and simplified review process will help your business deliver a fantastic customer experience and grow like never before. Over 100,000 businesses of all sizes use Birdeye to grow their business through happy customers. For more information, click on the banner below.

Originally published