PALO ALTO, CALIF. (PRWEB) APRIL 19, 2018
Birdeye Launches Better AI Tools for Customer Sentiment Analysis
Users can override machine-learning based insight to make it smarter over time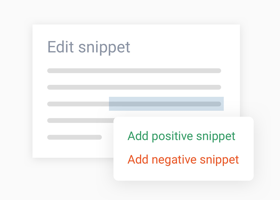 Birdeye launches better AI tool for customer sentiment analysis
Customer experience leader Birdeye today announced the launch of Annotation feature to its Insights product. With this new AI tool enhancement, users will be able to look at insights generated by Birdeye's Natural Language Processing (NLP) engine, Athena, and override these insights as necessary, in the process making Athena smarter over time.
Athena processes customer feedback from reviews, social media, blogs, discussion forums and news articles, and converts them into clear actionable insights. Athena identifies snippets of text that appear frequently across customer feedback and assigns positive or negative sentiment to each snippet based on machine learning analysis of their context. Snippets include topics, keywords, and adjectives.
To enhance quality and relevance of customer sentiment analysis, Birdeye users can now collaborate with Athena by editing the content of their insights. Athena will learn from users' edits and apply them to all incoming customer feedback to improve the accuracy of trend identification.
Users can make the following edits to snippets:

Change a snippet's sentiment from negative to positive, or vice versa
Delete a snippet identified by Athena that is not important for their business goals
Add a new snippet they would like to track
NLP algorithms can understand vast amounts of data that no human would have the time to ingest or analyze. However, computer programs still sometimes have a hard time determining which nuanced phrases, slang terms, and figures of speech are important for each business-- unless they are taught to do so. With this new Annotation feature, Athena can build a more robust learning model by incorporating users' input, allowing it to deliver increasingly refined insights.
"Even the most advanced machine algorithms can learn a lot from humans," said Neeraj Gupta, COO at Birdeye. "Accuracy of customer sentiment analysis depends on machine-learning that can adapt and improve over time. Athena can now receive information and learn it to make smarter decisions in future, helping businesses get a deeper understanding of their customers."
Athena can now receive information and learn it to make smarter decisions in future, helping businesses get a deeper understanding of their customers.
About Birdeye
Birdeye is a SaaS platform that reimagines the way customer feedback is used to acquire and retain connected customers by closing the loop between reputation marketing and customer experience. Birdeye enables businesses to get new reviews and captures existing customer sentiment from review sites, social media, Net Promoter Scores, and support cases in real-time. Birdeye converts all feedback into actionable insights so businesses can engage in every step of the customer journey, establish a positive online presence, and benchmark performance across locations and against competitors. The Birdeye platform is trusted by 25,000+ businesses and prominent F1000 enterprises. Birdeye was founded in 2012 by Google, Yahoo, Amazon alumni and backed by Silicon Valley who's who including Trinity Ventures, Salesforce founder Marc Benioff and Yahoo co-founder Jerry Yang. Learn more at Birdeye.com.