When a customer searches online for a product you offer, you want to be the first result they see. But, if you're not utilizing SEO tools and SEO best practices, the chances of that happening are minuscule. SEO is now standard practice in the online marketplace, and if you're not incorporating it into your online marketing strategy, you're getting outranked by the competitors that are.
To use SEO to your advantage, you'll need some tools to get the job done. Here are 10 of the best tools for SEO that you can use right now to improve your ranking online and be seen by more potential customers.
What is SEO?
SEO or Search Engine Optimization is simply the process of incorporating methods to help your business rank higher in search engines online. Doing this will get you more traffic to your website and improve your standing in the industry your business operates in online.
For example, if you work in the dental industry and specialize in pediatric dentistry, you would want your name to appear on the first page of Google when someone searches the keyword "pediatric dentists near me." The better your SEO standing, the higher likelihood your name or business name will rank for that particular keyword and choose your business for the service they need.
What is an SEO Tool, and why do you need them?
We've established what SEO is and why it should be important to you; now, let's cover SEO tools. SEO tools are useful platforms that help you do research on current SEO trends and optimize your website accordingly to improve your ranking.
Some tools help you analyze your competitors' sites and find target keywords you want to rank for. Other SEO tools will crawl your site and find SEO flaws that you can fix to rank higher on search engines.
10 Best SEO Tools to know
Here are 10 of the best SEO tools that you can use today. Let's start with the premium tools first and then the free ones.
1. Ahrefs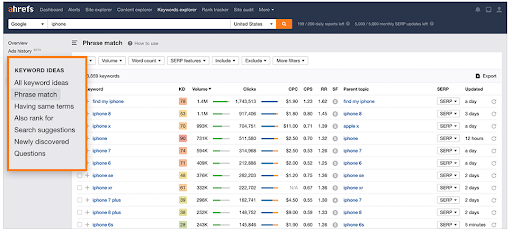 Ahrefs is easily considered to be one of the best tools for SEO you can utilize. This fully functional tool will analyze your site, examine your competition, give you keyword recommendations, and more.
Ahrefs has several packages for you to choose from with many features. Some of those features include a site explorer that gives you the webpage performance of your site, a keyword explorer to help you to research and choose the best keywords for your business, a site audit that helps you identify technical issues in your site, and the list goes on.
Ahref's price points start at $99 a month. There is also an option to pay annually which comes with a two month free bonus.
2. SEMrush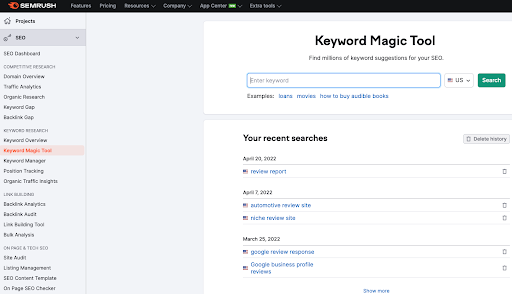 Another competitor to Ahrefs is SEMrush, a staple SEO platform for many online users. Many of the same features available with Ahrefs are also available with SEMRush but with their own unique features and price points.
One unique function of SEMrush is the SEO Toolkit which will give you tracking capability to see how your site's visibility improves over time and see what keywords you're ranking for. This is a very useful function as you begin to implement these SEO tools to improve your ranking.
You can get started with SEMrush for a cost of $119.95 a month.
3. Screaming Frog
If you haven't been paying close attention to SEO and how your site performs, chances are your site has some issues that need resolving. Screaming Frog is considered one of the best SEO tools for performing site audits and improving your site for SEO.
According to most users, it is one of the fastest site crawlers giving you actionable reports on how your site is performing and where you can improve it. This tool will tell you if you have duplicate content, keyword cannibalization, broken links, bad redirects, and other site errors impacting your ranking.
Screaming Frog offers a free and paid version. Options with the free version are limited. Full access is priced at $209 annually per license.
4. Ubersuggest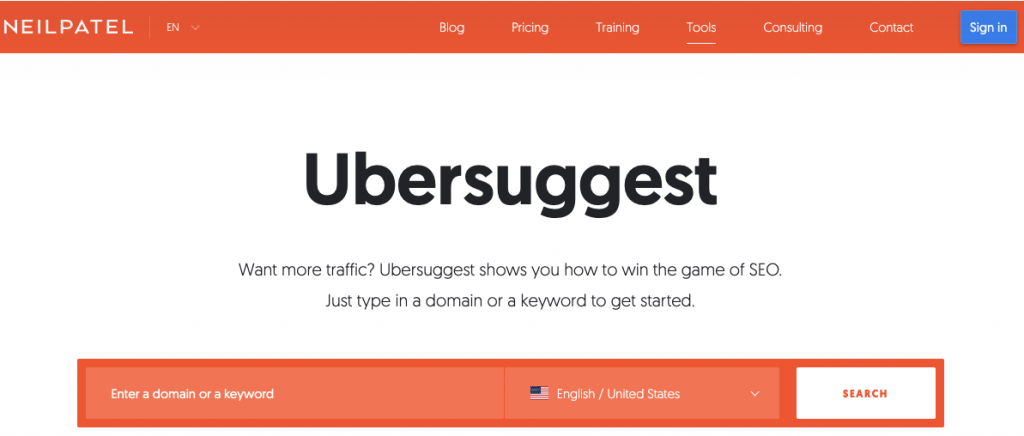 Ubersuggest is an all-in-one platform that can help you analyze your competition, find relevant keywords, and improve your own site to increase your SEO standing. This is one of several free tools for SEO that can help you find keywords, get started optimizing your site, and outrank your competition. If you want more features, there are paid packages you can purchase to really up your SEO game.
With Ubersuggest, you can utilize metrics like keyword volume, competition, trends, cost-per-click (CPC), and both organic and paid keywords. It is a very versatile SEO tool to get you started in SEO.
The Individual plan is priced at $29 per month.
5.Yoast SEO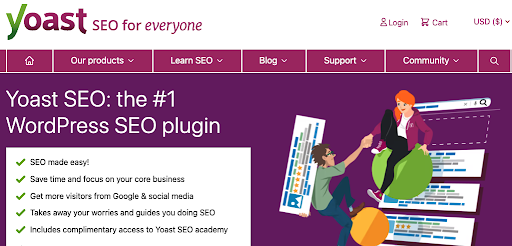 The Yoast SEO tool is a fantastic way to optimize your posts directly on the site as you build them. This tool is a plugin that gives you SEO recommendations directly on-site when making a blog post.
As you build your post, you will see Yoast SEO's ranking from bad to needs improvement, to good color-coordinated by red, orange, and green. It will then break down your SEO standing in the post and give you detailed recommendations to improve the post before you publish it.
The Yoast SEO pluggin comes at a flat fee of $99 for the year.
6. Google Analytics
Google Analytics is a free or paid SEO tool that you can integrate with Google Search Console to centralize all of your SEO data to quickly and efficiently identify where you can improve and rank for the keywords and phrases you're targeting.
Some other features of Google Analytics help you filter out fake traffic to ensure accurate reports, distinguish organic and non-organic traffic, and Site Content Reports to help you look at engagement, exit rate, landing page conversion, and much more.
Google Analytics 360 is the paid version typically reserved for enterprise companies due to its steep price of $150,000 per year. To learn more about Analytics 360 follow the link.
7. SEO META in 1 CLICK
This SEO tool is an extension that will give you a clear display of all your meta tags, metadata, and other important SEO information all in one place. The extension will show you your SEO title with length, description with length, URL, number of images with or without alt-text, headers in the order of appearance (H1, H2, H3, H4, etc.), and more. 
Having all of this SEO information optimized is critical if you want your page to rank on major search engines. This tool is a fantastic way to make sure you have everything in place in a single, easy-to-use platform that will keep your optimization streamlined.
8. Google Search Console
Let's look at some of the top Google tools for SEO, starting with Google Search Console. This is another free SEO tool that can help you monitor your website's presence on Google's Search Engine Results Page or SERP. Google's SERP is the whole idea behind SEO optimization; it's where you want to rank to be seen by your customers. Google Search Console helps you understand how Google and your customers view your site and help you optimize for better SEO results.
As a free tool, all you need to do is verify your site by adding a code to your site that allows search indexing to take advantage of its features. Another option is to use Google Analytics, where you can submit your sitemap for indexing, which brings us to our next tool.
9. Google Page Speed Insights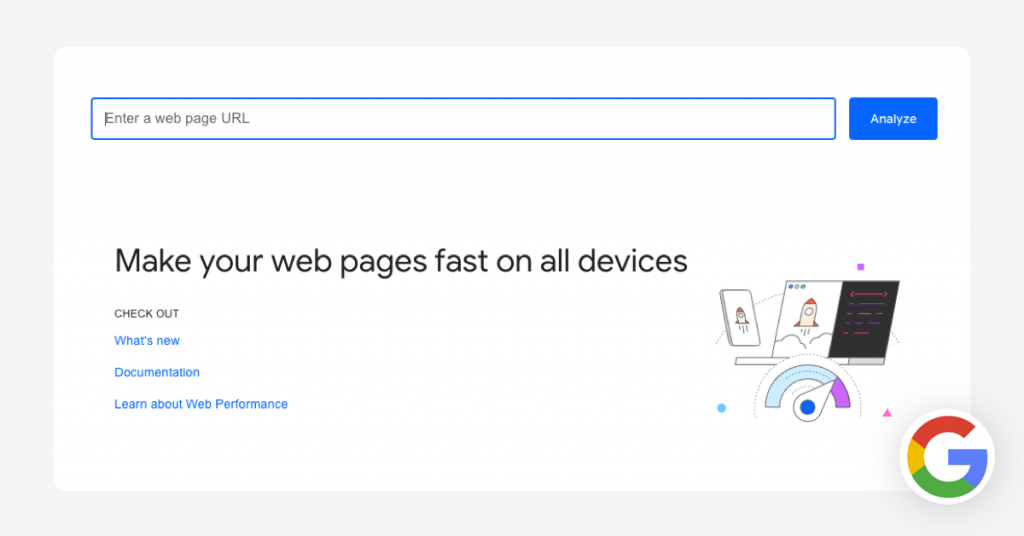 One aspect of SEO that is often overlooked is page speed. That's why Google Page Speed Insights is a very valuable SEO tool. This tool lets you enter the URL of a page you want to analyze, and it will tell you how quickly your page is loading on desktop and mobile.
After it checks your site speed, you'll get a score from 0-to 100 that tells you exactly how fast your page is loading. It will also give you general recommendations to improve your site speed if you are slower than your competition.
10. Google Alerts
The last of our SEO tools for Google is Google Alerts. This simple but useful tool will tell you any time your business is mentioned online. All you have to do is enter your brand or business name, and Google will send you an email alert any time it is mentioned on a webpage.
This is very useful for backlink acquisition as many sites might mention your brand or company but fail to provide you with a backlink. Once you get the notification, you can reach out, ask for a backlink to the mentioned business or product, or even set up an outreach plan for articles or other material with your site, which will improve your SEO standing.
How Birdeye can improve your SEO standing
All of these tools mentioned above are incredibly useful for improving your current SEO strategy, but they don't address another critical aspect of SEO: reviews. Birdeye is an all-in-one reputation management platform designed to help you get more and better reviews online. Google sees businesses with significantly more reviews as more relevant, and therefore will rank them higher on their search engine results page.
If you want to see how Birdeye can get you more reviews, take a look at our latest report, The 2022 State of online reviews. We analyzed the latest trends of more than 100,000 Birdeye customers and found significant increases in reviews from businesses using the Birdeye platform in 2021.

Originally published