Technological advances have enabled quick and seamless experiences for consumers across different industries. eCommerce sites offer 1-click shopping and same-day delivery. Ride-hailing apps allow users to find reliable transport with just the click of a button. It's an age of quick and seamless experiences all around — with one exception: healthcare.
Consumers are accustomed to getting seamless experiences in most aspects of their lives. They've come to expect similar levels of service from their healthcare providers as well. When patients have great experiences with their service provider, it sets off a domino effect that results in repeat visits, great reviews, and more referrals. That results in increased patient loyalty, greater retention, and higher new patient acquisition.
Of course, the digital landscape does come with ample opportunities for healthcare practices. By taking the right steps to ensure that patients are receiving excellent experiences across all of these touchpoints and are sharing their experiences on review sites and social media platforms, practices can gain more visibility online and attract more patients. We call this process Experience Marketing.
Let's break down 6 Experience Marketing strategies that you can use to delight patients and grow revenue.
Strategy #1: Meet your patients where they are
The first step to Experience Marketing is ensuring that patients have a great experience from the moment they discover your practice. That means claiming your profile on the sites that they're using to find healthcare providers. Here are a few sites that every healthcare practice should pay close attention to.
While your team should claim profiles for each one of your individual locations, it's also important to claim profiles for each individual provider. This will maximize the potential reach of your practice and crowd out competitors in relevant search results.
Strategy #2: Build social proof across the Internet
Reviews not only provide valuable social proof to patients who discover you on Google, but they can also help your locations rank higher in local search results. Here are a few tips to collect more reviews for each one of your locations and each one of your providers.
Send review requests via email and text: Asking for reviews in-person is not an effective strategy. Your patients are busy people and will likely have other things on their minds after an appointment. The better option is to send review requests via text and email that link directly to sites like Google, Facebook, and Healthgrades. This will streamline the process so patients can leave reviews with just a few clicks.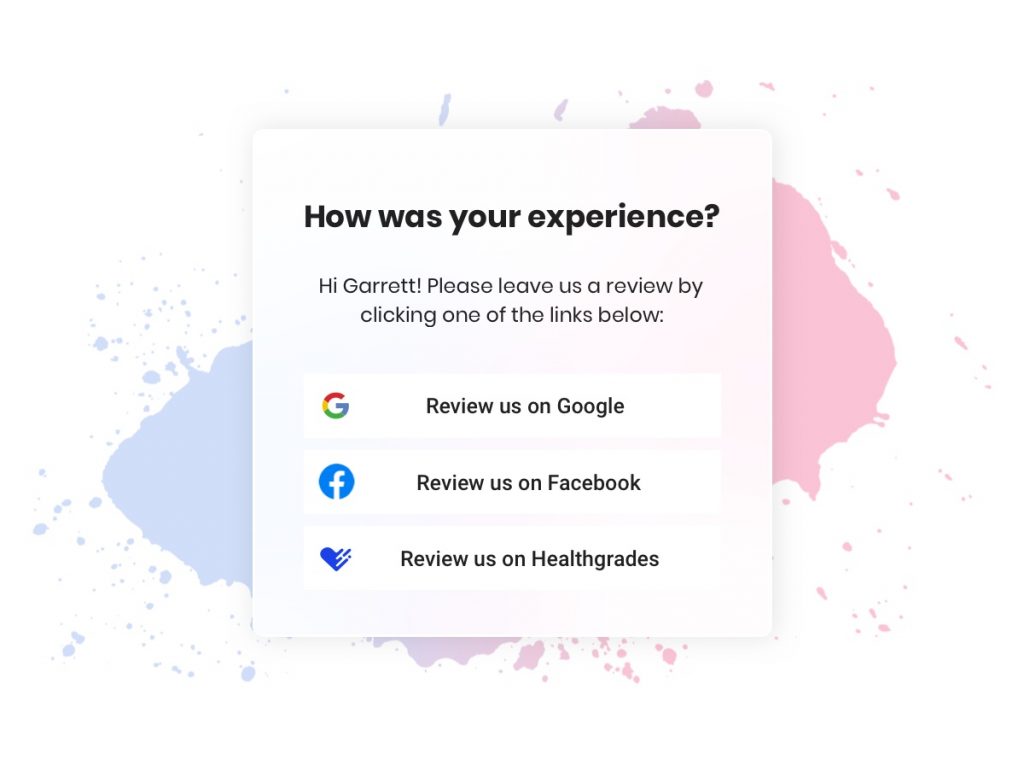 Send timely review requests: Be sure to send review requests to your patients on the same day as their appointment. Patients are more likely to leave a review when the experience is fresh in their minds.
Send review requests to all patients: For the best results, send review requests to all of your patients. More review requests mean more social proof and higher search ranking. While it's likely that your locations will end up with at least a few negative reviews, that's okay — as long as you have the right strategy for dealing with them (more on this later.)
Find a platform that integrates with your PMS/EMR: It's incredibly difficult for a marketing team responsible for multiple locations to manually send review requests to every patient. To simplify the process, find a software that integrates with your PMS and sends review requests automatically. You'll be able to collect reviews in the background while your team focuses on delighting patients.
Strategy #3: Managing patient reviews
Even the best practices will occasionally have patients who feel that they've had a bad experience and will leave a negative review. If these are left unmanaged, they can cause real damage to your Experience Marketing efforts. However, the right strategy can help you mitigate this damage.
Respond to every review in a timely manner: Responding to both positive and negative reviews is a great way to show appreciation for happy patients and fix issues before they escalate. Keep in mind that patients typically expect a response within 24-48 hours.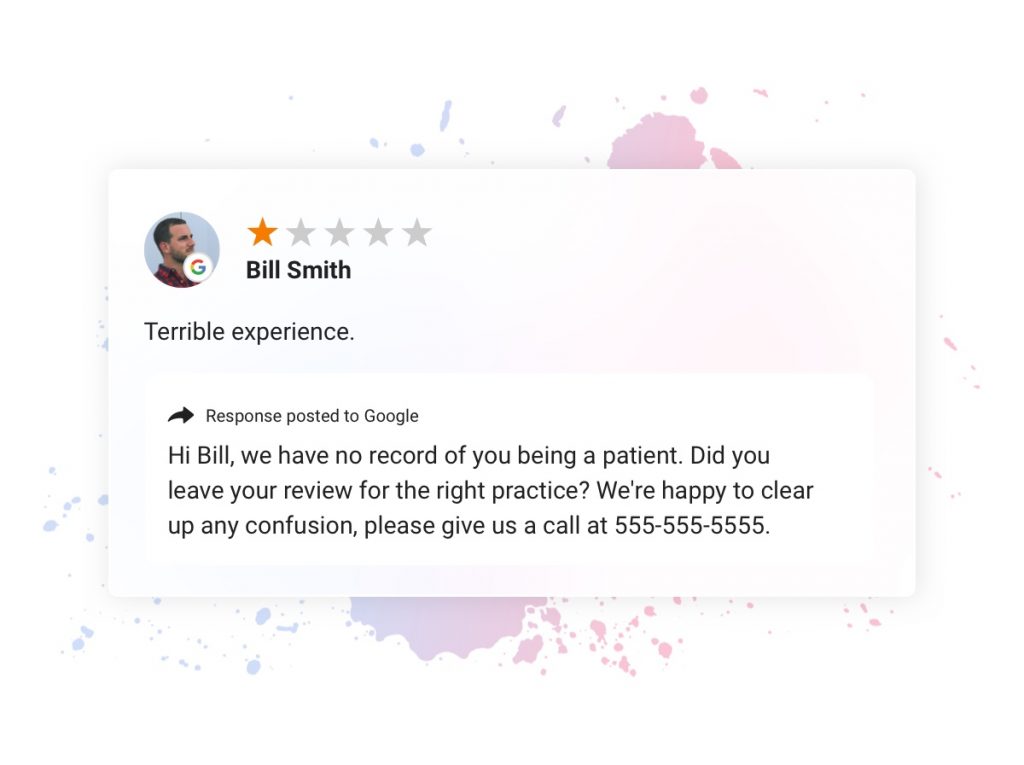 Pay close attention to trends across locations: A dip in overall star rating for an individual location may be a sign of a bigger patient experience issue. Regularly monitor review ratings for individual locations and build a process to take action when issues arise.
Use reviews to coach providers: Reviews can help providers improve their bedside manner. Send them regular reports on what patients are saying in their feedback so they can deliver better experiences.
While you're here, check out our infographic on how review automation helps healthcare providers accelerate growth.
Strategy #4: Collect patient-to-patient referrals
Studies show that patients are 90% more likely to trust a practice that's been recommended by a friend or family member. That means it means it's important to enable your happy patients to spread the word about their experiences.
It is important to keep in mind the Anti-Kickback Statute. This makes it illegal for providers to give incentives to promote items and services payable by Federal health programs like Medicare and Medicaid. Of course, incentives are not needed to create a successful referral program. Here are a few tips for building a patient-to-patient referral program.
Show appreciation for your loyal patients: The more you nurture your relationship with your existing patients, the more likely they are to spread the word about your practice. To start, try sending a birthday card to your patients every year.
Get started with a digital referral program: We recommend that every healthcare provider get started sending referrals digitally. This is a win-win for both you and your patients. With the right platform, you'll be able to see at a glance how many referrals you've collected in any timeframe you choose. Meanwhile, your patients will be able to spread the word about your practice with just a few clicks.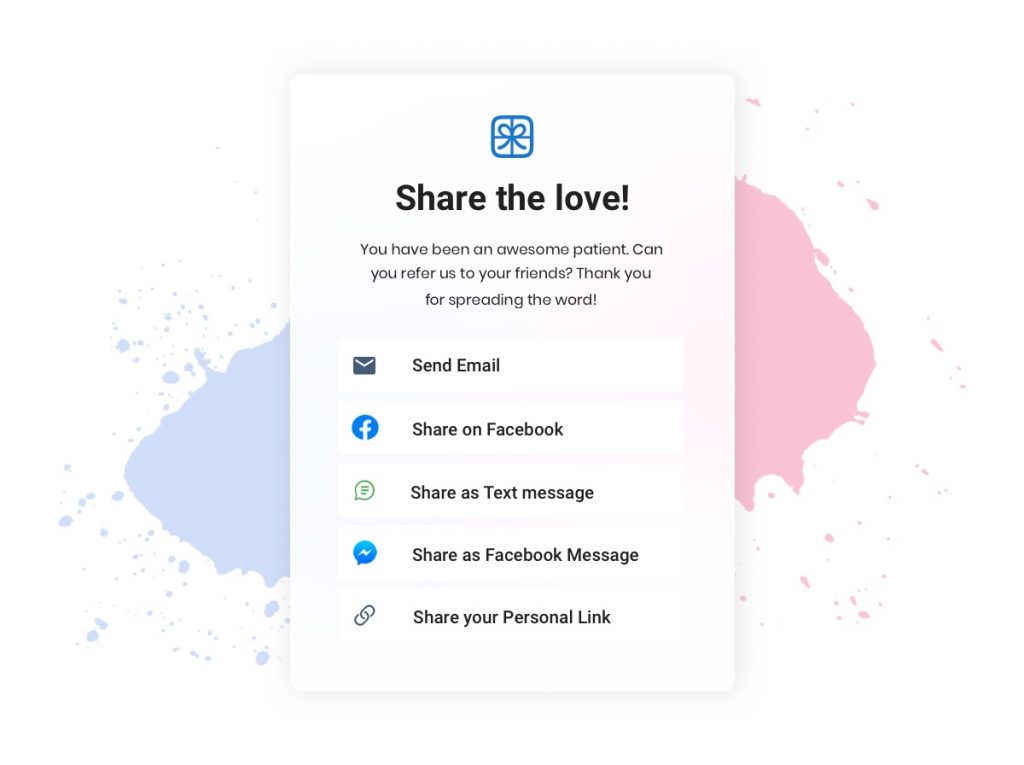 Say thank you: Showing gratitude to patients who give referrals can motivate them to tell even more friends and family members about your practice. When one of your patients gives a referral, send them a quick thank-you note via text or email.
Strategy #5: Allow patients to get in touch instantly
These days, patients are used to seamless experiences in their everyday interactions with businesses. Unfortunately, many healthcare businesses haven't been able to adapt. Patients who try to get in contact with providers often face frustratingly long wait times. Here are a few tips to give patients the seamless communication experience they're looking for.
Enable website chat: With a website chat widget, patients can get in contact with your practice in an instant. There's no need for them to wait on hold -— they can get connected and schedule appointments within minutes.
Leverage chatbot: If you're not able to offer support for livechat on a 24/7 basis, that's perfectly okay. A chatbot can be programmed to offer responses to frequently asked questions and provide answers at any time.
Get started with a centralized inbox: Potential patients may be messaging you via mediums like text, email, Facebook Messenger, Google Messenger, Instagram Messenger etc. Unfortunately, busy teams often don't have the capacity to respond to every message in a timely manner. With a platform that offers you a centralized all-in-one inbox, you can ensure that none of these messages slip through the cracks.
Strategy #6: The importance of communicating via text message
Great experiences require great communication, and text messaging is the easiest way to get in contact with your patient base. Studies show that 89% of Americans say that text messaging is their preferred method of communication. In addition, text messages have a stunning 98% open rate compared to just 21% for emails. Here are a few ways your practice can start leveraging text messaging.
Spread news about your practice: Mass texting is a valuable tool for practices to spread the word about changes in operations. Many practices found it to be an indispensable channel of communication during the pandemic. Healthcare marketers texted patients about the availability of testing kits and the steps they were taking to limit the spread of COVID-19.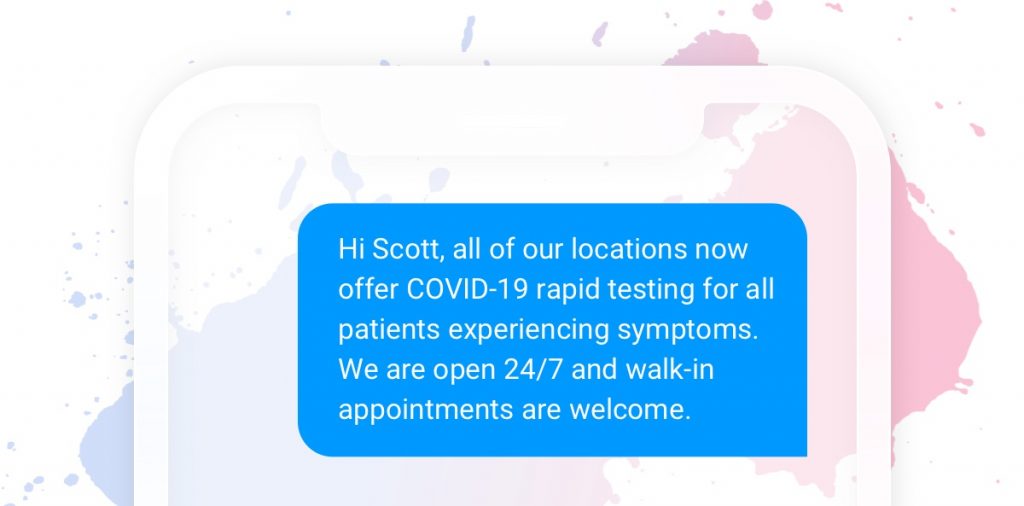 Prevent missed appointments: Many missed appointments occur simply because of patient forgetfulness. A text message a few hours before can serve as a helpful reminder.
Help patients understand billing: Unfortunately, many patients are confused about how much money they owe to your practice vs. how much their insurance is covering. A text message reminder about unpaid bills can help.

Let's take a look at a real healthcare practice that's embraced Experience Marketing to the fullest.
Experience Marketing case study: Complete Care
Complete Care is an urgent-care practice with 16 locations in Colorado and Texas. For years, the practice struggled with little to no social proof online and limited visibility on search engines. Then, the practice used Birdeye to kickstart its Experience Marketing strategy.

More reviews, higher search ranking: Using Birdeye's Experience Marketing platform, Complete Care set up an automated drip campaign to send review requests every 48 hours. Now, the practice has more than 17,000 reviews with an average 4.8-star rating. These reviews provide an SEO boost as well. Complete Care now ranks in the top 5 for each one of its target keywords.
Quick action on negative feedback: Complete Care takes quick action on any negative feedback that the practice receives on review sites. Birdeye automatically notifies the team when a negative review is posted on any of the sites they are monitoring. Then, these negative reviews are routed through the Birdeye platform to a Service Excellence Coach, who makes sure that the review is responded to within 48 hours. In addition, Complete Care's providers are contacted with constructive feedback on how they improve their care in the future.
Easy communication with mass texting: Complete Care uses the Birdeye platform to send mass text messages to its patients. During the pandemic, the team sent updates about testing kits and the steps they were taking to keep patients safe.
Being able to handle all their Experience Marketing needs on one platform has benefited Complete Care's team immensely. Team members do not need to waste time flipping between different software systems. More importantly, they're able to see a complete view of the patient's journey and get a better understanding of where they can improve services in the future.
Looking for more Experience Marketing strategies?
Unfortunately, we couldn't fit every successful Experience Marketing strategy into this article. Instead, we put it into one comprehensive guide. Click the link below to read how more tips, tricks, and insights from practices like Complete Care.

Originally published