According to Statista, in 2022, nearly 50% of smartphone users in the U.S. used an iPhone. That means there's a good chance that half of your potential customers are using Apple Maps to find local businesses. With millions relying on Apple Maps for navigation and local searches, listing your business on Apple Maps can significantly boost your visibility and credibility. 
Registering a business on Apple Maps can help potential customers find you more quickly and easily. In this blog, we'll share the steps to list your business in Apple Maps and how to optimize it for the best visibility.
Manage Your Social Media Accounts from One Dashboard
Want to see the impact of Birdeye on your business? Watch the Free Demo Now.
Benefits of listing your business on Apple Maps
Adding a business to Apple Maps doesn't just make it easy for people to get directions when visiting your location. It makes it possible for them to discover you when they may not even know you exist.
Every Apple device has the app already installed. And considering there are almost 150 million active iPhones in the United States, that's a lot of potential eyes on your business.
Additionally, people can also look at Apple Maps' ratings and photos of different businesses. Rather than relying on other review sites, users can directly leave their Apple Maps reviews on a business's profile. 
If your business has solid overall ratings, then people will be more inclined to stop by when it appears in their search.
Here are a few other benefits of adding your business on Apple Maps:
Being featured on Apple Maps lends credibility to your business. Customers tend to trust businesses listed on reputable platforms like Apple Maps, increasing the likelihood of them choosing your services over competitors.
Listing your business on Apple Maps can positively influence local SEO marketing. It enhances your business's local presence and improves the chances of appearing in Google's "Local Pack" when users search for related services.
Registering your business on Apple Maps is free marketing. It is a cost-effective way to enhance your online presence and boost customer reach.
You humanize your brand once your business is listed on Apple Maps. Because it allows you to upload photos and videos of your business, these create a more engaging profile and give potential customers a better understanding of your offer.
Now that we know how it can help your company, let's go over how to add your business to Apple Maps.
Steps for adding your business to Apple Maps
Step 1: Create an Apple ID (if you don't have one) and log in
If you already have an Apple ID, then half the work is already done. You just need to log in to add a business to Apple Maps.
If you don't have an Apple ID, don't worry. It's a simple sign-up process that's quick and free.
Step 2: Access Apple Business Connect and set up your preferences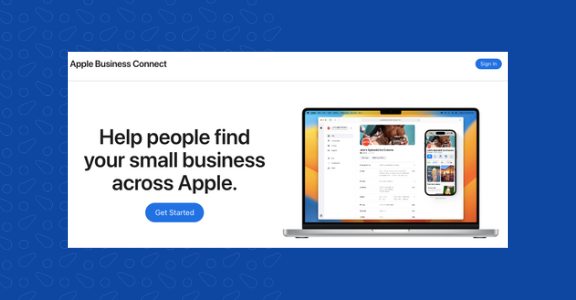 Apple Business Connect is where you can add a business listing on Apple Maps. You'll be prompted to set up language preferences and what notifications you receive to opt-in or out of getting updates from Apple.
Step 3: Search for your business
It may be that your business is listed on Apple Maps. To avoid a double listing, search for your business using your zip code, city, keyword, or business name to see if it comes up in the results.
Step 4a: If your business is listed, claim it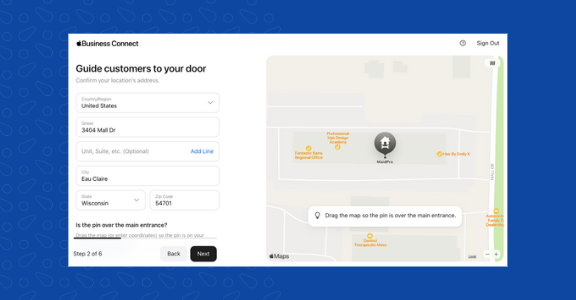 Claim business on Apple Maps if you find your business in a search. Verify the complete profile to ensure your business is listed on Apple Maps. Double-check that all your listed information is correct. If it is, then all you need to do is tap "Claim this business," and you're good.
Step 4b: If your business is NOT listed, add it
If you don't find your business in the search, then you'll need to manually add your business. Just tap the "Add New Place" button and follow the prompts to fill out the information for your business's profile.
Step 5: Make sure the information in your profile is accurate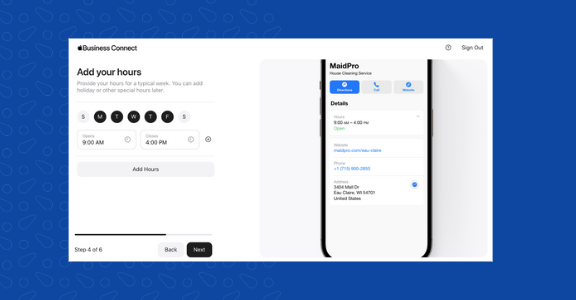 When adding business to Apple Maps, look over the listing and make sure that all the information is accurate and up to date and: 
Verify that your address, phone number, and website address are correct.
Ensure that there are relevant keywords in Apple Maps' business listing, allowing it to come up in search results easily.
Once you're satisfied, you can verify your business.
Step 6: Get your business verified by Apple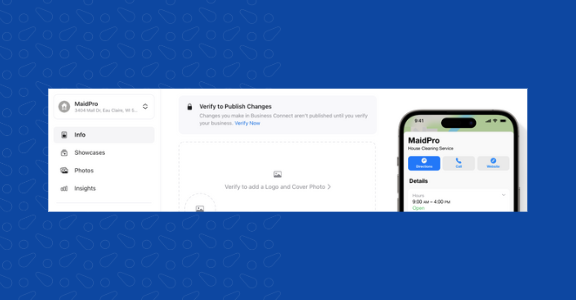 Once you do that, you're officially verified.
If you're unable to answer the phone during set-up, there's also an option to verify later. Getting verified is important so you have control over your business listing.
Optimizing your Apple listing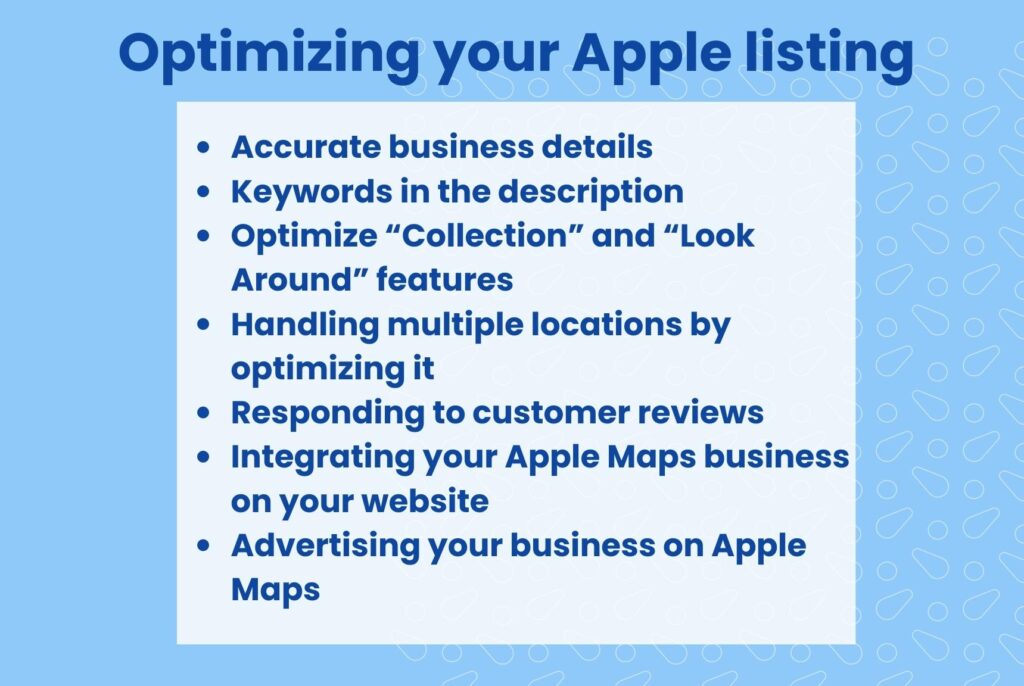 Now you know how to add your business on Apple Maps, you should take steps to optimize your listing. While getting verified will get you on the map, literally, Apple rewards those who put in a little extra effort in their profile. Once Apple Maps add a business to its platform, make sure you optimize it properly by: 
Accurate business details
You want all your information to be as accurate and up-to-date. This includes business descriptions, hours, phone numbers, websites, addresses, and social media accounts. 
An accurate listing can make it simpler for local customers to discover your business.
Keywords in the description
When you add a business on Apple Maps with relevant keywords that describe your services, you make it easy for your target audience to connect with your business. By knowing what people are searching for and using those terms, you can make sure they'll find your business.
For example, if you're a residential cleaning service, you'll want to include keywords like:
Residential cleaning
House cleaning
Housekeeping
Optimize "Collection" and "Look Around" features
On registering your business on Apple Maps, it gives you two unique features: the "Collection" feature and the "Look Around" feature.
"Collection" is a way for people to bookmark locations they want to visit in the future.
The "Look Around" feature allows Apple Maps users to have a 360-degree view of an area.
A business can use these features by adding images to its profile. Not only does it draw more attention to what you're offering, but it gives a better picture of what your business actually is. If it's enticing enough, people may add your business to their "Collections" to return to later.
Handling multiple locations by optimizing it
If you have multiple business locations, you can manage them all through the Apple Maps Connect dashboard. Follow the same steps for each location, ensuring accuracy and consistency across all listings.
Responding to customer reviews
Once you have added your business on Apple Maps, you'll eventually get customers from there. And you can capitalize on those customers by asking them to leave reviews.
The more customer reviews you get, the better chances of you saying you were adding your business to Apple Maps has been a success because customer reviews can influence potential customers' decisions.
Take the time to respond to both positive and negative reviews promptly. Address any concerns and show appreciation for the positive feedback.
Integrating your Apple Maps business on your website
Adding a business to Apple Maps will be as profitable as you'd want it to be. And one of the ways is to take advantage of Apple Maps integration on your website.
By adding Apple Maps widgets or links, you make it easier for visitors to find your physical location, leading to better customer engagement.
Advertising your business on Apple Maps
Apple offers advertising opportunities within Apple Maps to increase your business's visibility further. Consider investing in paid advertisements to target a broader audience and boost your online presence.
Frequently asked questions about how to add a business to Apple Maps
Can I manage multiple business locations from one account on Apple Maps?
Yes, you can manage multiple business locations through the Apple Maps Connect dashboard.
How do I add my business to Apple Maps?
1 – Create an Apple ID. 
2 – Access Apple Maps Connect. 
3 – Check business eligibility criterion. 
4 – Provide basic business information when registering on Apple Maps. 
5 – Add detailed business information and update visuals. 
Does Apple make money from Apple Maps?
Yes, Apple does make money from Apple Maps indirectly. While Apple Maps itself is a free service for users, the platform contributes to Apple's overall revenue through various partnerships, advertising, location-based services, sponsored content, and integration with the Apple ecosystem.
How do I contribute to Apple Maps?
To contribute, you can add your business on Apple Maps and make your business more visible to all Apple users.
Why does Apple Maps not show my business?
There are several reasons why Apple Maps may not show your business. You may have:
1 – Incomplete or inaccurate information
2 – Verification pending
3 – Operate from a new business or location
4 – Ineligible business category
5 – Technical issues
Does it cost to add a business to Apple Maps?
No, business registering to Apple Maps is free.
How long does it take for my business listing to appear on Apple Maps?
The verification process may take a few days, but your listing should appear relatively quickly once it's approved.
What is the difference between Apple Maps and Google Maps?
Apple Maps and Google Maps are similar. They help people discover, find and navigate to locations, including businesses. Each is unique in certain ways, but the functionality is similar.
Add your business to Apple Maps to grow your online reputation
We've gone over why it's a good idea to add a business to Apple's map application and an easy step-by-step guide on how to do it. All that's left is for you to get in there and get your business set up and primed for positive reviews and high ratings.
Ultimately, adding your business to Apple Maps is a quick, easy process that will help reap big rewards. It's just a few clicks away and could be the difference between getting noticed or remaining hidden in the vast pool of businesses out there.

Originally published