Google Maps optimization needs to be a major part of your marketing strategy if you want local customers to find your business. Standing out on Google Maps can set you apart from competitors, but your listing won't be a top search result if doesn't include your specific location. Taking advantage of Google Maps optimization can help increase your SEO ranking and attract new customers.
If you haven't been using Google Maps to boost your online reputation, it's time to get started. In this article, we'll tell you more about eight easy ways you can optimize your Google Maps listing and get noticed.
What is Google Maps?
Google Maps is a free web mapping platform that provides detailed geographical information around the world. Some Google Maps features include road maps, satellite imagery, GPS-guided direction, and street views. Google Maps is the most-used navigation app, giving consumers easy access to local business addresses.
Why do you want your business on Google Maps?
Google Maps is an invaluable marketing tool for two reasons. First, Google Maps can help increase customer traffic to your website. Google views accurate, active businesses on Google Maps as reputable – and those businesses are likely to have higher SEO rankings. A higher SEO ranking can lead to more customers finding your business online and visiting your website.
Google Maps can also lead more customers to your brick-and-mortar location. Most customers search for a product or service on Google Maps with a "near me" keyphrase attached, leading them to businesses close by. Getting on Google Maps will make your business more visible to local customers when they're searching for local businesses online.
What is Google Maps optimization?
Google Maps optimization is the practice of enriching your Google Maps listing so that your business is in the best position to rank high on Google's search engine results page (SERP). Some steps your business can take to improve its visibility are:
Claim your listing on Google Business Profile
Keep the business name, address, and phone number consistent
Remove any extra business profiles
Add and update photos frequently
Update business activity using Google Posts
Get more customer reviews
These might seem obvious but understanding how each affects ranking is important. We'll go into greater detail about each (and more) later in the post.
What are the benefits of a higher ranking?
By keeping up with Google Maps best practices, you are providing real value to your business and customers. Keep in mind that nearly 70% of people who use a smartphone prefer Google Maps as their navigation app of choice. So, the more information you supply Google Maps only adds to your business's credibility. This will translates into a higher Google ranking. A higher ranking allows interested customers to locate your business faster and easier.
How to optimize optimize Google Maps listing
Something as important as your Google Maps listing must be in perfect shape so that your customers can find you easily when they need you. Here are a few steps that can help you get noticed on Google Maps and also boost your SEO rankings on Google.
1. Add your business to Google Maps
If you haven't already, you'll need to add your business to Google Maps. Here's how.
Go to Google Maps.
If your business appears in the drop-down menu with your address, you're good to go. You can skip to the next section.
If you don't see your business name and address, click "Add a missing place" and add your business and location.
Add your business name, category, and location to the listing.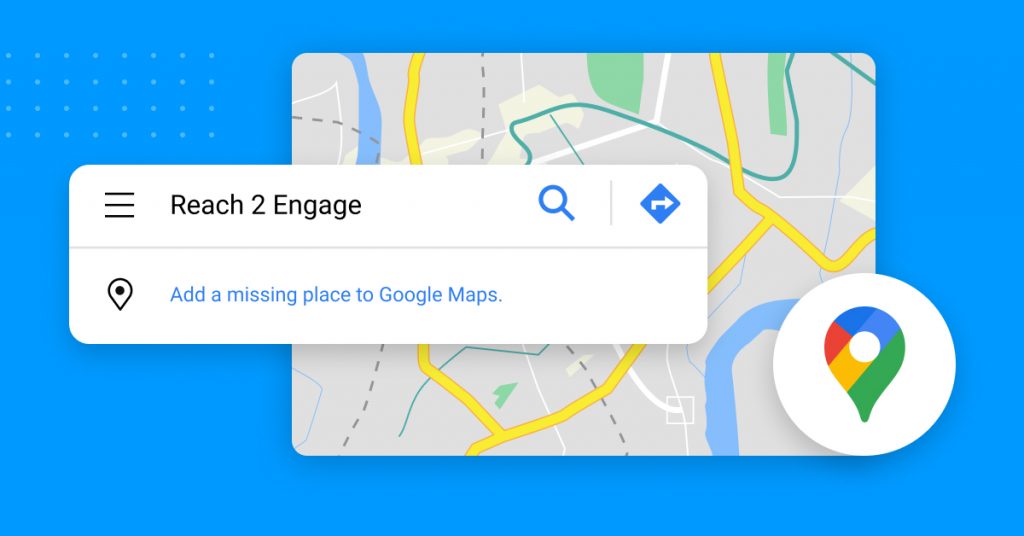 Anyone can add a location to Google Maps, so it's important to make sure your business hasn't already been added by someone else.
2. Claim your business listing
After you add your business location to Google Maps, you can claim your business listing. Here's how.
Make sure you have a Google Business Profile (GBP).
Once you have a GBP account, select "Claim This Business" in your Google Maps listing.
Choose a verification method and follow the steps on your screen.
Once your listing is claimed, you can add a description of your business, your hours of operation, pictures of your business and products, pricing information, and customer reviews. Adding these details can help your business rank even higher on Google Maps.
Click here for a step-by-step guide on how to claim your GBP.
3. Add detailed information about your business for Google Maps optimization
Google Maps is more likely to rank your business higher if you have a lot of information available to customers. It's important to make sure that information is unique, consistent, and accurate.
A good rule of thumb is to always keep your NAP (name, address, and phone number) the same. These three details are absolutely essential to making sure your customers find your business and don't choose a competitor instead. Google will rank your business higher if it deems your business trustworthy, so make sure you're consistent whenever you post your NAP anywhere online.
Let's say your business is called "Riverside Dental" on N. Main Street. When you update your GBP, Facebook, website, or any other online listing, you need to provide the exact information without variation. So, you wouldn't want to have "Riverside Dental Services" on North Main St. on your website when it doesn't match your GBP. While your NAP information is essential, Google also offers other categories to help make your business listing more robust. These categories include:
Business description
Website
Business hours
Category
Service area
Products and services
4. Add quality photos to your business listing
Photos are incredibly valuable to both your customers and Google. Google's algorithm pays close attention to consumer preferences, and pictures can often help people find what they're looking for online.
Adding photos also shows Google that you're an active, trustworthy business. Google displays images in local search results, so it's important to add high-resolution pictures that your customers and Google can recognize.
To add images to your listing, open your Google Business Profile dashboard and click on the Photos tab. From there, you can upload images by dragging and dropping them into your profile. You should regularly upload new, compelling images to increase your rank in Google Maps and attract more potential customers.
5. Eliminate duplicate listings
If a business has multiple listings with the same location and phone number, Google will deem that business untrustworthy and rank it lower in search results. It's important to make sure all of your business information is connected to one single listing and remove any duplicate listings. Here's how to check for any duplicates.
Log in to Google Business Profile.
Click "Duplicate Locations" in your account summary.
Find the listing you want to remove.
Delete the duplicate listing.
6. Take advantage of Google Posts
Google is partial to businesses that actively use their listings. You can use Google Posts to keep customers up-to-date with what's happening at your business.
With Google Posts, businesses can create and publish posts directly to Google Maps listings just like they would on social media accounts. Posts are a great way to engage with customers who are looking for specific information while also boosting your rank with Google.
7. Optimize for the Google 3-Pack
The Google 3-Pack is how Google displays the top three results for local businesses related to a specific key phrase. This is where you want your business to be. While many of the tips we mentioned above can definitely help you get into Google's 3-Pack, there are a few other things you can to do increase your ranking.
Create local links relevant to your business. This is a great way to connect your business with your community and boost your local reputation with Google. You can do this by getting in touch with your local Chamber of Commerce, local news outlets, nonprofits, and other businesses to collaborate on local events.
Build a solid backlink strategy. Google will find your business more relevant if there are several backlinks to your website. You can boost the number of backlinks to your site by creating relevant content that other websites may find useful. If they choose to share your content, ask that they link back to your business to boost your ranking.
Create a strong presence on social. Having a lot of followers on your business's social media will increase confidence in your customers. Google will take note of your follower count and mark you as a strong candidate for the 3-Pack.
Make sure your website is user-friendly. We already told you that Google favors what consumers like, and it goes without saying that consumers prefer fast, efficient websites. Google will have more reason to add you to the 3-Pack if your website is easy to use and responsive.
8. Get more Google reviews for Google Maps optimization
A business with many positive reviews is going to rank higher than a business without. For that reason, it's important to get as many reviews as you can to improve your ranking on Google Maps.
Customers will have the opportunity to leave reviews about their experience with your business after your listing is claimed. Some people may leave reviews unprompted – but if you're trying to get as many reviews as possible, simply waiting and hoping for new reviews is not an ideal plan. If you want your business to rank on Google Maps, you'll have to ask customers for reviews yourself.
With Birdeye, you can fully automate review requests from all of your customers without taking time away from running your business. Recent studies have found that 72% of customers will leave a review when asked. By automating review requests, you can capitalize on the number of happy customers you have and increase your rank on Google Maps.
How to reply to reviews on Google Maps
You shouldn't just ask customers for Google reviews. You should also reply to them. Responding to customer reviews is a great way to show your customers that their thoughts and concerns matter to your business – no matter if the review is positive or negative.
Here's how to manually respond to reviews on Google Maps.
Sign in to your Google Business Profile.
Click "Reviews" on the left-hand sidebar.
View your recent reviews.
Click "Reply."
Write your review response in the box provided.
Post your review response.
Frequently asked questions on Google Maps optimization
Is Google Maps good for SEO?
Yes, Google Maps is a highly effective tool that can help local businesses improve their SEO rank. Google Maps also helps local businesses generate traffic both online and in-store.
How long does it take to rank on Google Maps?
There are several factors that determine how quickly a business will rank on Google Maps, so it's hard to provide a definitive answer. One business could take weeks to rank, while another could rank in just a few days. If you want your business to rank sooner rather than later, it's important to optimize your profile and follow the advice listed above.
Is it free to put your business on Google Maps?
Yes, you can list your business for free on Google Maps using your Google My Business Profile.
After you've set up your listing on GBP, you can add your business location to Google Maps following a verification process that will link your GBP and Google Maps listings.
How can Birdeye help boost my Google Maps ranking?
With Birdeye, you can request and respond to customer reviews more efficiently than ever. With the help of our innovative platform, you can automatically send replies to customer reviews you want to address. For example, Birdeye allows you to send automated replies when you receive a review higher than four stars to thank customers for their kind words.
On the other hand, you can also send an automated response to customers who leave negative reviews. A quick reply tells customers that you care about their concerns and you're eager to make things right.
To learn more about how Birdeye can help scale your business, look at our many resources on how Birdeye can improve your online reputation today.


        

This blog post is part of our Complete Google My Business Guide:


        

Google Business Profile


        

Google My Business Related Training


        
Originally published