There's a YouTube channel called The Singing Dentist. There, Dr. Milad Shadrooh makes parodies of popular songs, modifying them to make them about dental hygiene. Talk about an original dental practice marketing strategy.
Unfortunately, not all of us are as vocally talented as Dr. Shadrooh. But don't worry — there are other strategies that all of us can use to get discovered by potential patients. We'll talk about marketing strategies that work, but first, let's talk about what makes dental practice marketing effective in the first place.
What makes effective dental practice marketing?
There are a ton of different ways you can market your dental practice, but ultimately every strategy works because it boils down to three key elements: visibility, credibility, and social proof. Let's break down what these three factors are and why each one of them makes marketing an essential component of dental practice management.

Visibility
The first step to an effective marketing strategy is visibility. The Singing Dentist accomplishes this through his YouTube channel, but every dental practice can make sure that they're visible to local patients, even if all of their dentists are tone-deaf.
Right now, open up a tab and look for "dental practices near me". The first thing that you will see is something like this.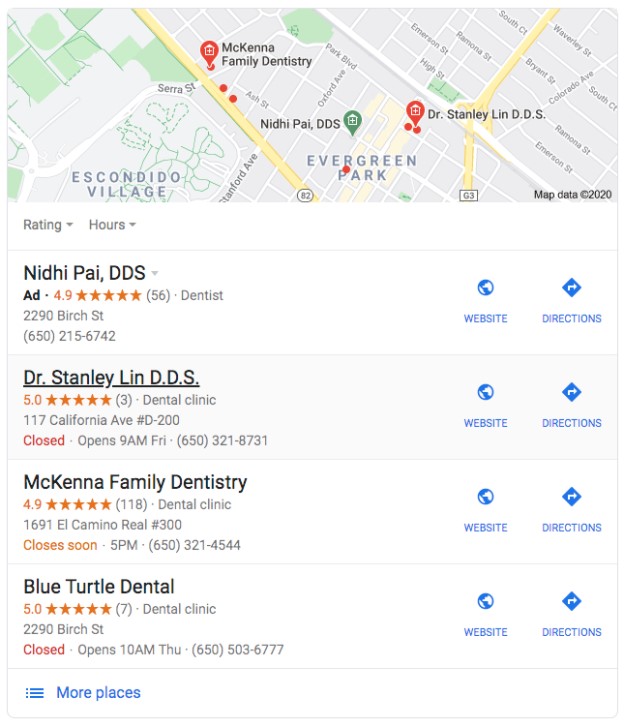 These practices have a big advantage over their competitors. Almost nobody browses through five pages of Google search results in order to find a dental practice. Studies show that 75% of Google users never go past the first page. The top practices on Google search are the businesses that get chosen by customers.
Credibility
The fact is that finding a dental practice can be scary for a patient. They're constantly hit with stories about dentists who overcharge for completely unnecessary procedures. Most of all, patients are looking for assurance that they'll get a dentist that really cares about their dental health.
Your marketing strategy should establish your credibility. Patients need to understand that you're looking out for their best interests.
Social Proof
Social proof is the reason why when given a choice, people are more likely to wait in a line that's full than wait in a line that's empty. If 500 people think that something is worth waiting for, they're probably not all wrong. It's human nature to want to seek out something that's already in demand.

That's why you should take advantage of social proof when marketing your dental practice. Make sure that the opinions of your happy patients are front and center.
11 Dental Practice Marketing Ideas for Dental Offices
Let's talk about how you can start attracting new patients.
Make Sure Your Google My Business Page is Correct
No matter what other marketing strategies you try, your potential patients are going to Google your practice. So make sure that it's easy for them to both find your practice, and contact you.

First off, make sure that you've set up your Google My Business profile. Next, make sure that you have accurate information — phone number, email, and hours of operation. Be sure to add a high-definition photo to make a great first impression.
Send Review Requests
One of the most authentic forms of social proof that you can show to prospective patients is patient reviews. It's estimated that 87% of patients trust dentist review sites as a reliable source for recommendations. 

So here's how you can start collecting more patient reviews: sending review requests via text and email. Chances are most of your patients understand the benefits of online reviews for your practice and will be more than happy to leave one. We recommend sending review requests on the same day as the visit, so that you are still fresh in the patient's mind.

Google Ads
If you look up "dental practices" on Google, you might see a search result like this.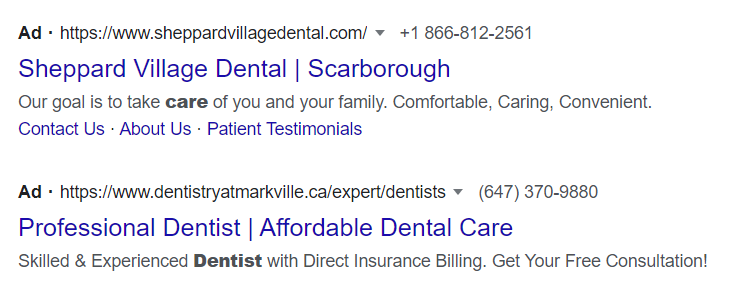 This is a Google Ad. You can start Google Ads campaigns that show up for relevant search queries. Of course, there's a catch: every time someone clicks on one of your ads, you have to pay Google a small fee.

One way to make your Google ads more effective is by using Google seller ratings. Google seller ratings display your practice's overall star rating, showing potential patients how much your current patients value your services.

For more information on how you can get started with Google ads, check out our article on search engine marketing.
Social Media
These days, the organic reach that businesses get from Facebook posts is incredibly low. It's been estimated that only 5.5% of your followers will see one of your posts. That being said, social media platforms are still a way for you to get free engagement from your followers.

Be sure to make regular posts that show the human side of your practice. Highlight some of your patients and share tips. You can also make sure that your practice's social media posts display social proof right off the bat by sharing some of your glowing reviews on platforms like Facebook and Twitter.
Facebook Ads
If you're not satisfied with the reach that you're getting with organic social posts, there is another option: Facebook ads. With a Facebook ad, you can pay to show up in the feed of potential patients in your area.

Facebook ads, unlike Google ads, collect money every time the ad is seen rather than every time the ad is clicked. It's a good strategy to offer something free in your Facebook ads like a dental consultation. Research has shown that people love free offers and are willing to take them over discounts, even when the discount saves them more money.

Use Micro-Influencers
An influencer is someone like Dwayne "The Rock" Johnson, someone with a big following and a huge social media presence. While chances are that it's going to be tough to get an endorsement from The Rock, you can try to get in touch with a local micro-influencer.

A micro-influencer is someone with 1,000 to 10,000 followers on social media. This can be someone like a local celebrity or business leader. By reaching out to micro-influencers, you can get them to do posts promoting your practice on platforms like Twitter, Facebook, and Instagram. For more information, check out our complete guide to influencer marketing.

Content Marketing
Content is king. Consider starting a blog, podcast, or YouTube channel. This content can be shared on your social media and also discovered through organic search if you're covering topics that are relevant to your target audience. It's also a great way to build credibility with your patients by showing your knowledge of industry-related topics.

Consider publishing an FAQ section. Providing short answers to common patient questions can be a great way to rank on ever more popular voice search queries.
Webchat
Notice the icon on the bottom right side of your screen? That's a chat icon. If our customers want to know about our pricing or want some more information about our product, they can reach out to us easily by using the chat icon.

Similarly, you can use Webchat to help bring in more patients to your practice. Webchat makes it easy for potential patients to reach out to you with a quick question about something like insurance. All they have to do is fill out a form with their name and their phone number and they can expect a quick answer.

Some of you might be wondering if you can make a webchat solution work with limited resources. With Birdeye, patient Webchats will go straight to your phone and you'll be able to answer at your own convenience. That means easier communication with your patients with very little effort on your part.
Appointment Reminders
I'm going to be honest: I would never remember my dentist appointments if it wasn't for text appointment reminders. I rarely check my email and I usually assume that most of the physical mail that I get is junk. I don't know what I would do if my dentist wasn't using text.

A text message is a great way to reach out to potential patients, and it prevents cancellations and missed appointments. It's also a great way to reach out to patients that haven't shown up in a while and remind them when they're due for an annual cleaning.

Text Message Marketing
Appointment reminders aren't the only way you can utilize text messages. Think about how you can use text message marketing. This can help you stay connected with your patients throughout the year. It's a great way to promote discounts, offers, and events.

A messaging platform like Birdeye can help manage your text messages. Through the Birdeye desktop and mobile app, it's easier than ever for you to stay connected with your patients by having all of your text conversations stored in one platform.
Review Marketing
Since reviews are so trusted by your patients, make sure that you display them clearly and prominently on your website. This can be the little push that's needed to turn an interested website visitor to an actual patient.

We recommend using review widgets so that you can show this social proof to all of your website viewers. Birdeye's live review feed displays reviews from all over the Internet, reassuring potential patients about the strength of your services.

Here's what a Birdeye review widget looks like.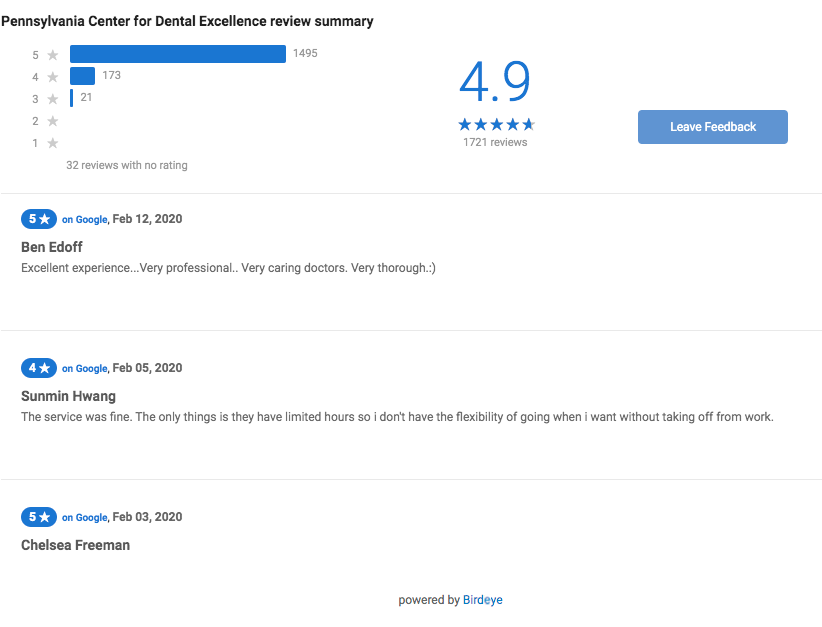 How Birdeye Can Help Your Visibility, Credibility, and Social Proof
Birdeye's all-in-one Experience Marketing platform allows you to both connect with your customers through text messaging and automatically send review requests via text and email. There's a reason why more than 7,500 dental practices use Birdeye to be found, be chosen, and be the best practice in their area.
Originally published