If you manage a dental practice, then you already know online reviews are an important part of growing your business. They can be the difference between a patient choosing your practice or choosing a competitor instead.
That's why it's more important than ever to have a positive online reputation. If you're looking to build, or improve, your current online reputation, you can turn to a dental reputation management strategy.
In this blog, we'll provide some helpful tips on how to get started with dental reputation management. We'll also tell you more about the benefits and share the top review websites where your dental practice should be present.
What is dental reputation management?
Dental reputation management is the process of monitoring and improving the online reputation of each location of your dental practice. In today's digital world, potential patients frequently turn to the internet to research dental practices before making an appointment. That's why your practice should keep a close eye on your reviews and address any issues that could damage your reputation.
There are several ways you can improve your online reputation, including promoting positive reviews, keeping your business listings accurate, and maintaining an active social media presence. By taking proactive steps to manage your dental reputation, your practice can attract more patients and improve your bottom line.
Why is dental practice reputation management important?
As a dental professional and business owner, you already know your reputation is everything. After all, patients are trusting you with their oral health, so it's important that they feel confident in your ability to provide quality care. Unfortunately, dental reputation management is often overlooked – especially when it comes to customer reviews.
Negative online reviews can quickly damage your practice's reputation. By monitoring your reviews for each of your locations, you can protect your business from any slander and make sure your dental practice maintains a positive reputation.
Benefits of dentist reputation management
Competitive advantage
A positive reputation can give your practice a competitive advantage over other local dentists. In fact, a recent study found that 86% of patients read online reviews before picking a dentist. By managing your dental reputation, you can be the top choice for people seeking dental services.
Building trust
A positive online presence can also help build trust with potential patients. It's important for your practice to be transparent and responsive to patient concerns. Consistently replying to reviews show that you value your patients' feedback. When potential patients see these online interactions, they'll be more likely to trust that you provide a quality dental experience.
Higher ranking on search engines
Proper dental online reputation management can also improve your search engine optimization (SEO) tactics which, in turn, can increase your practice's online visibility. This means when patients search online for "dentists near me,", they're more likely to find dental practices with high ratings and positive reviews.
Dental reputation management strategy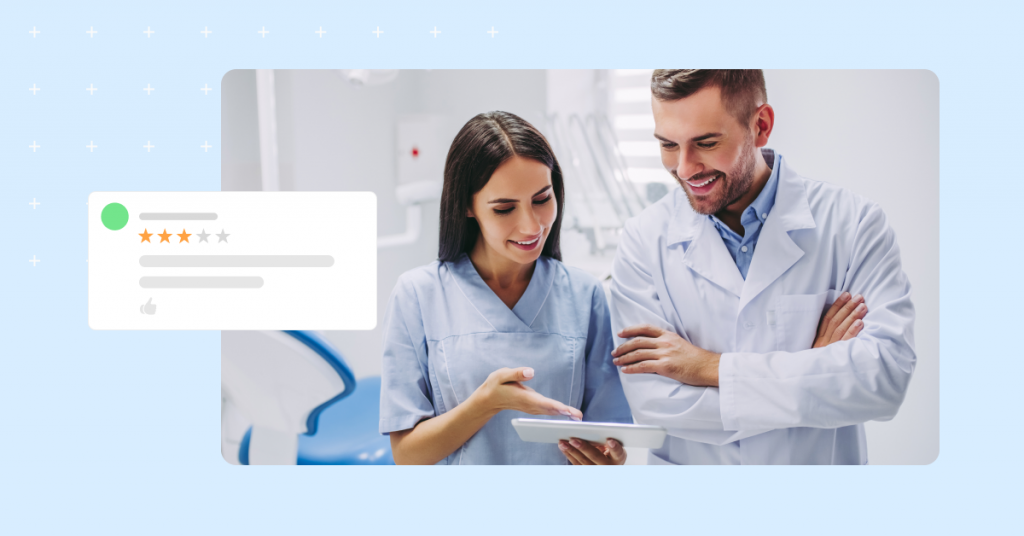 The dental industry is a highly competitive market. If you don't have a dental reputation strategy in place, you could lose out to the competition. Here are some tips to help get you started.
Create a website
First, make sure you build an SEO-optimized website that showcases your dental services. An easy way to do this is to use relevant keywords in the messaging and content on your site. Also, be sure your site is optimized for mobile devices – more searches are taking place on smartphones instead of desktops.
Claim your business listings
Make sure you claim your business listings on the review sites that make sense for your practice. Oftentimes, local businesses are listed inaccurately or not at all. When you claim your business listings, you're in control of the information that is displayed. This means you make sure potential patients have the correct information about your office(s), including your address, phone number, and hours of operation.
When your business information is consistent across the internet, it's easier for your patients to find you — and you'll start their patient experience off on the right foot.
Get more reviews
Reviews help patients get a better idea of the services you provide and what to expect when they schedule a visit. This is why collecting and managing reviews from your patients is necessary for a positive online dental reputation. There are several ways your practice can start getting more reviews, including:
Asking for reviews – Get in the habit of asking your patients to leave a review soon after they've left your office. This is a great way to get immediate feedback from patients. Plus, it's more likely they'll leave a review while the experience is still fresh in their minds.
Showcasing reviews on your website – Another way to collect reviews is by adding a space for customer reviews on your business website. Having a review section lets patients provide direct feedback. This is a great way to show potential patients that you're transparent about your dental practice.
Making it easy – It takes time and effort to write a review, so be sure to make the process easy for your customers. You can do this by sending links to your review sites in all of your customer communication like follow-up emails and texts. Also, post QR codes that link back to your review sites in the reception area. Making the review process as simple as possible will help your practice generate more reviews.
Being responsive – No matter which approach you choose, it's important to respond to all reviews – including negative reviews. Patients will inevitably have some complaints from time to time, and it's important that you listen to their feedback and address their concerns in a timely manner. If you ignore or brush off patient feedback, they won't hesitate to take their business elsewhere and discourage others from writing you a review.
Capture real-time patient feedback with surveys
In addition to collecting reviews, it's important to collect patient feedback using surveys. Gathering patient feedback after each appointment can help you improve your dental services and make sure you meet your patient's needs every time.
Also, a survey can help you get ahead of negative reviews because it lets you address patient concerns before they have a chance to post them publicly. Let's say a survey respondent said their hygenist was a little rough. In your reply, you can thank the patient for their feedback and let them know that you'll address their issue. You'll be making it clear that you care about their experience and that you're taking steps to improve it.
Top dentist review websites
Online reviews are a vital resource because they help patients make informed decisions about your practice even before setting foot in one of your offices. Since potential patients often read online reviews before choosing a dentist, it's important for you to be represented on popular review sites like Google and Bing.
There are also review sites specifically for the dental industry. Here are some of the top dental review sites that you should consider:
Healthgrades – Healthgrades is one of the most popular dentist review sites. Healthgrades pays attention to both positive and negative feedback, so potential patients get a complete understanding of your practice. In addition to patient reviews, Healthgrades also takes into account factors such as dental school performance and malpractice history. As a result, Healthgrades positions itself as an invaluable resource for anyone looking for a new dentist.
1-800-Dentist – 1-800-Dentist lets dental practices manage their reputations by giving them the ability to monitor and respond to patient feedback. The site also provides educational resources for dental practices, such as articles on the industry and practice management.
Dentistry.com – Dentistry.com lets dental professionals track their online reviews, interact with patients, and address any negative feedback. The website also offers a directory of dentists, so patients can easily find a practice in their area.
Frequently asked questions about dental reputation management
What actions should a dentist take in response to a bad Google review?
The best way to handle a negative review is to address the patient's concerns and apologize for their experience. You can also try to offer a solution, like a discount on their next dental cleaning. Also, avoid getting defensive or making excuses in your response. Doing so will only make the situation worse and could damage your dental practice's reputation even further.
Do dentists need online reputation management?
Yes, because potential patients often consult online reviews before choosing a dentist. Online reviews are a valuable resource because they give patients a complete understanding of your practice. Patients often consult online reviews before choosing a dentist, so it's important for you to be represented on popular review sites. In addition to managing your dental practice's online reputation, you can also use online reviews to improve your dental services.
Successful dental reputation management with Birdeye
Over 7,500 dental practices trust the Birdeye platform for their online reputation needs. Birdeye Reviews, Listings, and Surveys are simple to use and powerful tools to attract more patients. Plus, Birdeye integrates with over 3,000 software systems, giving you the ability to manage your practice's online reputation from a single platform. Watch our free demo to learn more.

Originally published