As a doctor, your online reputation is everything. It can mean the difference between gaining new patients and falling behind with your business goals. That's why it's so important to focus on doctor online reputation management. But if you don't know where to start, it can seem like an overwhelming task.
In this article, we'll provide tips and strategies that will help take control of your online presence and make sure potential patients have access to accurate information about you and your practice. With these simple tips, you'll be able to make sure that your best foot is always forward when it comes to managing your online reputation as a doctor.
What is online reputation management for doctors?
Online reputation management for doctors has become an important part of modern medicine. It involves optimizing a doctor's online presence on platforms such as social media and medical review sites. For the best outcomes, you'll need to maintain accurate business listings, respond to reviews in a timely manner, and create relevant content – just to name a few. By managing your online reputation effectively, a practice can increase its visibility to reach more potential patients. Ultimately, the goal is to create a positive experience for those searching for a doctor so that they know what kind of care to expect even before making their first appointment.
The importance of reputation management for doctors
In today's digital-first world, the online reputation of a doctor or medical practice can have a huge impact on their success. People turn to the internet and social media to research a doctor's background and reviews from former patients. It's similar to searching for reviews when you're in the market for a new cell phone – except here, it's much more important because we're trusting our well-being with this person.
A positive online reputation can mean more patient referrals, increased credibility, higher search engine rankings, and better reviews from existing patients – all of which can lead to increased business. On the other hand, an outdated or negative online reputation could scare away potential patients and hurt your bottom line.
11 tips to improve online reputation management for doctors
1. Assess your online presence
A good place to start is by auditing your current online presence. Take a look at your website, social media accounts, business listings, and any other places where your practice may appear online to check that all the information is accurate and up-to-date. This can also include making sure that all reviews have been responded to in a timely manner.
Curious about what your business listings currently look like? Get your free online listings report from Birdeye now and see how your practice appears on over 50 sites.
2. Create and manage your Google Business Profile
Did you know that Google handles nearly 4 billion searches every day? This makes Google the most influential digital platform for elevating your online presence. While you can't control what other people post about your practice, a fully optimized Google Business Profile will guarantee that accurate and up-to-date information is easily accessible to anyone searching for it.
For a better understanding of how to manage your profile read our blog: How to fully optimize your Google Business Profile.
3. Listing your practice on popular medical review sites
In addition to Google and social media, you should also list your practice on popular medical review sites such as Healthgrades and Vitals. These medical-specific review sites let you create a professional profile that includes photos, education, certifications, specialties, and much more. Also, reviews posted on these sites tend to go into greater detail about a patient's experience with your practice. This provides potential patients with a fuller picture of the care they can expect.
4. Develop your social media presence
Once you have your Google Business Profile set up, it's time to expand your online presence by creating social media accounts. This will help you connect with potential patients and create a more personal experience for them. Before you start posting, be sure to set goals for your social media marketing. These can include:
Increase awareness
Engage with customers and build relationships
Boost website traffic and conversions
Share content to educate and inform
Once you've established your goals, create content that is relevant and engaging to your target audience. This will keep them coming back.
Pro tip: If your practice has multiple locations consider creating individual social media and Google Business Profile accounts for each location. This will help patients find the location nearest to them when performing an online search. It also lets each location collect its own reviews so you can track individual performance.
[Free Guide] The ultimate social media marketing guide
Download Now
5. Ask for reviews
A great way to improve your online reputation is by asking existing patients to leave reviews. Having fresh reviews on a consistent basis signals to search engines and potential patients that your practice is active and reputable. This will help with search rankings and attract new business.
The best time to ask for reviews is during a follow-up appointment or when a patient has completed their treatment. You can even include review request cards in your waiting room and/or email follow-up messages with direct links to the review sites you're listed on.
6. Respond to all patient reviews
When someone leaves a review, positive or negative, it's important to respond in a timely manner. This shows potential patients that you care about their experience and are willing to address any issues they may have had.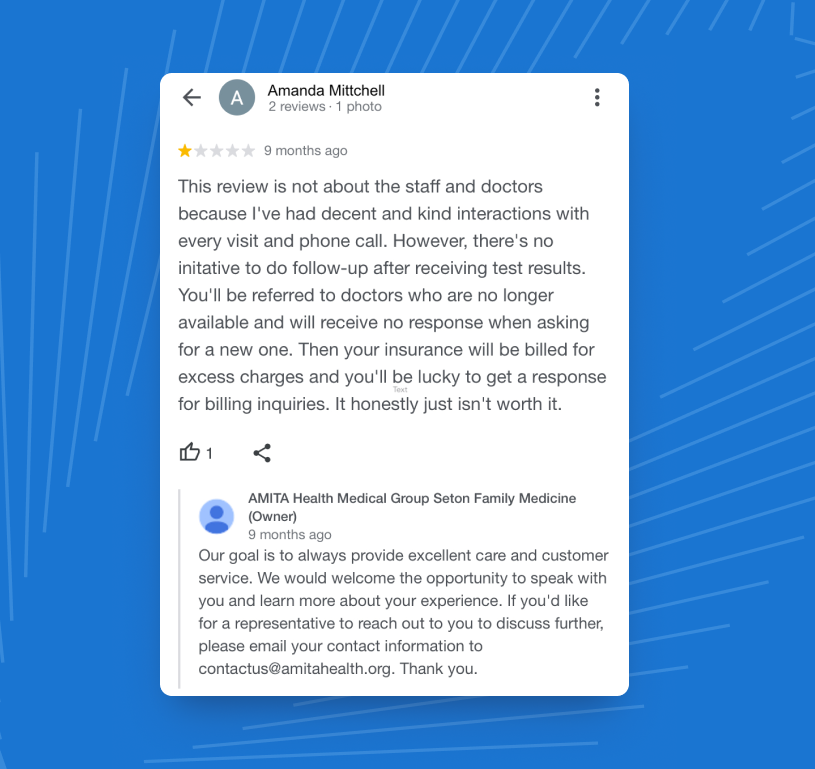 7. Use feedback to your advantage
It's important to use feedback to make improvements in your practice. This will help you to continue to build a better patient experience. For example, let's say you receive a negative review saying that wait times are too long because of all the intake forms patients have to fill out prior to seeing the doctor. You can use this feedback to make changes to this process, such as reducing the length of the forms or providing a way for patients to fill them out online beforehand.
8. Create a website for your practice
By creating a website for your practice, you can give patients an easy way to learn more about your services and get in touch with you. Make sure the site is mobile-friendly, easy to navigate, and includes detailed information about the services you offer. Some other features you should consider on your website are:
Patient intake forms
Reviews from previous patients
9. Content is key
Once your website is up and running, you can create content that relates to your practice. This content can take the form of a podcast, videos, images, or a blog. Be sure to update your content regularly so the information remains relevant. Your content is another way to demonstrate that you are knowledgeable in your field which helps build further credibility for your practice. The content should also be developed with search engine optimization (SEO) to help boost traffic to your website and attract more patients.
[Free Checklist] SEO local search checklist √
Download Now
10. Monitor your online mentions
It's important to keep an eye on any mentions of your practice online, whether it's on social media, review sites, or online forums. This will help you stay up-to-date with what people are saying and gauge sentiment around your practice.
Monitoring online mentions can also help you provide prompt customer service and respond quickly to any negative comments or reviews. This will keep your positive online reputation intact. Check out our blog on social listening and monitoring to learn more about the benefits of monitoring your online presence.
11. Use reputation management tools
There are several tools available to help keep track of your online reputation. These tools let you ask for referrals, alert you when someone posts about your practice, and automate review responses so patients can see you value their feedback. Many of these tools also provide analytics so you can track how your reputation is changing over time. Using these tools makes it easier to stay on top of online reputation management for doctors.
By following these steps, you can make sure your practice has a strong online presence and maintains a positive reputation. With the right strategies in place, you can build trust more effectively and attract more patients to build a successful practice.
FAQs about doctor online reputation management
What tools can you use to manage a doctor's online reputation?
The best way to manage a doctor's online reputation is to use online reputation management software. This lets you easily manage your listings, reviews, and social media in one place.
Can you trust online reviews about doctors?
Yes, in the majority of cases, reviews are coming from a legitimate source. However, it's important to conduct your own research and due diligence when selecting a medical provider.
Is doctor online reputation management free?
Some online reputation management software offer free trials. However, access to important features like listings, reviews, and referrals typically requires a paid subscription.
How do you measure online reputation management for doctors?
To measure your online reputation, track how many reviews you receive each month and analyze their sentiment. You can also track the number of mentions and follower growth across your social networks.
What do online reputation management companies do?
Online reputation management companies help you monitor your online presence, respond to reviews, and create content. They can also help you optimize your website for better visibility in search results.
Boost your practice's online reputation with Birdeye
Managing your practice's online reputation is a continuous effort that requires constant attention and adjustments. With Birdeye's easy-to-use platform and suite of tools, you can easily build a positive online presence that will help your practice build trust sooner and stand out among the competition. Watch our free demo today to learn more.

Originally published