Choosing a healthcare provider requires a lot of trust from a patient. Nowadays, patients can turn to online reviews when trying to find the right doctor for them. That's why doctor reputation management is an important part of bringing in more patients to your practice.
In this blog, we'll explain why doctor reputation management can help grow your practice. We'll also show you how to get listed on review sites and tell you about eight doctor rating sites your practice should be listed on.
What is doctor reputation management?
Doctor reputation management is building, maintaining, and managing your practice's public appearance online. Whether you are a single healthcare provider or a multi-location medical practice, your online reputation can determine if a patient chooses you or a competitor with a better online presence. Several factors come into play when building up your reputation.
Your patient reviews
Online reviews can help patients choose a new doctor or practice. In fact, 70% of patients read reviews before they decide which doctor they're willing to trust. Physician ratings and reviews on doctor rating websites can also determine whether a patient avoids a physician or clinic. Studies show that 60.8% of patients have avoided a doctor based on negative reviews, and 59.9% say they've chosen a doctor based on positive reviews. That means the more and better reviews you have as a physician, the more likely you are to see new patients.
But it doesn't end there. Monitoring and managing your reviews is also key to making sure your reputation shines. Doctor reputation management platforms like Birdeye can help you monitor, manage, and respond to the reviews you get from all sources in one location. You'll have the resources to manage your online reputation at your fingertips while still having time to focus on what makes you a great physician.
Your website
Using your website, you can show your patients who you are as a physician and improve your SEO standing for your practice. You can include contact information, list all your credentials as a doctor, and add research, reports, and articles you've written. All of this information is valuable to patients and major search engines as it helps to solidify your credibility.
If you already have a website, make sure you're regularly creating fresh content. A blog is a great way to do this. Not only does this show your patients that you're an active doctor in your field, but it also shows search engines that your website is fresh and relevant. The more relevant you are, the more likely you are to rank higher in search results and increase your chances of reaching new patients.
Your social media profiles
If you have any form of social media, make sure your patients can find you on the platforms you use. Whether public or private, it's important to maintain a professional demeanor when posting to any social media account. Your medical practice accounts should be updated regularly with fresh, engaging content to encourage your patients to interact with your profile and grow your brand awareness. Social media platforms like Facebook are also great places to get more high-quality reviews that can attract more patients to your practice.
Your listings
The more websites you list your practice on, the more new patients will find you online. Although Google is king for online reviews, many patients visit well-known directories that focus solely on physician reviews. While you should definitely have a Google Business Profile for your patients to visit and review, you also need to know about other doctor review sites and know how to get listed on them.
What are Doctor review websites?
Doctor review sites are websites that let patients rate and review physicians they visit. . Many sites allow patients to score doctors based on expertise, friendliness, and punctuality. Patients can also leave written reviews explaining their experience. Some doctor review websites even include a written bio by the physician with information about their credentials, education, and their personal interests.
How to list your practice on doctor rating sites
When you create listings on doctor review websites, you'll want to make sure you have accurate information across every review site – especially your name, address, and phone number. Your information needs to be accurate to make sure Google ranks you properly on search results. The more inaccuracies you have in your business listings, the less likely it is that Google will trust you as a reliable source of information. Your practice will then rank lower on local search.
Once all your information is listed, you'll want to add more details appealing to your patients. You can add pictures, your education, experience, a personal bio, and more to make yourself more approachable. . The more information you add to your listing, the more you can offer your new patients.
Eight doctor review sites you should know about
1. Doctor.com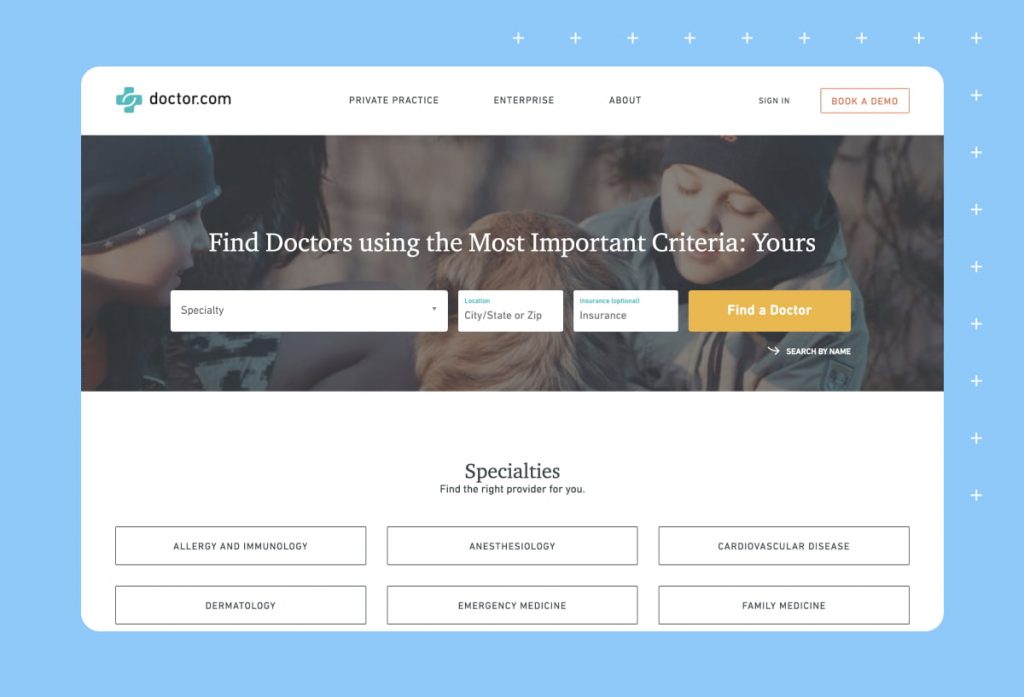 Doctor.com is one of the leading review sites in the health industry, with more than 30 million monthly users. Doctor profiles are highly detailed, with information about their certification, training, accepted insurance, hours, specialties, payment plans, and more. You can sign up for free to start collecting more reviews and attracting more patients to your practice.
2. RateMDs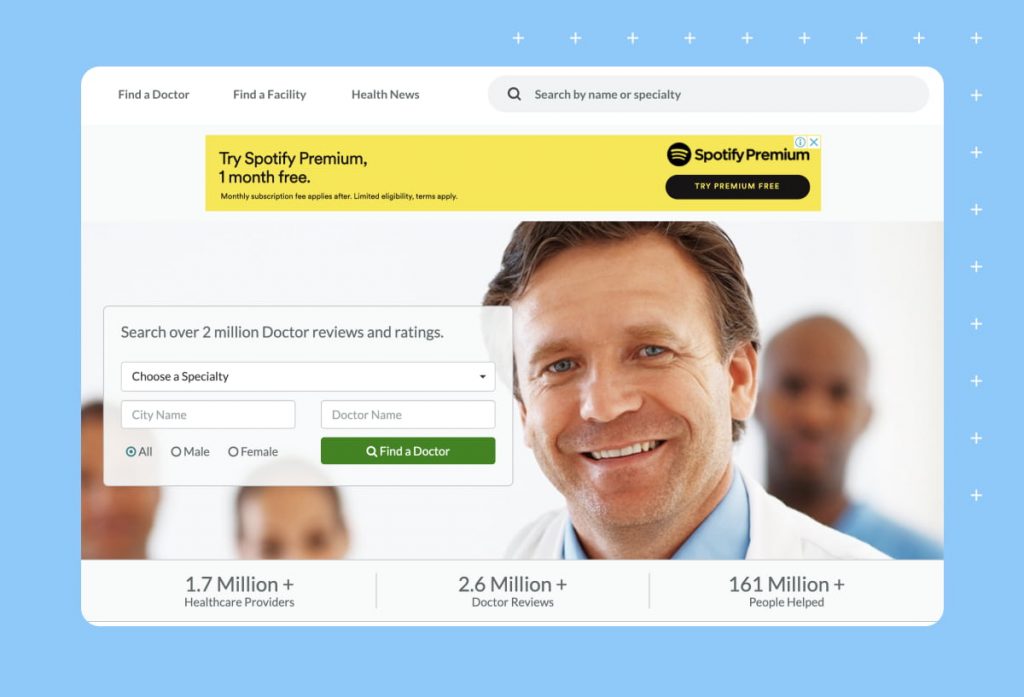 So far, RateMDs has accumulated over 1 million doctor reviews and more than 2 million doctor ratings. It provides patients with details about medical practices and individual doctors with information about punctuality, friendliness, cleanliness, and helpfulness. Physicians are scored on a 5-point scale, and written reviews are welcomed too. As a physician, you can create your profile for free. Once your profile is created, you can list all your information to help your patients find you quickly and easily.
3. Wellness.com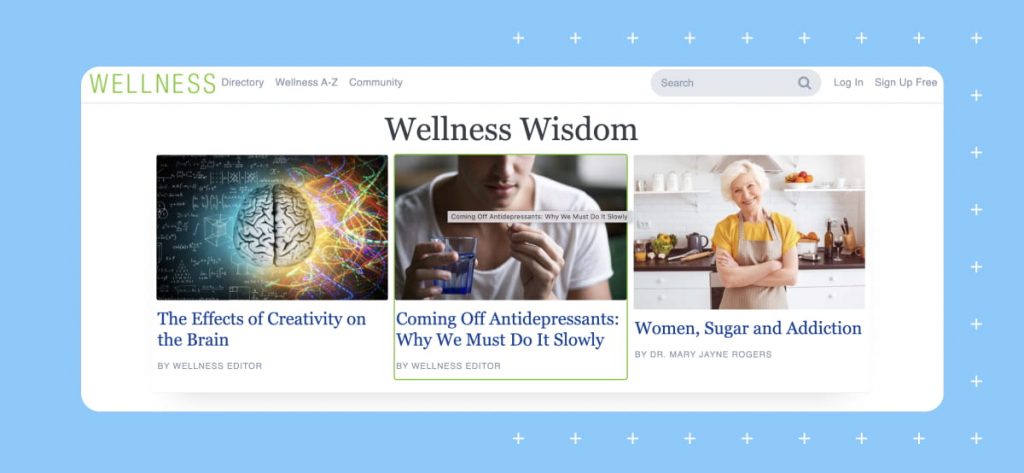 Wellness.com is a doctor review website that also provides a wealth of health-related resources like blogs, podcasts, and even daily horoscopes. Their physician directory provides patients with ratings, written reviews, and information like accepted insurance and certifications. To get listed on Wellness.com, you have to enroll in their Wellness Provider Program, with three levels of exposure, Verified, Enhanced, and Featured. While the Verified listing will create a free profile on the site, the Enhanced and Featured profiles provide you with more marketing efforts like SEO boosts and removing ads from your profile showcase.
4. CareDash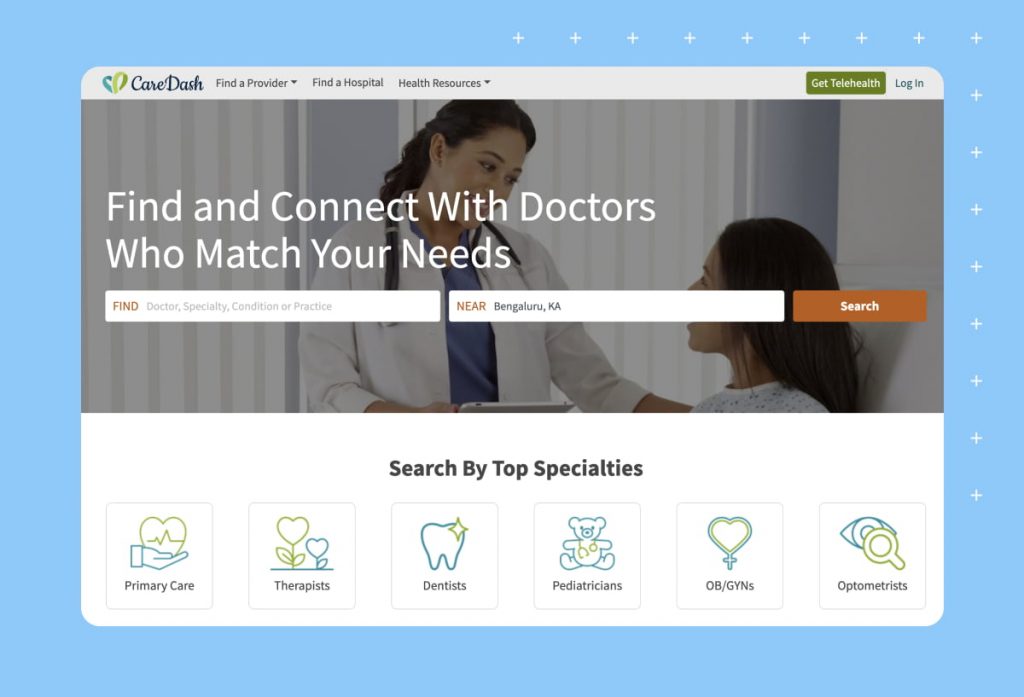 CareDash is a doctor rating site that prides itself on its transparency. With over 2 million monthly patients, CareDash is one of the most prevalent physician review sites, with over 3 million healthcare provider profiles. Patients can also directly interact with providers via a website or app. Creating a profile is free and lets you show your patients who you are with images, videos, credentials, and other important information.
5. RealPatientRatings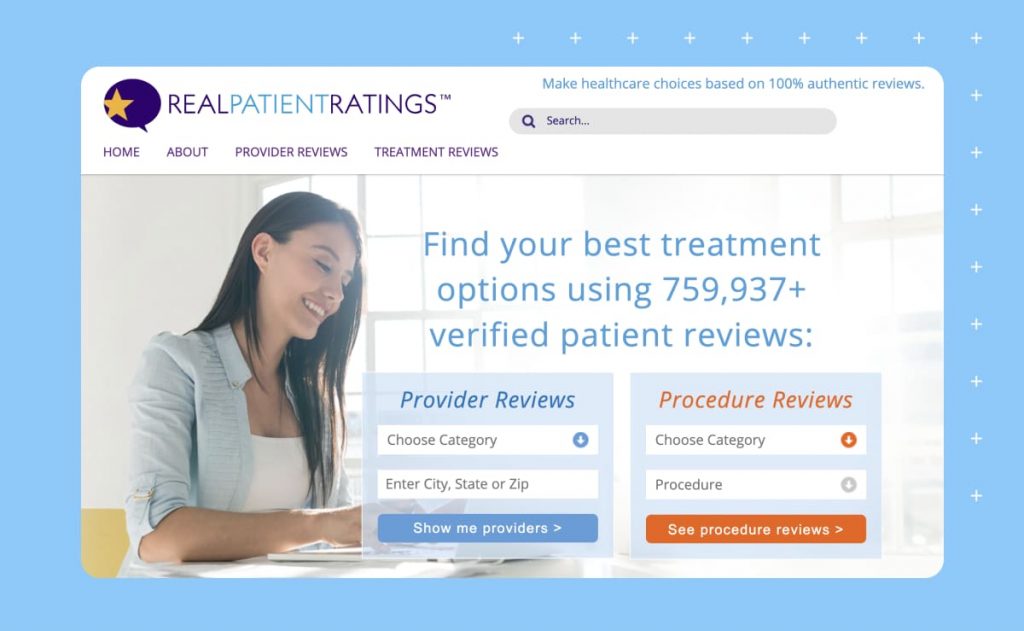 RealPatientRatings is a doctor review site that covers a wide range of healthcare services. The site has an extensive collection of patient reviews for plastic surgery procedures. The site has more than 750,000 reviews and creates detailed scoring systems for physicians, including wait time, care and concern, facility and amenities, and provider's bedside manner. To get listed on RealPatientRatings, you need to sign up with Vizium360 to get started.
6. ScoreDoc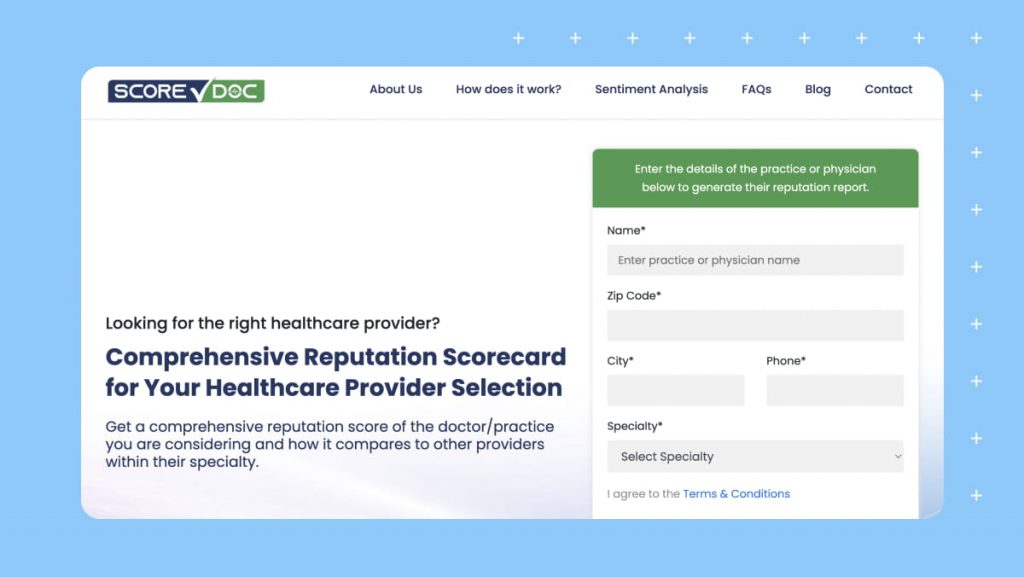 ScoreDoc is a unique physician review system because it takes the average reviews and ratings from major review sites like Google, HealthGrades, and WebMD and creates an accumulated score. The best way to get a high-quality ScoreDoc score is to have accurate listings and great reviews on every major doctor's site.
7. RealSelf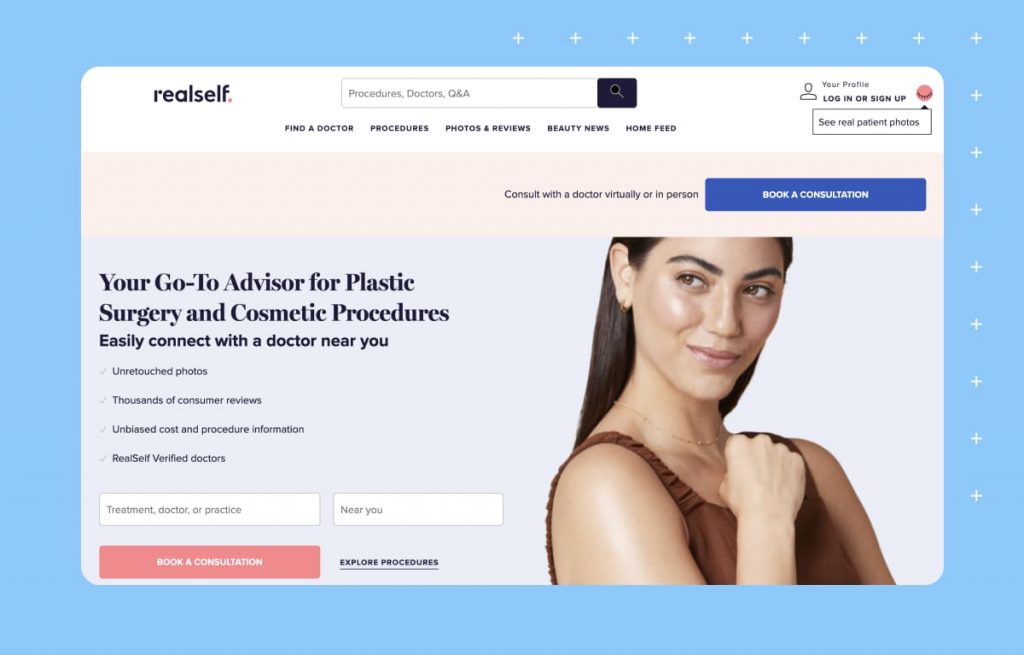 RealSelf is a niche doctor rating website focused primarily on cosmetic procedures like botox, rhinoplasty, and facelifts. The website has over 20,000 doctor profiles and more than 9 million monthly users that can leave reviews and discuss their experiences under an anonymous user name. As a physician, you can claim your profile for free and include your necessary information, Q&As, patient before and after photos, and procedure reviews from patients.
8. Dr. Oogle
Another niche review site, Dr. Oogle focuses directly on dentist reviews helping patients find dentists close to their location and narrow down their choice with reviews. Patients can use a like or dislike button to rate a dentist, use a star rating, and leave written reviews of their experiences. They can also gauge the dentist and practice by price, painlessness, facilities, and results. Last, patients can message dentists directly from the site to get in touch with dentists with questions and schedule appointments. You can claim your free physician's profile via email or by connecting a Facebook or Google profile.
For more information on dental reputation management, check out this article on how to make more patients smile with dental reputation management.
Frequently asked questions about doctor reputation management
What are the things that you look for in a doctor?
Patients look for expertise, amenities, attention to detail, friendliness,  and punctuality in a doctor. Positive reviews in these categories are all signs of a good doctor.
Do doctors care about reviews? 
Yes, online reviews can determine whether new patients will choose one doctor over another and provide valuable feedback, so most doctors take online reviews very seriously.

Reach more patients with Birdeye
Getting your profile or practice listed on review sites can be a great way to make yourself more visible to new patients, but managing those listings on your own can be difficult. With Birdeye online reputation management, you can manage all of your listings from one centralized platform, making it easy to monitor any activity and respond appropriately. If you want to see how Birdeye can help you reach more patients, click the banner below. 

Originally published