How many times have you scrolled through Instagram and looked at bucket-list-worthy images or a delicious-looking meal or even discovered a new product? Instagram is known as a popular way to share images and videos, but it can be capable of much more. Enter Instagram payments.
With roughly one billion monthly active users, Instagram belongs to the most popular social network worldwide. In 2023, the photo-sharing site is projected to reach 127.2 million monthly active users in the United States, up from 107.2 million in 2019. Using Instagram Stories, regularly posting, and responding to comments on your Instagram account are all important for engagement. Instagram payments allow consumers a convenient and fast way to pay, adding another layer of providing a great customer experience.
If you're still unsure about Instagram payments, it's time to take a look at some impressive statistics you can't ignore:
---
Instagram users spend an average of 28 minutes on the platform daily
81% of people use Instagram to research products and services
130 million users tap on shopping posts every month
---
Meet your customers where they are
50% of people have visited a website to make a purchase after seeing a product or service on Instagram. Instagram payments eliminate a step for your customers and provide a fast and easy way for them to pay. For instance, you have a new product you're showcasing and post a photo of the product on Instagram. When a prospective customer sends you a message inquiring about the price, you can respond by sending a payment link.

Simplify payment transactions
76% of consumers have purchased a product they saw in a brand's social media post. Social media is the new shopping mall, and businesses must use it wisely to succeed. Many Instagram users are using this platform as part of their own customer journey – by offering Instagram payments, you are part of their journey. Instagram payments simplify the transaction, you are able to send payment reminders and invoice links and close the sale faster.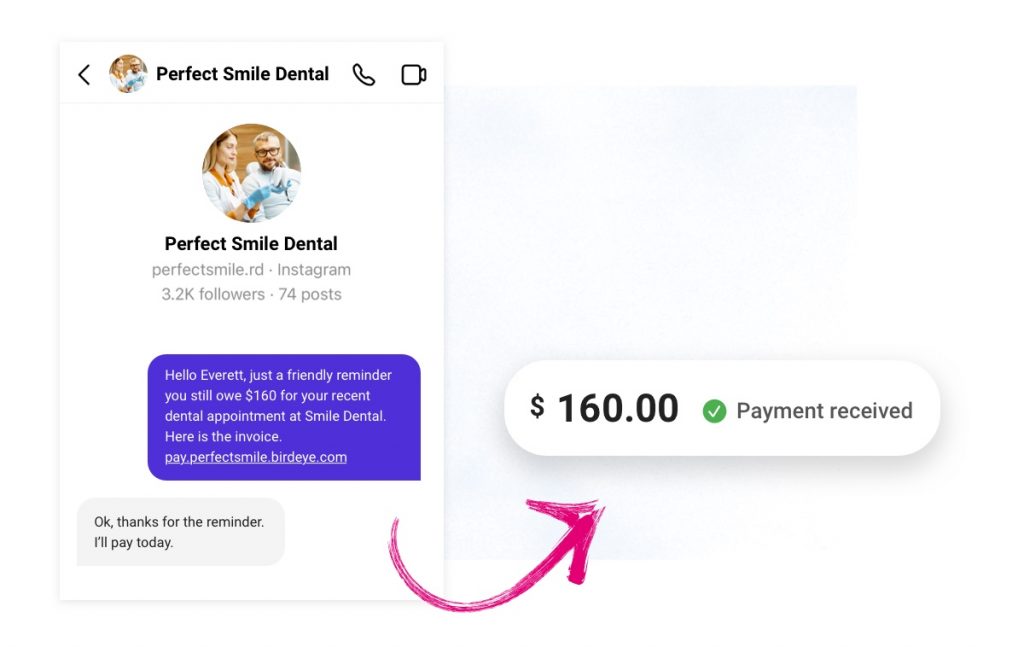 Engage your customers and close the sale
Directly engaging with prospective buyers who are messaging your business account through Instagram can result in more sales. For instance, offer your customers the opportunity to make a purchase as soon as they show interest by sending them a payment link directly through their messages.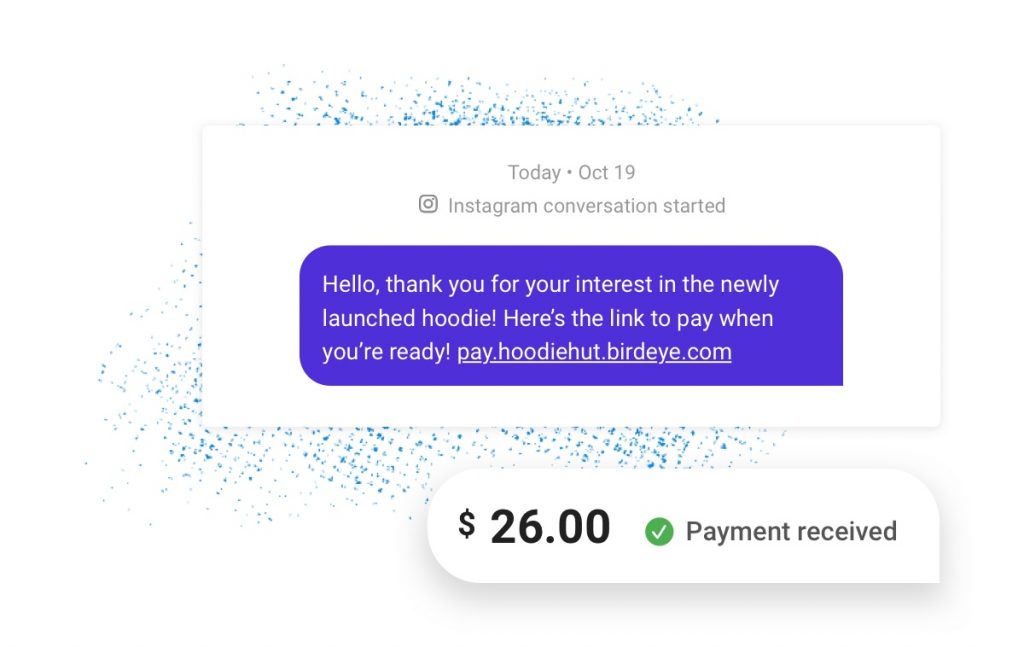 Frequently asked questions about Instagram payments
How do you get paid by Instagram?
You can get paid on Instagram by easily sending direct messages to your customers via invoices. Your customer simply clicks on the invoice link and can pay with whatever method they choose.
Accept more ways to pay
Instagram payments, credit, debit, ACH, Apple, and Google pay. No matter how they pay, Birdeye Payments will make sure the transaction is convenient for both you and your customer.
Make everyday payday with Birdeye
Birdeye helps businesses grow through happy customers. Over 60,000 businesses use Birdeye every day to attract new leads with Listings, Reviews, and Referrals, convert them into customers with Webchat and delight those customers with Surveys, Ticketing, and Insights – all in one place. With Birdeye payments, you can request payments in an ongoing conversation for higher, faster, and more consistent response rates and make it easier for your customers to pay, all while backed with full PCI compliance. Accept more ways to pay from your customer, including credit, debit, ACH, Apple, Amazon, and Google pay. No matter how they pay, we'll make sure the transaction is convenient for both you and your customer.
If you're interested in learning about more digital payment methods your business can use, click on the banner below to read our latest guide on this topic.

Originally published