Have you ever been on the fence about watching a new TV show until a friend or family member lets you know it's really good? Next thing you know, you're binge-watching that same show anxiously awaiting to find out what happens next. Amidst the complex world of digital marketing, it can be easy to forget the old tried-and-true way of getting new customers: word-of-mouth. The fact is referral marketing remains one of the most effective customer acquisition tactics. That's because 93% of consumers trust referrals over any other form of advertising.
While there's no denying how powerful referrals are for attracting new customers, many businesses take a passive approach, simply thinking by delivering quality work, they'll organically get referrals. The truth? 83% of satisfied customers are willing to give referrals, but only 29% do because most customers are never asked to. But how do you encourage customers to recommend your business without the interaction seeming pushy or awkward? We'll give you some easy tips that will help you build a referral system that works.
How to ask for referrals
The first step is overcoming the fear of how awkward or uncomfortable it might feel. You can do so in the following ways:
Remember that most people like to help others, especially if there is no negative cost or extensive effort required of them.
Remind yourself that the worst that can happen is if the customer says no. Not the end of the world, is it?
Go digital. Digital referral programs are more efficient than pen-and-paper systems. They allow you to automate your referral requests (more on this later) so you can get more qualified leads on autopilot.
Going digital streamlines the entire process while delivering personalized experiences to your customers.
1. Use customer referral templates
We recommend using customizable templates, which can be used to request referrals at scale while delivering a personalized customer experience. The right platform will have customizable templates so that you can manage your brand's voice and save time.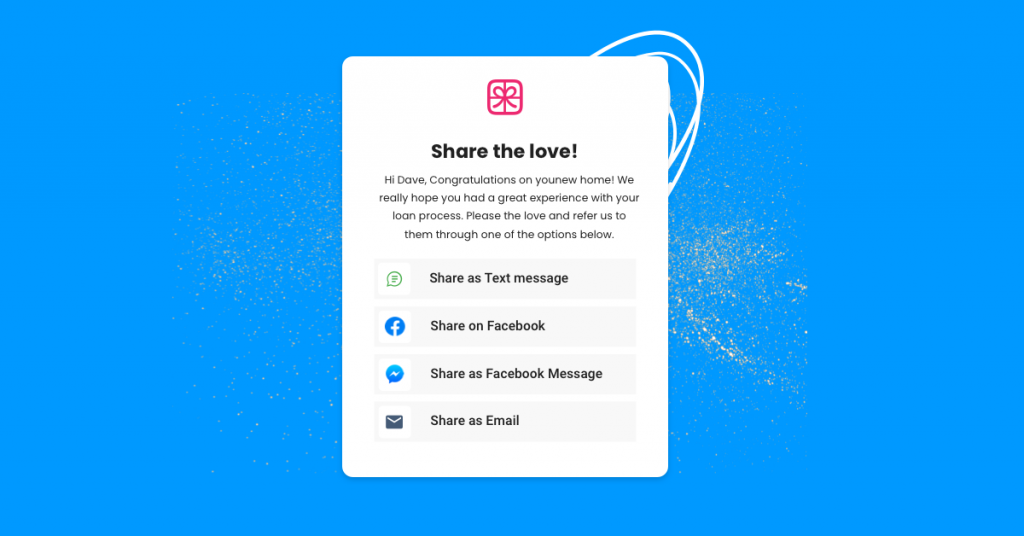 2. Go digital and automate the entire process
Invest in a software solution that can automate referral requests. This way, you can get new referrals on autopilot. You can set up triggered emails and text messages that ask customers for a referral right after key interactions.
For example, you can send requests automatically after they make a purchase, give your business a high Net Promoter Score (NPS), or write a 5-star review. This way, you can effortlessly target your happy customers and grow your referral business on autopilot.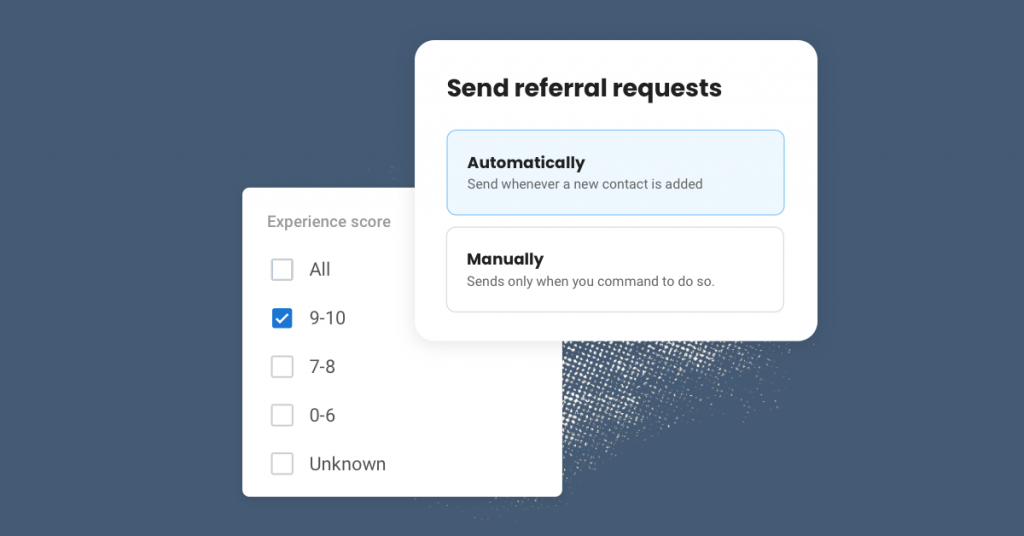 3. Make it easy for your customers
The easier it is for your customers to refer your business, the more likely they are actually to follow through. Find software that allows your customers to easily refer your business to friends via text, email, or social media platforms like Facebook.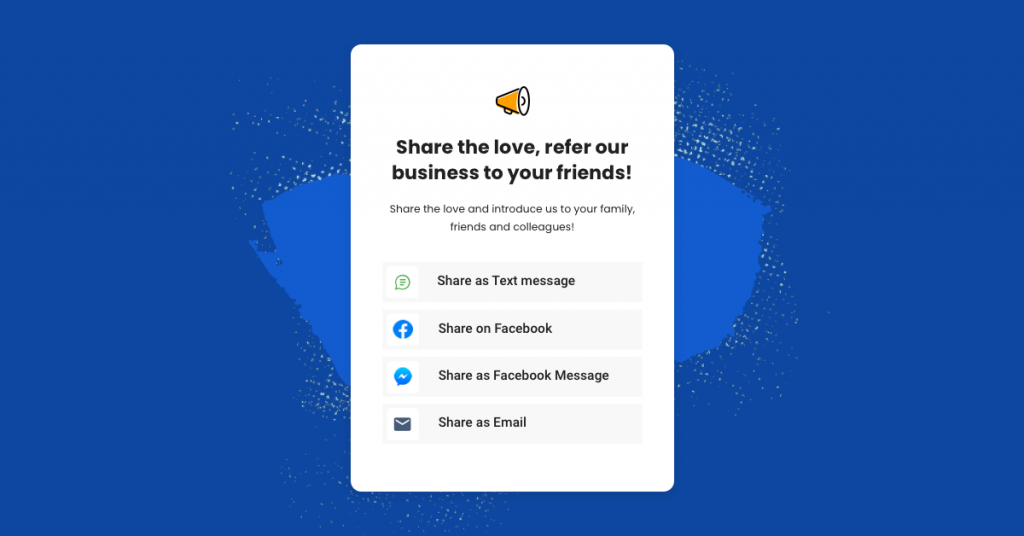 4. Offer incentives
You might be offering great customer service, but sometimes it's still not enough to get those referrals. If this is the case for you, then it's time to incentivize your customers. Offer an incentive program that includes gift cards, a discount on next month's invoice, or a donation to the charity of their choosing.
Send this incentive offer to a portion of your happiest customers, and tell them the first 10 to respond with a referral will receive the prize. You might be surprised at how fast those referrals suddenly come to your customers' minds.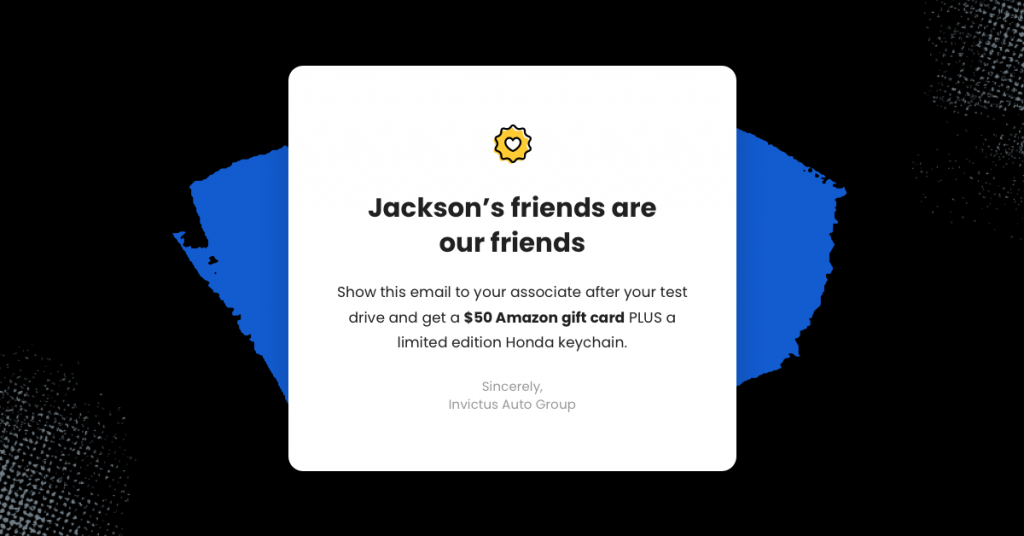 5. Promote your referral link
To increase your conversions, you need to proactively promote your referral program. Be sure to advertise this program across your website, emails, newsletters, and social media. Here are some effective ways to promote your program on channels you are already using:
Add CTA (call to action) banners to your website. Include a pop-up CTA before a person leaves your website with a mention of the referral program. Emphasizing your incentives is a great way to grab their attention.
Include your referral program link in your customer emails and newsletters
Direct customers to your business's referral page after they've made a purchase. This is when they are happiest and most likely to spread the word about your business.
FAQs about how to ask for referrals
What is referral marketing?
Referral marketing is a word-of-mouth marketing strategy designed by businesses that encourage existing customers to recommend their company to family, friends, and colleagues. This strategy aims to grow a business's customer base through the networks of its existing customers.
Why is referral marketing important?
The reason is simple – it works. According to Nielsen, 92% of consumers trust referrals from people they know. Studies show that marketing generates 3-5x higher conversion rates than any other channel.
Birdeye: The best app referral program for businesses of all sizes
Birdeye's platform can make customer referral marketing easy. The Birdeye referrals platform allows you to send referral marketing requests to your customers via text and email. But that's not all. Birdeye's all-in-one platform helps businesses grow through the power of happy customers, collect and manage reviews, interact with customers, and collect quality feedback via customer surveys.

Originally published