What are your competitors doing better than you? It's a tough question to answer and it's something that every business needs to reflect on. Chances are that there's at least one area where you're not doing as well as one of your competitors. It can be hard to identify what this one area is, but an organized competitor analysis can make the job easier.
By looking at the right data, you can make sure that your business is making the right operational changes. You'll get the feedback you need to deliver a fantastic customer experience and beat the competition. In this blog post, we will talk a look at:
What is competitor analysis?
Competitor analysis is the process in which you identify your competitors' strengths and weaknesses in product, sales, and marketing. You can use this information to improve your own customer experience.
Why you need competitor analysis
Competitor analysis is necessary for a simple reason: When customers are unhappy with your services, they'll go straight to your competition. The more data you have available about your competitor's strengths and weaknesses, the more equipped you'll be to get ahead of the game.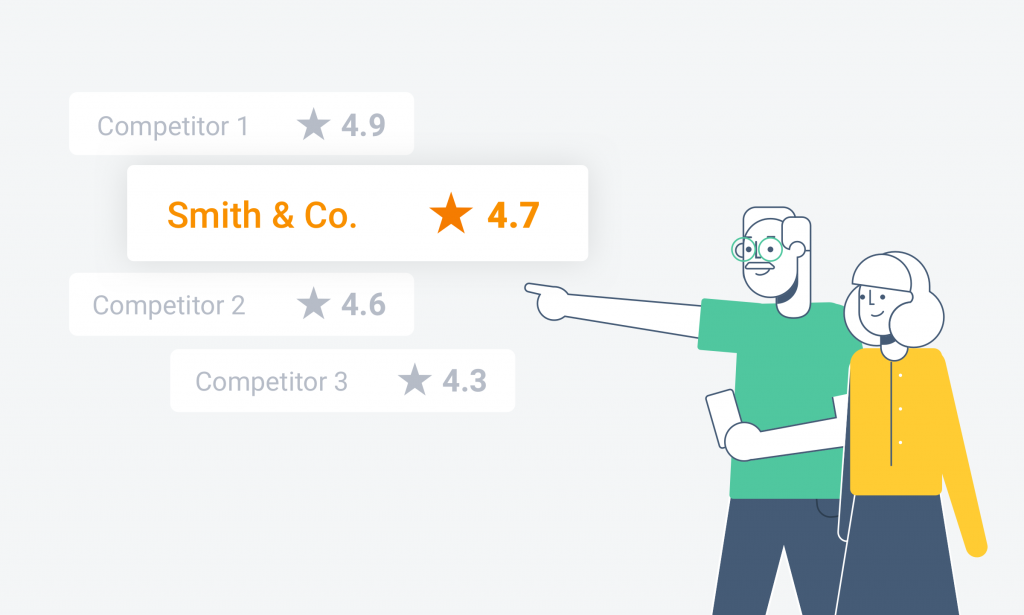 Luckily, it's now easier than ever to get the data you need to perform effective competitor analysis. In the past, you might have had to rely on "gut feelings" to help you make the right decisions. Nowadays, you can use data to deliver exactly what your customers are asking for across all of your locations.
Not only can you see your business's weaknesses, but you can also see what your competitors are doing well and find ways to replicate their strengths in each one of your business's locations.

How to do a competitor analysis
Here's a step-by-step guide to doing a competitor analysis.

Step 1: Determine who your competitors are
This can be a little trickier for multi-location businesses. Maybe you have different competitors at your different locations. For example, McDonald's might be competing with Burger King in one area, while it might compete with Wendy's and In-N-Out in a different area.

While that last example seems obvious, sometimes your competitors might be less direct. If you need help determining who your competitors are, think about who your target customer is and what businesses they're going to. For example, you might be the only burger restaurant in your area. But maybe there's a barbecue place nearby that takes some of your target customers. By taking the right steps, you can ensure that these customers are choosing you instead (but more on that later).

Step 2: Take a look at their marketing campaigns
Take a look at your competitors' marketing strategy. By seeing how your competitors are attracting new customers, you can get a better idea of how you can improve your own lead to customer pipeline.

First, look at your competitors' website. Look at their overall messaging and look at it through the eyes of a potential customer. What are your competitors doing to motivate leads to get in contact? Is there clear calls-to-action? Are your competitors using a Webchat solution to make it easy to get in contact?

Then, take a look at your competitors on review sites. See how many reviews they're getting on sites like Google and Facebook, as well as industry-specific sites in your niche. 92% of customers consult reviews before making any purchase decision.

Next, take a look at your competitors' social media strategy. See what they're posting and how much engagement they're getting on each one of their posts. Look to see if your competitors are going out of their way to respond to customers on social.

Are your competitors posting content like blogs, eBooks, and case studies? Take a close look at these. To determine their effectiveness, use an SEO tool like Moz or SEMRush. Tools like these can help you see how much traffic your competitors are getting for their website and their content, and whether or not they are getting links from other sites.
Step 3: Understand their customer experience
Next, it's important to try to understand your competitors' customer experience. This is trickier. It's not like you can wait outside your competitors' locations and hand their customers surveys as soon as they walk out the front door. Well, maybe you can try that, but it's unlikely you would get a lot of responses.

Again, reviews can help here. Customers often use reviews to talk about their experience with the business (ex. "I loved their food, but I wish the customer service was better.") See what their customers are mentioning in their reviews. Note down any strengths and weaknesses that you can see in their operations.
Step 4: Think About SWOT
Now that you have a good idea of how your competitors' business is functioning, it's time to think about SWOT. That's an acronym that stands for four things: strengths, weaknesses, opportunities, and threats. Let's go through each one.

Strengths
These are things that your competitors are doing well. Maybe they have a great social media marketing campaign that brings in tons of new customers, or they have great customer service.
Weaknesses
Think about what your competitors are doing poorly. This can help you understand what you need to do to gain an edge in the market. If you can offer something that none of your competitors can, you'll be able to attract more customers.
Opportunities
Think about where your competitors' biggest opportunities are. What could your competitor do to attract new customers? Could they introduce a new service? Maybe they're a restaurant next to a gas station, and could capitalize on people who come to fill gas and might want to grab a quick meal.
Threats
What are your competitors' biggest threats? Are they getting negative coverage from local media? Do they have a bad reputation among their customer base?

Step 5: Identifying areas for improvement
At this point, you should have a good idea of what your competitors are doing well and also understand where they're struggling. This should give you an idea of how you can start improving your own business.

Creating the best customer experience in your area
Once you've done a competitor analysis, it's important to think about what you can do to improve your own customer experience. Here are a couple of questions you can ask yourself to start improving.
What do the numbers say about customer satisfaction?
Take a look at your customer reviews and see what customers are saying about your business. If your overall star rating is lower than your customers, chances are that your overall experience has some room for improvement.

Customer reviews aren't the only form of feedback available for your business. You can also track how your customers feel about your business through NPS surveys. These surveys measure how customers feel about your business on a scale from 0-10.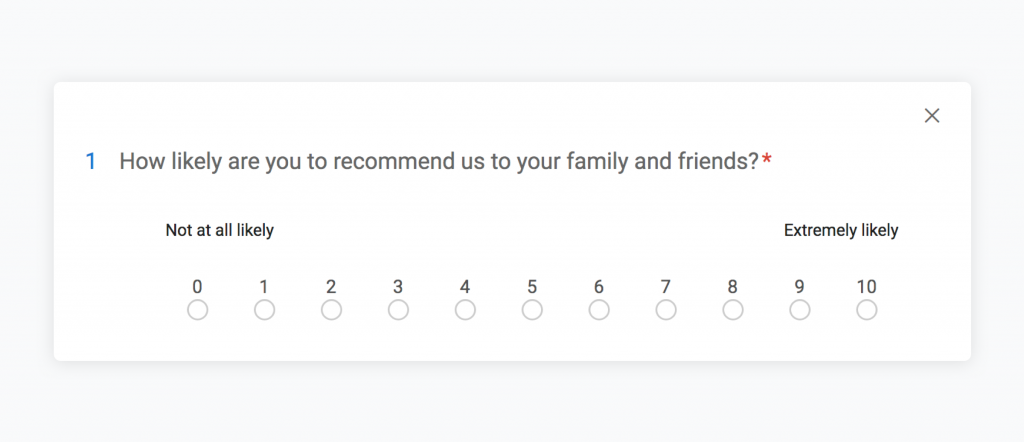 "Promoters" are those who rated your business as a 9 or a 10. These are the customers who are most likely to recommend your business to friends and family. "Detractors" are those who rated your business from 1-6. Your Net Promoter Score is determined by subtracting "Promoters" from "Detractors".

You also have the option to compare your business's NPS to competitors. We can estimate your competitor's NPS through publically available review data. Reviews that are ranked 1-3 stars are considered "Detractors", while 5-star reviews are considered "Promoters".

With this data, you can see how your business is doing relative to the competition. If you have a higher NPS than your competitors and the industry standard, this is a good sign that your business is doing a great job keeping your customers happy.

How are you performing relative to competitors?
Understanding factors such as overall star rating and quantity of reviews can help you understand how each one of your locations is doing. But that data only tells part of the story.

There is another kind of data that ultimately gives more details about you and your competitors' businesses: review text. Though overall star rating can give you a general idea of how customers are feeling, you need to look at review text for deeper insights. There are several reasons why a restaurant might have 3 stars. Maybe they have bad service or long wait times. Maybe their chicken is being served burnt. You can't know exactly what the problem is until you look at what customers are saying.


Unfortunately, it's hard to sort through the unstructured data of review text. After all, you're dealing with different customers with different opinions. One customer might love a restaurant's fried chicken, while another customer might hate it. It's hard to get an objective picture of which areas really need improvement.

But there is something you can do to make the process more scientific.

How to make the process easier
With Birdeye, your business can get insights through our Natural Language Processing engine, Athena. The engine pulls phrases that customers are using frequently, like "bad service" or "cheap pricing" and assigns them grades based on how positive and negative they are.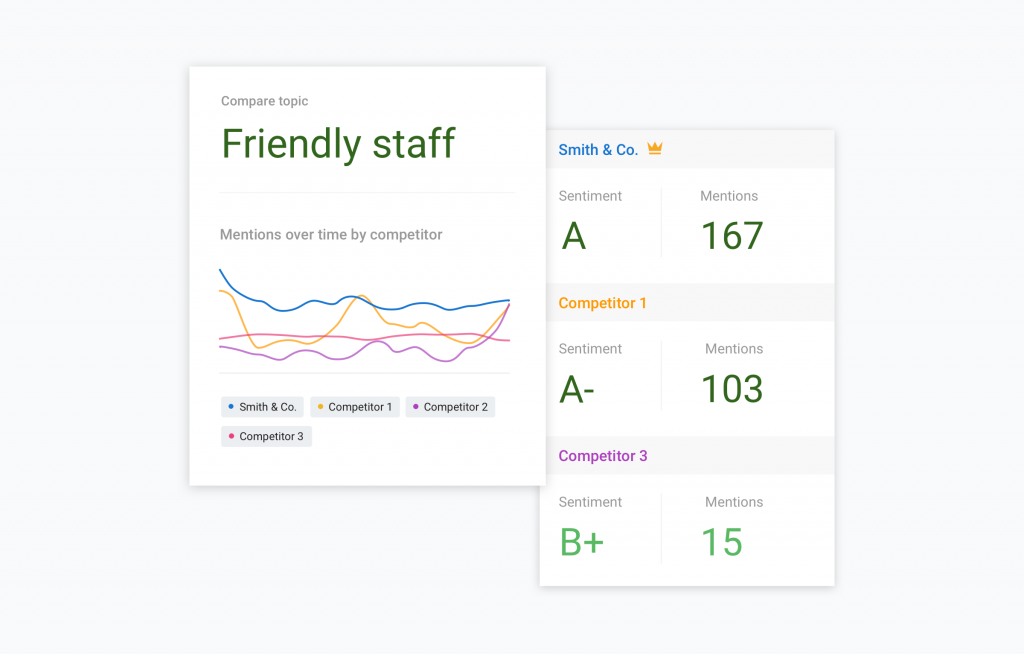 The engine looks at your customer reviews and gives you grades on certain categories like "Customer Service" and "Pricing". You'll be able to see how well you're performing on a variety of different customer experience KPIs, instead of having to manually crawl through every review in search of reliable performance indicators.

Of course, you don't just have access to the data from your own customer reviews. You'll be able to see how well you measure up to your competition in multiple categories. Once you identify which competitors you want to look at, the Birdeye's AI-driven Athena will show you their grades on specific categories.

By seeing what customers are saying about you and your competitors, you can see the exact areas where your business needs to improve. Perhaps a competitor is outperforming you in "customer service". With this information in hand, you can re-train employees to better serve customers.
Measuring satisfaction over time
Once you've made changes to your business based on the data, there's still work to do. You can keep track of the data to see if these changes are helping to retain customers. Keeping track of your NPS and your Rating Reports in the months after you make a new decision can help you understand how customers feel about the changes.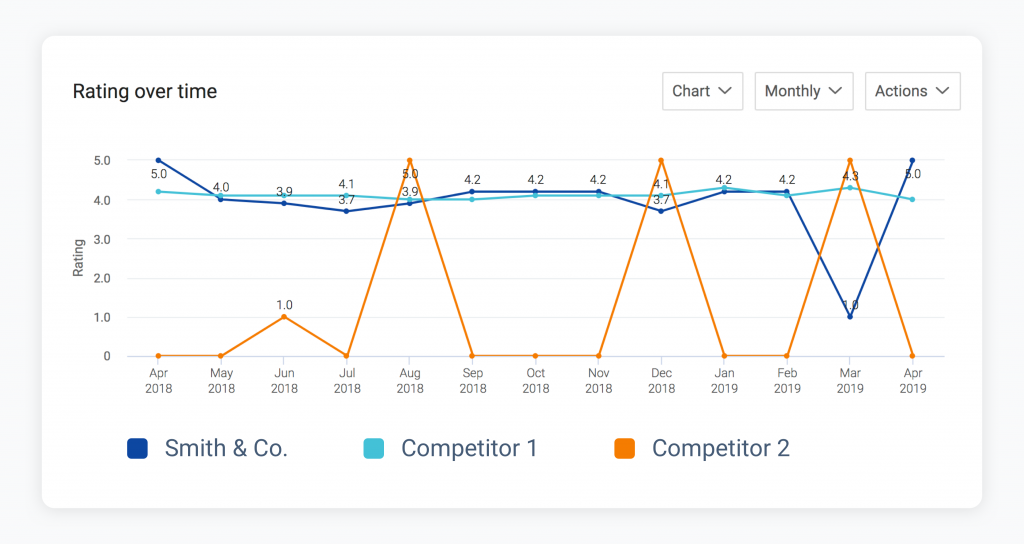 At Birdeye, we make sure to show you how these metrics change over time. That way, you'll be able to get a clear idea of how customers are responding to adjustments in your operations. After all, it's possible that one of the changes you're implementing might not have the desired effect. If you're tracking customer sentiment closely, you can hit the brakes on the change immediately, before you start seeing negative effects on your revenue.

Competitor analysis tools
Here are a few tools that can help you conduct competitor analysis.

Birdeye
If you want to better understand your competitors, Birdeye can offer you detailed insights from customer reviews . The platform uses AI to analyze you and your competitors' reviews, grading you on categories customers are mentioning such as "customer service" and "wait time".
SEMRush
SEMRush allows you to get valuable insights on your competitors when it comes to SEO, PR, marketing, and content. It's a great tool to use if you're looking at expanding your content strategy.
Moz
Moz is another tool that you can use to conduct SEO competitor analysis. The platform offers the ability to find out where you stand in relation to your competitors when it comes to things like backlinks and keywords.
Siteliner
Siteliner allows you to find weaknesses in your competitor's website, allowing you to perform a detailed SWOT analysis. Doing a competitor analysis with Siteliner allows you to see things like broken links and duplicate content that may hurt SEO.
Google Alerts
Google Alerts is a great free tool that helps you stay on top of alerts from all over the web. You can set Google alerts so that you get a notification every time one of your competitors is mentioned in a news story or publishes a new blog post.
How Birdeye can help your business be the best business
Birdeye doesn't just help you stay ahead of the competition. Birdeye helps you handle every aspect of customer feedback. With Birdeye, businesses can get new reviews, manage and respond to reviews from over 150 sites in a single dashboard, automatically share posts on social media, and receive actionable insights through Natural Language Processing. Birdeye's all-in-one experience marketing platform helps more than 100,000 businesses improve operations and drive revenue.

Find out how Birdeye can help you get ahead of the competition.


Originally published