One of my favorite TV shows is "Nathan For You". The show features comedian Nathan Fielder turning actual struggling businesses around with intentionally bad SMB marketing ideas. Ideas include a real estate business that uses an exorcist to verify that houses are ghost-free and a car cleaning company that intentionally places birds in nearby trees to guarantee that neighbors will need their cars cleaned.

"Nathan For You" makes light of a serious problem. It's tough to market small businesses. Standing out from the competition is difficult when you're working with limited resources, and Nathan Fielder's humorous "solutions" really do help businesses gain visibility.

Luckily, you won't need to feature your business on "Nathan For You" anytime soon. Here's how you can get started with SMB marketing without having to turn to any exorcists for help.
Here's what you'll find in this article.
Getting Started with a Marketing Plan
If you're just getting started with marketing your business or if you're not happy with the results that you've seen from your previous efforts, you need a marketing plan.

Keep your marketing plan simple, clear, and focused on results. One trick is to build it in three parts:

Things you can do this week.
Things you can do this month.
Things you can do this year.
This can help you focus both on short-term and long-term goals.
Here are a few more tips on building a quality marketing plan:
Identify Your Ideal Customer
Not every business is going to appeal to every single customer. Make sure that you understand what kind of customers your business is trying to appeal to.

If you're a realtor selling luxurious properties, chances are that your time is better spent talking to older folk rather than college kids. Maybe you've seen that you make more money with older men who are moving into the area than families who are already based locally. You can look back through past sales and see if there are common attributes that your most profitable customers share.

Understand Your Current Situation
Different situations require vastly different marketing plans. A restaurant that's set to open up in a couple of weeks probably wants to make sure that they can make a big splash and attract tons of new customers. An established restaurant with a more established customer base should be more concerned with how they can get their existing customers to come back. In both cases, a great way to get started is to talk to the customer and find out what they're looking for.

Think about where your business is and think about what goals you're trying to accomplish. This will help you understand where you can best focus your efforts.
Set Clear Goals
A great marketing plan needs clear goals. Every year at Birdeye, we set goals for what we want to achieve in the coming year, and measure our progress towards these goals in regular meetings. Having metrics allows you to have something to aim towards.

A good goal is ambitious but also realistic. That's why we recommend you focus on goals that can be achieved this week, this month, and this year. Weekly or monthly goals must be well-defined with a clear path to achieving them. These short term goals should all work to support your ambitious long term goal.

A goal that is too low will be too easy to hit and will not motivate your employees to work hard to achieve it. A goal that is too high will be unrealistic and will lead to the same problem. Make sure that you choose a goal that is high, but still in the realm of possibility.

Determine Your Budget
Keep in mind your marketing budget including "soft" and "hard" costs. Not every marketing effort has a "hard" cost. Things like listening to customers do not cost money but do require time, effort, coordination and diligence. Economists would call that a soft cost, or an opportunity cost. The time you spend on things like talking to your customers can be spent elsewhere. Keep in mind how much time you have to spare on your marketing efforts.

When it comes to hard costs — spending actual dollars — it's important to be realistic about what you can spend on your business. Think about what you're willing to spend, and what you're looking to get in return for that spend. Every business has a different financial situation, so it's important for you to not spend too much money on campaigns that you can't afford.

If you don't have the money to spend on expensive campaigns, don't worry. There are free tactics that you can use to market your business. We'll go through them later in the article. A big budget doesn't necessarily mean that you'll get great results. If you don't believe me, ask Mike Bloomberg how his presidential campaign went.

Find Low-Hanging Fruit
Chances are that there are a couple of areas that none of your local competitors are taking advantage of. Pay close attention to the areas where you see that the competition is picking up business. Areas that they're ignoring might be a fantastic opportunity for you.

Maybe none of your competitors are optimizing for voice search. Maybe none of them are taking steps to collect reviews from their customers. Maybe none of them are running Facebook advertisements. All of these are potential areas where your business could gain a competitive edge.

Common Mistakes in Small Business Marketing
Here are some common mistakes we often see in SMB marketing.

Not having a strong online presence
While it might be hard to believe, it's been estimated that 40% of small businesses don't have websites. Make sure that it's easy for your potential customers to find you and reach out. Optimize your website for mobile devices and voice search. Make sure that your business is listed on sites like Google, and Facebook, and make sure that you have accurate listings on each one.

Not being steady & patient
Good things happen to those who make steady incremental effort and wait for the results. While spending money on paid ads can lead to immediate results, it can take time to see results for other strategies. Remember, building loyal audiences through something like a blog or a YouTube channel takes time. Don't be discouraged if your efforts aren't leading to immediate results.

Not thinking about existing customers
When it comes to marketing, it's natural to think about attracting new customers to your business. But studies show that there's a 60-70% chance of selling to an existing customer, compared to only a 5-20% chance of selling to a new one. Your existing customers already have a level of familiarity with your brand and provided that they had a good experience, are probably already comfortable making purchases from you.


Not considering your online reputation
It doesn't matter if a potential customer heard about you from a friend, saw an ad in Yellow Pages, or saw a post on Facebook, chances are that they are going to Google you. It's been estimated that 97% of search engine users search online to find a local business. The best marketing campaigns in the world won't produce results if your potential customers see hundreds of reviews trashing your business. 

Not being detail-oriented
You might have heard the phrase, "Don't sweat the details." While it might be true in other situations, it's not true when it comes to marketing. Something like a typo or a grammar error can leave a potential customer with a bad impression of your business. If you're not detail-oriented when it comes to something like marketing copy, people might get the mistaken impression that you're not detail-oriented when it comes to delivering quality services as well.

Should I Turn to a Digital Marketing Agency?
You might be wondering if turning to a digital marketing agency might be the right decision for your business. It can be a great decision for many businesses. Here are a few things you should consider before working with a digital marketing agency.

Risk, Reward, and Cost
Ask yourself a few questions: What is the total cost including your time, and the time your staff will need to devote to the agency? What can the agency commit to in terms of goals or objectives? How you will jointly measure success — it can't work if you don't have a mutual agreement on what good or great results look like.

Time/ Budget constraints
Chances are that you might not have the time to worry about marketing nor the budget to hire a full-time marketing employee. In this case, or if you are not enough of an expert to manage a marketing hire, outsourcing work to an agency can make sense.

Outsider's Perspective
Chances are that a digital marketing agency won't know your business and your industry as well as you do. This can be both an advantage and a disadvantage. Sometimes a fresh perspective can allow you to come up with more original marketing campaigns. Chances are that there might be a learning curve when it comes to learning your industry so be sure to ask agencies if they've worked in your industry before.

Effective Communication
If you're working with an agency, be sure that you're communicating effectively in terms of needs and goals. If you can't effectively respond to them, you are not only wasting their time, you are wasting yours, and your money! Be attentive to the agency's needs and timeline and they will work harder for your business.
While there are real pros and cons of turning to an agency, think hard before you make a decision. There are tons of talented agencies out there and working with one could be the right decision for your business.

However, there are steps you can take to get started with SMB marketing. Let's go through some of them.

Marketing Strategies that Your Local Business Should Consider
While not all of these strategies may be right for your business's budget and current situation, all of them are strategies that you should consider.

Make the Most Out of Your Google My Business Listing
The first impression that most of your customers will have of your business is your Google My Business listing. This is the profile that appears on the right side of the customer's screen when they do a Google search for your business. It looks something like this: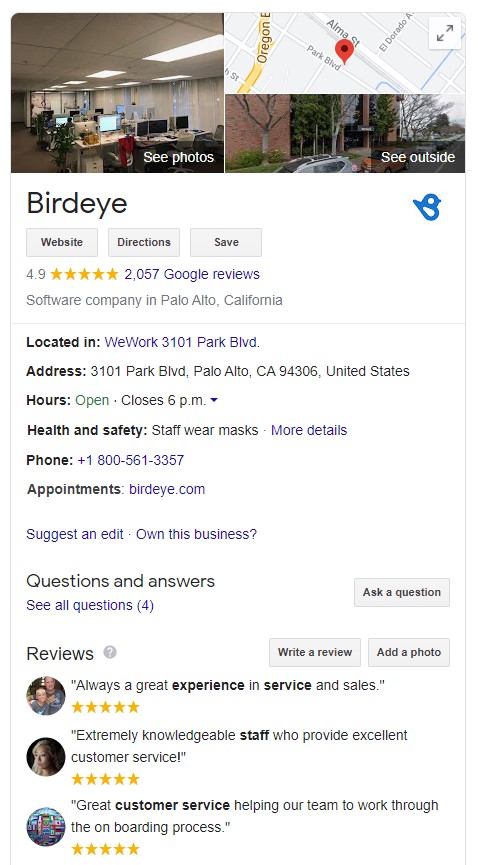 The first step is to claim your Google My Business profile. This is a process that typically takes 2-3 weeks. Once you do this, you'll be able to make changes to your profile. Make sure that you've uploaded high-definition photos and have accurate information including address and contact information.
Facebook Ads
Facebook ads can be highly effective but they aren't magical. Facebook highly recommends you run three types of campaigns. It's important to spend on all of these.
Three Types of Facebook Ads
Awareness / Engagement Building
Content / Information
Conversion or Transaction
Let's break that down. Awareness or engagement campaigns serve to help people become aware of your business and keep your existing customers in touch.
Content or informational campaigns try to put content in front of folks who are aware of your business. It could be a menu, a small business video showcasing a product or a service, or a landing page on your website. It also includes authentic online reviews left by your customers, catalogs, product descriptions or listings, and many more.
Conversion or transaction ads have a goal of generating actual sales or a significant action leading to a sale. This could include making an online purchase, filling out a form requesting a quote, or scheduling an appointment. Facebook campaigns can also have a goal of bringing folks into your store(s), or offices.


Questions to Ask Before Getting Started
Facebook can get folks to walk into your shop, office or store and that might seem magical at first. But there are a few questions you need to answer first:
How many people who come into your business actually buy?
How profitable is their first purchase?
How many of them come back and how often?

If you don't know the answers to those questions, you might not be ready for this type of campaign. One way to add value here is to link your point of sale system to Facebook so Facebook can find folks who will actually spend money (as well as time) at your business.
Google Ads
When you type queries into Google search, you'll probably notice a few search queries that are marked "Ad". This is how Google makes most of its money. What's great about these ads is that it puts your business in front of customers who are looking for relevant information. A local law firm can target advertisements at local Google users who search for "lawyers near me".

Google ads are a great option for small businesses that are willing to spend money to get in front of relevant audiences. Just remember to start small. Google ads can get complicated if you're bidding on tons of different keywords. Try starting out with just a couple and see what kinds of results you get.

Google ads require you to pay every time someone clicks on one of your ads, so be careful. Make sure that you're keeping a close eye on how much you're spending.
Content Marketing
Chances are that you're an expert on your industry. If you're a lawyer, you can probably provide valuable legal advice through blogs, podcasts, or YouTube videos. Building content like this is a great way to build trust over time. If you're providing valuable tips and becoming a trusted source on legal issues, chances are that some of your blog readers will be happy to become a client.

The biggest drawback to content marketing is that it takes time to see results. It's not possible to build an audience overnight. If you're looking to attract customers quickly, content marketing is not the right strategy for you.

On the other hand, content marketing does not require you to pay every time a potential customer clicks on one of your blog posts. While it does take time to see results, content marketing can be more cost-effective than a strategy like Google Ads.
Organic Social Media
Make sure that your business is active on social media platforms like Facebook and Twitter. Studies show that customers are significantly more likely to buy from a brand that they follow on social media.

Be sure that you're staying responsive to customers who reach out to you on social as well. Be sure to engage with followers who reach out to you on Facebook comments, reviews, and Facebook Messenger.

Of course, social media does have a huge limitation: you reach very few of your followers. It's been estimated that only 5.5% of Facebook posts actually reach followers. People have long complained that Facebook limits organic reach in order to force businesses to buy paid advertising. While this does limit you, it doesn't mean that social media marketing isn't worth doing. It just means that you should keep your expectations realistic.

Work with Micro-Influencers
There is a way that you can get more engagement on social media: influencer marketing. Influencer marketing involves working with social media accounts with large audiences to promote your business. For example, a celebrity like Robert Downey Jr. may get paid to promote a product on his Instagram feed.
Social media accounts with hundreds of thousands of followers are out of the budget of most small businesses (sometimes even outside of the range of big businesses). But that doesn't mean you should give up on influencer marketing entirely. Instead, focus on micro-influencers.

A micro-influencer is someone with 1000 to 10000 followers. Chances are that you have multiple customers who are micro-influencers. Try to build a relationship with them by following them and commenting on their posts on social. When the relationship is established, politely ask if they'd be willing to make a social media post in exchange for free products and services.

Remember, the key to strong micro-influencer relationships is checking-in with them over time. Make sure that you are staying in contact and responding to their needs.
Text Message Marketing
Texting works. It's been estimated that text messages have an open rate of 98%, compared to an industry average of 40-50% for emails.

Text message marketing is a great way to engage with your existing customers. Send appointment reminders, sales, and discounts. It's a great way to make sure that you're engaging with your existing customers and keeping them coming back for more.

One big caveat here: nobody wants to get their phone spammed. Try not to send text messages too frequently. 4-5 text messages a month is the recommended maximum. Be sure that you're sending texts at reasonable times (nobody wants a business text at 2 AM). Make sure that you include an option to opt-out of phone communications.

Email Marketing
While it's true that text messages have much higher open rates than emails, sending too many text messages can lead to a lot of frustrated customers. Email marketing might sound like an outdated tactic, people do it because it still works. It can be great to use email in tandem with text messaging.

You might be wondering how you have a chance of standing out from the hundreds of other emails in your customers' inboxes. Everyone has an email that they open up every time they see it. The trick is making sure that your emails will be one of these. Make sure that you are delivering value to your customers. Share news and offers that they'll care about.

Remember to make your emails mobile-friendly. More and more customers are now choosing to read their emails on their smartphones instead of their desktops. Just like text messages, make sure that you're not sending too many emails. Many businesses opt for weekly or biweekly emails.

Online Reviews
There is a cost-effective way that you can get your business ranking higher on search and chosen by more customers: online reviews. Studies show that 92% of customers consult reviews before making a purchase decision. As we talked about earlier, customers will Google your business before paying a visit. A strong online reputation will help make all of your marketing efforts more effective.

Another big advantage that reviews have other forms of marketing is that it's free. Unlike Facebook or Google Ads, you don't have to pay for potential customers to view your online reviews. It's all publically-available to anyone that's looking for it.

Let's talk about a few of the ways that you can start leveraging the power of online reviews.

Send review requests via email and text
The first step that you can take to strengthen your online reputation management is to send review requests to your customers. There's a reason why you need to solicit feedback like this. The customers who are most likely to leave reviews are those who feel that they've had a strongly negative experience. By sending review requests, you're ensuring that your business is receiving more balanced feedback.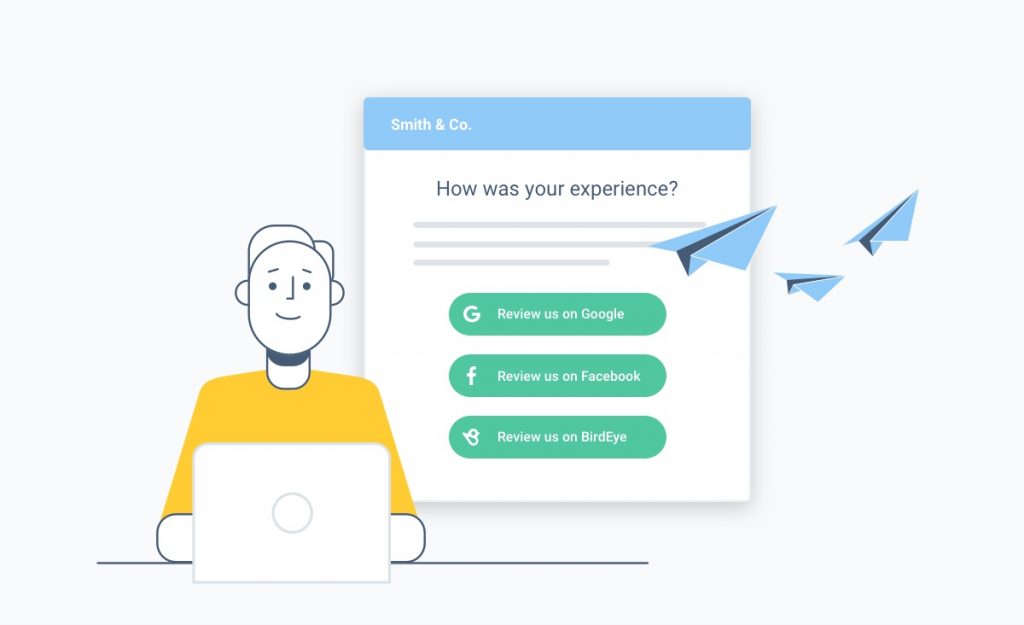 Respond to customer reviews
Make sure you're responding to your reviews. Responding to customer reviews is a great way to connect with your happy customers and engage with your unhappy ones. It's a great way to build closer attachments with your brand. Plus, responding to reviews helps you with visibility. Google has confirmed that responding to reviews helps businesses rank higher in search results.

Share your reviews on social media and your website
When hundreds of customers are saying your services are valuable, chances are that people will believe them. Make sure that your online reviews are prominently displayed on your website and on your social media accounts. This kind of social proof will help build credibility with prospects who haven't heard of your brand before.

How Accent Roofing Attracted More Clients with SMB Marketing
Let's share an example of how a small business overcame a specific marketing problem.
Accent Roofing is a family-owned roofing business that's been in operation for more than 30 years. The company had a specific marketing problem: lack of trust. The business realized that in order to get trust from potential customers, there was one channel they could turn to: online reviews.
With Birdeye, Accent Roofing has collected more than 400 reviews on Google. These reviews helped to solve the business's trust problem. Customers who might have had doubts immediately saw social proof that would help them to make their choice. Now, Accent Roofing frequently sees new customers who say that they discovered the business through reviews.
How Birdeye Can Help Your SMB Marketing
Want to get started with SMB marketing? Birdeye can make your efforts more efficient. Whether a customer discovers you through quality content, Facebook Ads, or word-of-mouth, chances are that they'll Google your business and see your online reviews.

Birdeye can help you collect reviews on sites like Google and Facebook automatically. With a simple integration with your business system, you can automatically send review requests via text and email. We've seen that businesses that automate their review processes this way see an 8% increase in revenue in just six months. That's a testament to the power of reviews.

Originally published