In the past year, we've seen more and more businesses use our survey product. Just this week, we won a High Performer Award from G2 Crowd for our customer surveys. While we're happy for the recognition, we wanted to make some changes to make sure that surveys are working great for all of our customers. While we spent some time upgrading campaigns, we didn't stop there. Enter upgraded Birdeye surveys: Surveys 2.0.


We've redesigned our surveys to be both functional, simple, and customizable. Here's how we have upgraded Birdeye surveys to make our award-winning surveys platform even better.
Birdeye Surveys are Functional

More than anything else, our surveys are meant to be functional. All of the updates that we've designed were made with one goal in mind: making it easy for you to collect the feedback you need from your customers.
Different Surveys for Different Situations
We recognize that business owners have different needs. Sometimes, you'll need to send more in-depth surveys to really get to what your customers are thinking. Other times, you'll want to send surveys that a customer can take quickly and give the feedback that you need. Previously, pick-one surveys were contained within standard surveys. Here's the difference between the two types of surveys.
Business owners will have the option to give two types of surveys to customers: pick-one and standard. Here's the difference between the two types of surveys.
In-Depth Questions for Quality Insights
This is the standard survey format that our customers know and love. With a standard survey, businesses have the ability to ask customers in-depth questions in a wide variety of different formats.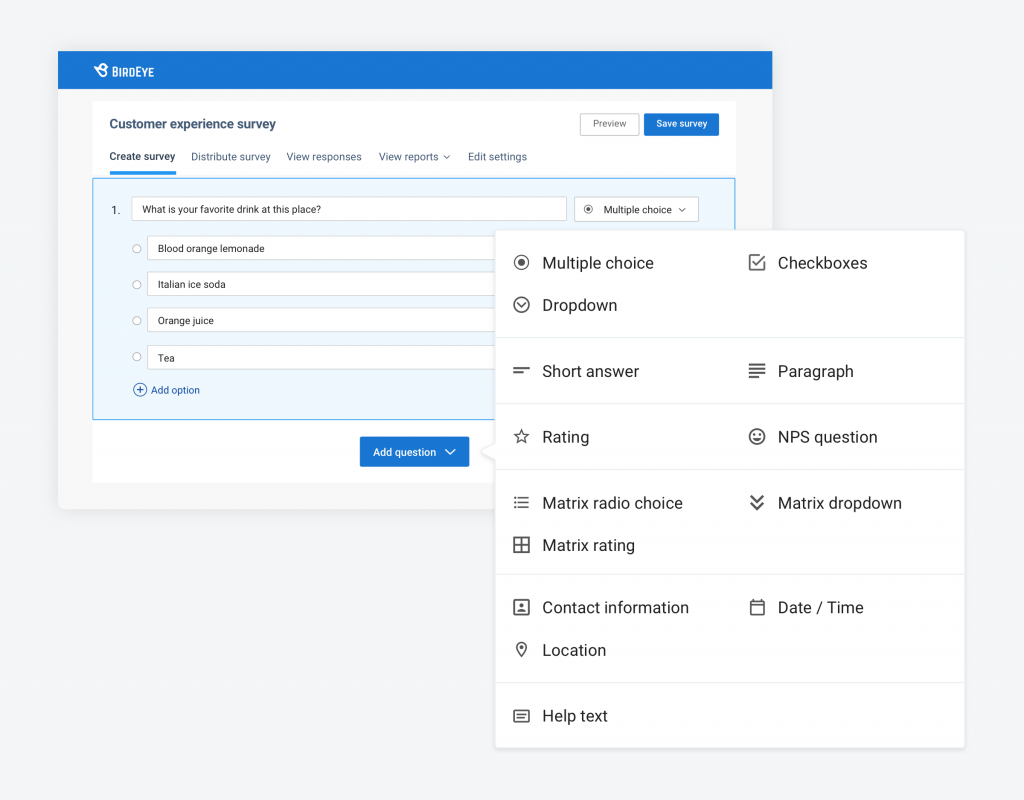 Quick Surveys for Fast Responses
Of course, maybe you don't want to spend time asking in-depth questions. There's going to be times where you want to ask just quick, simple questions to your customers. Now you have the option to send pick-one surveys, where customers can answer simple questions quickly and easily.
Previously, pick-one was a type of question within our standard surveys. We've removed the ability to ask pick-one questions within standard surveys to avoid confusion.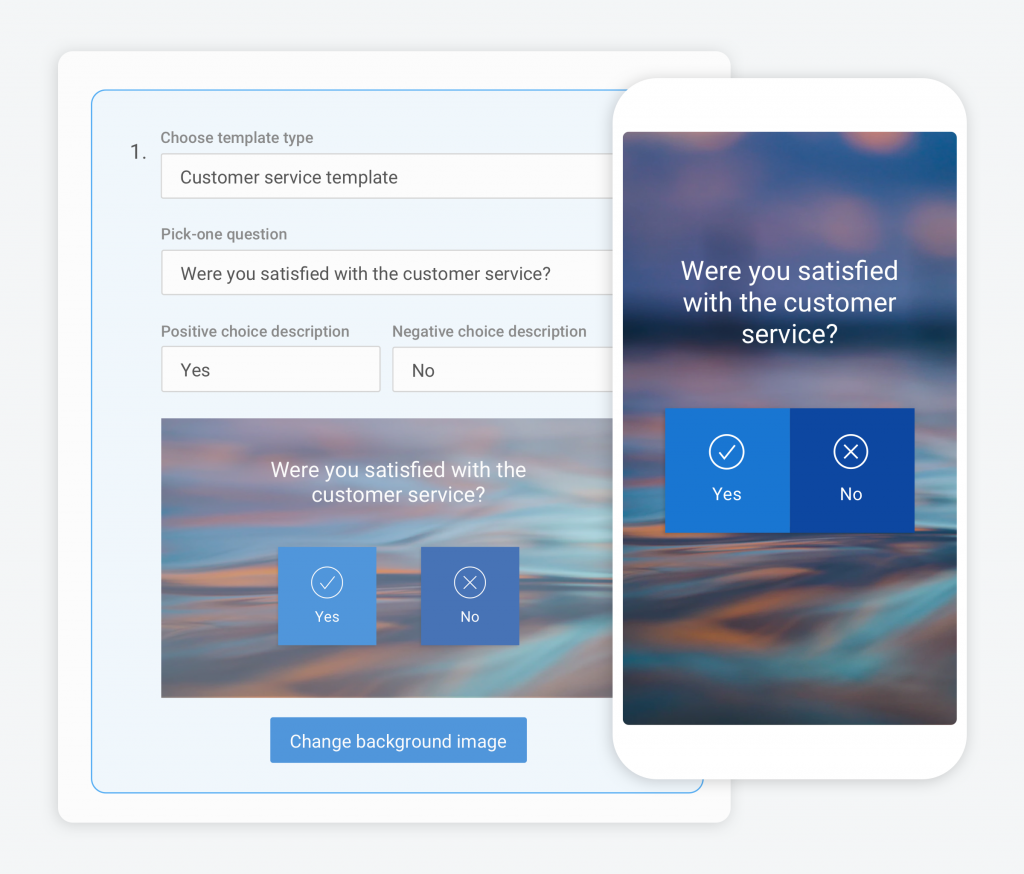 Birdeye Surveys are Simplified
We've made our interface clean and easy-to-navigate. We've made it so that it's easy for any member of your organization to send out a survey when they have the chance.
While our surveys might be simplified, that doesn't mean they're only capable of asking simple questions. Remember, our platform is meant to serve everyone, from small businesses to some of our enterprise customers like Blaze Pizza and BMW.
We've made tons of improvements to User Interface to make it easier than ever for any employee to step in and send a Birdeye survey. Here are some examples.
Easier Navigation

We've made it easy for you to create a survey, send it out to customers, then view the results. Our navigation makes it easy for customers to view every step of the process of sending an effective survey to your customers. Each step in the process of survey creation is a separate tab in the navigation.
Simple Survey Distribution
Previously, businesses needed to go into the "Campaigns" tab and find the individual survey in order to send it out to customers. Now, this process is easier than ever. You'll be able to send out your surveys within the "Distribute Survey" tab.
Birdeye Surveys are Customizable
We've made Birdeye surveys customizable so that they can fit all of your business needs, allowing you to show off your business's unique brand and communicate more closely with your customers.
Customize Survey Appearance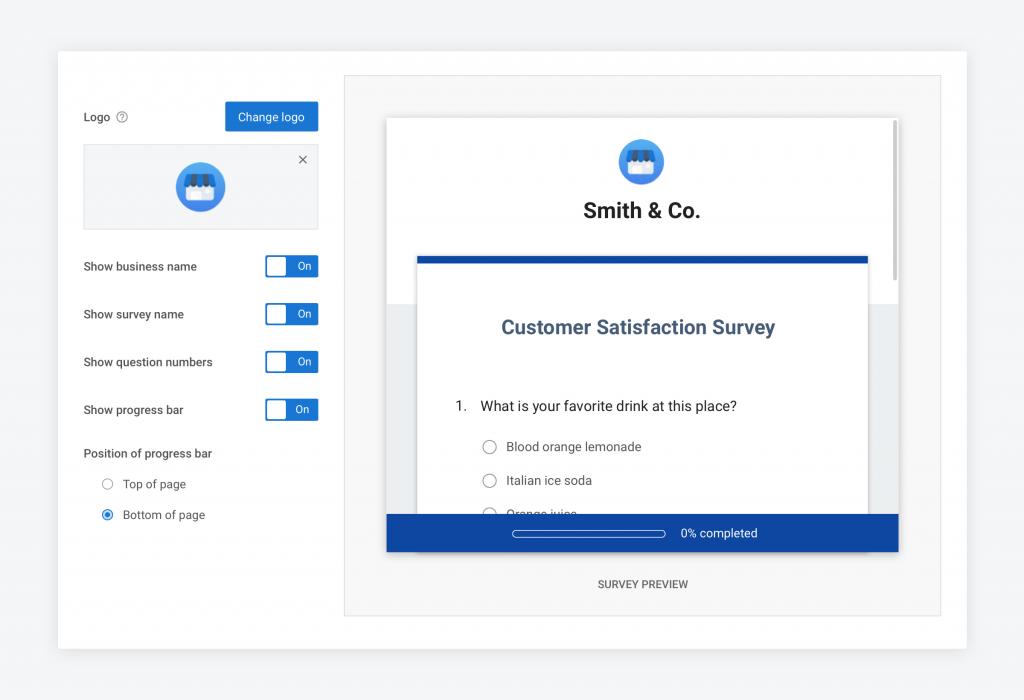 Now, you have the option to customize your surveys' appearance so that it matches your business's branding. You also have the option of showing customers how many more questions they need to answer to get through the survey with the progress bar.
Email Notifications

Now, you can choose to receive email notifications when customers select a specific response. Let's say that you're asking customers how likely it is that they'll recommend your business to friends and family, and you want to know immediately if customers are saying that they probably wouldn't be willing to do so. If you want to customize when you'll receive an email notification, just go to your survey settings.
Automatic Replies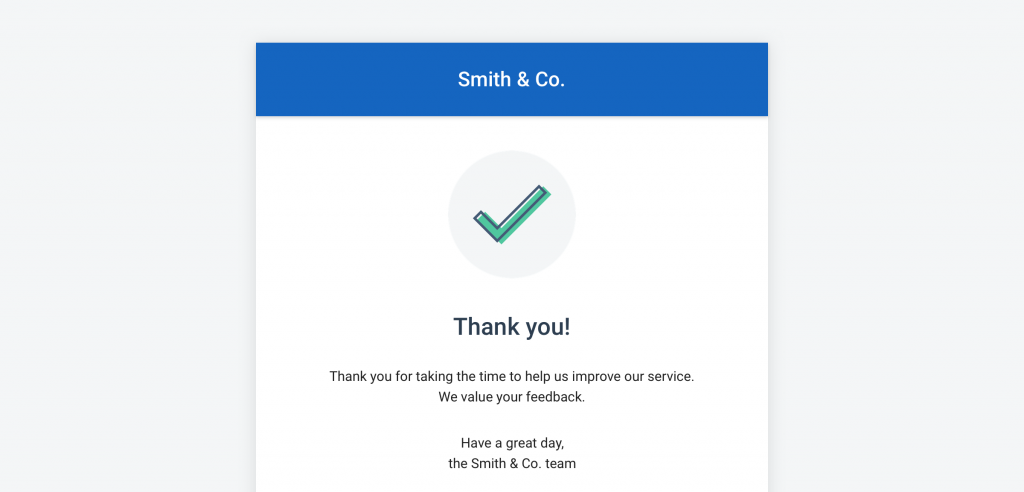 When your customer takes the time out of their day to take a customer survey, it's important to show appreciation. Of course, it can be hard to do this if you're getting lots of survey responses. Who has time to send a reply to a hundred different survey respondents?
With the Birdeye dashboard, businesses now have the option to send customized automatic responses to your customers. Make sure each one of your customers knows how much you value them.
What Happens to My Existing Surveys?
If you have a previously-existing survey that is affected by one of these changes, here's what will happen.
What will happen if I have a pick-one question in a traditional survey?
All the pick-one questions in traditional surveys will be converted into multiple-choice questions.
I made a survey with a link to a review site in the middle of the survey. Can I still use it?
This existing survey will still work. However, to make any changes, you'll have to contact the Birdeye Customer Service team.
Get Started with Surveys 2.0
Now that you know more about the upgraded Birdeye surveys, it's time to get started. Check out Surveys 2.0 and start collecting feedback from your customers today.
If you're not currently enjoying Birdeye surveys, now is the time to get started.

Originally published