Do you want to be found by local customers, optimize your local marketing campaigns, and improve your reputation within your l community? If the answer is yes, you should focus on local search engine optimization, or local SEO.
Investing in local SEO can be highly beneficial for businesses looking to grow rapidly. But more often than not, businesses don't have any way of knowing whether their efforts have any impact. The local SEO campaigns' success relies on many factors that need close monitoring through regular local SEO audits. This way, businesses can modify their action plan if needed to keep up with the market requirements/
This article gives an overview of how local SEO audits can help businesses and an easy method to conduct local SEO audits with Birdeye's free tool.
What is local SEO?
Before we explain how a local SEO audit can benefit your business, let's take a closer look at what SEO is and how it works.
When a business works on ranking higher for location-based queries or "near me" queries, they are working on optimizing their content for local searches on Google. We call this local SEO or local search engine optimization.
Local searches have dominated the internet for the last couple of years, and today, SEO is an effective marketing strategy for many companies looking to reach local customers and grow their business.
Local SEO has three major ranking factors:
This factor is responsible for choosing businesses that are geographically the closest to the search query.
The relevance factor determines how closely the business is relevant to the search query based on its product range, service list, operational hours, delivery methods, etc.
This factor decides if the business is trustworthy, well-liked, and approved by other customers to display for the search query based on reviews, link clicks, website traffic, and so on.
To evaluate a business, Google scans millions of pages, including the business' website, third-party listing sites, third-party review sites, and its Google Business Profile.
How to outrank your competitors
Businesses can rank higher than their competitors in local searches by improving their performance against the major ranking factors. Here's how:
Distance/Proximity: Make sure your business has the most accurate business address, location, and landmarks. That way, Google will be able to identify your business as the closest to the searcher's location.
Relevance: Select the right business categories and keywords for the business description section of your Google Business Profile. It also helps if you include a list of services and products you offer and post regularly on Google with updates to display your relevance to a search query.
Prominence: Build a strong collection of customer reviews to support your authority for a search result. Also, make sure that you respond to reviews, both positive and negative and that they're generated consistently over time.
Bottom line: If a business wants to show up on the top results for any local search query, they must:
Maintain consistency across all these websites.
Build a positive online reputation.
Optimize its presence across the internet.
The best way to achieve these goals is to perform a local SEO audit.
Local SEO audit
A local SEO audit can help businesses find out how well they are doing in local search engine rankings and understand the reasons behind their rankings. A local SEO audit will analyze your website, Google Business Profile, and targeted keywords to determine if they are aligned with your goals.
Local SEO audit tools
A typical local SEO audit includes conducting a website audit to evaluate SEO performance, competitive analysis, market research, and much more. It might sound labor intensive, but the good news is you won't have to complete every step each time you want to evaluate your local SEO efforts. Most times, analyzing your performance against the most important factors of local SEO is enough – and local SEO audit tools can help you do this easily.
For local businesses — especially businesses with multiple locations – performing these tasks without any extra help can be both expensive and time-consuming. Using a local SEO audit tool is an efficient solution that can provide:
A detailed report of your SEO efforts
An itemized report on every element responsible for your local SEO ranking, such as addressing inconsistencies, negative review volume, or broken links
Information about what factors are impacting your online reputation issues regarding online business reputation
Ways to improve your SEO strategy
How Birdeye's Local SEO Audit tool works
Businesses must be digitally ready so customers can quickly find them, verify their credentials, and complete transactions. This can make all the difference between success and failure. Birdeye offers a host of solutions to make all of these possible without any hassle. Birdeye helps over 100,000 businesses improve their customer experience, which is why we created a tool that provides comprehensive SEO insight to local businesses. And best of all, it is FREE.
Here's how it works:
Birdeye's free Local SEO Audit tool scans your profile and relevant parts of the internet, collecting data about your SEO health with a single click. Most importantly, it covers the three most important factors that impact your local SEO ranking:
Listings
Reputation
Local search ranking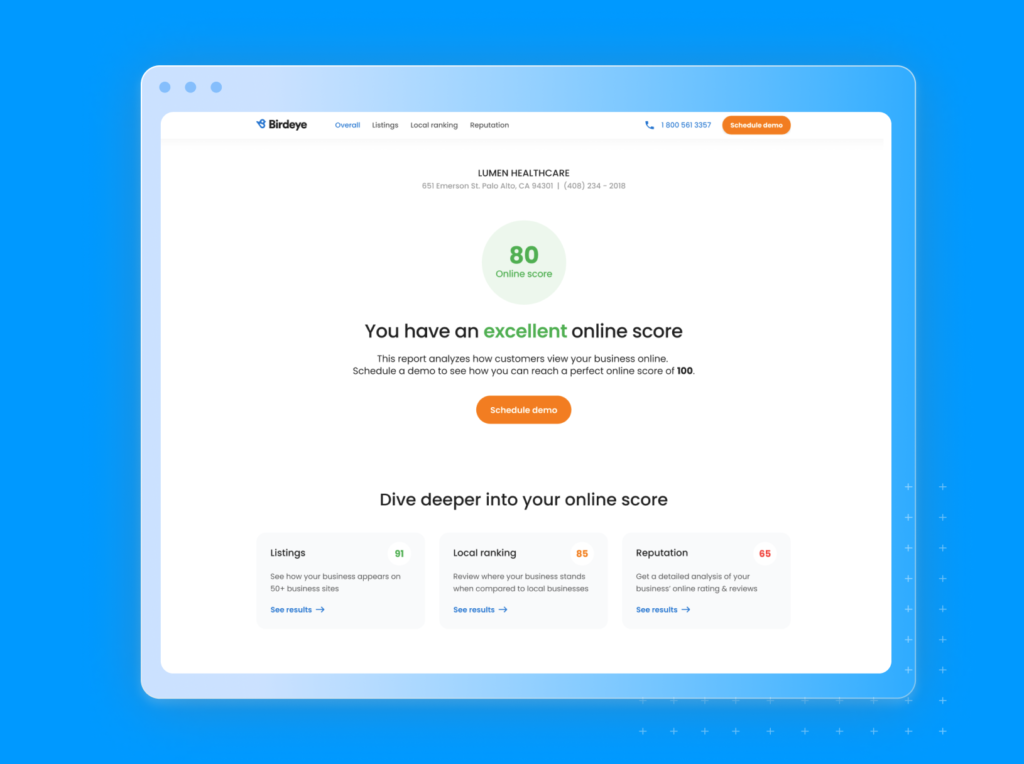 How to use the Birdeye Local SEO Audit tool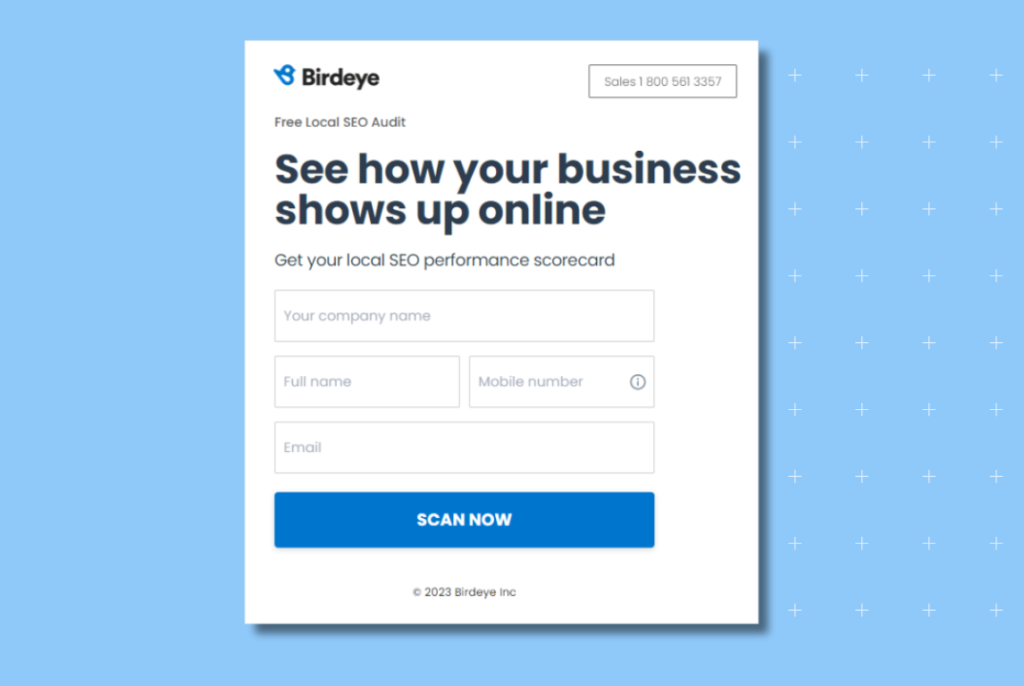 Getting started with our SEO audit tool is quick and easy. Here are the steps you need to follow:
Head to Birdeye's Local SEO Audit page.
Enter your business name as it appears on your Google Business Profile.

A drop-down menu will appear as you start typing, allowing you to pick your business from the list. If your business doesn't appear, make sure your Google Business Profile is verified and/or not suspended by Google.

Type in a few more details to customize the report, including your full name, mobile number, and email address.
Click SCAN NOW.
The report will be generated and is available to view/download within minutes.
Understanding Birdeye's Local SEO audit report
Birdeye's Local SEO Audit report gives you a complete view of your SEO strengths, weaknesses, opportunities and threats.
Let's take a closer look at each part of the audit and understand what they mean for your business.
Overview
When you open your report, the first thing you'll see is a total score for your business. This numbers derived from your business' performance in the following categories:
Listings
Reputation
Local search ranking
Details of Key Metrics
Listings metrics overview
In the listings section, the tool evaluates your local business based on the following:
How your business appears online (consistency and completeness of information available)
Your presence on prominent listing sites
Reputation metrics overview
In the reputation section of the report, Birdeye's local SEO tool evaluates your local businesses based on the following:
Local metrics overview
The local ranking section of the Local SEO Audit report helps you understand how you rank against local competitors. To do this, our tool analyzes the keywords in your Google Business categories and verifies your ranking for that keyword with that of your competitors.
If you want to see the results for a different keyword, you can enter that keyword in the search bar found in the reporting section.
Interpreting the Local SEO audit report
Now that we know which information is captured in Birdeye's Local SEO Audit report, let's dive into how that data can help you improve your local search ranking. With the insights from the report, you can:
Fix your business listings
As mentioned in the previous section, the listing section of the SEO audit report carries a detailed summary to check:
Consistency of your listings
Your online presence
You can view the following:
The percentage of listings with inaccurate business names, addresses, and phone numbers.
A snapshot of how your business information appears on major listing sites to spot consistencies and missing listings.
Note: These listings are chosen based on your industry's popular online listing sites and the categories mentioned in your Google Business Profile.
Now you'll have clear, actionable insights to fix your listings and improve your score. You can also connect with the Birdeye team to streamline your online listings seamlessly.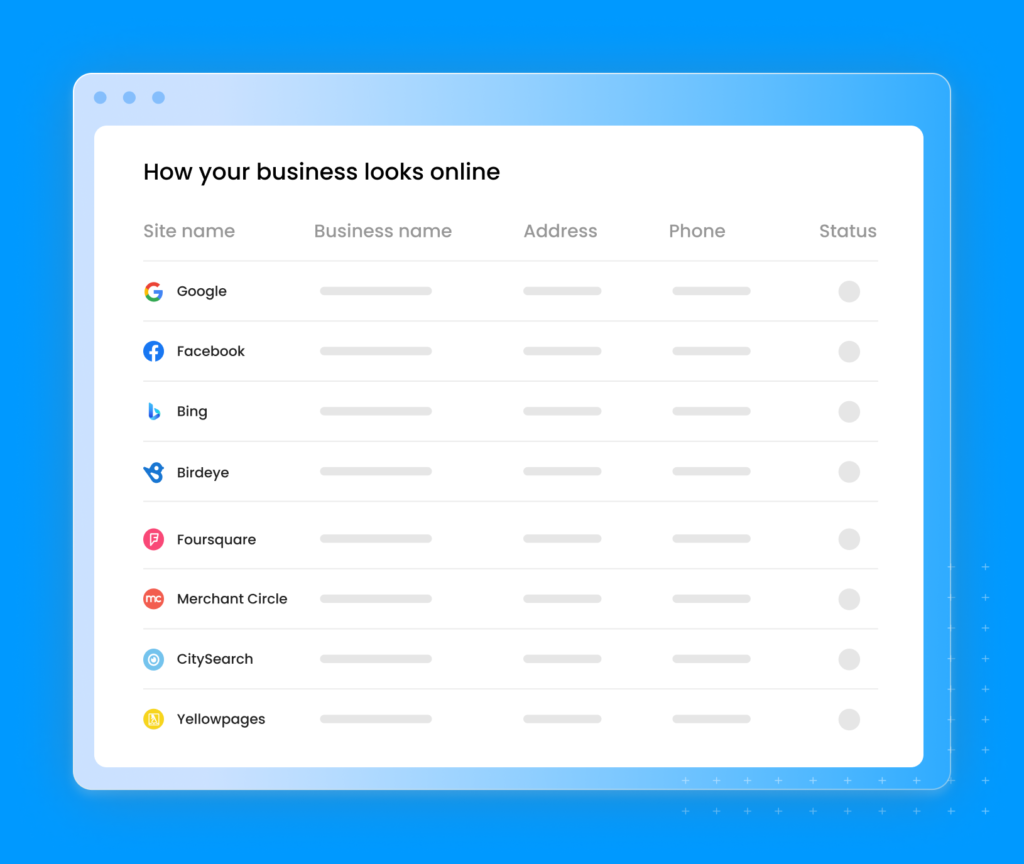 Improve search rankings against the competition
Businesses that consistently appear in Google's top three results, or the local map pack, generate higher web traffic, leads, and conversions. With our tool, it is easier to track your local search rankings and see how you compare to your competitors. But it's often hard to track your local search rankings
In our Local SEO Audit report, you can:
Visually see how the local map pack grid looks and understand your competition.
Analyze your ranking against your competitors.
See who ranks ahead to make a plan of action.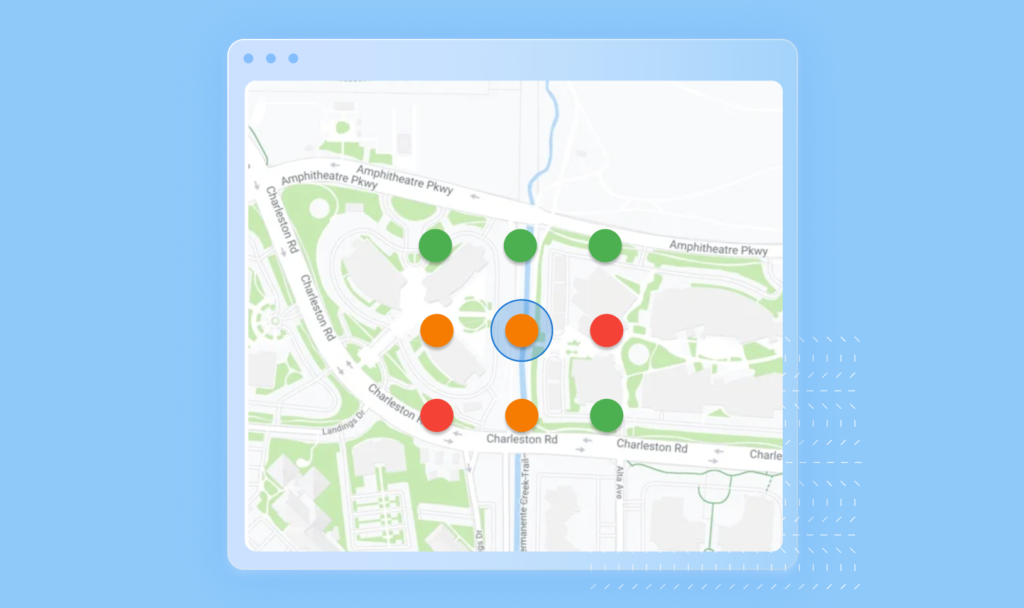 Strengthen online reputation and benchmark against industry standards
Reviews, ratings, and online reputation are vital in deciding your business's rank in local search results. This directly establishes the "Prominence" factor of the local SEO algorithm.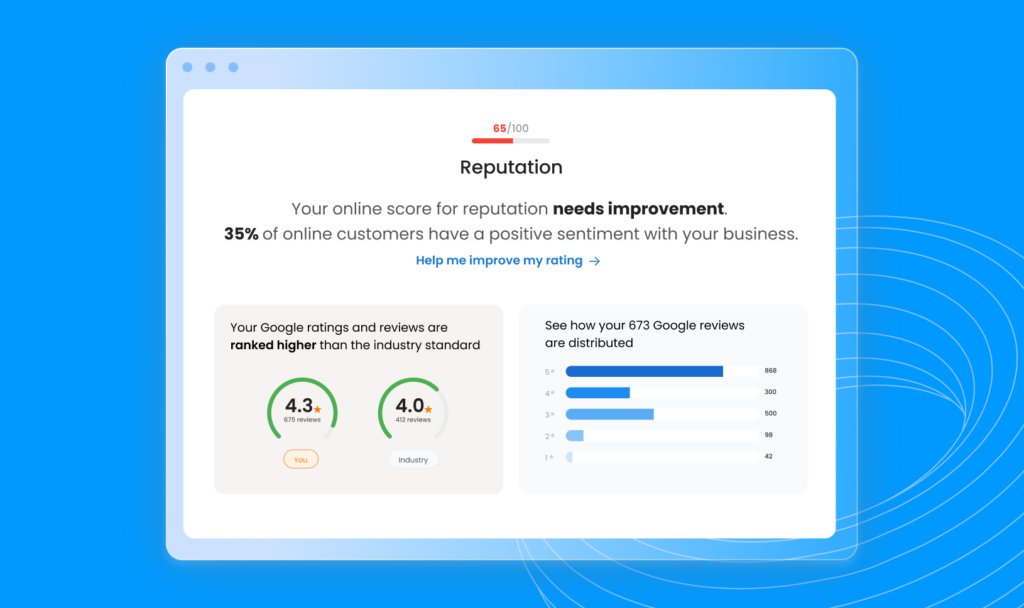 With Birdeye's Local SEO audit report, you can:
Understand the state of your reputation and customer sentiment online
Identify top review sites for your business
View your ranking against the industry standards
See the number of reviews responded to by your business online
View the volume of reviews generated for your business recently
Get a snapshot of your top positive/negative reviews
You now have actionable insights that benchmark your reputation against the industry and can take concrete steps to strengthen your online presence.
To make your online reputation a core strength of your business, connect with Birdeye experts today.
Benefits of the Birdeye Local SEO Audit tool for your business
To summarize, with Birdeye's Local SEO Audit tool, your business can:
Understand its standing against your competitors in the local search results.
Identify action items to improve your local ranking.
Understand how to strengthen your online reputation by comparing your online ranking against the industry benchmark.
Identify inconsistencies across all your business listing management. 
Analyze your top review sites and work on improving review volume on sites with low reviews and ratings.
Check how your local competitors stack up against your target keywords.
FAQs about the Birdeye Local SEO Audit tool
Is Birdeye's Local SEO Audit tool free?
Yes, Birdeye's Local SEO Audit tool is free for businesses to analyze their local rankings and online reputation.
How do I fix the issues identified in the Local SEO Audit tool report?
To fix the issues identified in the Local SEO Audit tool report, you can chat with the Birdeye team for a free demo to understand how we can help you fix the issues.
How do I audit local SEO?
While you are free to conduct a manual audit on each factor of local SEO, using Birdeye's SEO audit tool will help provide a cohesive report within minutes. 
Improve local rankings with Birdeye
Mastering local marketing can help you improve your local rankings, increase conversion rates, and build a stronger brand. Birdeye is the #1 holistic solution built from the ground up for local businesses.
Check out the Birdeye Local SEO Audit tool today to take the first step towards improving your local rankings.
Originally published