With so many customers shopping online today, it's no surprise that there are many methods of paying online to choose from. As shopping moves further into the digital age, we prefer payment methods that are faster and more convenient. So, if your business isn't providing popular payment methods online, you could be losing customers to the competitors that are integrating them into their websites.
In this blog, we'll cover everything you need to know about online payments. We'll explain what they are, how they work, cover important terms you need to know as a business owner, and share five popular methods of paying online.
What are online payments?
Online payments are exchanges of currency made over the internet for goods or services purchased online and offline. These payments can be made online or via SMS. Common online payment methods include:
Credit Cards. Credit cards are one of the most popular and most widely-accepted online payment methods. Credit cards offer customers a line of credit that can be used to make purchases. The loan amount will have to be repaid in the future.
Debit Cards. Debit cards work like credit cards, except funds are drawn directly from the cardholder's bank account instead of a line of credit.
eChecks. eChecks are similar to paper checks. When paying via eCheck, the buyer is asked to enter the amount of purchase, checking account number, and routing number to make a purchase. The buyer will then "sign" their name by entering it on the eCheck.
Third-party payment services. Commonly referred to as digital wallets, services like Apple Wallet and Google Wallet act as a middleman between buyers and online sellers. By attaching a bank account to a third-party service, online shoppers can make purchases directly from their mobile devices, computers, and through apps.
Cash and checks were once the primary payment options for businesses, but today, customers prefer online payments because they're faster and easier. It's important to offer several payment options on your website to make sure you're meeting your customers' expectations.
Important online payment terms
If you want to provide your customers with their preferred methods of paying online, you should know how the payment process works. To do that, we need to cover a few important terms that are used when talking about online payments.
Payment gateway
A payment gateway is a service that reads and processes the customer's payment information, like a digital credit card reader. Payment gateways take the customer's payment information and direct it to the merchant, and then to the payment processor when the sale takes place.
Payment processor
A customer's payment information is sent to a payment processor for validation. Payment processors make sure there are sufficient funds in the customer's account to cover the purchase total. Once the payment is authorized, the customer's funds are transferred from their account to the merchant. Payment processors also have anti-fraud parameters in place to guarantee both the customer and the merchant are protected during the purchase.
Payment provider
Payment providers are companies that own and operate payment gateways, payment processors, or both. Some popular payment providers include PayPal, Stripe, and Square.
Payment service
Payment providers usually offer payment services each with its own prices and features included. For example, Stripe offers both a basic payment service and a fully customized payment service that can be tailored to fit your business's needs.
Merchant account
Merchant accounts are where a buyer's funds are transferred after a successful debit or credit card purchase. From there, the funds are transferred to the seller's primary bank account on a monthly or semi-monthly basis.
How the payment process works
We'll walk you through an example purchase to help you fully understand the online payment process. But before we do that, there are three things your business will need to process payments on your website, including:
An account with a payment service provider like PayPal.
Some payment services may require a merchant account. If your payment service does ask for one, you'll have to set one up.
A button on your site to initiate a transaction. Some service providers might give you a button, but if they don't, you can use a software program to create your own.
Once you have a payment service provider account, a merchant account, and a transaction button, you can connect the transaction page to your online payment system. The transaction page is where your customers will start the transaction process. Once they click the button directing them to the payment form, they will enter their credit card information and submit it for validation.
From there, the customer's funds will be transferred to the payment gateway. Their financial information is encrypted to prevent fraud or theft.
At this point, your payment service provider will verify the customer's payment information through their own payment processor or a third-party processor. Once the processor has verified the customer has sufficient funds to complete the transaction, the funds will start moving through the transfer process.
The first transfer is from the customer's bank account to the merchant account connected to your website. You'll be notified when the payment has been approved and when the funds have been successfully transferred. The customer will also receive a transaction update.
The 5 most popular online payment solutions
1. PayPal
PayPal is likely the most widely-used payment service provider worldwide. The platform has over 30 million merchants and 400 million active customers. With PayPal, customers can send and receive payments directly from their bank account or credit card.
PayPal is one of the few payment service providers that let users send money directly through the service itself. For example, one user can send funds to another after a sale has been made in-person or online.
Cost: PayPal's rate is set between 2% and 4% for domestic transactions, plus an additional $0.49 per transaction. There are no monthly fees or onboarding costs.
2. Amazon Pay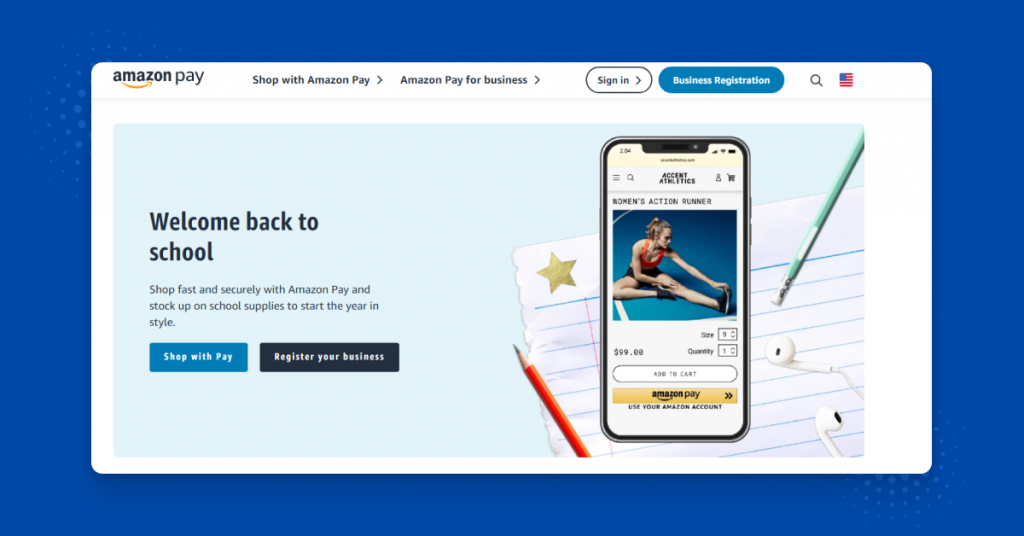 With Amazon Pay, customers can make a quick transaction using their Amazon account information. Customers can also use features like Alexa to make purchases. Your customers can use Amazon Pay if you offer the service during checkout.
Cost: Amazon charges 2.9% per transaction plus an additional $0.30 per transaction through web and mobile. For payments made through Alexa, they charge 4%.
3. Google Pay
Google users can use Google Pay to pay for goods and services and transfer money from one user to another. Google Pay is a convenient payment option because millions of people have Google accounts.
Cost: Google Pay is free for both merchants and customers, but standard credit card transaction fees may apply.
4. Stripe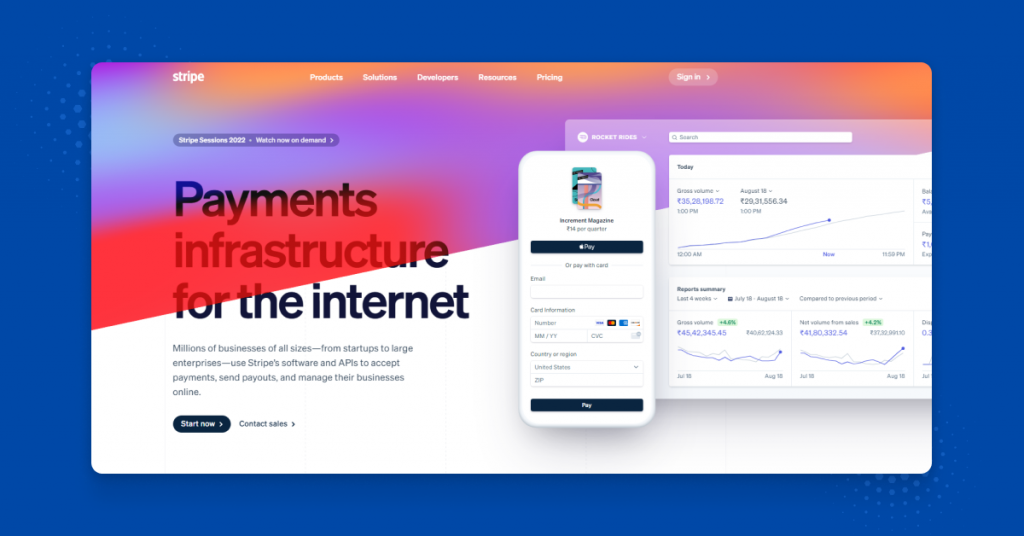 Stripe is a payment provider tailor-made for businesses. The platform serves as a merchant account by skipping the usual signup process and automatically handling the necessary merchant approvals. Stripe can also easily integrate into your website through their API.
Cost: Stripe has no setup or monthly fees and charges 2.9% plus $0.30 per transaction.
5. Apple Pay
Apple Pay makes online payments incredibly easy for customers. As long as customers have funds in their Apple Wallet, they can make transactions online with a finger tap, finger scan, or face recognition. That said, Apple Pay is not a true payment provider, so if you'd like to offer it as an option for your customers, you'll need to integrate it with one of the other payment service providers on this list.
Cost: Apple pay has no additional charges per transaction other than regular credit transaction fees
Frequently asked questions about online payments
What is the safest way to pay online?
Thanks to several safety features like fraud protection and encryption, credit cards are typically one of the safest methods of paying online.

Is it safe to provide my CVV number online?
Yes. When using a credit card to pay online, you'll typically have to provide your CVV code. This data is safe to share because of security measures in place.
Are digital wallets safer than credit cards? 
Yes. Digital wallets are very safe to use because they heavily encrypt your data, which means there's no risk of your credit card information being stolen.
Make payments seamless with Birdeye
In our increasingly digital society, online payments are more important than ever. With Birdeye Payments, your business can send payment requests via text for faster, safer, and more convenient transactions. For more information on digital payments, click the banner below and download our free guide today.

Originally published