You've Googled yourself, right? We all have. You've typed your name into that box under the rainbow logo, clicked that "Google Search" button and tada! There you are. (Unless your name is Mike Smith or Jennifer Johnson, then you may have a bit of scrolling to do.)

You're not a giant narcissist, obsessed with seeing your name online. You just want to know how the world, or your ex from high school who you haven't spoken to in ages, sees you.

And what if you are Jennifer Johnson, and you happen to come across a photo of you, happy as a clam on your wedding day, in your search results? What would you do if you see that photo is linked to a different Jennifer Johnson, who lives across the country and happens to have a police record?

My guess is you'd be online and the phone, making sure your photo, that usually brings back such happy memories, is removed from that site immediately.

Now think about your business. Imagine potential customers associating your life's work with bad reviews meant for another business with a similar name. Or what if a bad review from two months ago on a site you've never even heard of was actually meant for your business and you never responded? Or worse, what if it's a "fake review" left by one of your competitors to damage your reputation?

Now don't be mad at Google. Google's just doing her job. OK, do get mad at your competitor for leaving a fake review. And get even. By taking control of your reviews. How? With review monitoring.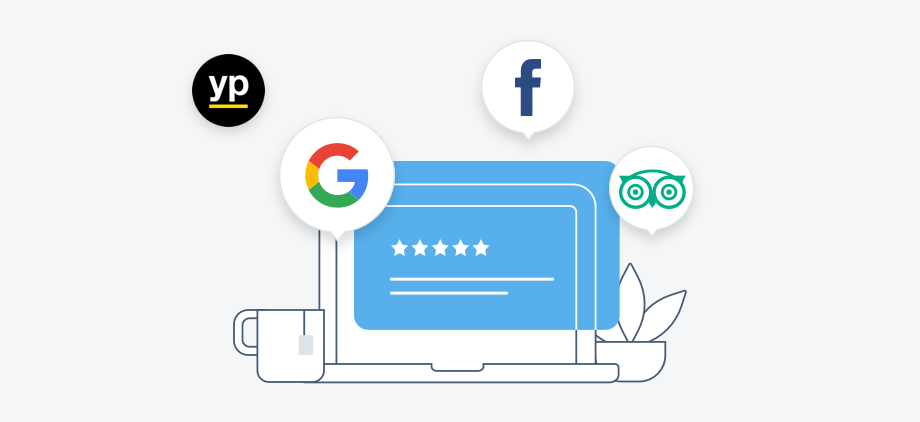 What is review monitoring?
Review monitoring is monitoring what customers are saying about your business on review sites such as TripAdvisor, social media like Facebook, and industry-specific sites like Zocdoc.

Review monitoring can enable you to proactively engage with your customers. Being proactive with your online reviews should be a best practice for businesses of all sizes because:

Responding to a good review encourages customer loyalty while giving you insights into how you can improve your business.
Responding to and attending to the grievances mentioned in a bad review (in a timely manner) encourages customer loyalty and nips the problem in the bud—before it escalates into something worse.
Why is review monitoring important?
Review monitoring is important because consumers are far more likely to form their purchasing decisions based on what they see online. Far more people are researching businesses before patronizing it—with a whopping 85% of consumers placing their trust in online reviews.

If you have customers, then the chances of you having reviews are highly likely—even if you don't have a website. And negative word-of-mouth is poison for a business. But if reviews have the power to break your business, they also have the power to build your business. Leveraging review monitoring harnesses this power so that your business grows with each (good and bad) review. How?
Responding to a good review makes your customers feel acknowledged, building loyalty.
Consumers researching your business (and your competitors') online trust customer reviews more than they trust you. Why not use your customers to do your marketing for you by using your reviews to promote your business on your website, social media and beyond?
Listening to what your customers are saying about you helps you build valuable insights so you that you can give your customers more of what they want and less of what they don't. In other words, your customer reviews provide the data that can help you to decide on what products and services to:

Reduce, since they are not valuable to your customer, saving you resources that can be spent on what is important to your customer and what you do well
Raise, or get even better at what you do really well
Create, because offering brand new services that are important to your customers can disrupt your competition

The service recovery paradox. What now? The service recovery paradox occurs when a customer who has a grievance with a business thinks more highly of that business after that business has addressed the grievance. And that formerly unhappy customer is even more loyal and happy than a customer who has no issues with the business. How can this paradox (along with review monitoring) make you money? If you get a bad review, respond to your customer ASAP. Address his concern and tada! You have a loyal customer. And the way you respond to bad reviews makes a huge impact on how potential customers see you when they are researching businesses online.
Review monitoring also helps you spot a fake review. If there's a high bad review frequency with similar marketing-heavy language, then you can get them removed. A review monitoring tool can help you consolidate all reviews into one place, so spotting a fake is easier.
How can you get more Google reviews?
Monitoring your reviews on the big sites like Google, Facebook, and Yellow Pages is a great first step. Next, tackle those industry-specific sites. Here's a table outlining a few of those sites by industry:
Dental
Legal
Healthcare
Hospitality
Are you a realtor? Read this blog to see what review sites you should be monitoring.
How do I start monitoring my online reviews?
Since there are so many review sites (see above), monitoring your reviews on these sites can be overwhelming. Start with your Google My Business page. (If you don't know what that is or if haven't set up your Google My Business page, don't worry, just read this.)
1. Sign in to Google My Business.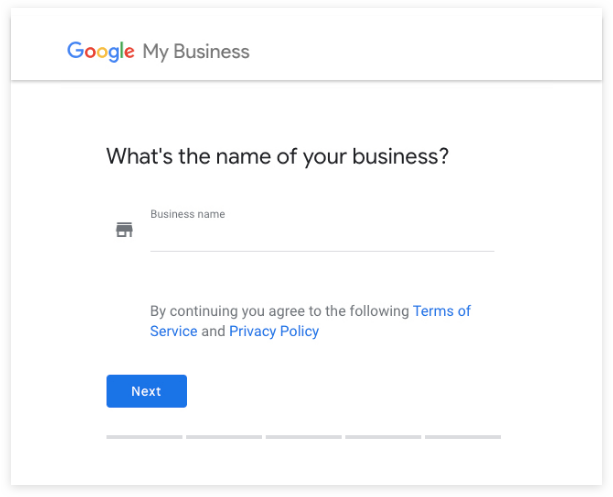 2. Go to settings.
3. Make sure you have your preferred language and email address correct.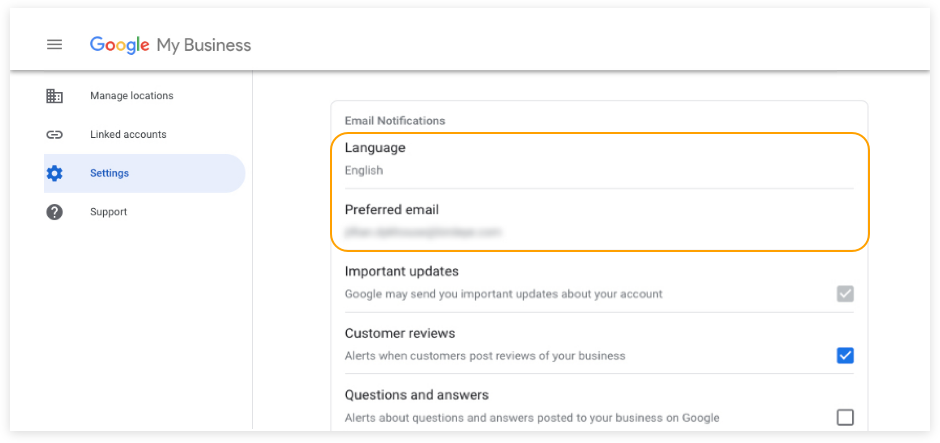 4. Make sure you select the "Customer reviews" box is checked.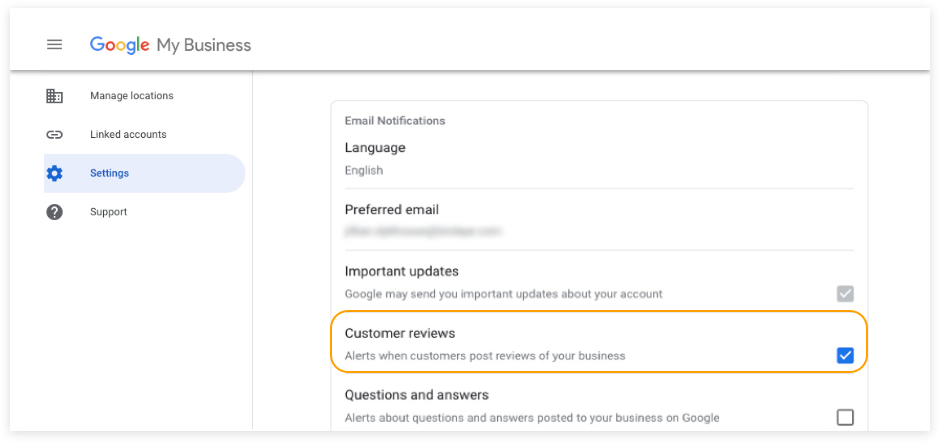 Congrats! You will now get alerted whenever a new Google review of your business is written. Do note that this alert is for Google reviews only, not all reviews across all sites. But you can take similar steps outlined above for your Facebook reviews through your Facebook Business page.
I see my reviews. I get alerts for new reviews. Now what?
Respond to all of those reviews. All of them? Yes. Why? Review the "Why is review monitoring important?" section again. You should respond to those good reviews to build a great relationship with your customers who took time out of their busy lives to rave about you. And you respond to the bad reviews to address the issue and build customer loyalty. (Review the "Service recovery paradox" section. There will be a test later.)

And then, you can use those happy customers' raves to help market your business by adding them to your website, social media, and more. Does this sound like a lot of work? Yes. Is it worth it in order to grow your business and make your customers happy? Yes. Do you have to do this all yourself? No. How? You can always automate.
How can automation make my life easier and my business more profitable?
A review monitoring tool like Birdeye puts all your reviews from 250+ sites into one place. You can monitor and manage all these reviews, from Avvo to Zocdoc, on one comprehensive dashboard.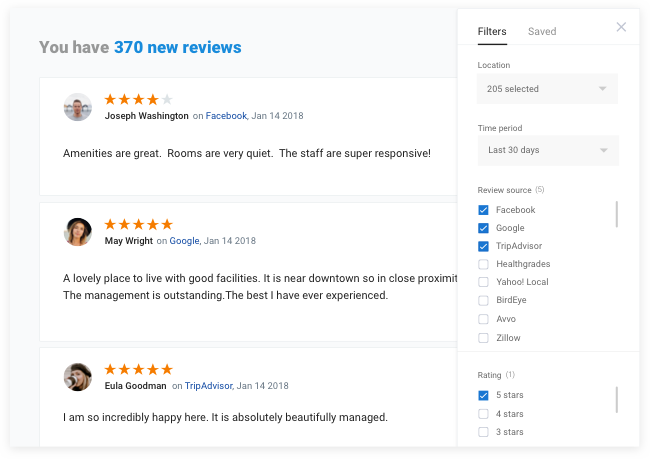 2. Now that you can see all of your reviews on the dashboard, Birdeye also alerts you when a new review–across all of the 150+ supported review sites–is posted.
3. Whether the review is good or bad, it is a great practice to respond to customer feedback to show that you're paying attention to your customers' needs. With Birdeye, you can sort and filter to look at your reviews and reply right from the platform.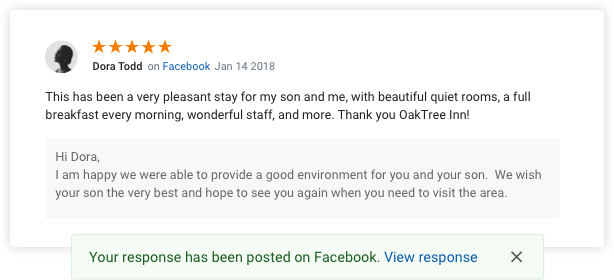 4. If a bad review is posted, Birdeye automatically converts that bad review into a service ticket, ensuring that you don't miss out on an opportunity to turn an unhappy customer into a fiercely loyal one (see service recovery paradox for more details).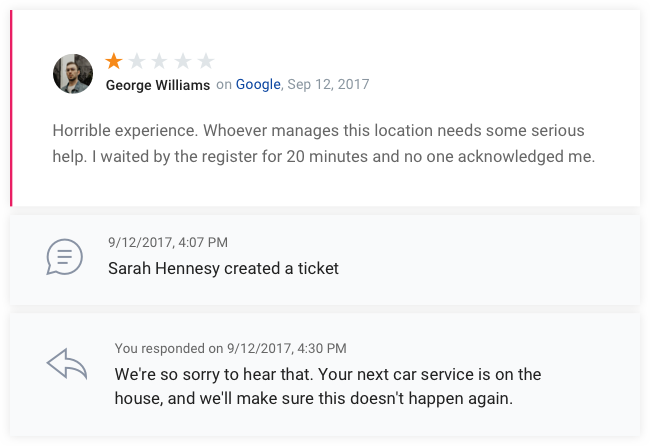 5. And Birdeye even provides review response templates that let you customize a template for your responses as well as set up automatic review responses.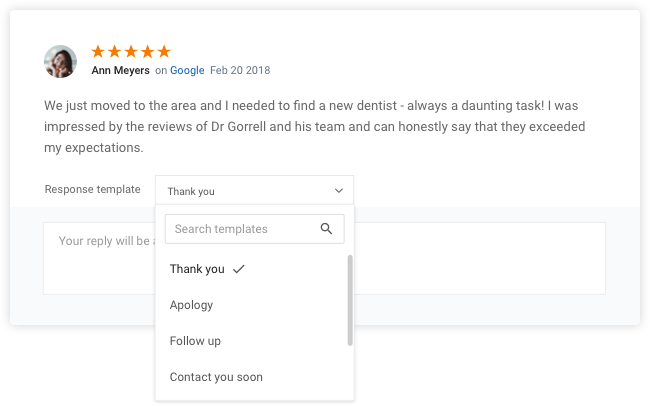 6. Automation also helps you take control of your reviews, search ranking, and social media presence. A review monitoring and marketing tool like Birdeye enables you to auto-share your reviews from across the web to Facebook, Twitter, and your company's website

7. And now that you've got happy customers and a stellar online presence, what's the next step? Monitoring your competitor's reviews. By monitoring the competitor, you'll have access to competitive insights. These insights can tell you how your business is doing against your competitors. It also lets you identify and track trending topics in your industry so you know what to invest in.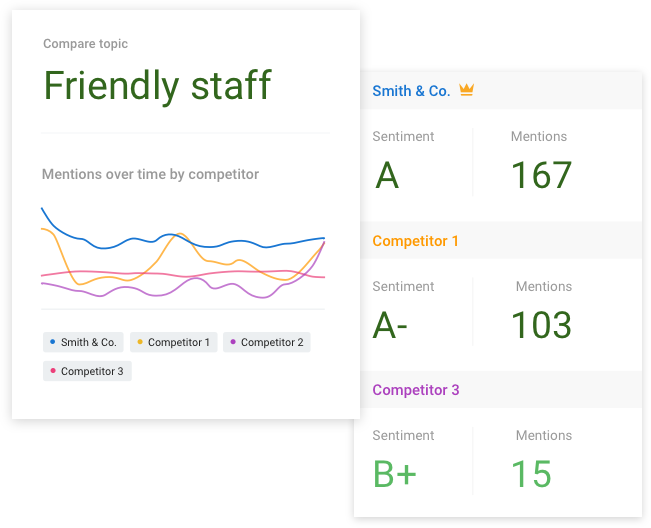 In Conclusion
Reviews let your customers do the marketing for you. Automated review monitoring makes this much easier for you to do. So you can just focus on providing an amazing service to your customers … and maybe Googling yourself from time to time.

Do you want to learn even more about dealing with bad reviews? Then this free eBook is just for you.