We've all had to endure the seemingly torturous act of waiting. Whether as a child, eagerly waiting to open up presents on Christmas Day, or as an adult, standing in a seemingly endless line of fellow customers waiting to pay a bill. No matter what age, nobody likes waiting – especially your customers, even more so when they're waiting to literally give you their money. Whether your business is cash-only or already accepting credit cards – chances are you could benefit from introducing a wireless credit card terminal to improve the payment experience.
According to a study on in-store shopping, 70% of consumers list the checkout line as their biggest pain point. Businesses aiming to delight customers and get repeat business need to proactively improve the in-store payment experience and using wireless credit card machines is an ideal solution to achieve exactly that.
These terminals provide a number of benefits and in this article, we'll explore how having a wireless credit card machine can help to improve the customer experience and boost sales.
Why is it so important to improve the in-store payment experience?
If being the biggest pain point while shopping in-store isn't reason enough, consider that the moment a customer pays is also the last interaction they have with your business before leaving. Delivering a positive experience before they walk out the door is crucial for gaining repeat business and fostering loyal customers who come back time and time again.
Improving the payment experience can boost customer satisfaction and reduce wait time. In turn, you'll complete more checkouts, make more sales, and delight customers.
Happy customers lead to higher customer lifetime value (CLV), and this is important because, generally, 80% of your business comes from 20% of your customers.
If you're wondering which credit card terminal is right for your business, check out our article on when you should upgrade your credit card terminal.
What do customers want when they pay in-store?
Depending on the size of your business and your target audience, the payment process can look different. But convenience, safety, and technology are all essential to any in-store payment experience.
Speed and convenience
We've established that no one wants to wait in long lines to pay. Customers want a fast and convenient experience when they pay.
Health and safety
Due to the pandemic, 47% of consumers say they will not shop at a store that doesn't offer a contactless way to pay, according to Visa's Back to Business study. This trend speaks to the health and safety concerns of consumers.
Modern technology
During the pandemic, the number of people using mobile wallets to make payments rose from 900 million to a whopping 1.48 billion. With more consumers than ever before using mobile wallets, customers will expect your business to be equipped to accept this form of payment.
The benefits of a wireless credit card payment machine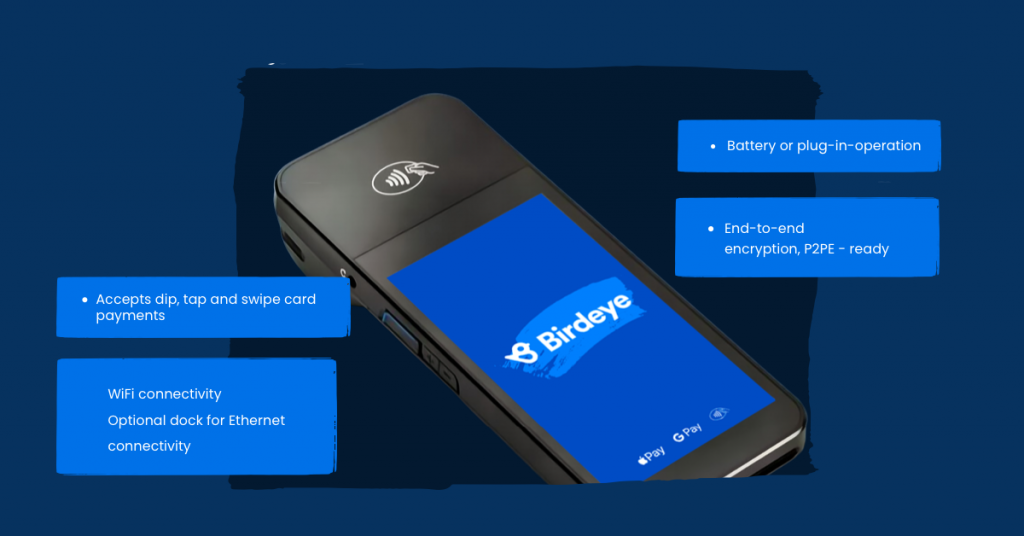 Accept payments anywhere
A wireless credit card terminal enables you to accept payments anywhere. Your business won't be restricted to a single location anymore. This has a number of use cases. You can take advantage of trade shows, pop-up shops, community events, and more. Anything from networking to promotional activities can be a chance to make sales. Wireless POS systems let you attract new customers and promote your business.
Speed up the payment experience
A new survey by Quidini reveals long checkout lines can lead to 100 billion dollars in losses per year. If your business struggles in this area, you're losing revenue. You can easily eliminate this problem by introducing a wireless credit card processing terminal.
Many businesses struggle with this problem – restaurants, retail stores, automotive businesses, medical practices, and more can face the same problem. Servers that need to rush back and forth to take orders, print out a bill, and return credit cards ultimately delay the checkout process. Dealerships can face a backup of customers waiting for their bill after service, the same applies to medical practices with multiple doctors. Using a wireless POS system will help you conduct business faster.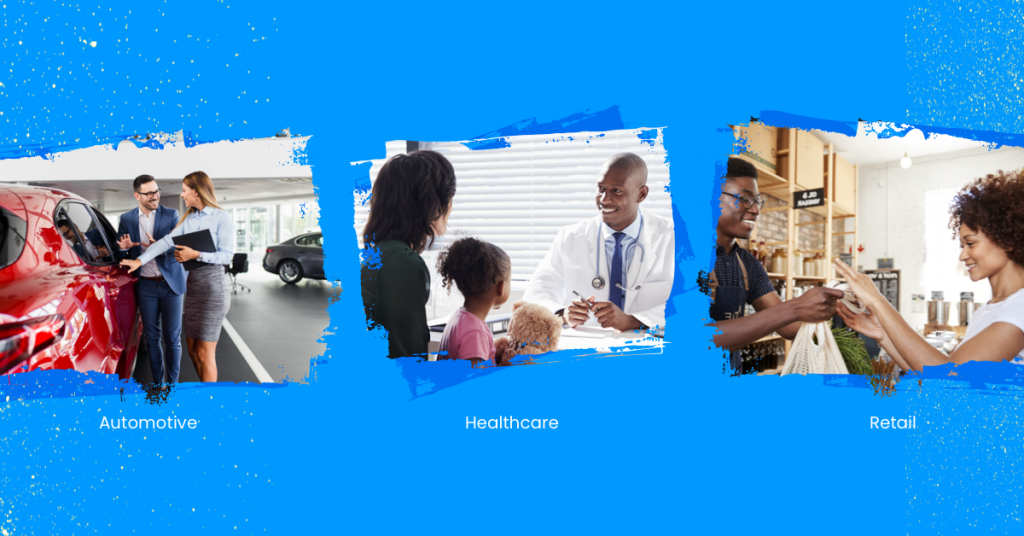 Get more customers through your door
According to a study on the impact of a poor payment experience, 39% of customers have left a store without making a purchase because of long lines. As a brick-and-mortar business, getting customers through the door is especially important. Otherwise, people can easily find many of the same products, services, or information from your online competitors. You can easily avoid this issue by introducing a wireless credit card terminal. You'll be able to keep your customers spread out, and it will help to eliminate lines and congestion.
More cost-effective than you think
You may be thinking introducing a wireless credit card machine is costly due to the fees. However, it's actually inexpensive. You can accept credit cards by choosing a solution that provides a competitive rate for all card types.
Frequently asked question about wireless credit card terminal
How does a wireless credit card POS machine work?
With a wireless credit card machine, the terminal connects wirelessly to the payment processor. A landline connection is not needed to complete transactions. The credit card can simply be swiped at the terminal and wirelessly connects to the payment processor.
Payments that work for your business
Birdeye Payments connects with all major accounting software. This means less hassle for you and a quicker way to get paid.
The best wireless credit card processing terminal for your business
Now that you understand the benefits of going wireless, it's important to know how to choose the right credit card machine. Birdeye's Payments Card Reader offers modern-day wireless and mobile payment solutions for your business. Combined with our all-in-one platform, you'll be able to:
Make payments part of the conversation
Send payment links inside an ongoing text or messaging conversation to make it easy for your customers to pay right away. You can even accept payments through social media messaging (even Instagram Messaging).
Wireless credit card machines built for point of sale
Credit, debit, ACH, Apple, Amazon, and Google pay. No matter how your customers choose to pay, the transaction will be convenient for you and your customers. Use one platform to request payments and accept all forms of contactless, EMV, and swiped card payments — in-store or on the go.
Track all of your transactions in one place
With the Payment Dashboard, you get a detailed view of your transaction history and payments — all from a single location.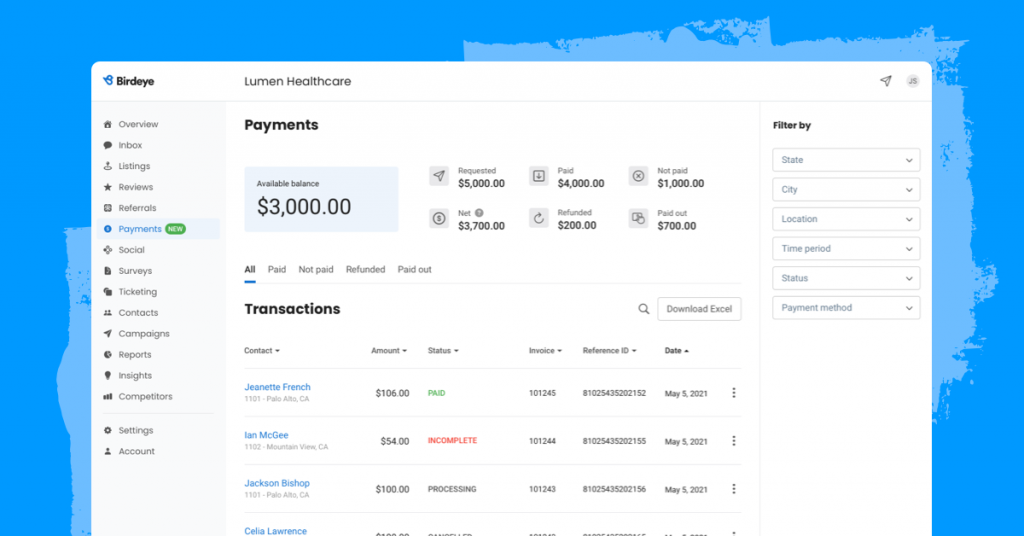 With Birdeye Payments Card Reader, your business will be fully equipped with a modern, top-of-the-line device that works through your Wifi and accepts all major payment types. You'll improve the in-store customer experience, make more sales, and efficiently manage and streamline payment transactions in one platform. Birdeye Payments Card Reader is just one of the many reasons why more than 100,000 businesses use Birdeye to grow their business through happy customers.
For more information on digital payment methods, click on the banner below to get a copy of our guide.

Originally published