It's an exciting time to be a real estate agent. Historically low-interest rates and the rise of remote work have led to skyrocketing demand for new housing.
Of course, realtors also face fierce competition. It's been estimated that right now, there are more real estate agents than open listings.
How can realtors capture this increase in demand without ceding ground to their competition?
There's one area that we encourage every realtor and every brokerage to invest in during this time: Experience Marketing. It's essential for attracting new leads in a highly-competitive environment. In this article, we'll break down why Experience Marketing matters and break down how your team can get started.
Why Experience Marketing is essential
To attract more leads, some real estate agents may choose to increase their ad spending on Google and Zillow. Others may choose to leverage more traditional methods such as radio and print ads. Some realtors may choose to forego paid advertising altogether and instead rely on their personal networks for referrals.
No matter what method you're using to grow your business, clients are Googling you to read about the experiences of other clients. Google Trends data shows that search volume for the term "realtors near me" has increased steadily in recent years and is now near all-time highs.

It's important to remember that only a small share of realtors are capturing leads from these searches. Studies show that the top results on the first page of Google search results get the most clicks. The majority of searchers click on the three highest rankings.
Why better experiences mean capturing more demand
The realtors who rank at the top of search are those with the most reviews and the highest review ratings. Google's algorithm values these reviews because they highlight the authentic experiences of clients. According to Moz, reviews are the third most important factor determining local search results.
Remember, there's no way to cheat the system — reviews are a direct result of the experiences you provide to clients. The better experiences you deliver and the more steps you take to enable clients to write reviews, the better results you will see on review sites and in search rankings.
To close more deals and earn more commission checks, realtors need to leverage the power of happy clients. That means providing a fantastic experience from the moment clients discover your profile, all the way through to the time they're signing their final contract. We call this complete process Experience Marketing.
Did you know 85% of customers want to text brands? In this video discover how Real Estate Agent and Coach, Aaron Novello of Keller Williams leveraged Birdege text messaging to engage clients on a personal level adding to their overall experience. Texting allowed him and his team to gain a clear advantage over competitors by providing a real-time, seamless, and highly effective communication process.
5 steps to get started with Experience Marketing
Let's go through a few steps that can help your team build a winning Experience Marketing strategy.
Build your online presence
The first step to delivering great experiences is to claim your profile on relevant sites where clients are searching. After all, it's been estimated that 89% of homebuyers start the process online. Here are a few sites where you should claim your profile for your business and for your individual realtors. 
Google
Google is one of the most important review sites on the Internet. Google reviews are visible on Google search and Google Maps, so they're often the first impression clients have of your realtors. 
Zillow
Zillow is the biggest online destination for homebuyers. Clients use the site to find listings and connect with local real estate agents.
Before you go, check our article on Zillow for realtors: The ultimate guide to success in your market.
Realtor.com
Realtor.com is the official site for the National Association of Realtors with a direct API to MLS ensuring listings are up-to-date by the second. The site features specific rating categories for realtors such as market expertise, overall rating, and responsiveness.
Facebook
It's likely that your realtors are already actively posting on their Facebook business page. It's important to remember that Facebook isn't merely the world's biggest social network, it's also a valuable site for users looking for recommendations on local businesses. Facebook Live is yet another way for realtors to grow their fan base and get more business.
Birdeye
Claiming your free Birdeye profile gives you a higher chance of ranking in relevant search results. Birdeye aggregates reviews from sites all across the Internet, which means you'll be sending valuable signals of social proof to Google's algorithm. 
---
Remember, it's important to claim your profiles for your overall brand and your realtors. This will give your team more reach in search results and help to crowd out competitors.
Remember that your business listing information needs to be consistent across all your business profiles. Minor inconsistencies in your business name, address, phone number, and other important pieces of information on different sites can lead to a penalty in Google search ranking. While keeping track of all of these listings manually can be difficult, business listing management software can help to streamline the process. 
Enable clients to share their experiences
To be chosen online, your team needs to take the right steps to enable existing clients to leave reviews. The more social proof that's available online, the more comfortable prospects will feel choosing one of your realtors. In addition, reviews are the third-largest factor determining your SEO. Here are a few tips to help you collect more reviews for your realtors and rank higher in search results.
Make the process easy
Picture this: It's closing day. Your buyers are about to get the keys to their new home/sellers are about to get a large wire transfer. One of your team members can ask your client to leave a review in person. Of course, there's probably so much on the client's mind that they won't remember to fulfill the request. Luckily, there's a more effective method of asking for reviews. You can send a direct text message request to your client so they can click a link and leave a review in less than 2 minutes. The vast majority of the time, your clients will be happy to take this simple step to reward your team's hard work.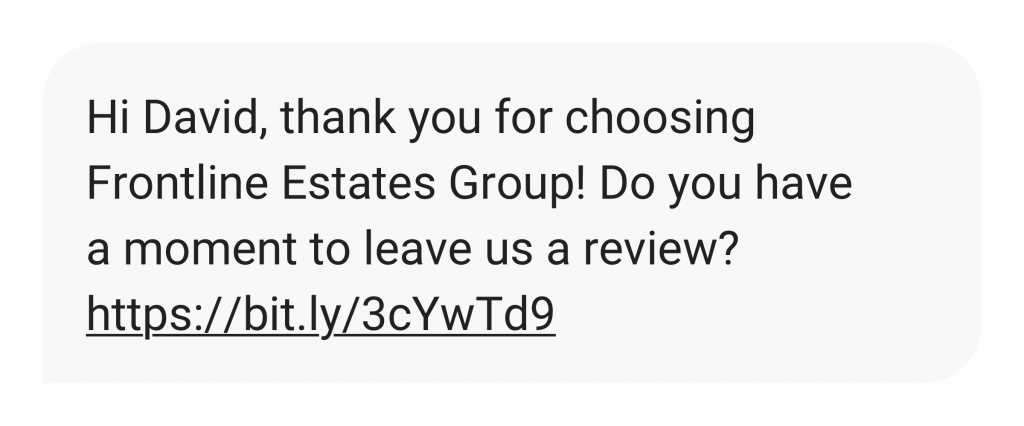 Be timely
Clients are most likely to leave reviews when their experience with your team is fresh in their minds. We recommend sending a review request within a couple of days of the closing of the deal. Waiting too long can impact conversion — the more time passes, the less likely clients are to leave a review.
Send review requests to all of your clients
Don't let the fear of negative reviews prevent you from asking all your clients for reviews. A few negative reviews are not bad; in fact, they show that all your reviews are authentic. Studies have shown that customers prefer businesses with a few negative reviews compared to those with a perfect 5.0-star rating.
Before you go, check out our article geared towards real estate agents on how to respond to positive reviews.
Automate the process
Closing a deal already requires significant work from your team. There's no reason to add the additional manual work of sending a review request. Instead, find software that integrates with the systems you're already using and sends review requests automatically.
Turn clients into advocates
Reviews aren't the only way you can leverage the power of happy clients. The majority of your team's book is created by word-of-mouth referrals. Let's break down how your team members can better utilize their loyal sphere of influence.
Nurture your relationship
The more you nurture your relationship with your existing clients, the better your chances are that you'll get a referral. After a deal is closed, send useful content to the client about homeownership or spots to check out in the neighborhood.
Find an incentive that works
Experiment with different incentives to find out what works best for your client base. While keeping in mind regulations in your state, try different gifts for your clients such as a bottle of wine or even a simple thank-you note. Keep track of which incentives drive the best results.
Get started with a digital referral program
You don't want to turn word-of-mouth into a burden for your clients. Make it easy for them to spread the word about your business with just a click. Get started with a digital referral program to make the process of referring your business easier than ever. 
Enable seamless communication from day 1
Your realtors are spending most of their time working on their current book. They're also busy managing existing clients and trying to find creative ways to grow their online presence. To drive results, it's important to give potential clients an easy way to get in touch with your team. After all, if they send you a message but you aren't available and haven't built a relationship with them, they may begin to search for alternatives. Here are a few tips to enable seamless communication from the moment of first discovery.
Offer livechat
Nowadays, clients are looking for instant responses to their queries. Instead of only providing clients the option to email or call, offer a livechat widget on your website for instantaneous communication. Studies show that 49% of the leads that come in from livechat are passed on to agents and become qualified buyers/sellers. 
Get started with chatbots
If you don't have the resources for 24/7 livechat — don't worry. A chatbot can be implemented on your site. It can be programmed to automatically answer frequently asked questions from potential buyers/sellers even while your team members are busy at listing appointments.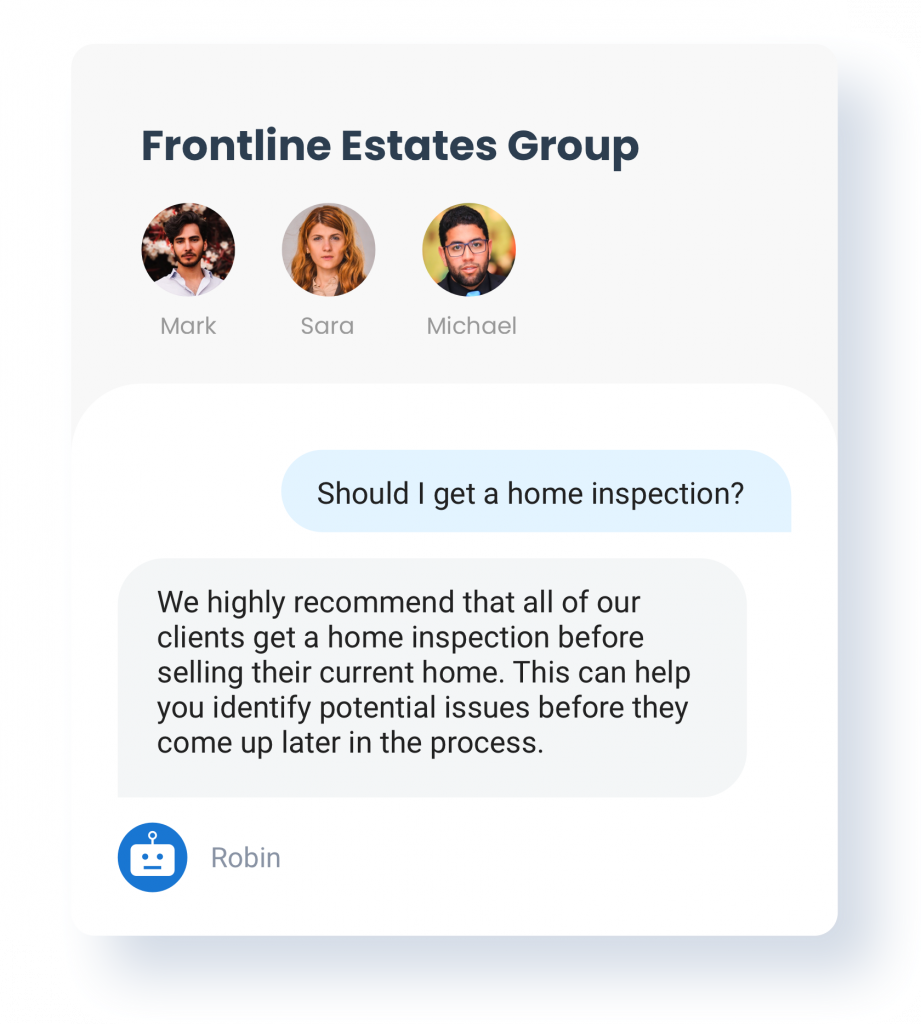 Schedule appointments
The sooner you can schedule a listing appointment, the sooner your team members can earn a commission check. Birdeye's chat widget allows you to capture potential clients' names/emails/phone numbers so you can get in contact with them in an instant.
The future is mobile
Great experiences require seamless communication. Right now, the quickest way to get in touch with clients is through text messaging software. According to the National Association of Realtors, 62% of clients want their realtors to stay in contact with them via text. Here are a few tips for building a texting strategy. 
Add your cell/ QR code to 'For Sale' signs:
To collect more phone numbers from your prospects, include a number to text on your 'For Sale' signs. This tactic can help you grow your text database, allowing you to send updates about new listings and upcoming open houses.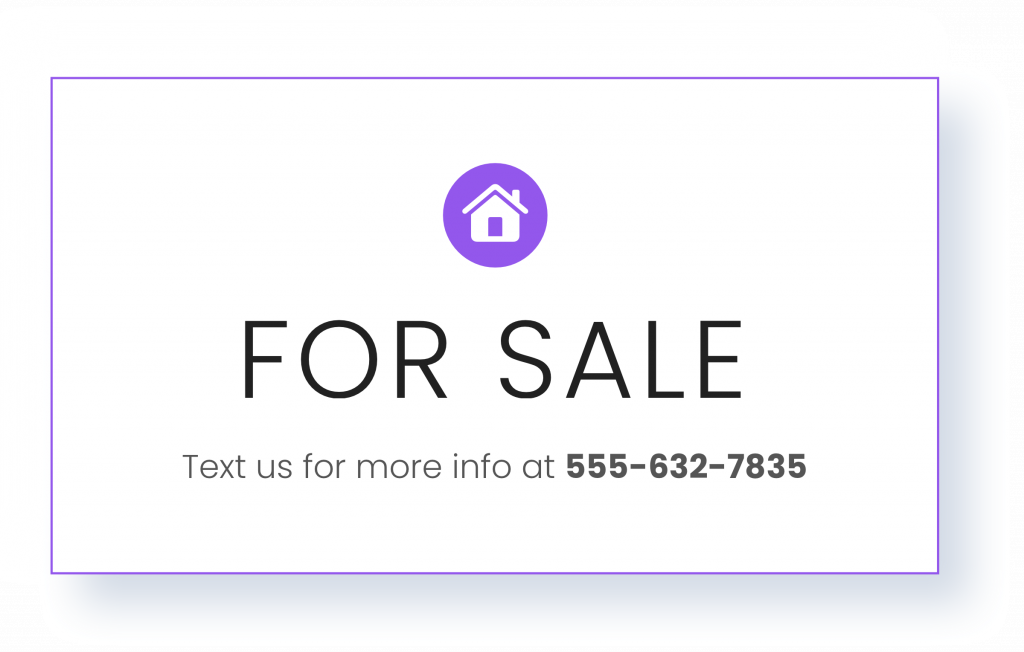 Use text messaging to connect with existing clients
Text messaging can also be used to nurture your relationships with existing clients. You can send texts to remind clients of upcoming appointments and give them well wishes on their birthdays.
Text clients from your landline number
Texting a client from a number that's different from the one they see online leads to confusion. To prevent this from happening, find software that can integrate with your landline phone so that you can centralize all your communications.
There is one thing to keep in mind before you start texting your prospects. FCC regulations state that when you send mass text messages, you must ask for opt-in and give your prospects the opportunity to opt-out. Send an initial message that looks something like this and include an option to unsubscribe from text messages.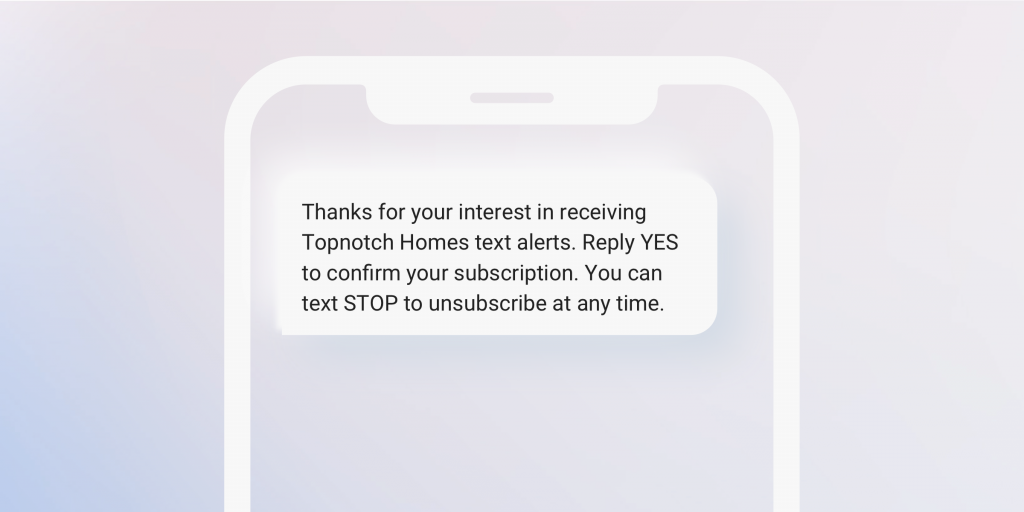 Want to read more tips on how to attract new clients in this historic market?
There's no way we could fit all of our Experience Marketing tips into this one article. That's why we put together this comprehensive guide on how to build a winning client experience from open to close. Don't miss out on our bonus tips to attract more leads in a booming market.

Originally published